Scotcheroos are a Midwest classic snack. Filled with plenty of peanut butter and topped with chocolate and butterscotch, they're so hard to resist!
Have you ever heard of a scotcheroo?
These crispy bar treats are a family favorite. We actually enjoy them more than rice krispie treats!
Here in the Midwest scotcheroos are immensely popular. Whether it's because of our love of peanut butter or that chocolate-butterscotch coating, one thing is for sure: they disappear at every backyard party and potluck.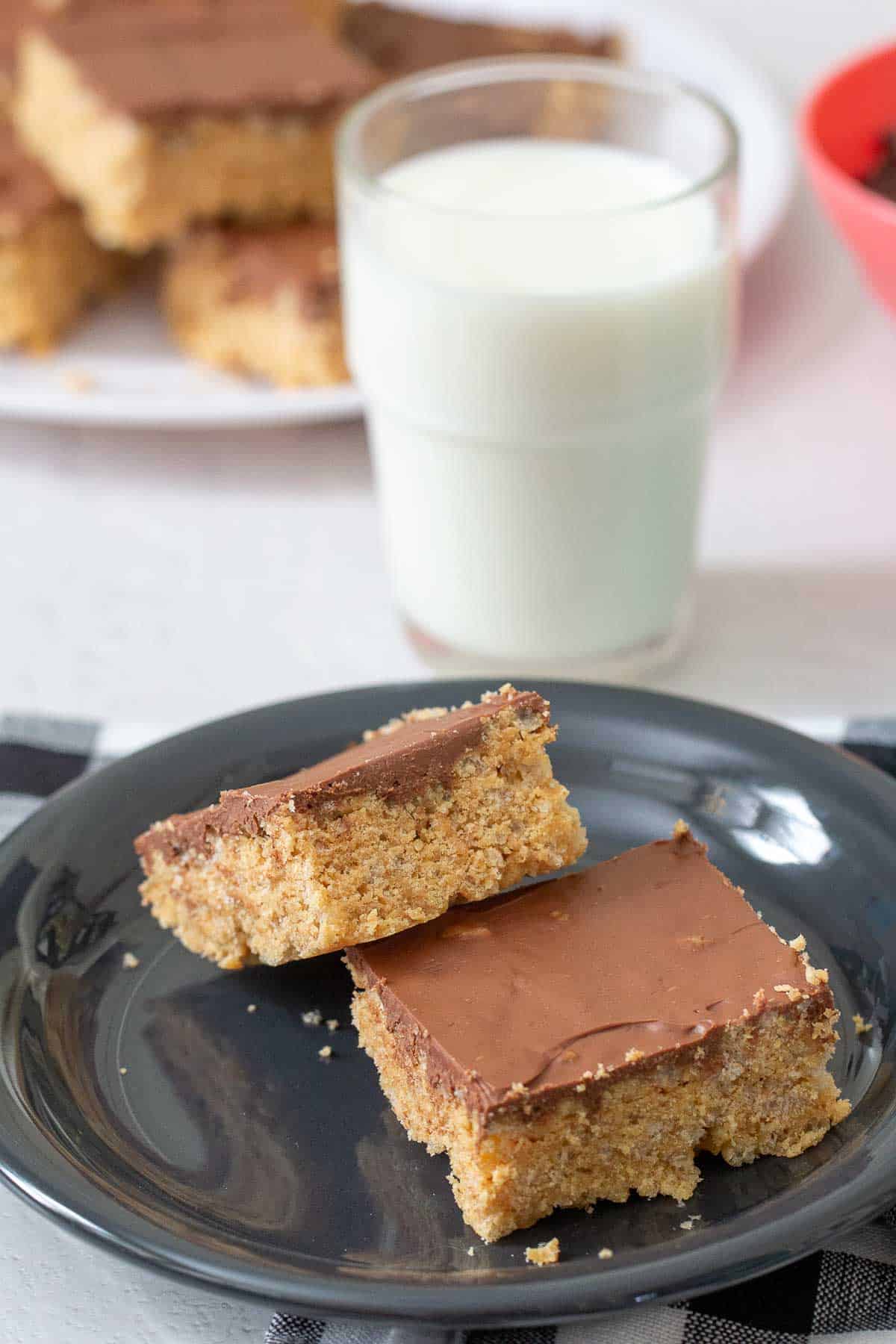 The best thing is that scotcheroos are so easy to whip up. You might even already have everything on hand!
Ingredients for scotcheroos
To make scotcheroos, you need just seven ingredients.
Granulated sugar
Light corn syrup
Creamy peanut butter
Vanilla extract
Rice Krispies
Chocolate chips
Butterscotch chips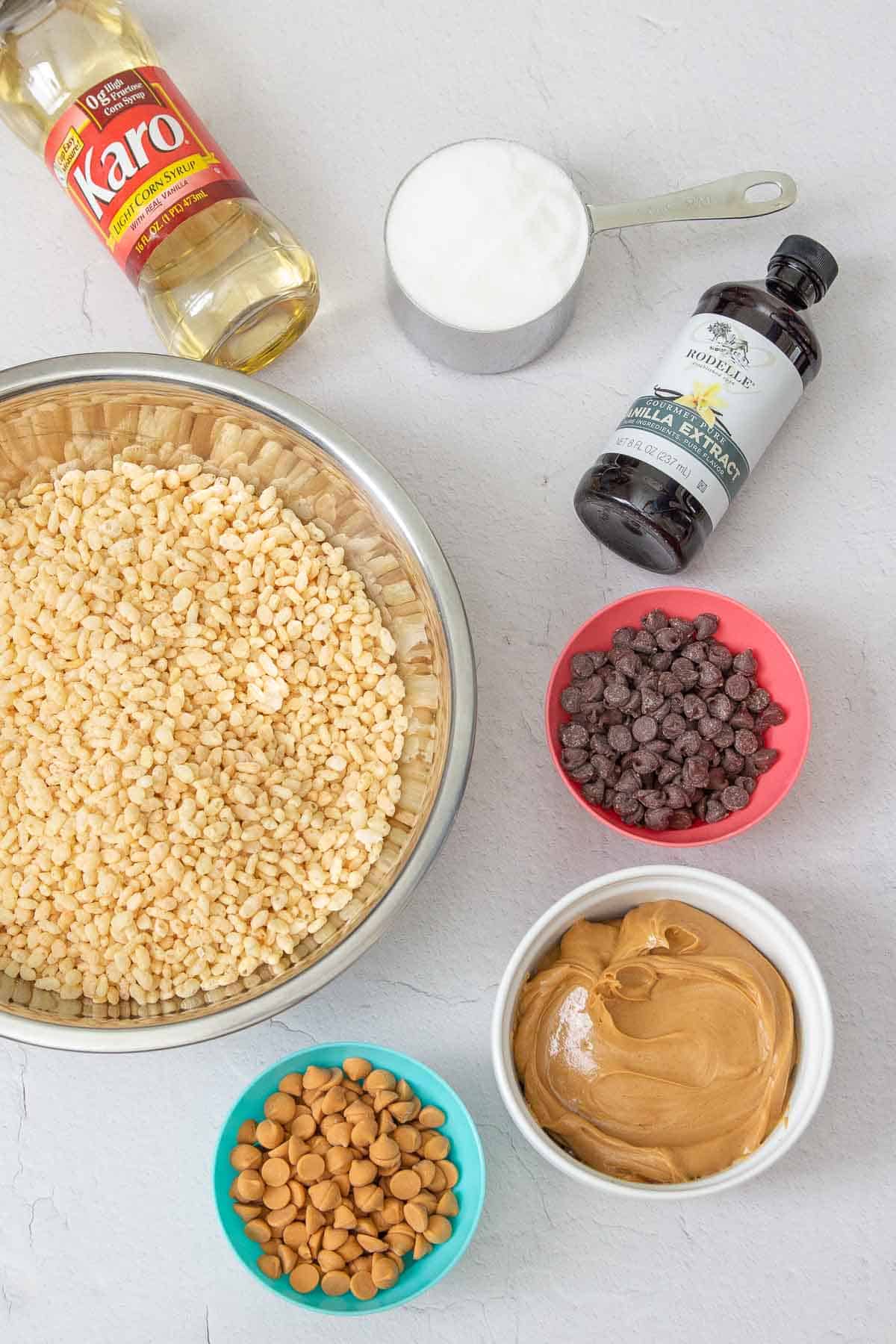 Remember that corn syrup is not the same thing as high fructose corn syrup. It's an essential ingredient in making candies and here we're using it to ensure the rice cereal sticks together and hardens to form bars.
If you use natural peanut butter, make sure to blend as much of the oil into the peanut butter before measuring. Note that the texture of the coating will be slightly different, and the cereal might not be as well coated.
For the chocolate chips, I recommend semi-sweet chocolate chips, which blend wonderfully with the butterscotch chips.
How to make scotcheroos
To make these bars, first line a 9×13-inch baking pan with parchment paper or coat well with butter or nonstick spray.
Measure all of your cereal into a large bowl. Make sure it's one that has enough room for you to stir the mixture without it escaping out the sides!
Combine the sugar and corn syrup in a small saucepan and bring to a boil, stirring to melt the sugar completely and blend together.
Once boiling, remove from heat and quickly stir in the peanut butter and vanilla. Stir until blended and smooth.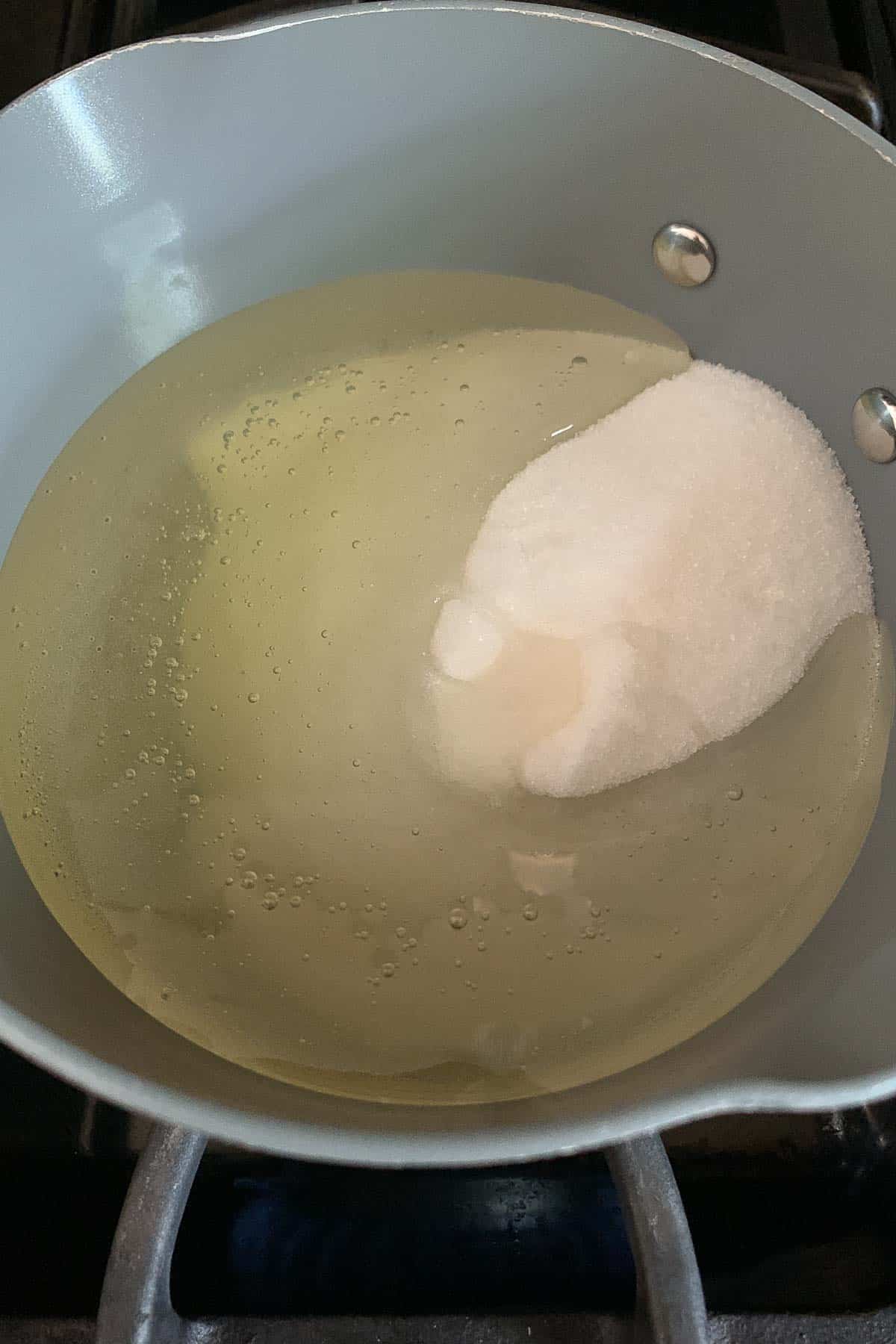 Immediately pour the mixture over the cereal, and use a silicone spatula to mix well, until evenly coated.
Scoop into the prepared pan and gently but firmly press to the edges. Set aside.
To make the topping, combine chocolate chips and butterscotch chips in a microwave-safe bowl.
Microwave in 30-second intervals, stirring after each, until nearly melted. Stir well to melt the chips and blend together.
Spread in an even layer over the bars, then let cool completely until bars are cooled and topping has hardened.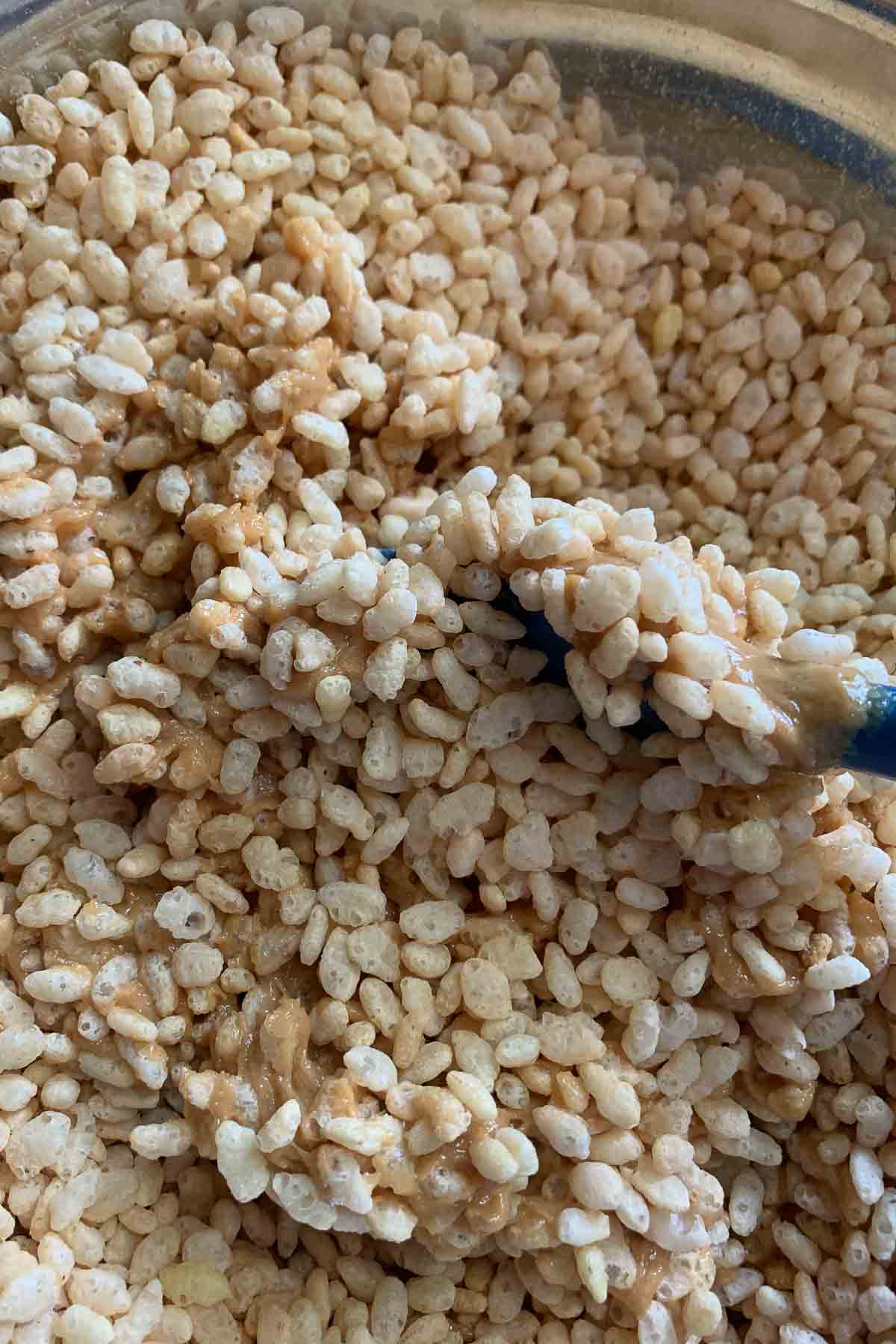 It will take about 2 hours for the bars to cool, or you can speed up the process by placing the pan in the refrigerator.
Once set, slice into bars and serve.
Recipe substitutions
Nut butters – If you have a peanut allergy, you can swap in almond or cashew butter in this recipe. Sunflower seed butter might also work. Note that any substitutions can change the texture.
Chocolate chips – Want to try a different flavor or don't have semi-sweet chocolate chips on hand? Try milk chocolate chips or dark chocolate chips. I also like to use white chocolate, which makes the topping feature the butterscotch more!
Gluten free – If you need this recipe to be gluten free, make sure to get gluten-free puffed rice cereal.
Major brands, as well as the store brands, tend to have malt extract in their rice cereal. Malt extract is not gluten free.
Look specifically for Gluten Free Rice Krispies, or Arrowhead Mills Puffed Rice Cereal.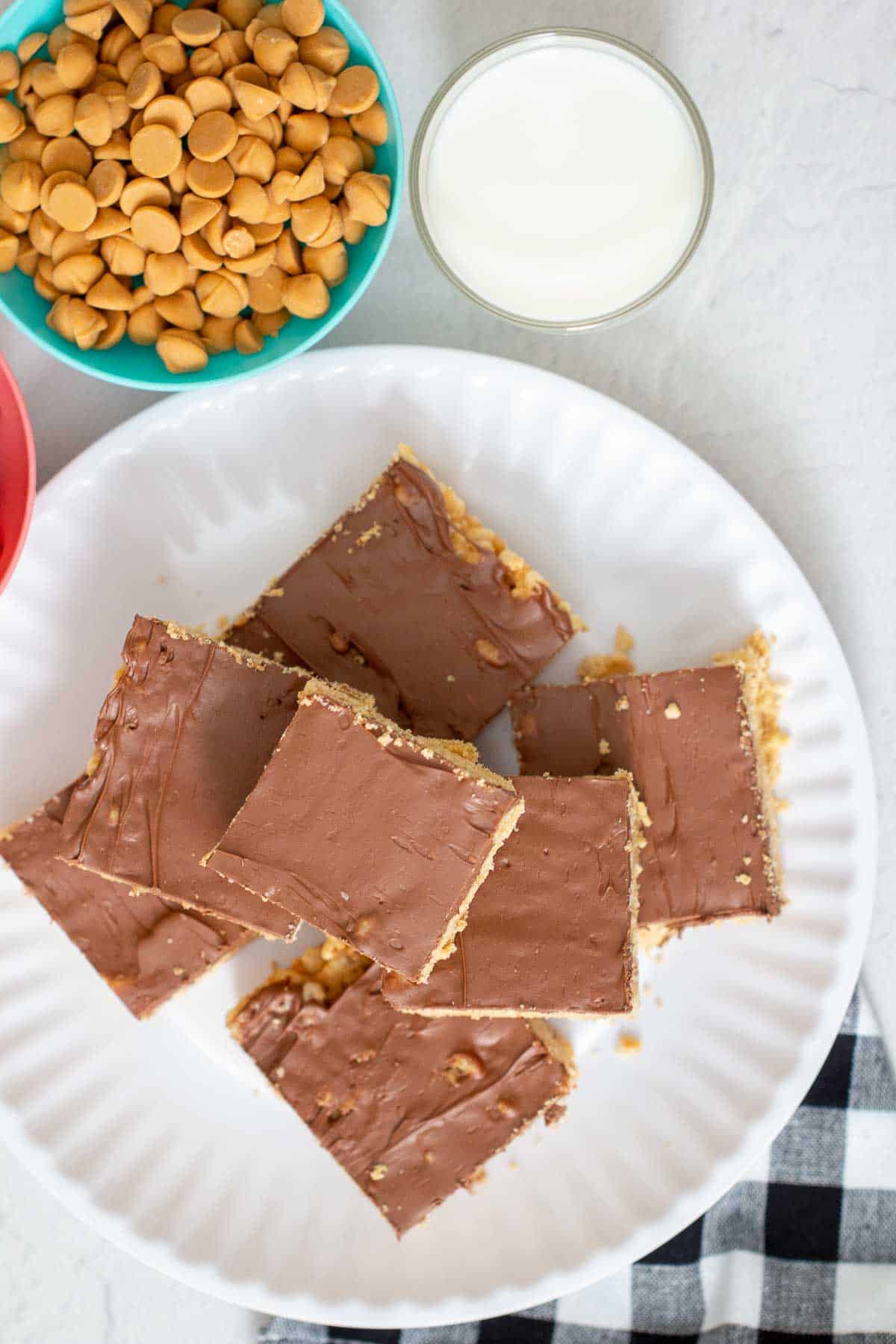 Storage tips
Leftover scotcheroos can be stored in an airtight container at room temperature for 3-5 days.
For longer storage, place in the fridge. Enjoy right from the fridge or let the scotcheroo come to room temperature before enjoying.
Other sweet snacks you'll love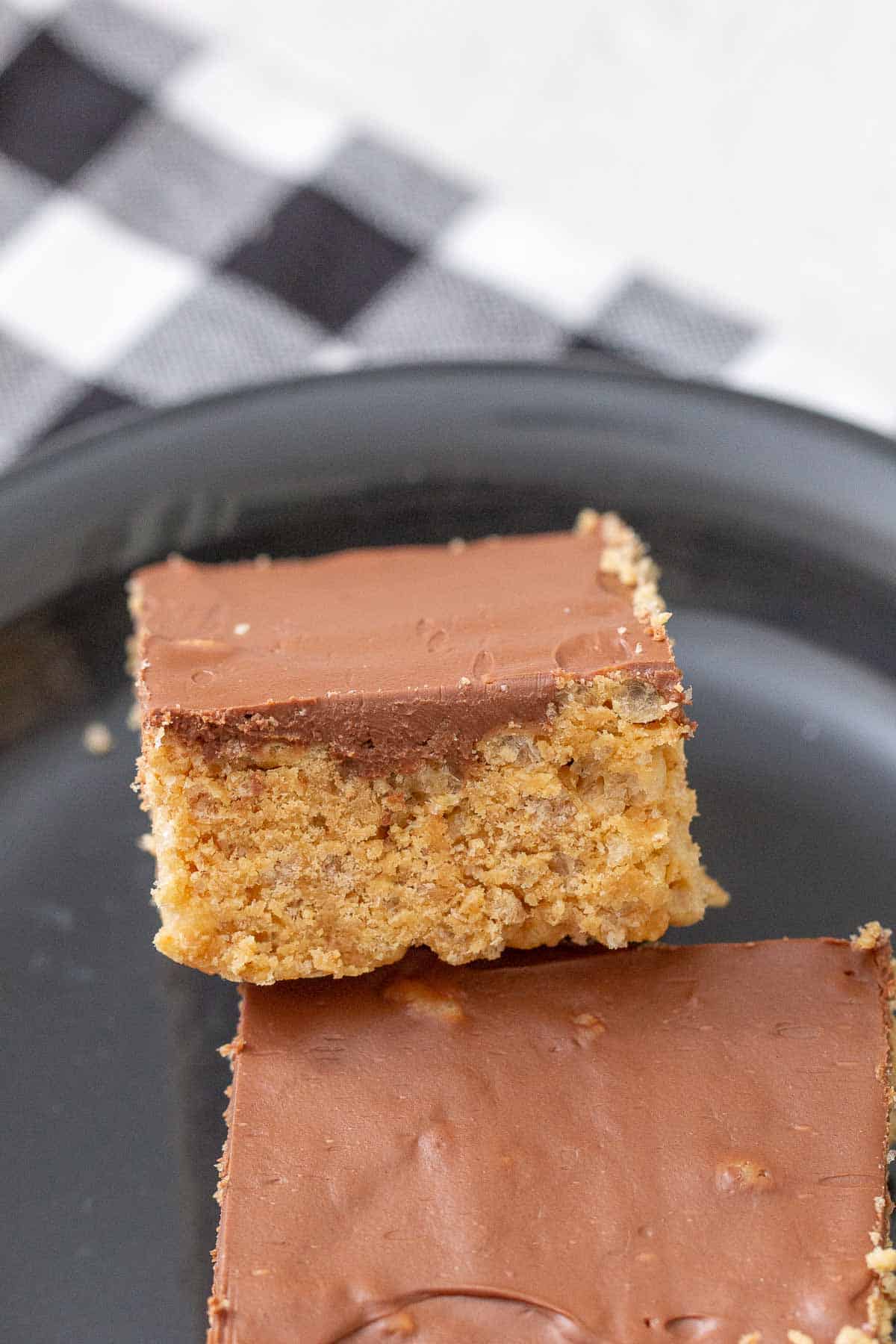 Scotcheroos are a must-make for anyone who loves peanut butter, chocolate, and butterscotch Happy snacking!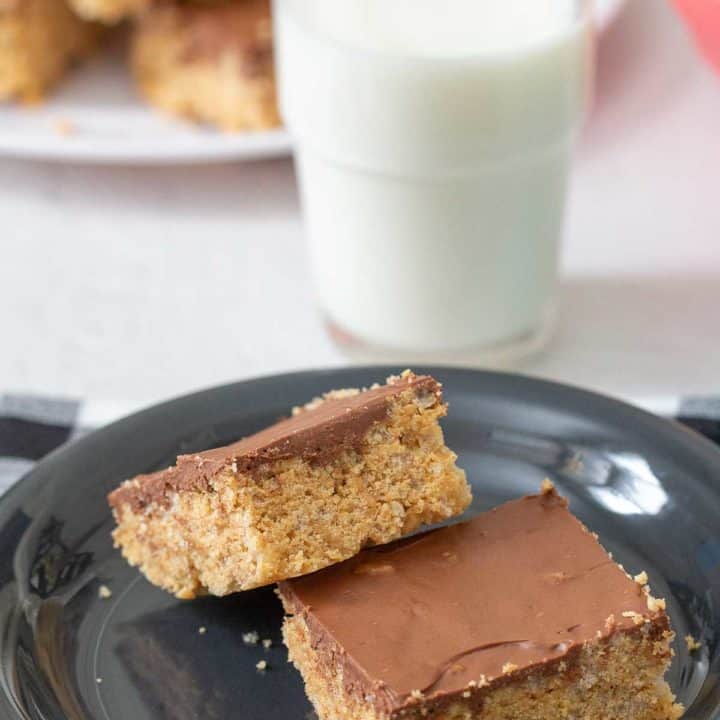 Scotcheroos are a Midwest classic snack. Filled with plenty of peanut butter and topped with chocolate and butterscotch, they're so hard to resist!
Ingredients
1 cup sugar
1 cup corn syrup
1 ½ cups peanut butter
1 teaspoon vanilla
6 cups Rice Krispies
1 cup chocolate chips
1 cup butterscotch chips
Instructions
Butter a 9x13-inch baking pan or line with parchment paper and set aside. Pour cereal into a large bowl.
In a small saucepan, combine sugar and corn syrup and bring to a boil, stirring to dissolve sugar completely.
Once boiling, remove from heat. Whisk in peanut butter and vanilla until well blended and smooth. Pour over the cereal and mix until coated.
Scoop into prepared baking pan and press gently but firmly to the edges.
Combine chocolate chips and butterscotch chips in a microwave-safe bowl and microwave in 30-second increments, stirring after each time, until nearly melted. Stir to melt completely and blend, then pour over the bars and spread to the edges.
Let cool completely, until topping has hardened. Slice and serve.
Nutrition Information:
Yield:
24
Serving Size:
1
Amount Per Serving:
Calories:

267
Total Fat:

12g
Saturated Fat:

5g
Trans Fat:

0g
Unsaturated Fat:

6g
Cholesterol:

0mg
Sodium:

129mg
Carbohydrates:

38g
Fiber:

1g
Sugar:

30g
Protein:

4g
Nutritional information is an estimate for informational purposes only and not to be used for individual dietary needs.