Chocolate Chip Mini Muffins
Chocolate chip mini muffins are a fun afternoon snack, lunchbox treat, or addition to the breakfast table. Everyone loves them!
Whenever we pass through the bakery section of the grocery store, my kids' eyes light up at the sight of mini muffins.
And why not? Those cute little muffins are hard to resist, and seem so much better than buying a pack of the enormous versions.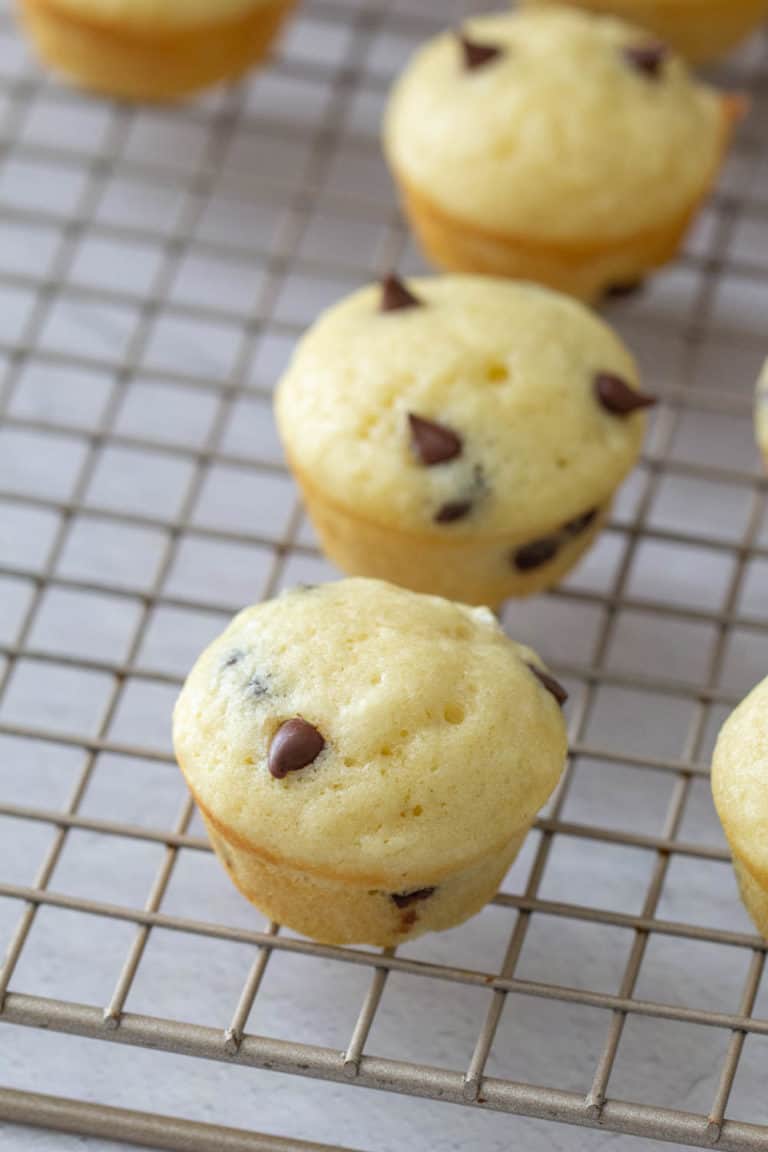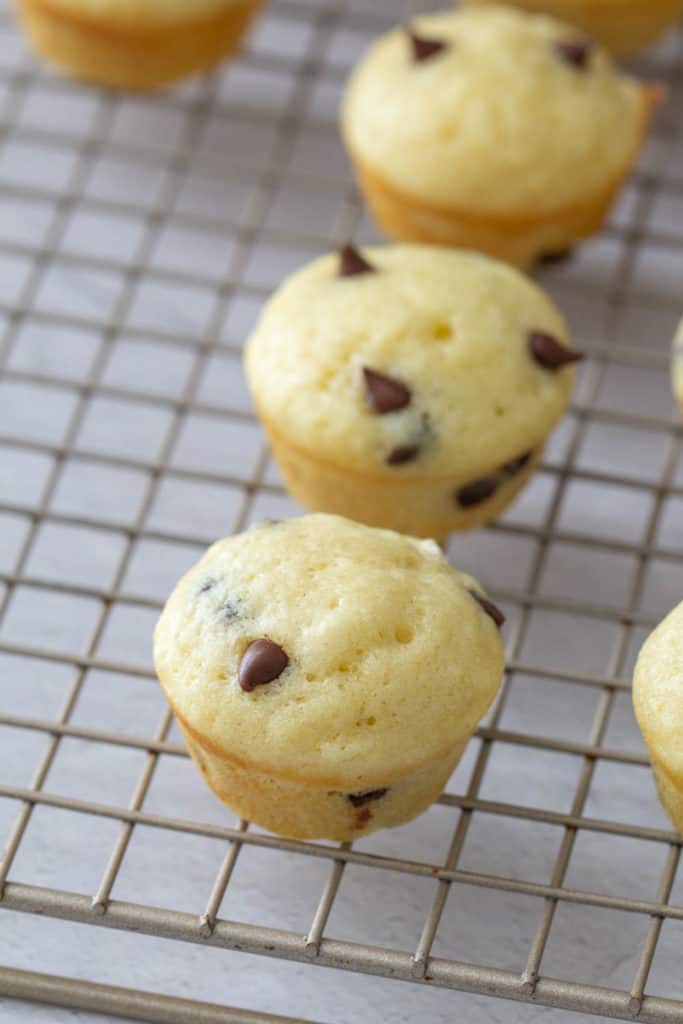 Luckily for my kids, mini muffins are super easy to make at home. All you need is any muffin recipe and a mini muffin pan!
Mini muffin pans are great for whenever you want to size down your baking. I like to use them for savory recipes in addition to sweet, like spicy bacon corn muffins.
Mini muffins are ideal for brunch gatherings, too. I know I always want every option for my own brunch plate, and mini muffins make it easy to add a bite of baked goodness.
For this recipe, you'll need mini chocolate chips. Regular chocolate chips will work if needed, but the smaller size ensures the chocolate will be evenly dispersed among the muffins, leaving no muffin sad and chocolate free!
What can I add to mini muffins?
Just like a standard size muffin, mini muffins are delicious with a variety of mix-ins.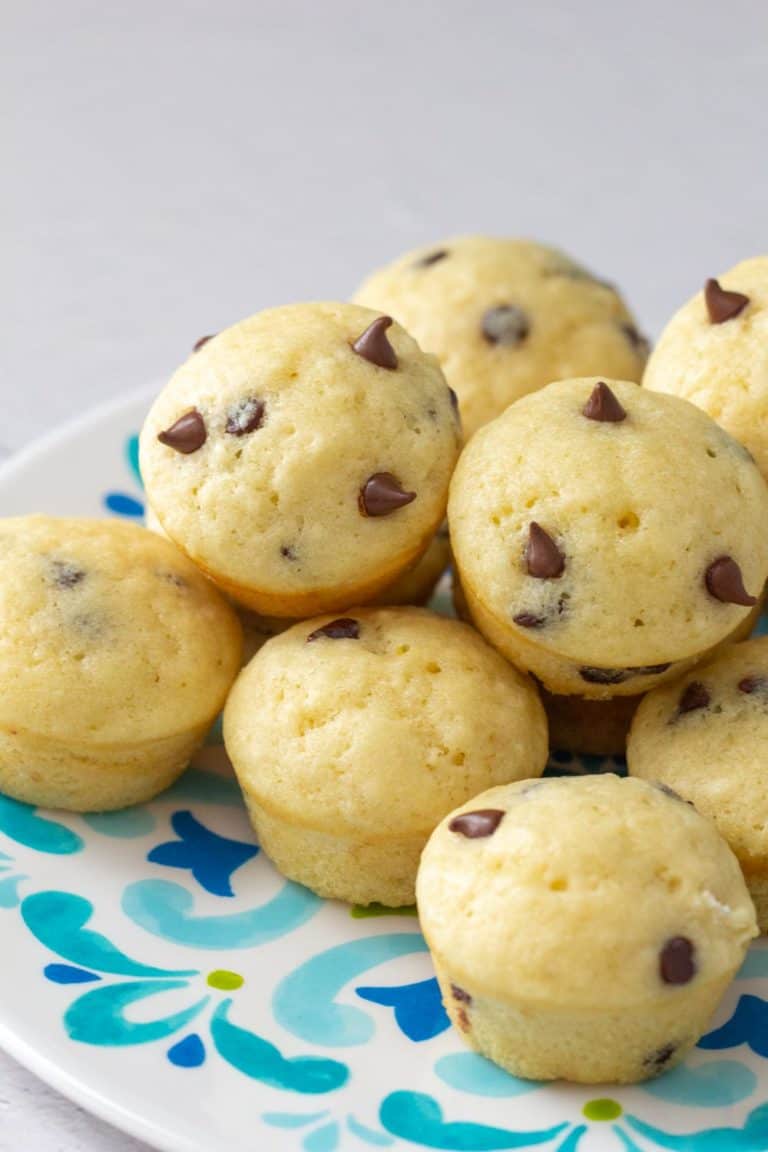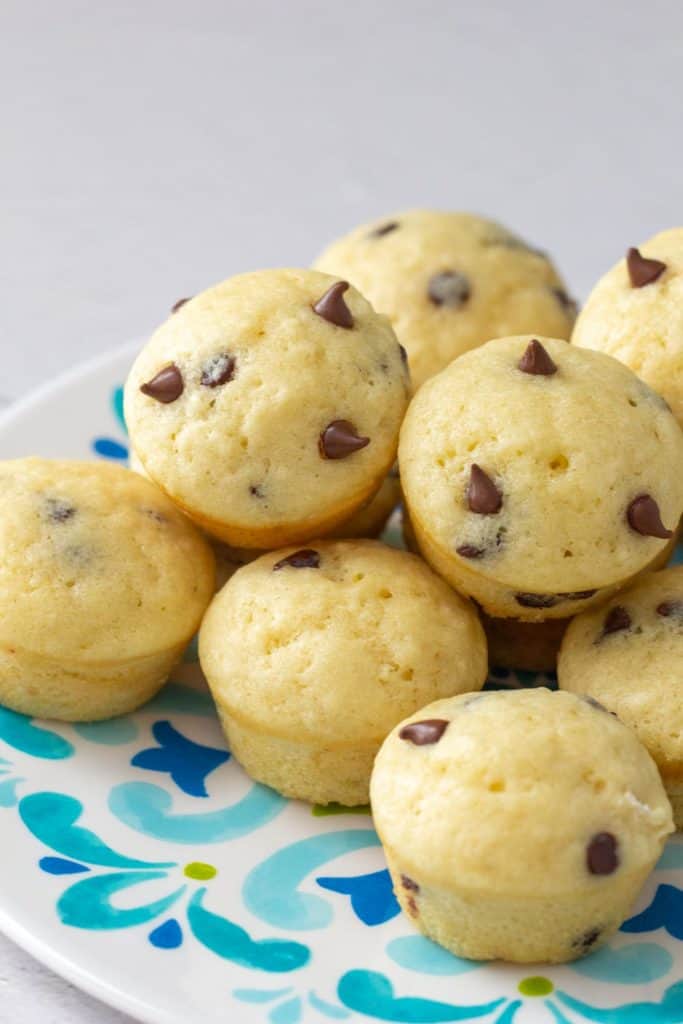 The most important thing to keep in mind is that due to the smaller size, it's best to make sure your mix-ins are small, too.
Wild blueberries, which can be found in the freezer aisle, work beautifully. You can also chop up nuts or dried fruit to about the size of small peas.
Be sure to pat your mix-ins dry, or toss them in a small amount of flour to help prevent sinking while baking.
Can I freeze mini muffins?
Yes! Muffins are ideal for freezing.
Cool the muffins completely, then transfer them to a freezer-safe container. If you like, add a layer of freezer paper or parchment between layers.
You can use bags or lidded containers. I like to use vacuum seal bags when I make a large amount of muffins, because they'll stay fresher for longer.
However, if I think we'll eat them soon, a lidded container like Pyrex works well for grabbing just a few at a time.
Frozen mini muffins only need a few seconds in the microwave to thaw, or you can set them on the counter for about 30 minutes before eating.
Of course, your family might not let you freeze these and gobble them up instead!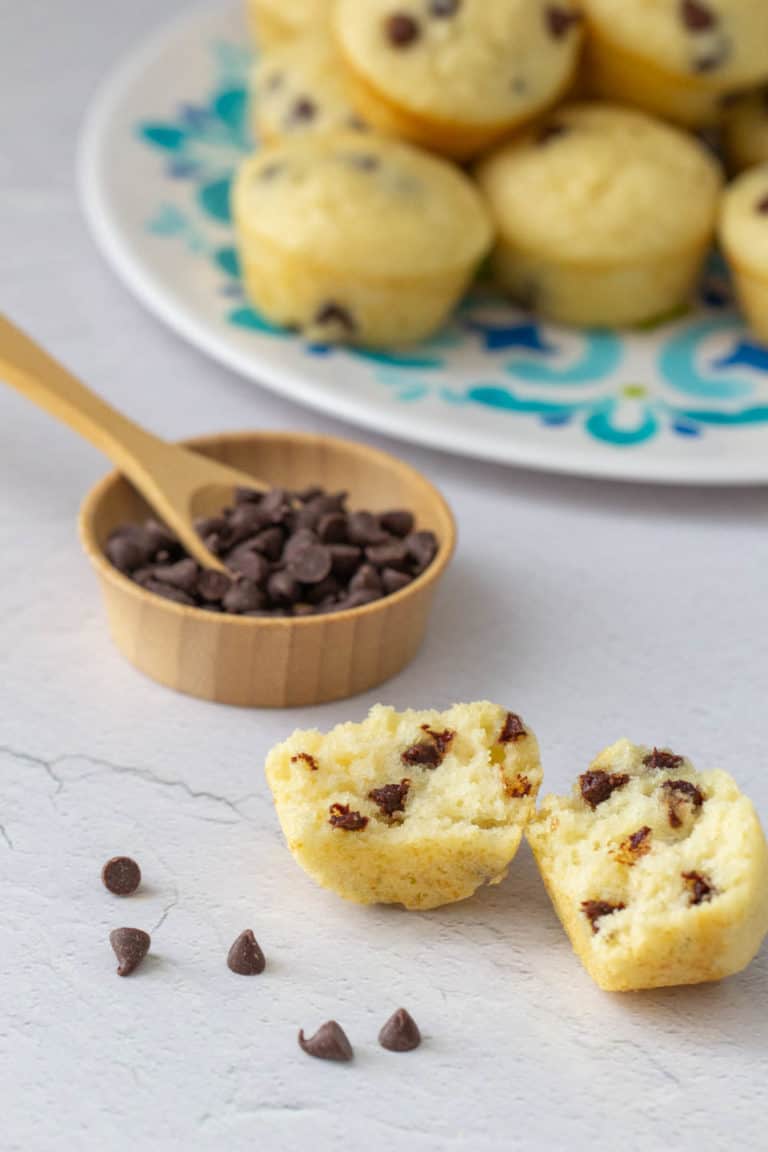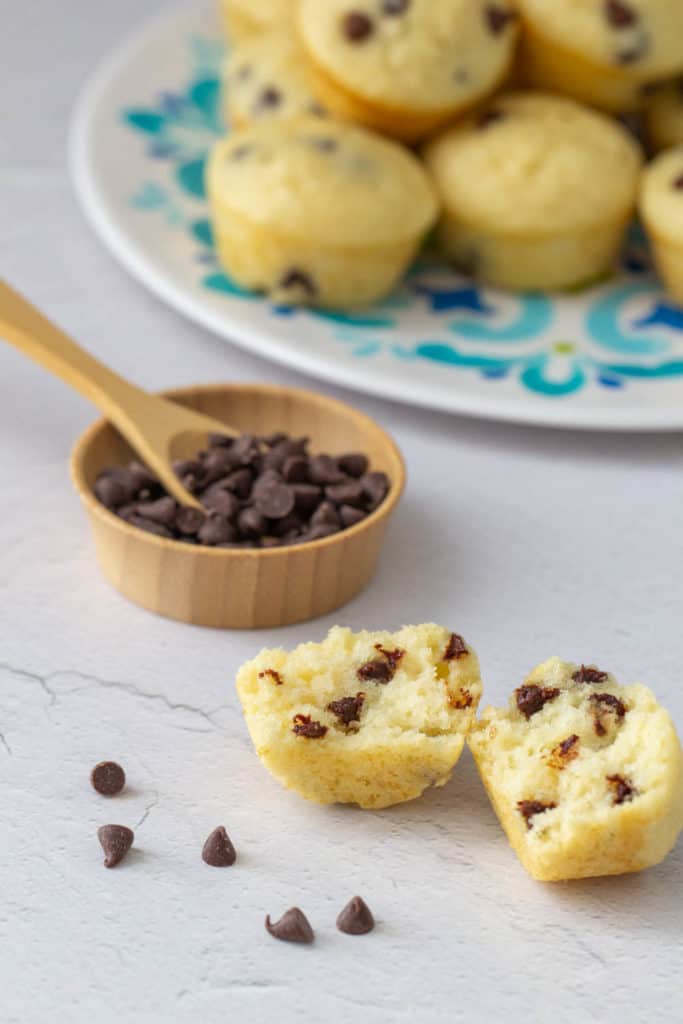 TIPS FOR MAKING WITH KIDS
Muffins are a great baking project to do with kids. The small size gets them excited about the result!
Small children can practice mixing in bowls. I recommend using a larger bowl than you'd normally use to prevent ingredients from escaping. Put a damp towel under the bowl to help prevent slippage.
Let your older child do the measuring to practice reading recipes and understanding fractions.
Involve the kids in the clean-up while the muffins bake. Getting everyone to pitch in helps the task go faster, and teaches them about the importance of helping the family.
Most importantly, let them be the first "taste-testers" once the muffins are cooled!
Tuck your muffins into a lunchbox or serve them up after a long day at school. Happy snacking!
Yield: 36 mini muffins
Chocolate Chip Mini Muffins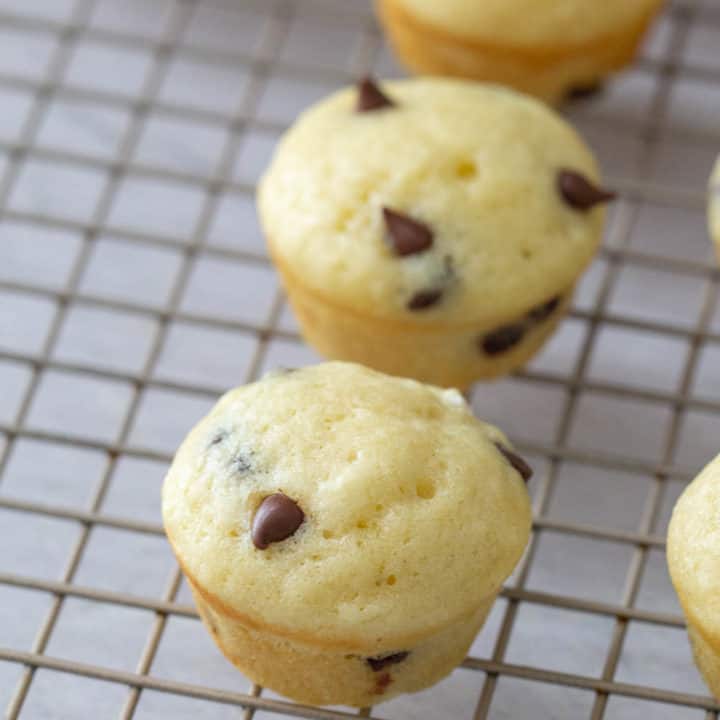 Mini muffins are a fun snack for the kids and kids at heart. Chocolate chips make them so tempting!
Ingredients
2 cups all-purpose flour
2 teaspoons baking powder
¼ teaspoon fine sea salt
4 tablespoons (1/2 stick) unsalted butter, softened
½ cup granulated sugar
2 large eggs
1 cup milk
1 teaspoon pure vanilla extract
⅓ cup mini chocolate chips
Instructions
Preheat oven to 350°F and lightly coat a mini muffin pan with nonstick spray.
In a medium bowl, mix together flour, baking powder, and salt. Set aside.
In a large bowl, beat together butter and sugar until soft and creamy. Stir in eggs, one at a time, then add milk and vanilla and mix until smooth.
Stir the dry ingredients into the butter mixture, mixing just until all the flour is incorporated. Fold in the chocolate chips.
Fill mini muffin pan wells about ¾ full. Bake for 10-15 minutes, until a toothpick inserted in the center comes out clean and muffins are golden.
Let cool slightly in pan before carefully removing (a spoon works well) and cooling completely on a wire rack. Repeat with any remaining batter.
Nutrition Information:
Yield:
36
Serving Size:
1 muffin
Amount Per Serving:
Calories:

63
Total Fat:

2g
Saturated Fat:

1g
Trans Fat:

0g
Unsaturated Fat:

1g
Cholesterol:

14mg
Sodium:

60mg
Carbohydrates:

10g
Fiber:

0g
Sugar:

4g
Protein:

1g