Strawberry Rice Krispie Treats
Bursting with strawberry flavor in each bite, strawberry rice krispie treats are easy to make in minutes. They're perfect for parties, lunch boxes, or afternoon snacking!
Marshmallow treats have long been a favorite snack, and it's not hard to understand why. Chewy, gooey, and sweet, they are the perfect end to a picnic or snack for after school.
While the classic is great, I love to make variations, and these strawberry rice krispie treats are possibly my most favorite version.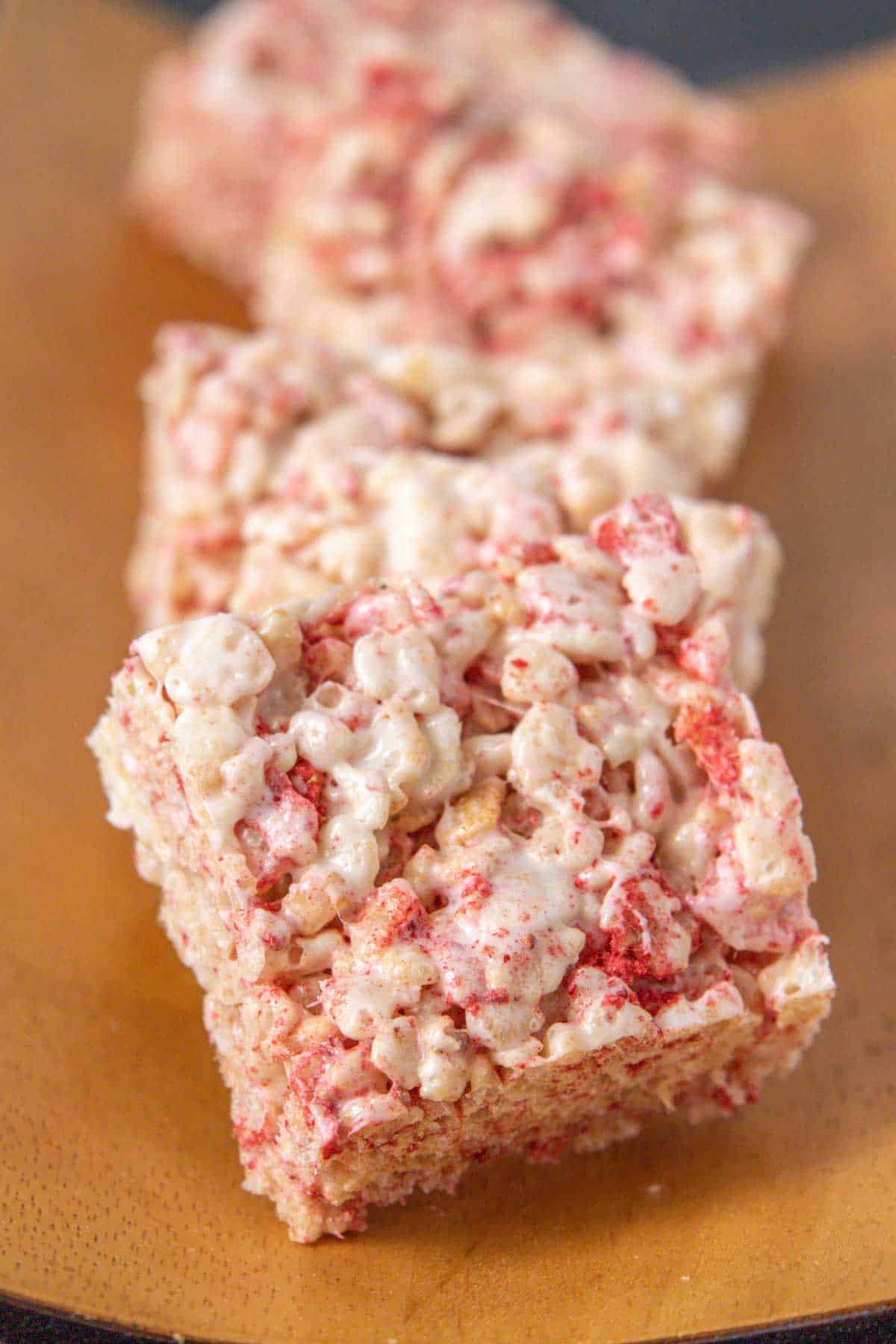 Strawberry rice krispie cereal isn't available anymore, so I turn to real strawberries for this twist on the classic.
Instead of strawberry gelatin, this recipe uses freeze-dried strawberries for lots of fresh, fruity flavor in each bite!
These are great for a pink Valentine's Day treat or for celebrating the sweet strawberry flavor of summer.
No matter when you enjoy them, they're sure to be a hit with the whole crowd!
Ingredients for strawberry rice krispie treats
You'll need: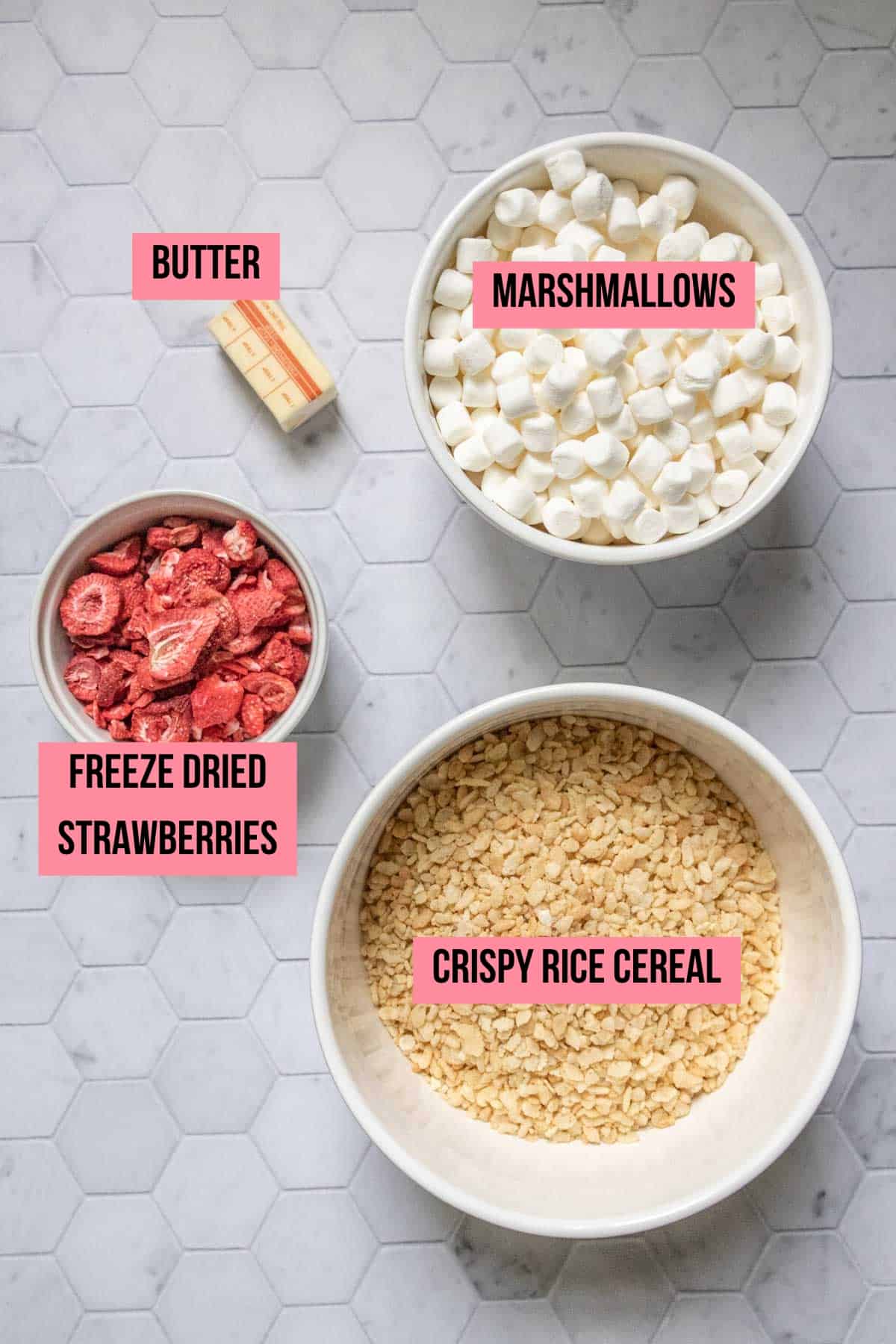 Crispy rice cereal – I recommend using a plain cereal for this treat.
If you use a flavored variety of cereal such as chocolate, keep in mind your treats will be a bit sweeter.
Mini marshmallows – Mini marshmallows are great for crispy cereal treats because they melt faster than standard marshmallows.
You'll need a whole 10.5-ounce bag of mini marshmallows. If you want some extra unmelted marshmallow pieces, make sure to buy extra.
Butter – Melted butter helps prevent the marshmallow and cereal from sticking to the pot too much as you mix.
Freeze-dried strawberries – Look for freeze-dried strawberries along with the other dried fruits at the grocery store.
Freeze-dried fruit is different in that it does not contain added sugar, so it is dry instead of sticky and chewy like dried raisins or cranberries.
You will need about 1 ½ cups of freeze-dried strawberries, which is a 1.2-ounce package.
If you are buying freeze dried strawberry powder, you'll need ½ cup.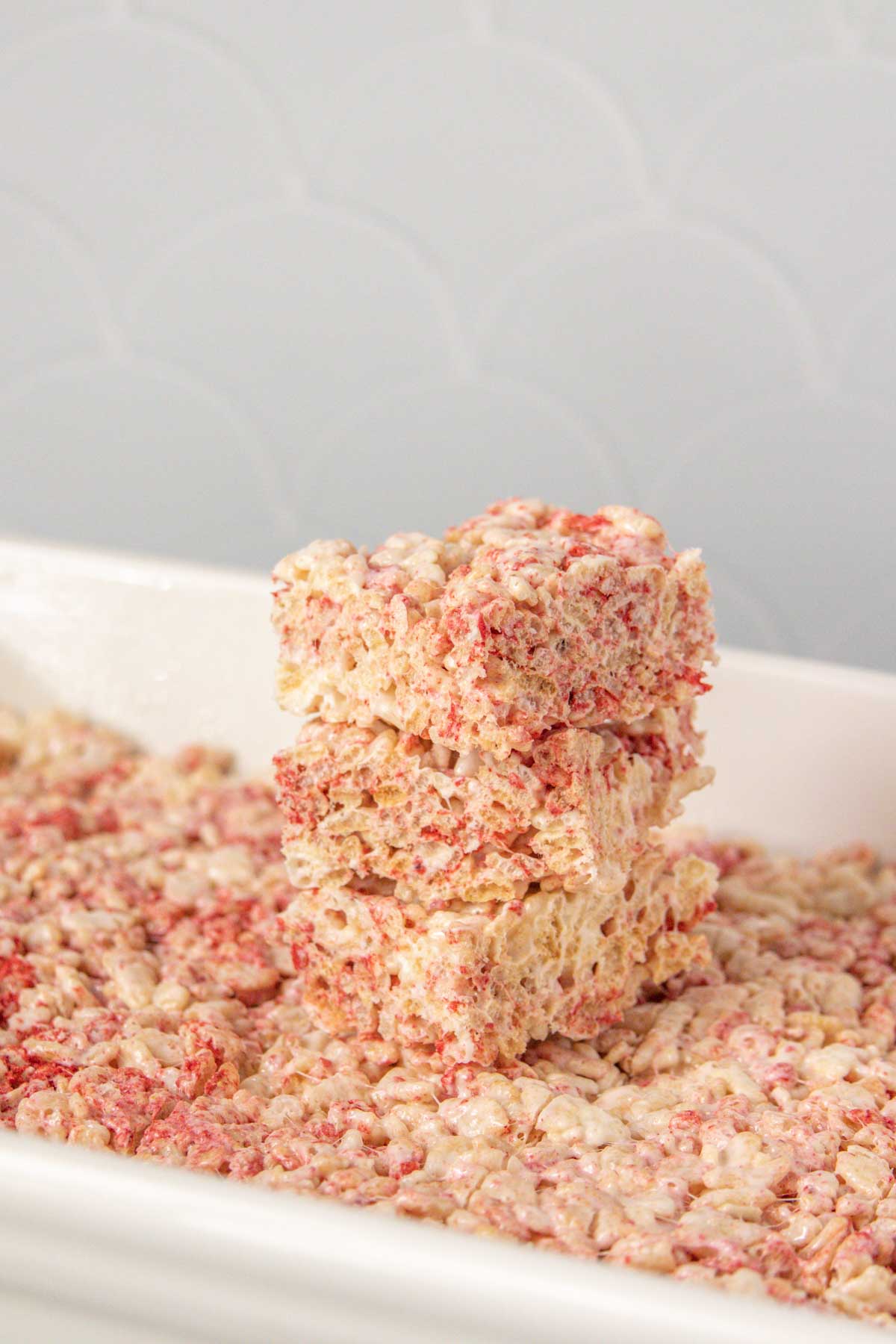 How to make this recipe
Spray a 9×13-inch baking pan with a light coating of nonstick spray. For thicker bakery-style treats, use a 9×9-inch square pan.
Measure 1 ½ cups of freeze-dried strawberry pieces and add to a food processor. Pulse until berries are mostly pulverized into powder, with a few larger pebble-size pieces. Set aside.
Measure the cereal into a bowl and set aside. Open the bag of marshmallows and set aside as well.
Add the butter to a large pot and melt over low heat.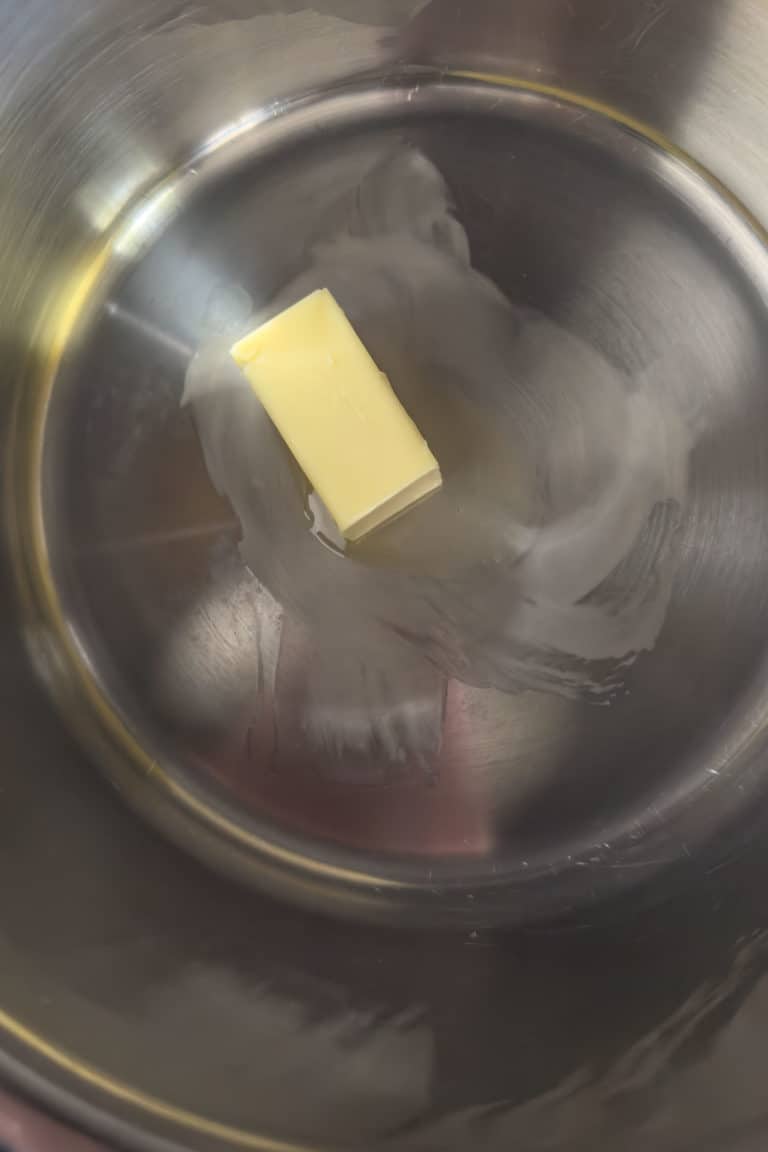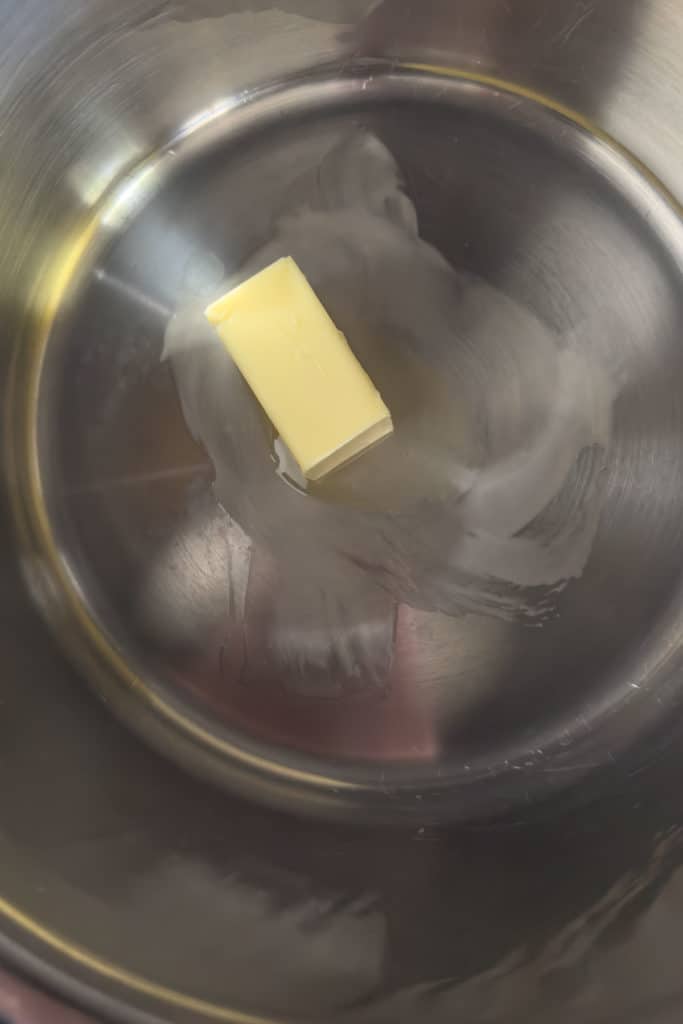 Once the butter is fully melted, add the marshmallows. Stir to coat with the butter.
Continue to stir the marshmallows frequently, scraping up from the bottom and folding over to help the marshmallows melt.
Once the marshmallows are completely melted, remove from heat.
Add the cereal all at once and stir, working quickly to mix with the marshmallow while it is still warm. Mix well so that there are no loose bits of cereal or large pockets of marshmallow.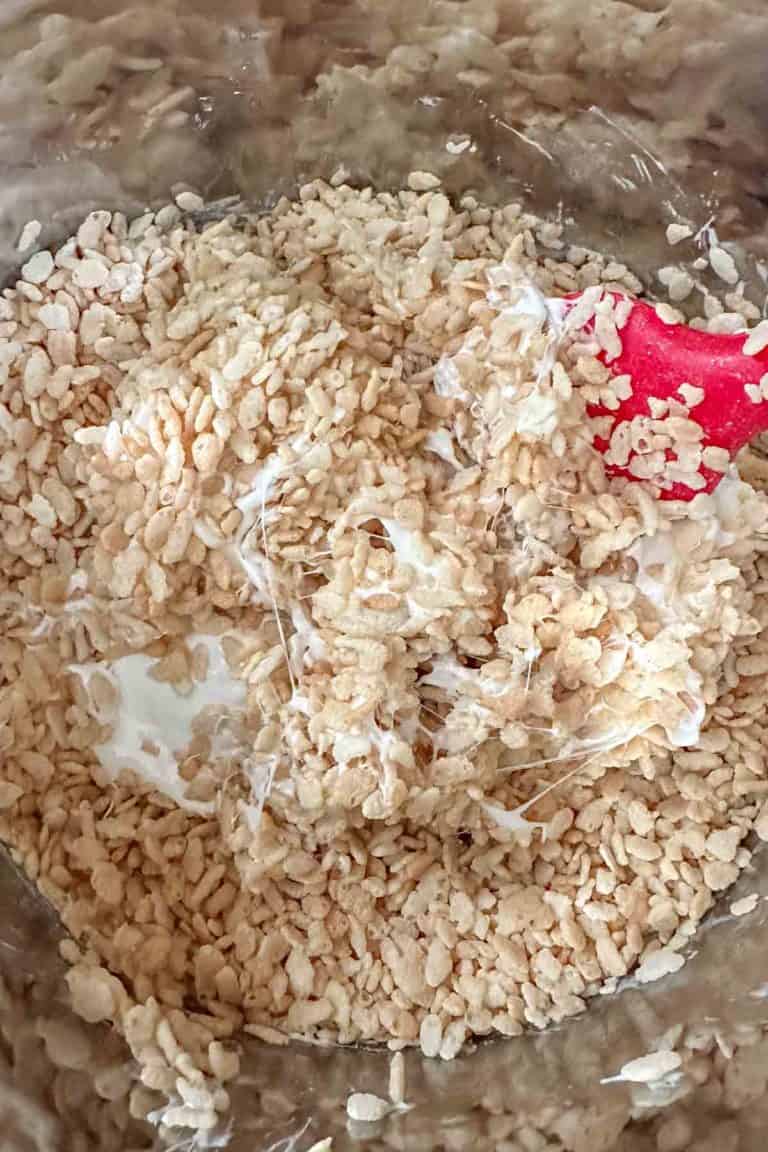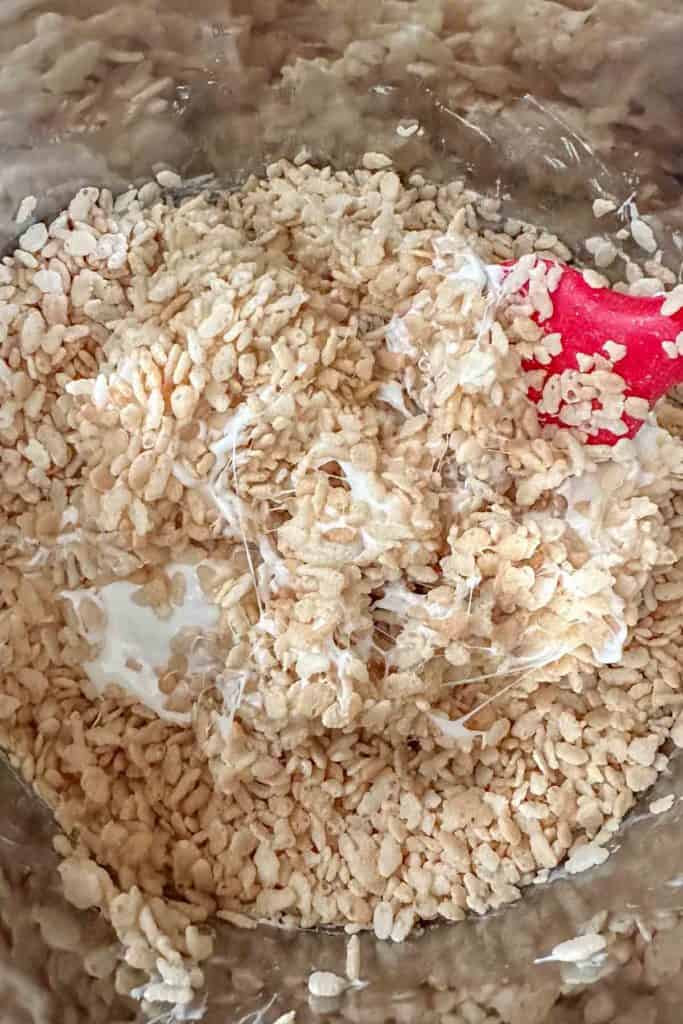 Add the powdered strawberry and stir to evenly distribute.
Scoop the mixture into the prepared greased pan. Lightly spray your hand, the spatula, or a piece of waxed paper with nonstick spray and gently press the marshmallow mixture to the edges of the pan.
Make sure to not compress the cereal too much. It's OK if the mixture does not fully reach the edges.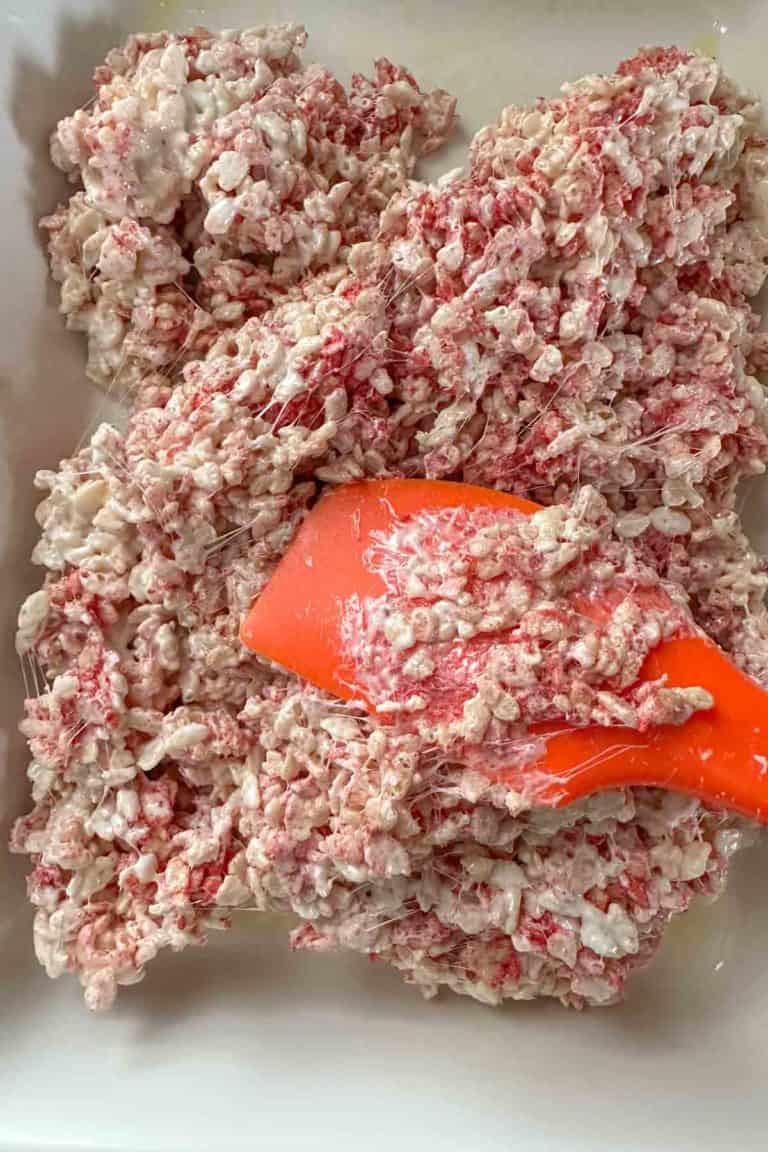 Let the marshmallow treats cool for about 1 hour before cutting and serving.
Store in an airtight container at room temperature or covered with plastic wrap.
Tips and tricks
Use fresh marshmallows
While it can be tempting to use up leftover marshmallows to make krispie treats, older marshmallows from an open bag can be hard and difficult to melt.
Make sure your marshmallows are soft and not sticking together in the bag. That's how you'll know they are fresh!
Keep the heat low
The hardest part of this recipe is waiting for the marshmallows to melt, but don't be tempted to turn up the heat!
This can cause your marshmallows to burn and stick before they are fully melted, which will make it very hard to mix with the cereal.
Keep it low and go slow for the best gooey texture.
Don't add too much cereal
To keep the ratio of the cereal to marshmallow right, measure your cereal carefully.
It's important to measure the cereal into a bowl ahead of time rather than measuring into the melted marshmallow. This will make sure you use the right amount, and it will be easier to mix the ingredients together when you add all of the cereal at once.
Use a strong silicone spatula to stir
A stiff baking spatula will make stirring the ingredients together much easier than using a spoon.
It will allow you to scrape stuck bits from the sides and bottom of the pan, and easily fold over the mixture.
Don't press too hard
To prevent dense krispie treats, grease a spatula, waxed paper, or your hand to press the cereal mixture into the pan and press gently.
Press just enough so the treats reach the edges of the pan.
If you want thick, gooier treats, use a 9×9 square pan instead of a 9×13 pan.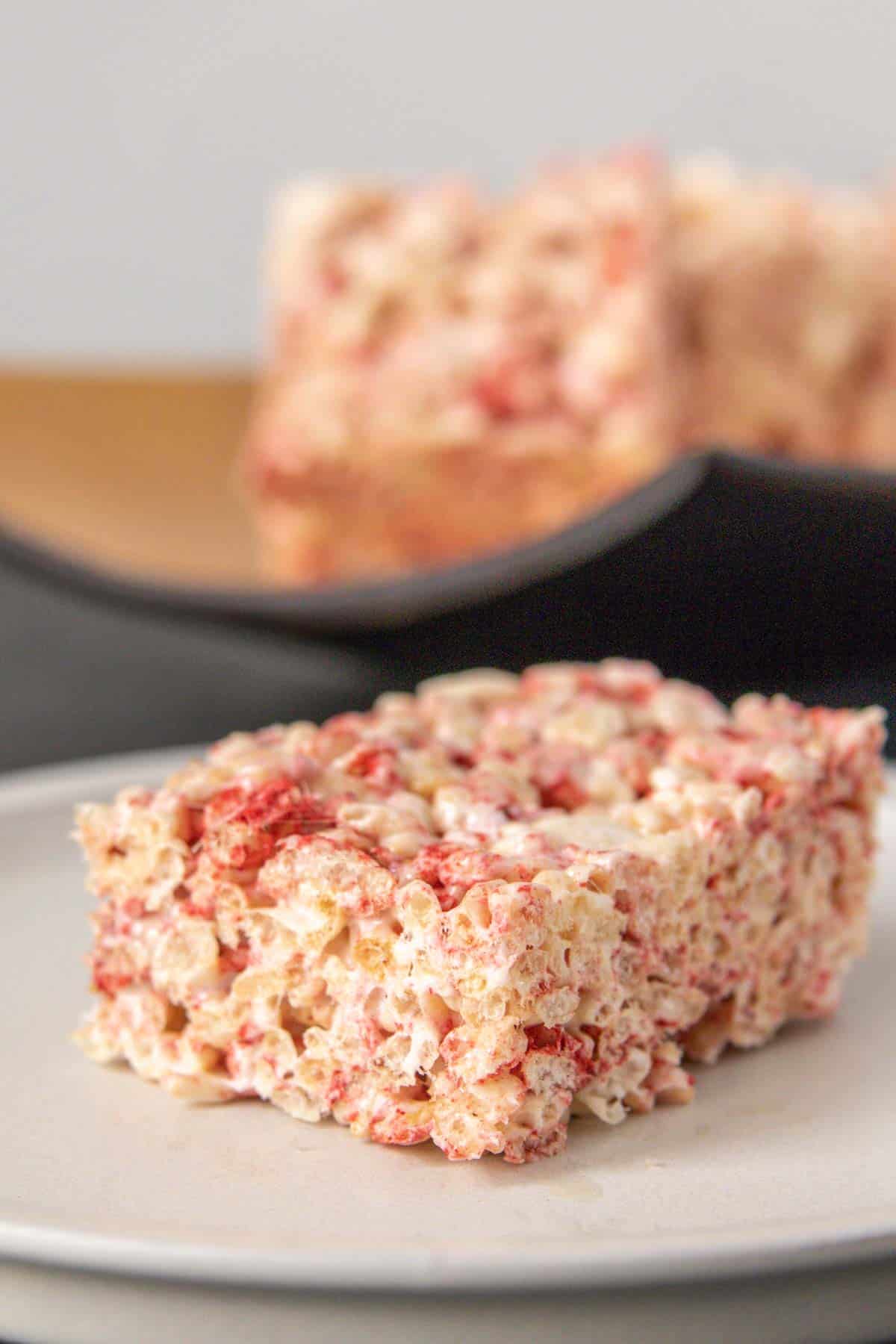 More easy treats
Try these kid-friendly favorites!
Yield: 24 servings
Strawberry Rice Krispie Treats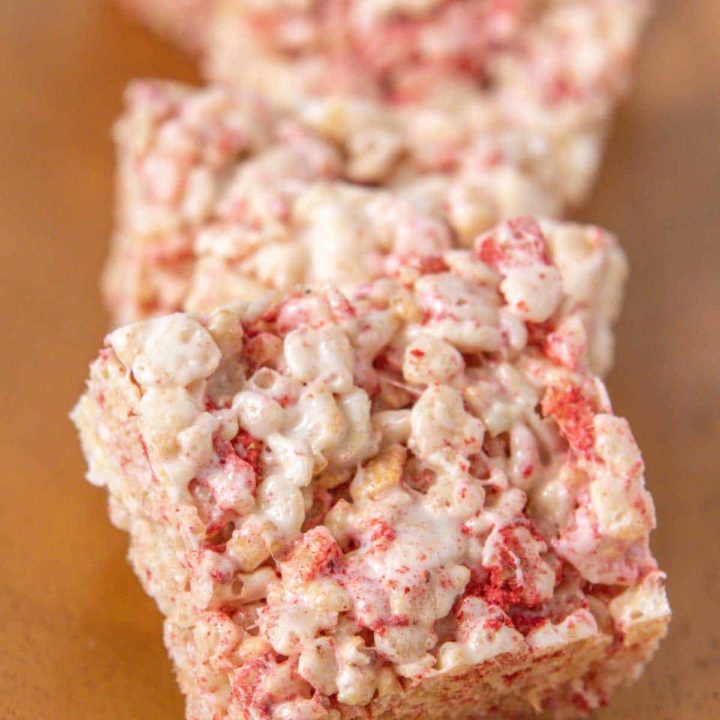 Strawberry rice krispie treats are bursting with fruity flavor! Everyone loves these easy treats.
Ingredients
6 cups crispy rice cereal
10.5 ounces mini marshmallows
1 ½ cups freeze-dried strawberries
4 tablespoons butter
Instructions
Lightly coat a 9x13-inch baking pan with nonstick spray and set aside. Measure out the cereal into a bowl, and open the bag of marshmallows. Set both aside.
Add strawberries to the bowl of a food processor and pulse until powdered, with a few larger pieces. Measure ½ cup and set aside.
In a large pot set over low heat, add the butter and melt. Once melted, add the mini marshmallows and stir to coat with the butter. Stir frequently to melt the marshmallow.
Once completely melted and smooth, remove from heat and stir in the cereal all at once. Work quickly to stir and coat the cereal, leaving no loose bits of cereal or pockets of marshmallow. Stir in the strawberry powder until evenly mixed.
Scoop the marshmallow mixture into the prepared pan. Lightly press down with a greased hand or spatula to reach to the edges of the pan; it's OK if it doesn't fully reach.
Let cool for 1 hour, then cut and serve. Store covered with plastic wrap, or in an airtight container, at room temperature.
Notes
You will need about 1.2 ounces of freeze-dried strawberries to yield ½ cup of strawberry powder.
Nutrition Information:
Yield:
24
Serving Size:
1
Amount Per Serving:
Calories:

86
Total Fat:

2g
Saturated Fat:

1g
Trans Fat:

0g
Unsaturated Fat:

1g
Cholesterol:

5mg
Sodium:

62mg
Carbohydrates:

17g
Fiber:

0g
Sugar:

8g
Protein:

1g
Nutritional information is an estimate for informational purposes only and not to be used for individual dietary needs.