Homemade soft pretzels are a delicious snack everyone loves! Boiled and baked, homemade pretzels are delicious with a variety of sauces.
Are you someone whose mouth starts watering the moment you can smell the aroma of the mall pretzel booth?
Or maybe soft pretzels are your go-to order when hitting the pub with friends or at a baseball game.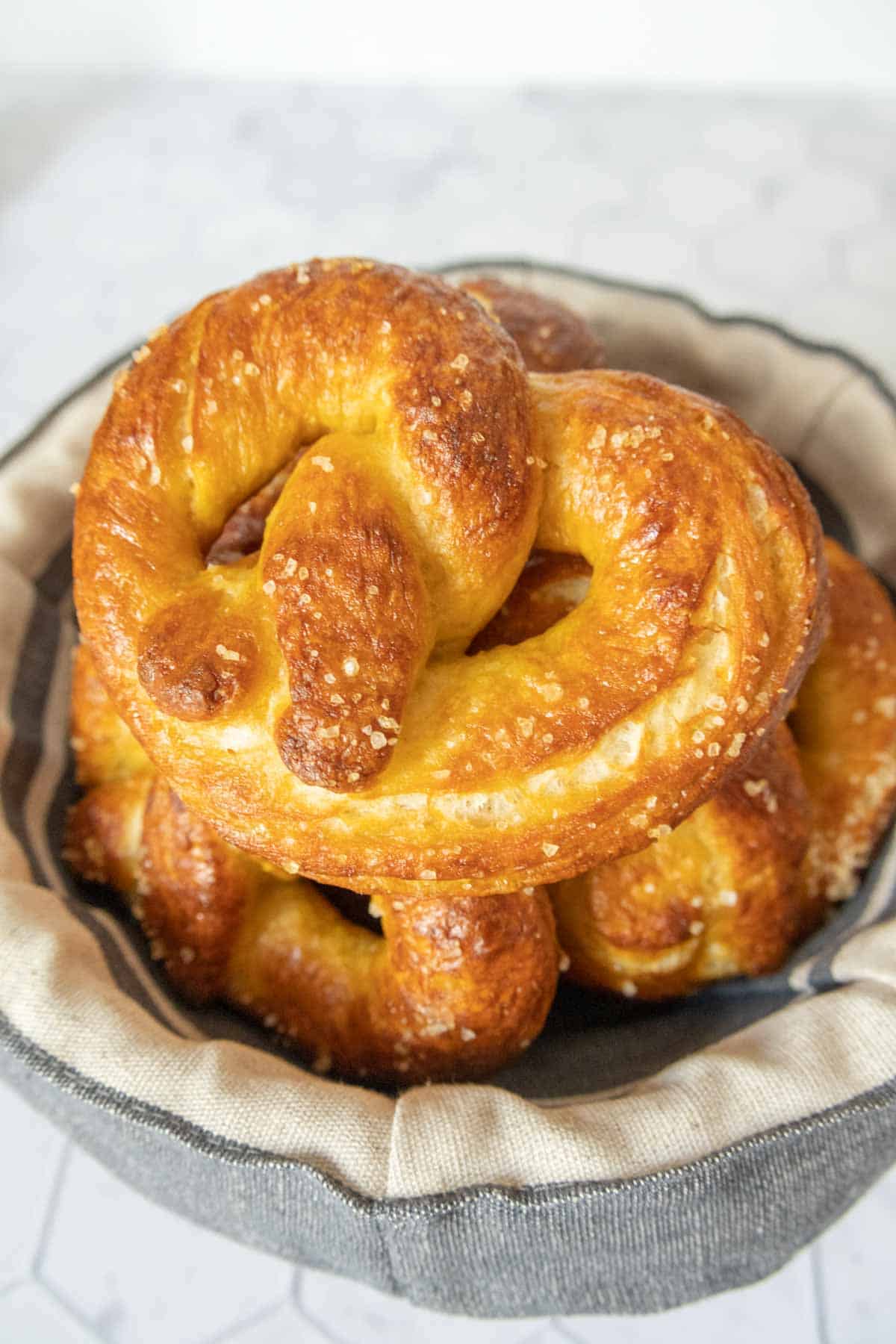 No matter where you get your pretzel fix, these chewy snacks are a snack staple. But did you know they're easy to make at home?
Homemade soft pretzels can seem daunting to make, but they are actually quite easy. Plus, you might already have everything you need on hand for a batch.
With a bit of patience and practice, you can be enjoying warm, chewy homemade soft pretzels in no time!
What are soft pretzels?
While the exact invention of pretzels has been debated, the consensus is that they were created in Europe during medieval times. Baker guilds in parts of Germany have used the pretzel as their emblem since the 12th century!
It's no surprise the popularity of pretzels has stood the test of time. Soft, chewy, and salty, these twisted breads are boiled, then baked for the best texture and flavor.
Pretzel dough is simple, but the flavorings can vary from savory to sweet and from cheesy to nutty. In many places, soft pretzels are served with mustard or cheese sauce.
Ingredients used in soft pretzels
You'll need: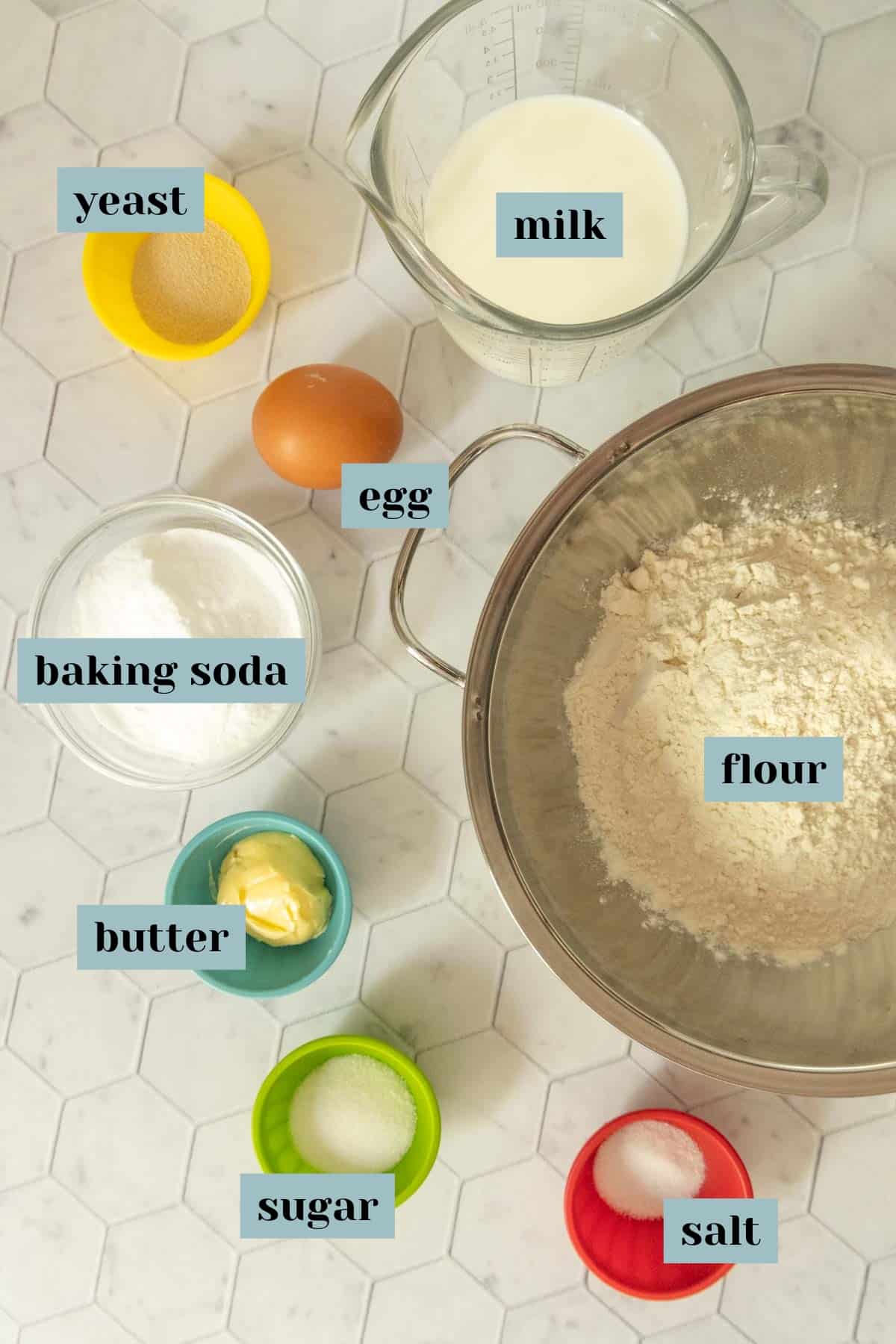 Flour – I use all-purpose flour when making pretzels. You can substitute up to 1/2 of the flour with whole wheat flour, keeping in mind you might need extra liquid for a smooth dough.
Sugar – Sugar helps feed the yeast for rising. I use granulated sugar, but you could try brown sugar for a deeper molasses flavor.
Yeast – This recipe calls for instant yeast. If you are buying it in packets, you'll need 1 full packet.
If you buy your yeast in larger bags or jars, you'll need 2 ¼ teaspoons.
Salt – Salt flavors the dough and also assists with slowing down the yeast so the dough does not rise too quickly.
Butter – I add a bit of softened butter to the dough to help make it supple. It also adds flavor; both salted and unsalted can be used.
Milk – Instead of water, I use warm milk for additional fat. Whole milk or 2% are both good options.
Water – You'll need plenty of water for boiling the pretzels, as well as a tablespoon for making the egg wash.
Egg – To help create a glossy sheen on the pretzels, they are brushed with beaten egg and water.
Baking soda – Baking soda is added to the water for boiling the pretzels. It helps the pretzels get their chewy texture and brown outer crust. Do not skip using it!
Coarse salt – What are pretzels without their distinctive salt topping? You don't need to get the very large pretzel salt; any coarse salt will do.
How to make this recipe
First, make the dough.
In a large mixing bowl, stir together 2 cups flour, sugar, instant yeast, and salt.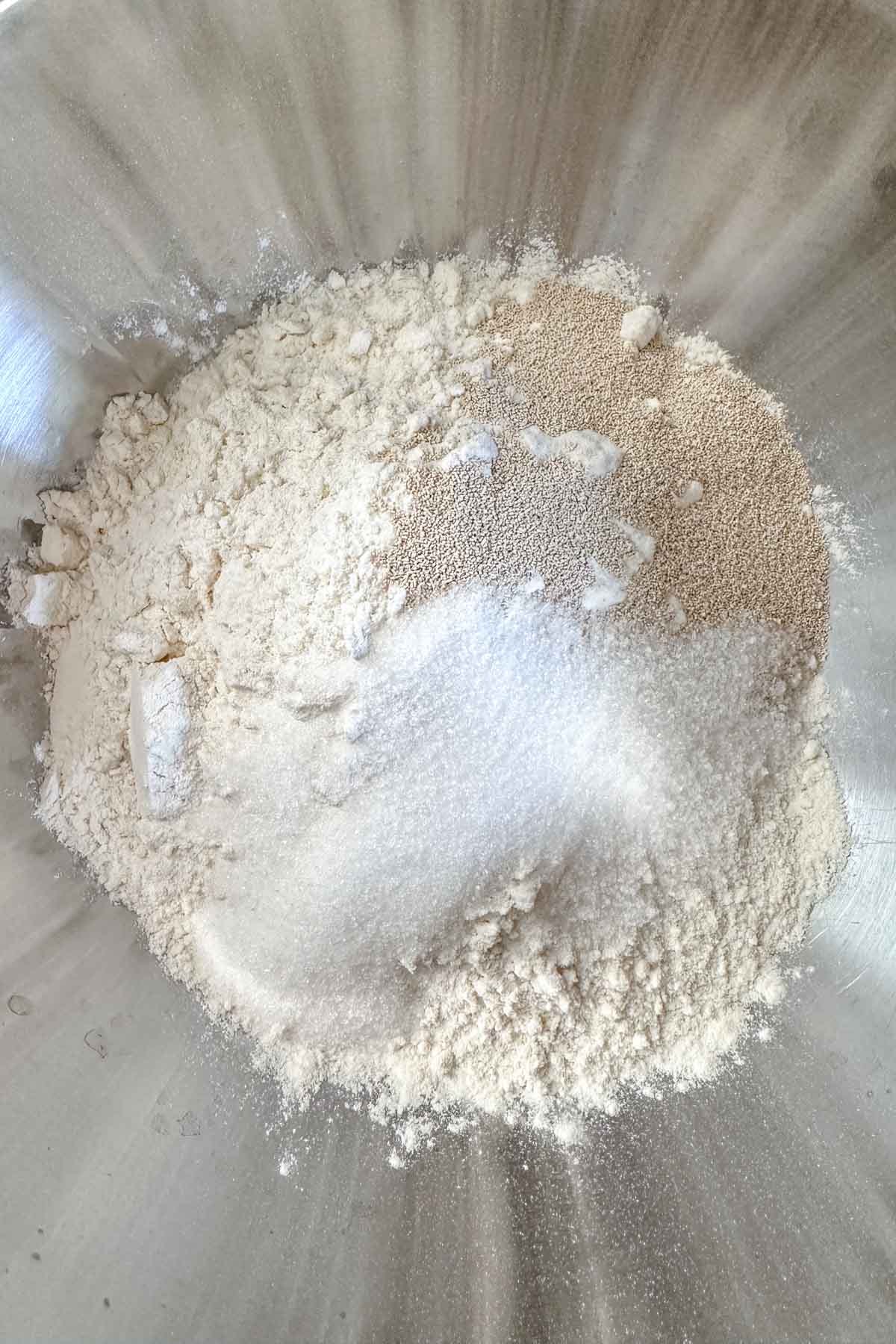 Heat the milk so it is warm to the touch (about 45 seconds in the microwave) and pour the milk into the mixing bowl along with the butter.
Mix together using a dough whisk, large spoon, or your hands (or using a stand mixer dough hook) until a shaggy dough forms. Add a little flour if needed.
Scoop the dough onto a floured surface and knead for 5-7 minutes, adding more flour to prevent sticking, until a smooth dough forms. The dough should be somewhat tacky to the touch, but not so sticky that it does not easily pull up from the countertop.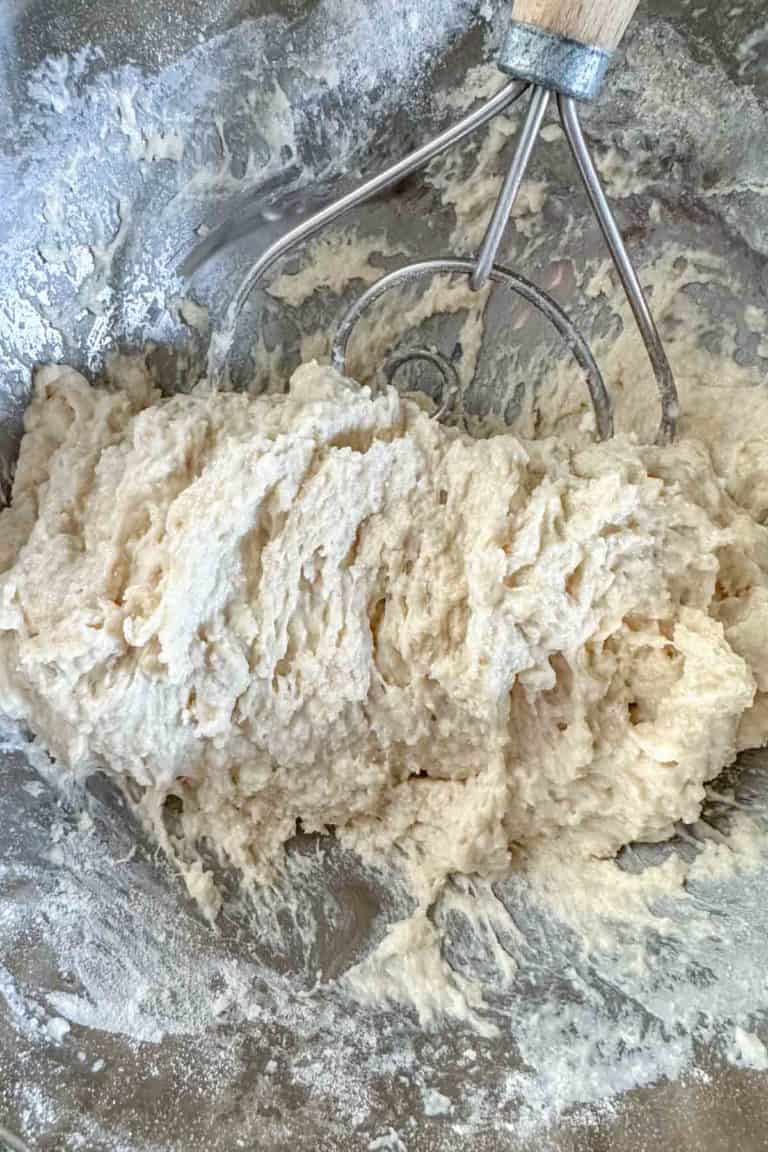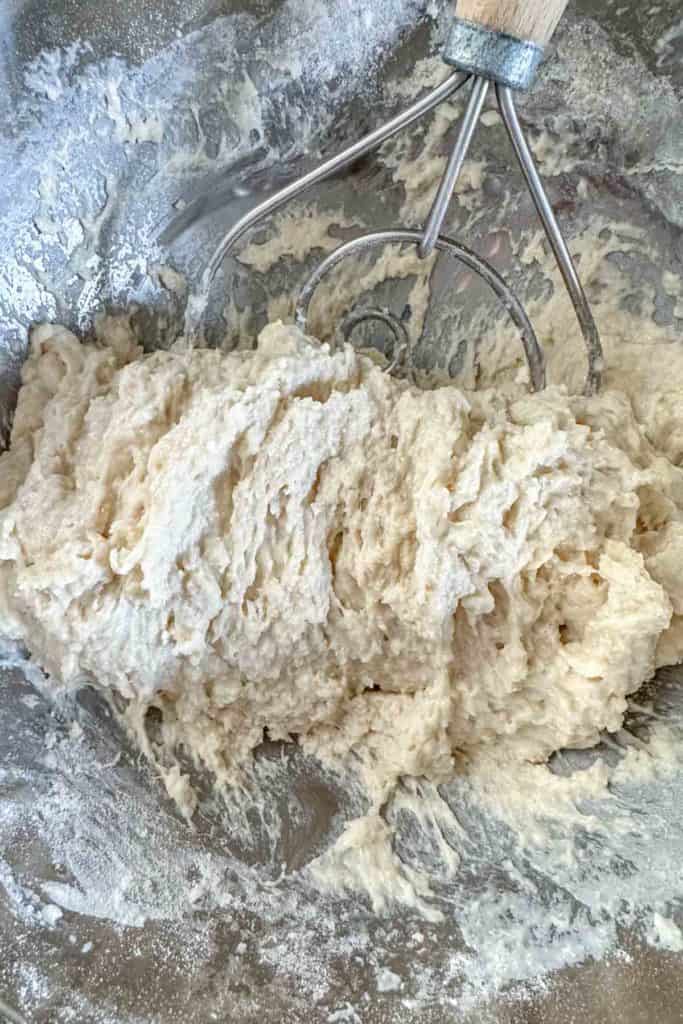 Shape the dough into a ball and place into a greased bowl. Cover and let rise for about 1 hour, until doubled.
Make sure you place the dough in a warm place to get a proper rise. I put mine in the microwave. Your best rising location may not be the kitchen!
Once the dough has risen, turn the oven to 450°F to preheat.
Fill a large pot with 2 1/2 quarts of water and add the baking soda. Set over high heat.
While the water is coming to a boil, shape the pretzels.
Scoop the dough onto a flour-dusted surface and gently deflate. Divide the dough into 8 equal pieces. You can do more pieces for smaller pretzels, or fewer for larger pretzels.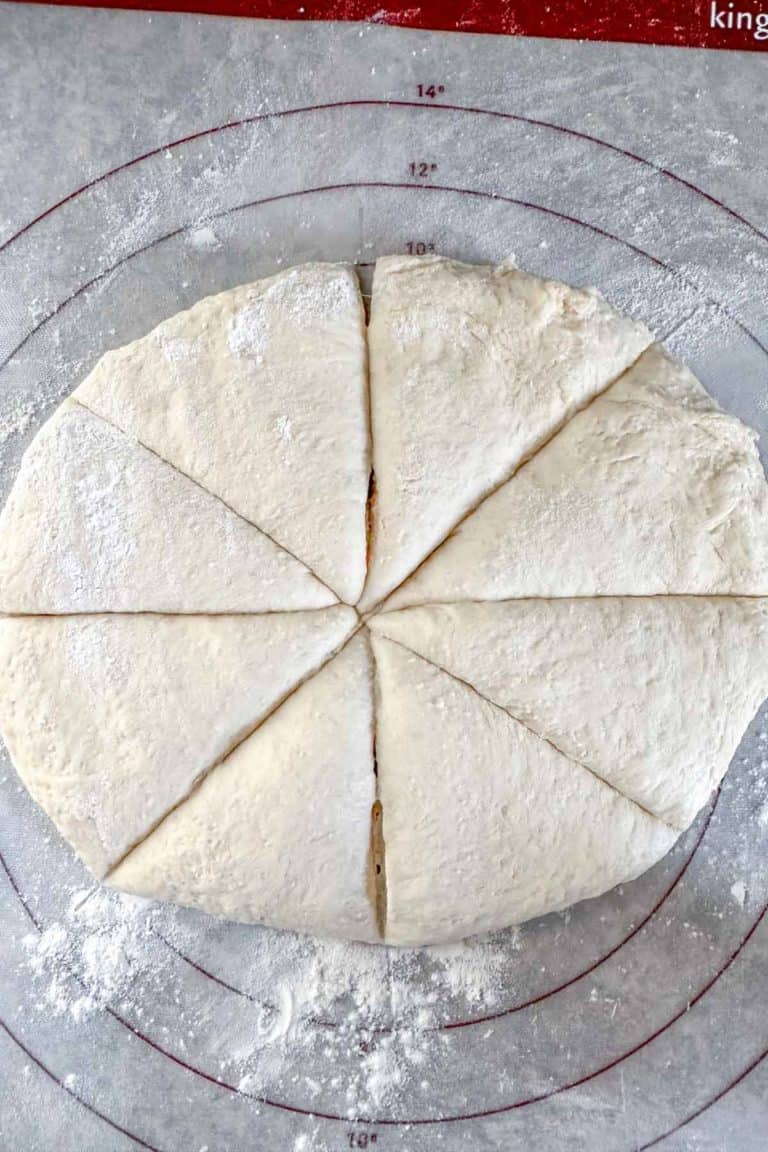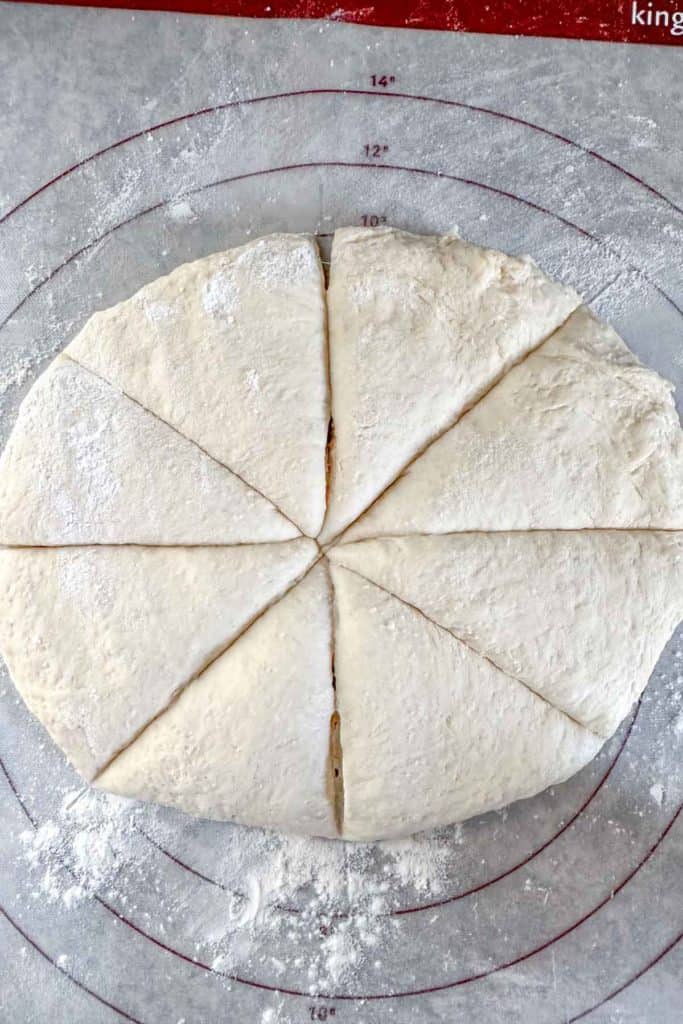 Take each piece of dough and use your hands to roll and stretch the dough into a long, even rope about 20 inches long. Do not add more flour, as the tackiness of the dough will help you roll it.
Make a U shape with the dough rope, then place the ends over themselves twice to form a twist. Then flip the U under the twist and fold the twist onto the U to create the classic pretzel shape.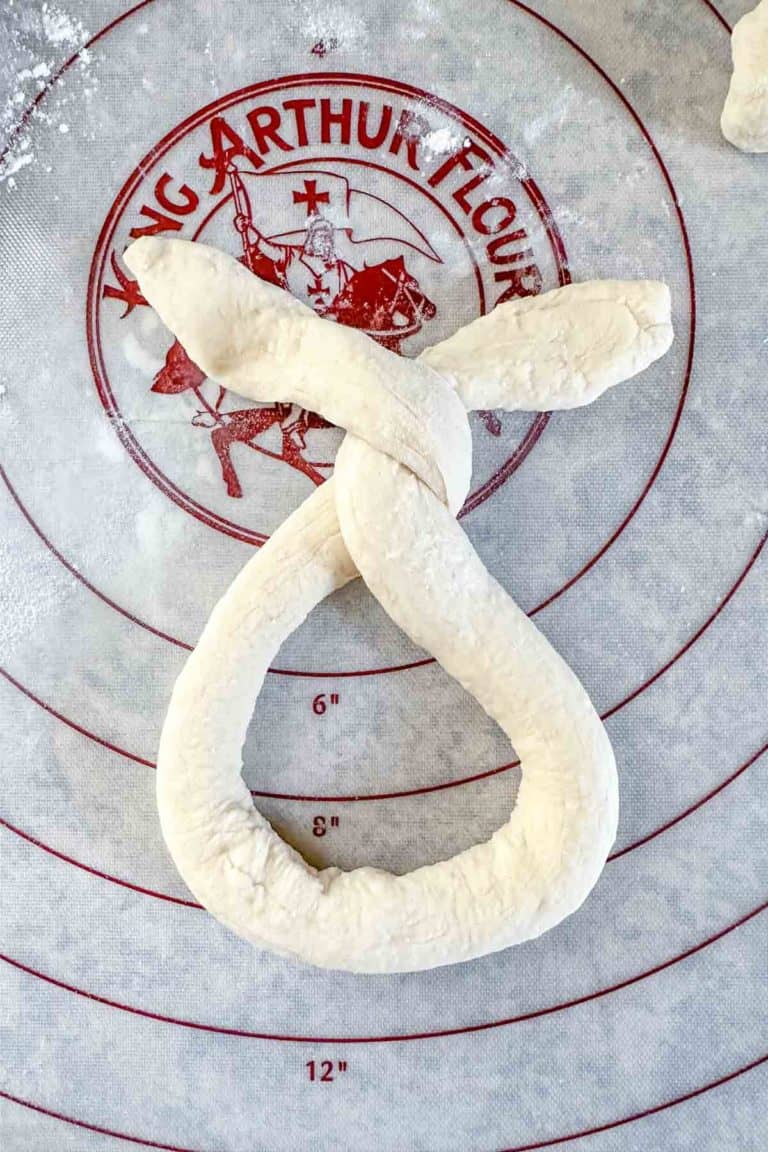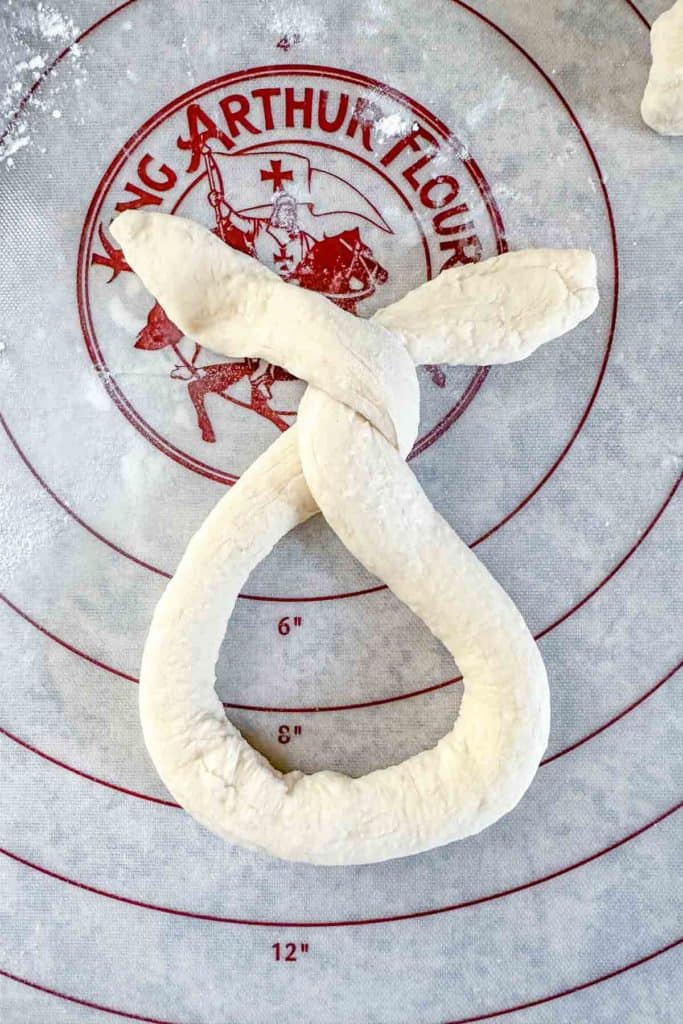 Set aside and repeat with the remaining dough. The pretzels will puff slightly as they rest. If you need to reshape them, use your fingers to gently open up the holes again.
Line a baking sheet with paper towels and place a cooling rack on top with the feet up so the rack lays flat.
Once the water is boiling, use a skimmer or spatula to gently lower 1 or 2 pretzels into the water. Boil for 20-30 seconds, then carefully flip and boil another 20-30 seconds.
Flip so the twist is on top again and carefully transfer to the rack so the excess water can drip off. Repeat with remaining pretzels.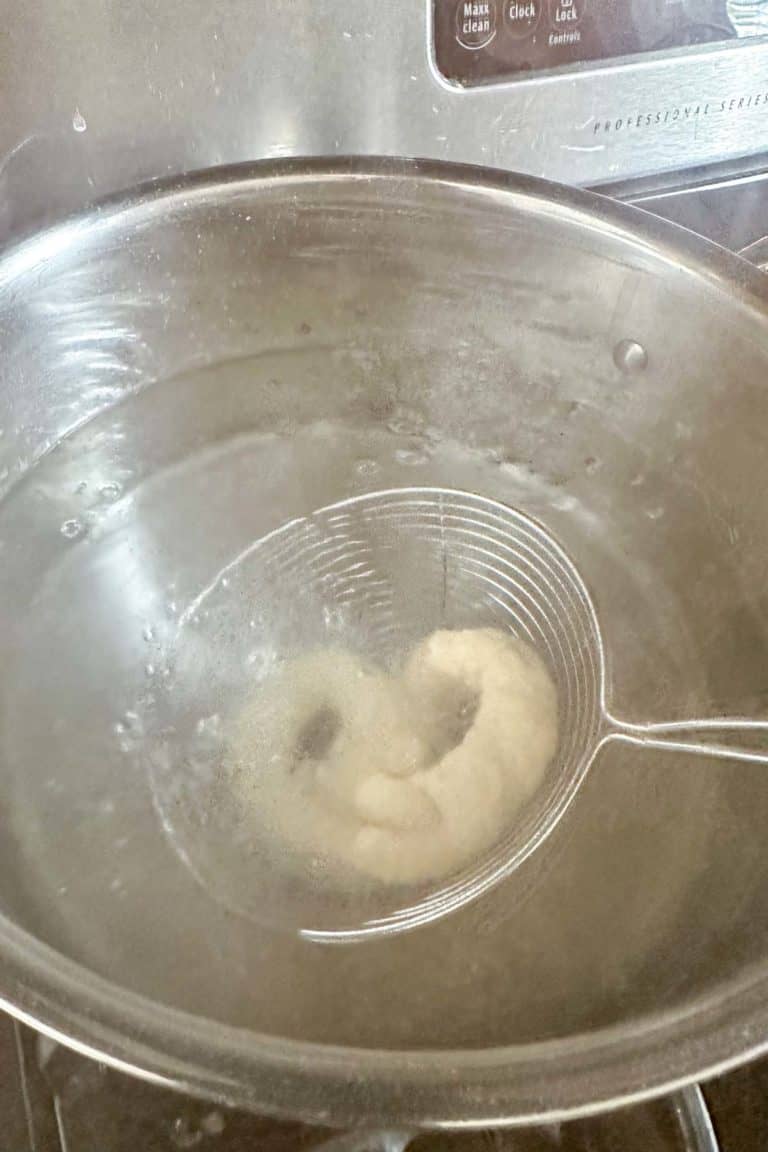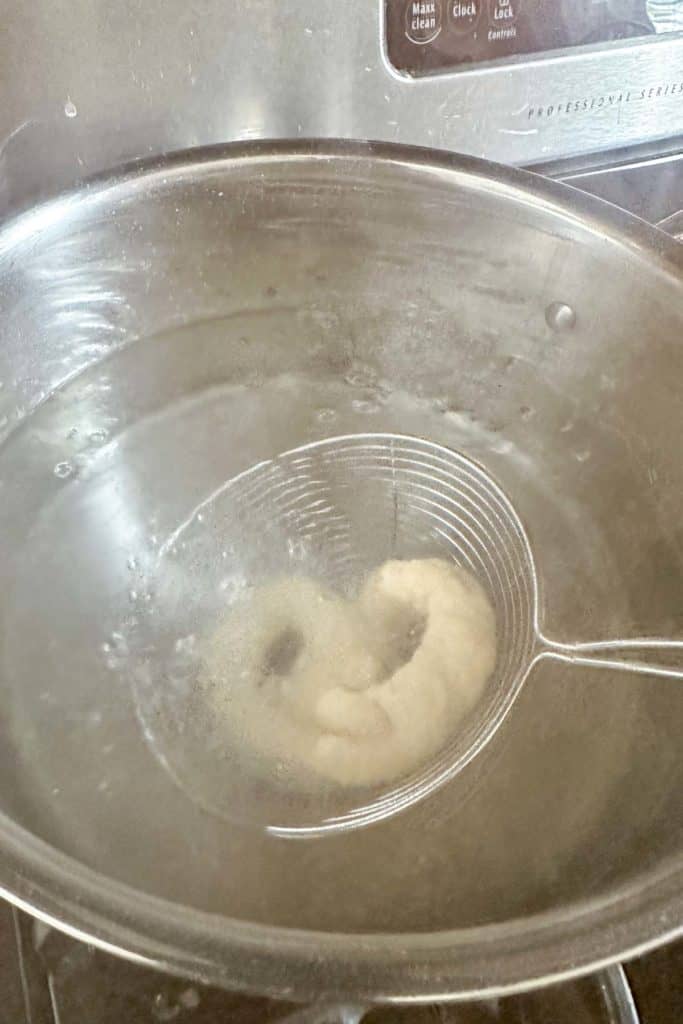 Once all the pretzels have been boiled, line two baking sheets with parchment or silicone liner. Place 4 pretzels on each baking sheet.
Whisk together egg and 1 tablespoon of water, then brush it over each pretzel. Sprinkle generously with coarse salt.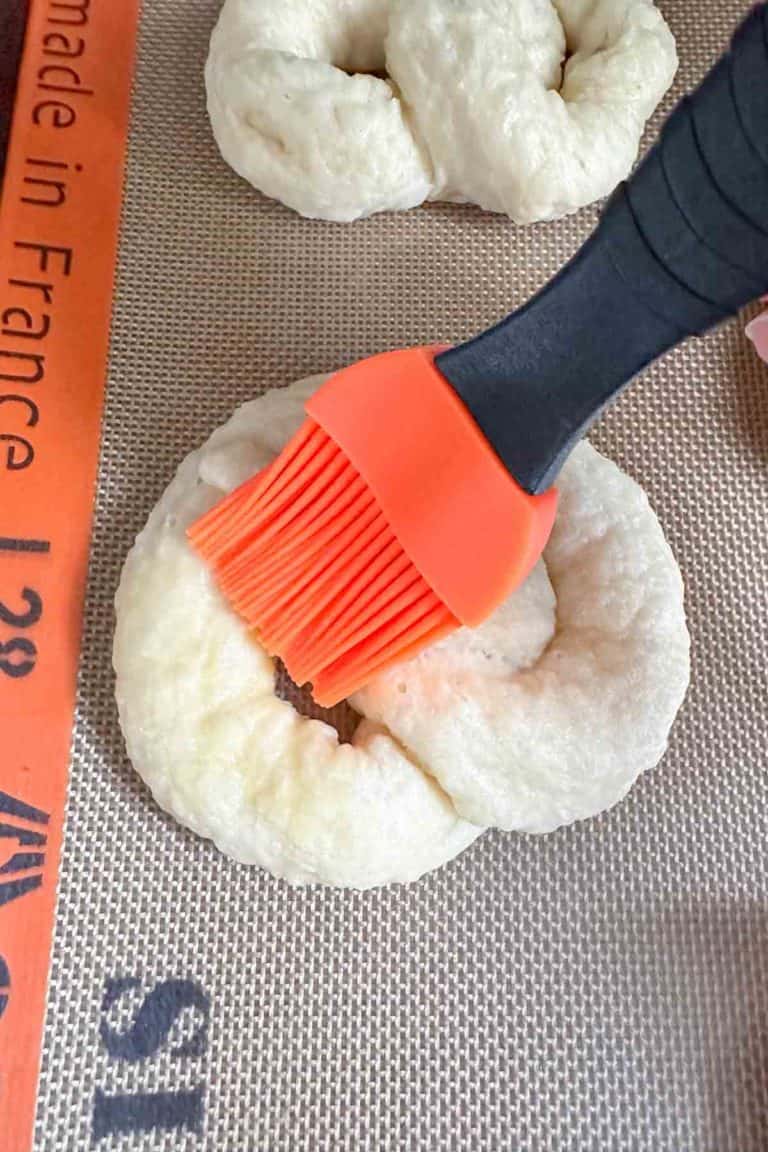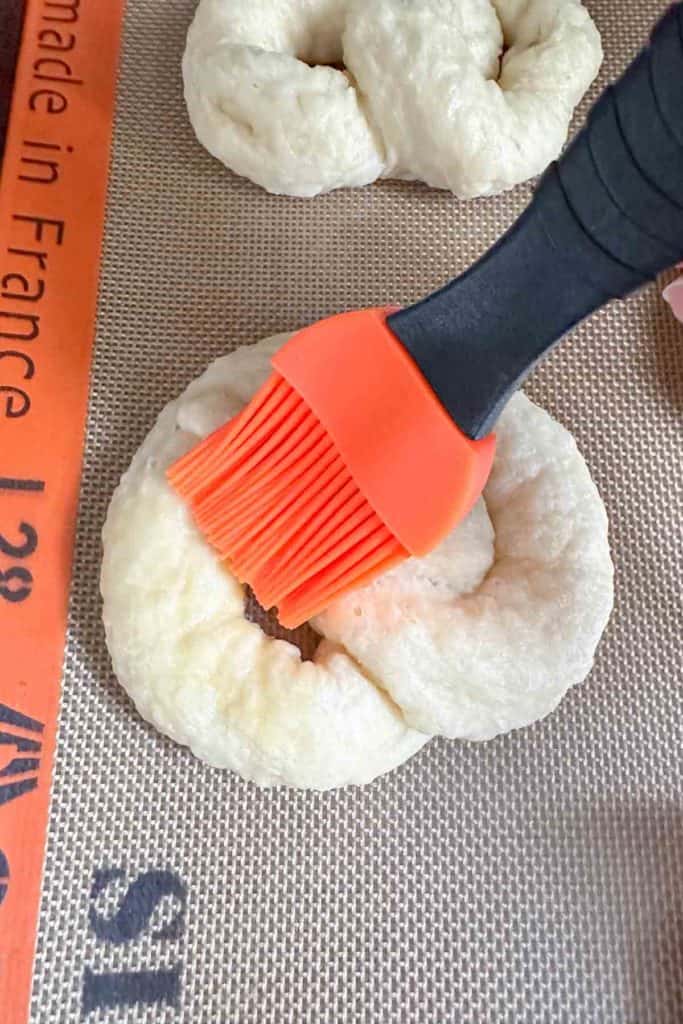 Bake pretzels for 12-16 minutes, until brown and glossy. If needed, rotate pans halfway through cooking time for even baking.
Transfer to a wire rack to cool. Serve warm or at room temperature.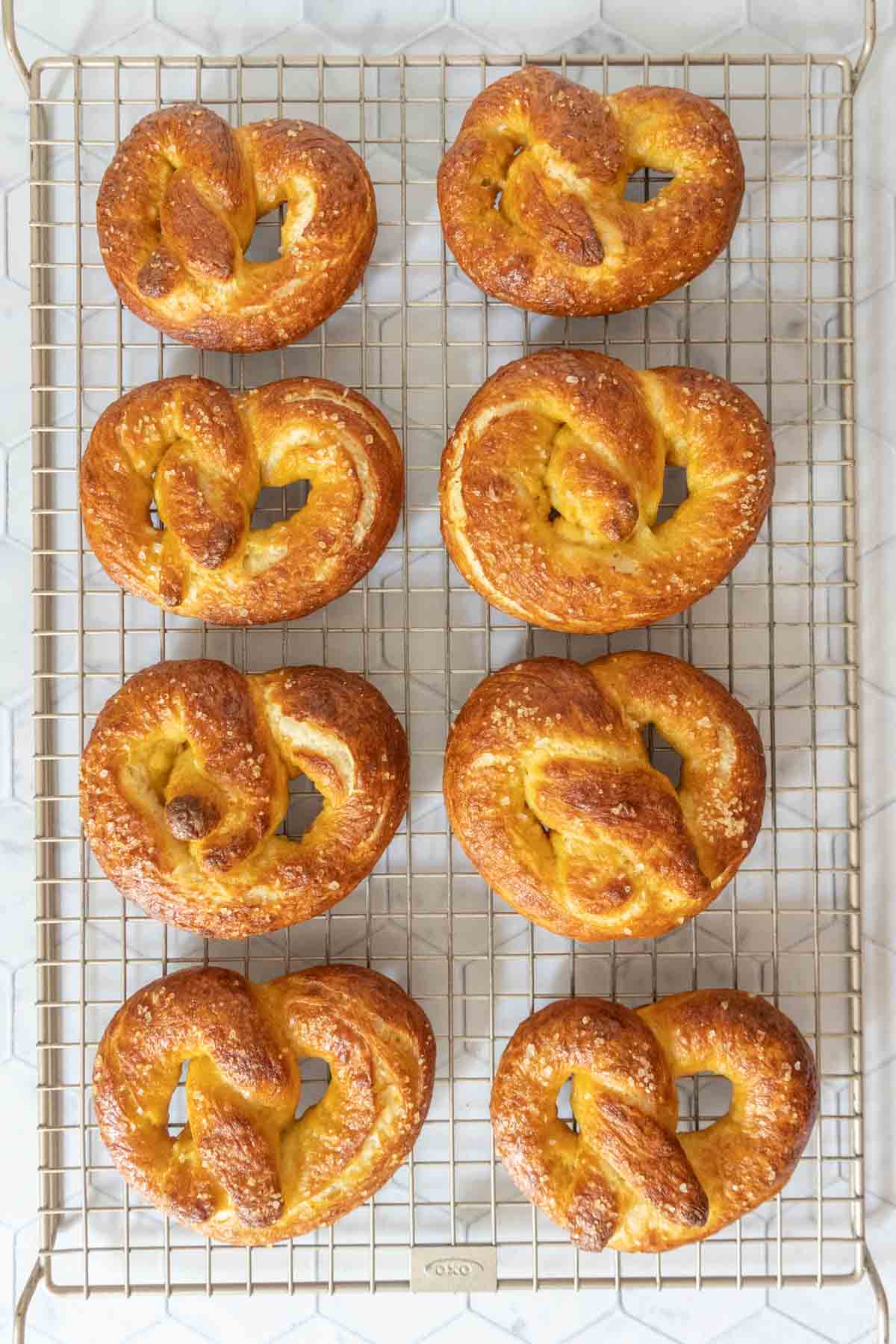 Storage tips
If you have leftover homemade soft pretzels, store them in an airtight container at room temperature for up to 2 days.
To reheat, place the pretzels in the oven at 350°F for 5-10 minutes.
You can also freeze baked pretzels.
Let the pretzels cool completely, then place on a lined baking sheet. Freeze until solid, about 2 hours, then transfer to a freezer bag.
Baked pretzels can be thawed at room temperature and reheated in the oven for 5 minutes, or baked from frozen for about 20 minutes.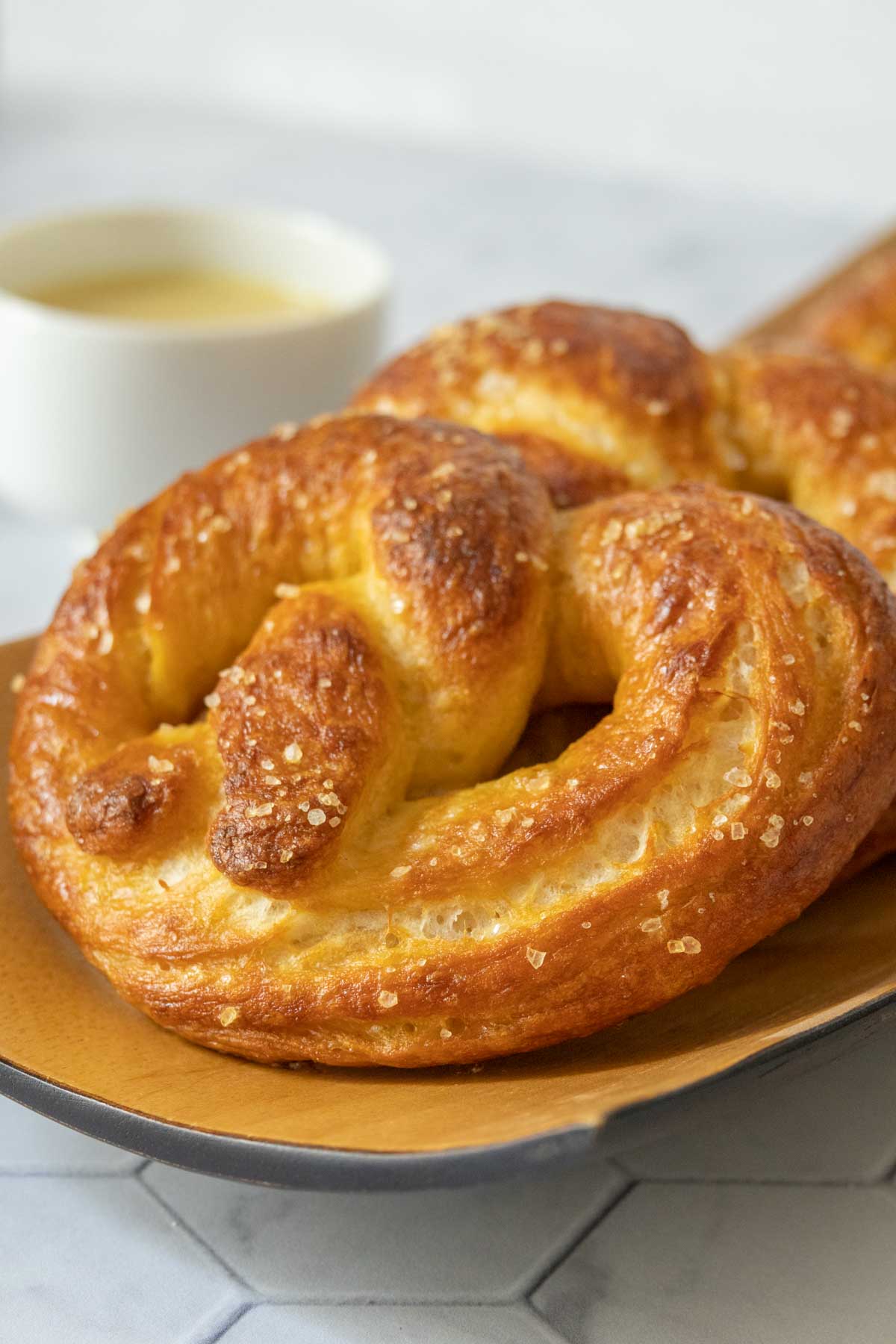 Tips for making the best homemade soft pretzels
Roll the dough ropes long enough
To be able to make the classic pretzel twist, you need thin and long pieces of dough. For this recipe, that's at least 20 inches in length.
Don't skip the baking soda bath
While you can shape and bake the dough without boiling the pretzels, they won't have the distinctive flavor and chew. Make sure the baking soda has completely dissolved before adding the pretzels.
Don't forget to flip the pretzels to ensure they are boiled evenly on both sides.
Make sure to drain the excess water
Just like with frying, the extra water needs to drip off the pretzels. The pretzels should rest for a few minutes to make sure they drain properly.
The best method for this is to place a wire rack on top of paper towels. The towels will soak up the water, while the rack will prevent the pretzels from sticking to them.
Using a baking sheet lined with parchment paper
Using a baking sheet lined with parchment paper will prevent the pretzels from sticking to the pan and ensure that they bake evenly.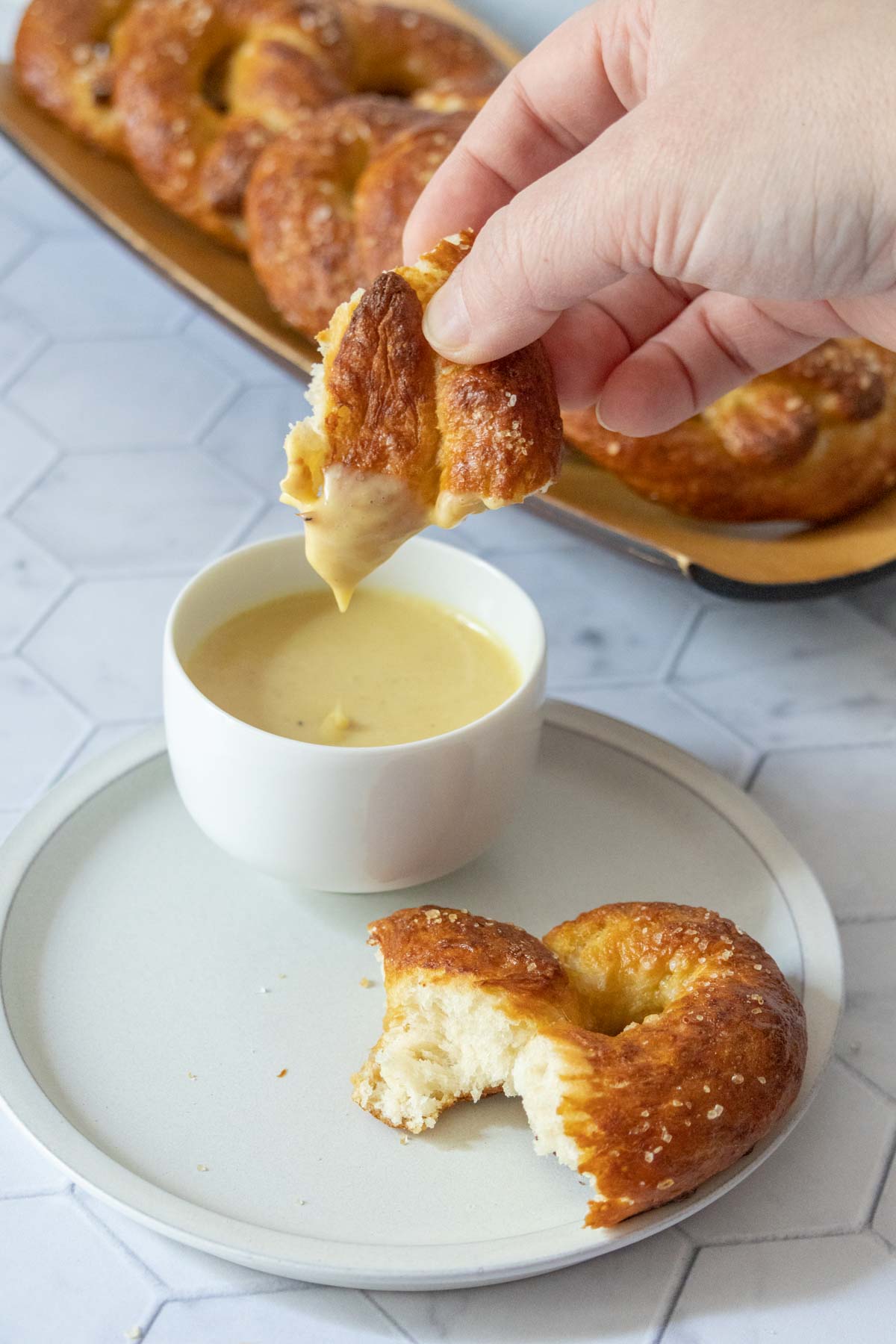 FAQ
Can I use a stand mixer with a dough hook to make pretzel dough?
Yes, you can use a stand mixer for making the dough if you prefer to not mix or knead by hand. Simply follow the recipe and use the dough hook to knead the dough until it is smooth and elastic.
What is the difference between active dry yeast and instant yeast?
The main difference between active dry yeast and instant yeast is the way in which they are activated. Active dry yeast must be dissolved in warm water before being added to the dough, while instant yeast can be added directly to the dry ingredients.
This recipe uses instant yeast, but you can also use active dry yeast. Dissolve the yeast in ¼ cup of the warm milk and let it stand until frothy, about 5 minutes. Then mix it into the rest of the ingredients along with the remaining milk.
What can I serve with soft pretzels?
Soft pretzels are delicious on their own, but you can dip them in any variety of sauces.
Try honey mustard sauce, stone-ground mustard, or beer cheese.
You can also skip the coarse salt and roll your pretzels in cinnamon and sugar instead for a sweet treat.
Or, turn these into stuffed everything bagel pretzel bites for a fantastic party food.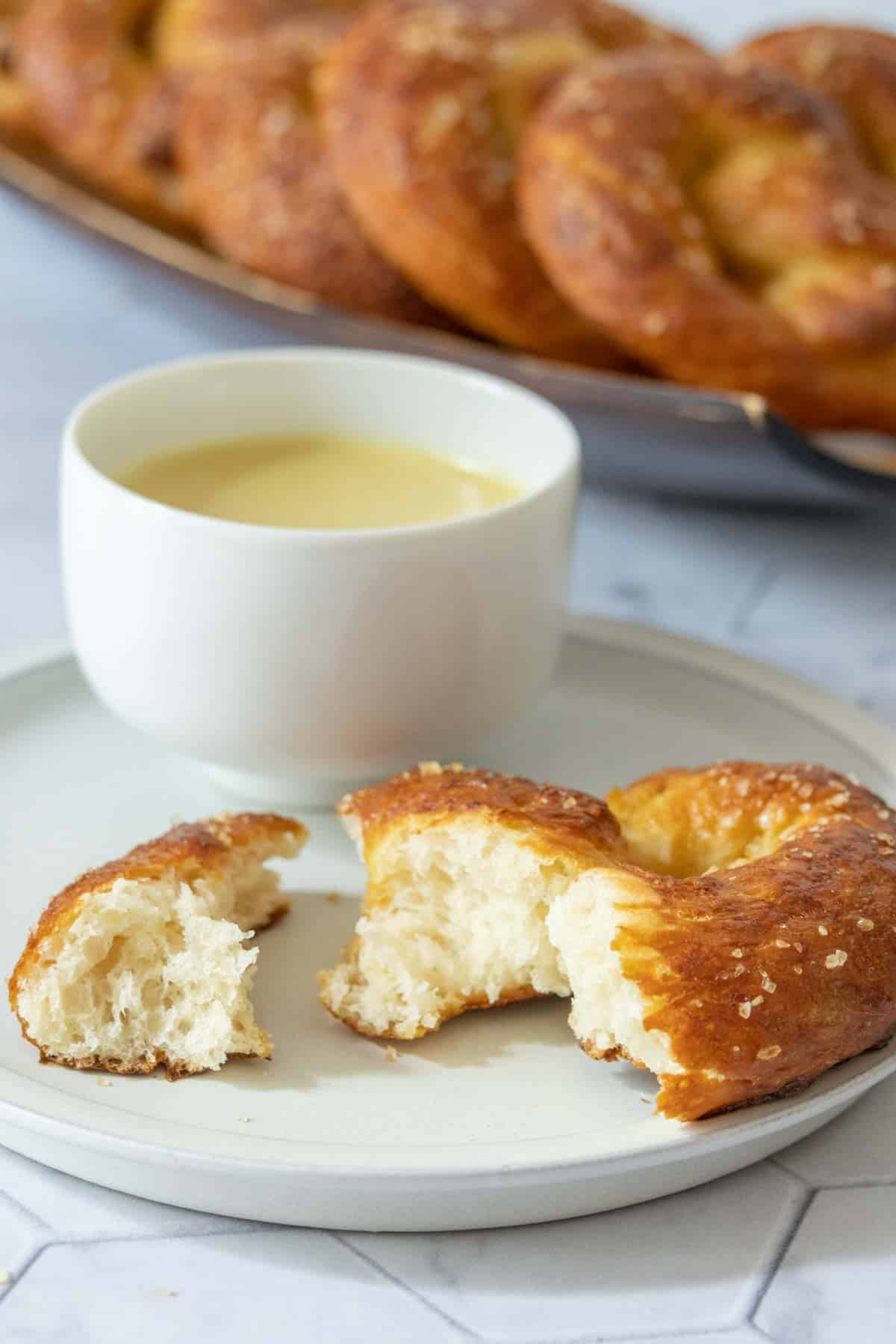 Once you learn how to make homemade soft pretzels, they'll be a staple of all your game nights! Happy snacking!
Yield: 8 pretzels
Homemade Soft Pretzels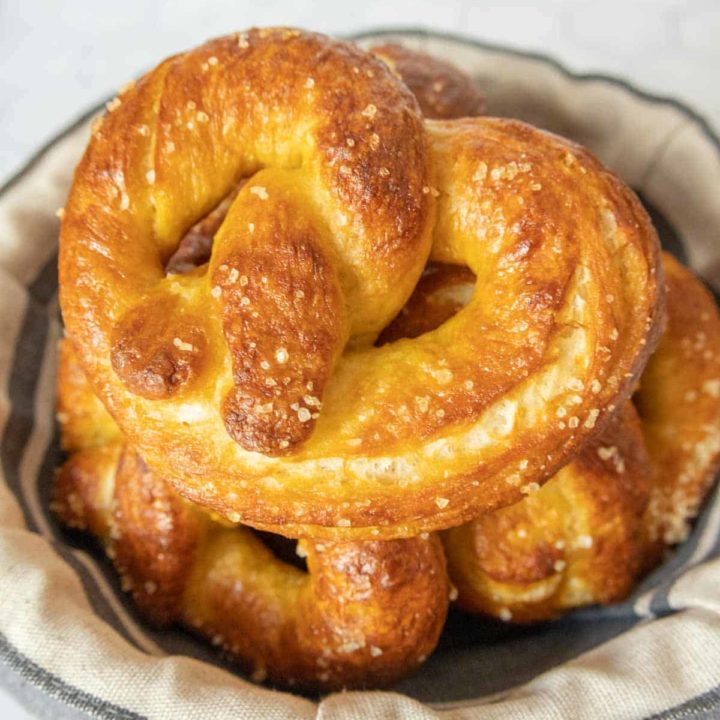 Homemade soft pretzels are a delicious snack everyone loves! Boiled and baked, homemade pretzels are delicious with a variety of sauces.
Total Time
1 hour
40 minutes
Ingredients
2 cups flour, plus more as needed
1 tablespoon granulated sugar
2 ¼ teaspoons instant yeast
1 teaspoon fine sea salt
1 cup milk, warmed to about 105°F
2 tablespoons butter, softened
2 ½ quarts water, plus 1 tablespoon, divided use
½ cup baking soda
1 egg
Coarse salt
Instructions
In a large bowl, combine 2 cups flour, sugar, yeast, and salt. Add milk and butter and stir well to mix.
Turn dough out onto a flour-covered surface and knead 5-7 minutes, adding more flour as needed to prevent sticking. The dough should feel slightly tacky, but should not stick to the countertop. Place in a greased bowl, cover, and let rise in a warm place for 1 hour, or until doubled.
Once risen, preheat oven to 450°F and line two baking sheets with parchment or silicone liner. Add 2 ½ quarts water and baking soda to a large pot at set to boil.
Gently deflate dough and turn out onto a clean surface. Divide dough into 8 evenly sized portions, then roll each portion into a rope about 20 inches long.
To shape large pretzels , make a u shape, then twist over ends and press onto bottom of the U to form pretzel shape.
Lower pretzels into the water, in batches, and boil for about 30 seconds, then flip and boil another 30 seconds.. Remove and let dry slightly on a wire rack set on paper towels. Repeat until all are boiled.
Whisk together egg and 1 tablespoon water. Transfer boiled pretzels to lined bakng sheets and brush egg over the pretzels. Sprinkle on coarse salt.
Bake for 14-16 minutes, until dark golden and glossy. Rotate pans halfway through baking time for even browning, if needed. Cool slightly and serve.
Nutrition Information:
Yield:
8
Serving Size:
1
Amount Per Serving:
Calories:

173
Total Fat:

4g
Saturated Fat:

2g
Trans Fat:

0g
Unsaturated Fat:

2g
Cholesterol:

33mg
Sodium:

4172mg
Carbohydrates:

27g
Fiber:

1g
Sugar:

3g
Protein:

6g
Nutritional information is an estimate for informational purposes only and not to be used for individual dietary needs.