Learn how to make crostini for your next party! These little toasts are easy to make yourself and are perfect with a wide variety of toppings.
I always think the mark of a good party is plenty of appetizers.
Not only do finger foods make eating while socializing possible, the small portions make it easy to try a wide variety of things.
An essential part of any appetizer spread is crostini, whether you use it for spreads like pimento cheese, spinach artichoke dip, or bruschetta.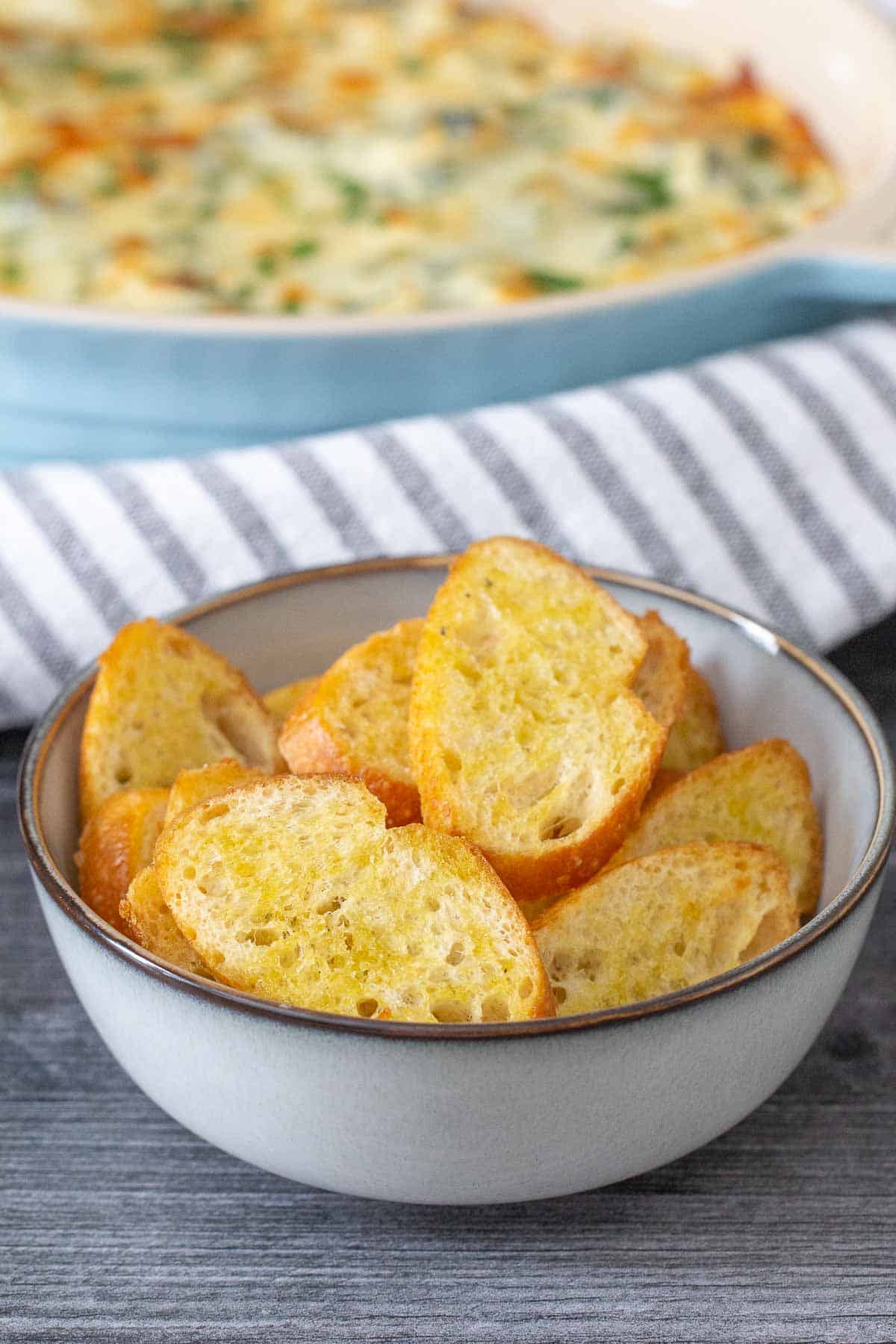 You can buy bags of crostini at the grocery store, but why not save some money and make your own?
All you need is bread, olive oil, and seasoning!
What is crostini?
Crostini is simply little toasted bread slices.
Crostini differs from bruschetta bread in that it does not have garlic rubbed on the top, though you can definitely add that if you like!
It is typically made from a baguette, as the long shape gives evenly sized pieces that are perfect for small bites.
Crostini is often served with hot dips and other toppings at restaurants instead of regular bread, because it can hold up well and not get soggy under toppings.
Remember, if it's not toasted, it's not crostini!
Ingredients for crostini
While you could simply toast bread slices and call it a day, we add a few ingredients to make this crostini a flavorful base for our toppings.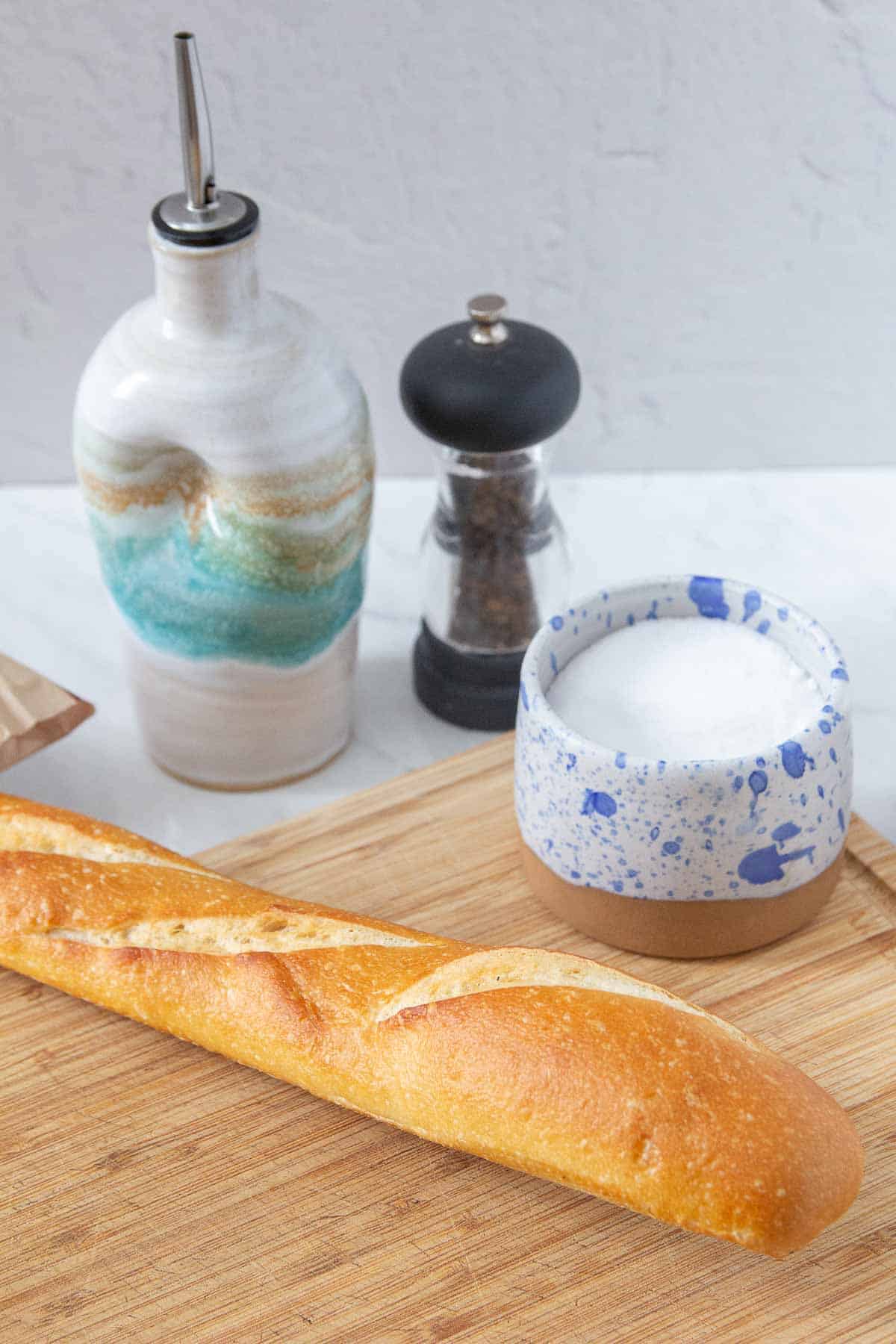 Baguette – Look for longer, skinny baguettes, not wider ones. While crostini is a great way to use up stale bread, make sure the baguette is not too stale. You'll need to be able to slice it without losing the crisp crust.
Olive oil – I always use olive oil for cooking, but if you don't, you'll want to seek it out for this recipe. California Olive Ranch makes a good quality, affordable olive oil.
You can also seek out more flavorful olive oils. Arbequina olive oil from Spain is one of my favorites!
Salt and pepper – Yes, seasoning is important even for these little toasts. Not only will it help enhance the flavors of the bread and olive oil, it will also boost whatever you're serving with the crostini.
Making this crostini recipe
Preheat your oven to 350°F and set aside a rimmed baking sheet.
Depending on the size of your baguette, you might need two baking sheets, but I was able to fit all of the slices onto one.
Using a serrated knife, cut your baguette into slices between ¼ and ¾ inch in thickness.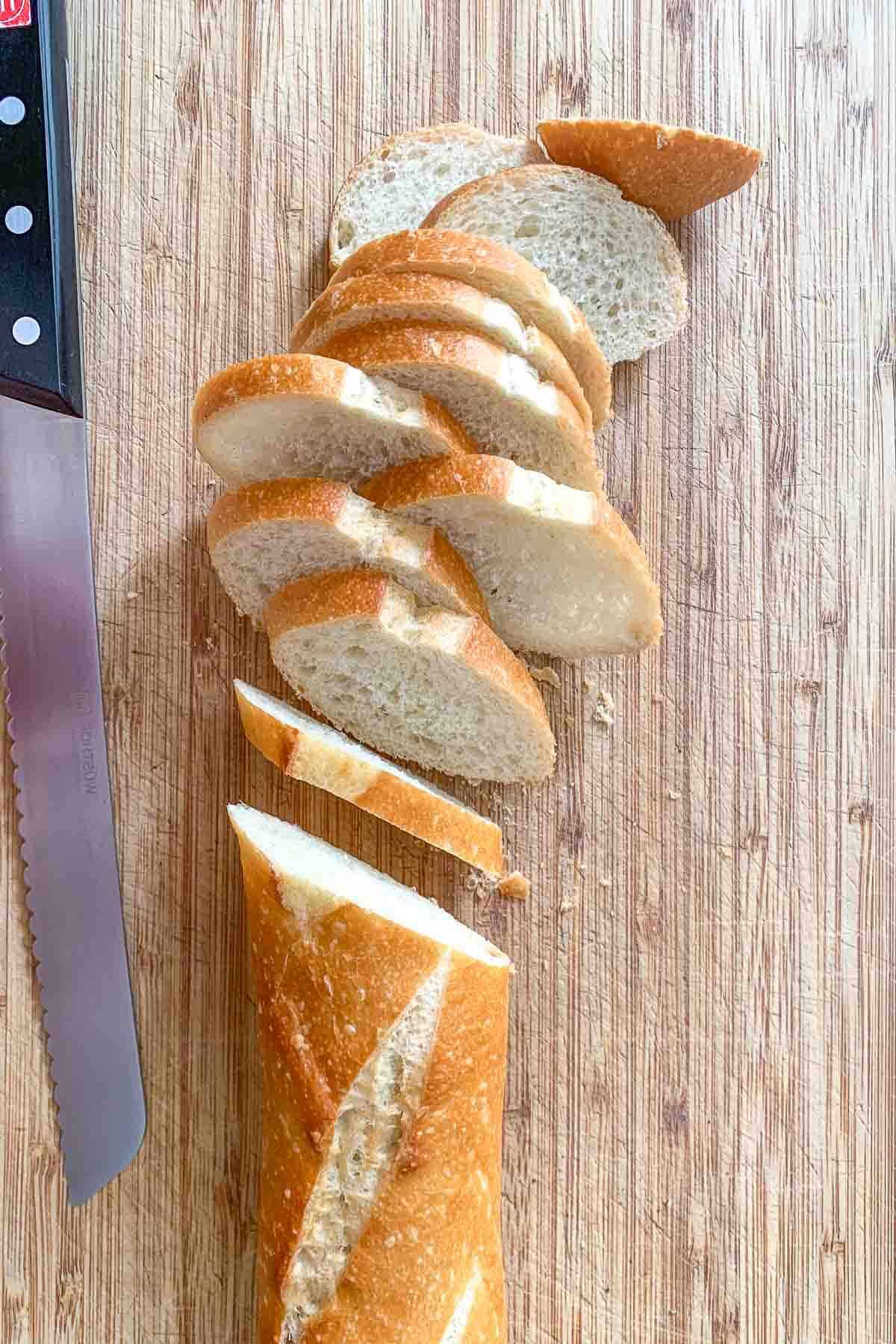 You can cut the bread on a bias to create slightly diamond-shaped crostini, or straight across.
Arrange the crostini in a single layer on the baking sheet.
Using a basting brush or pastry brush, brush olive oil over the slices. Turn the slices over and brush with more olive oil.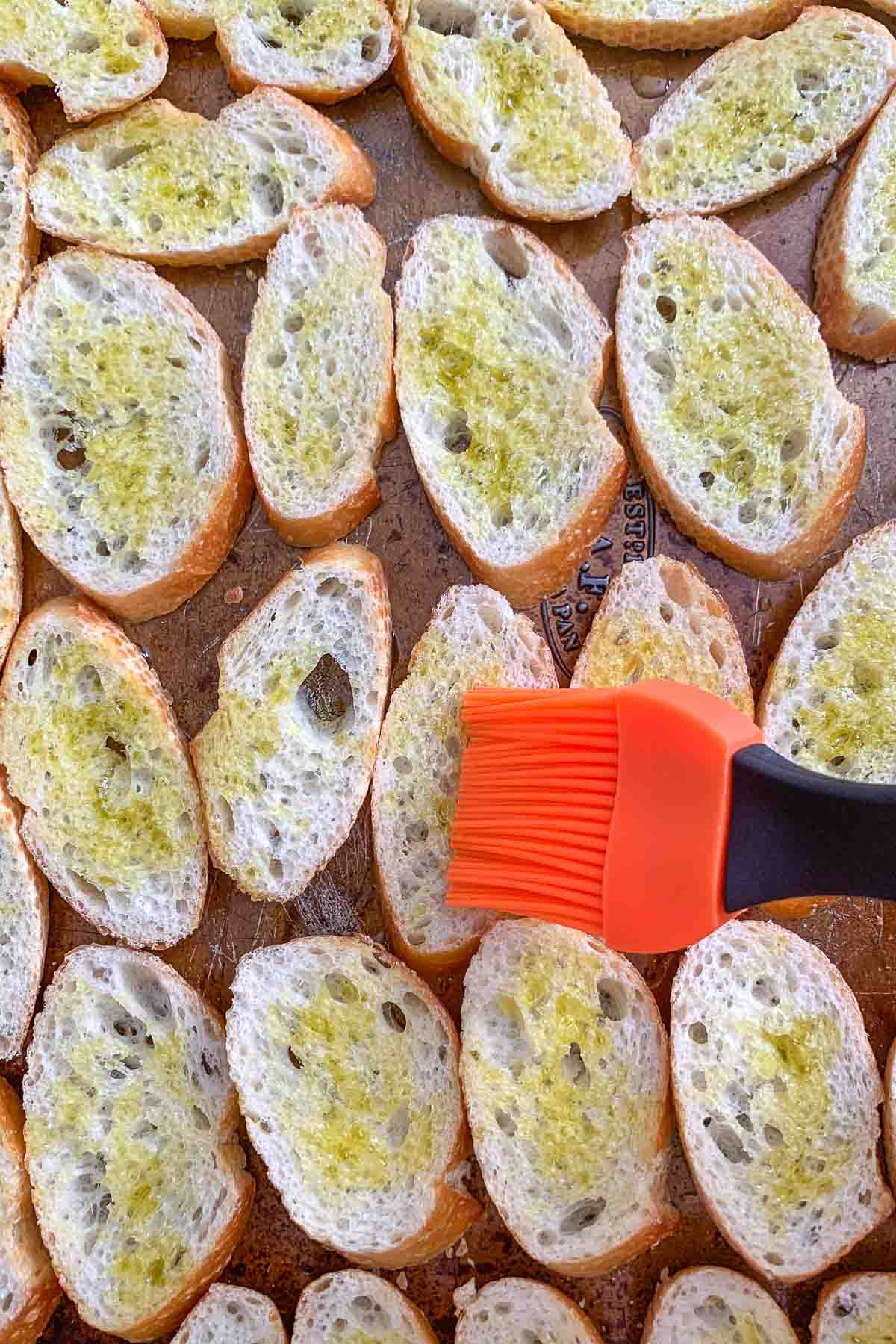 Sprinkle evenly with salt and ground black pepper.
Place the baking sheet in the oven and bake for 15-20 minutes. Flip the crostini halfway through cooking time.
The bread should be crisp but not burned. Transfer to a serving platter or bowl and serve crostini with your favorite toppings.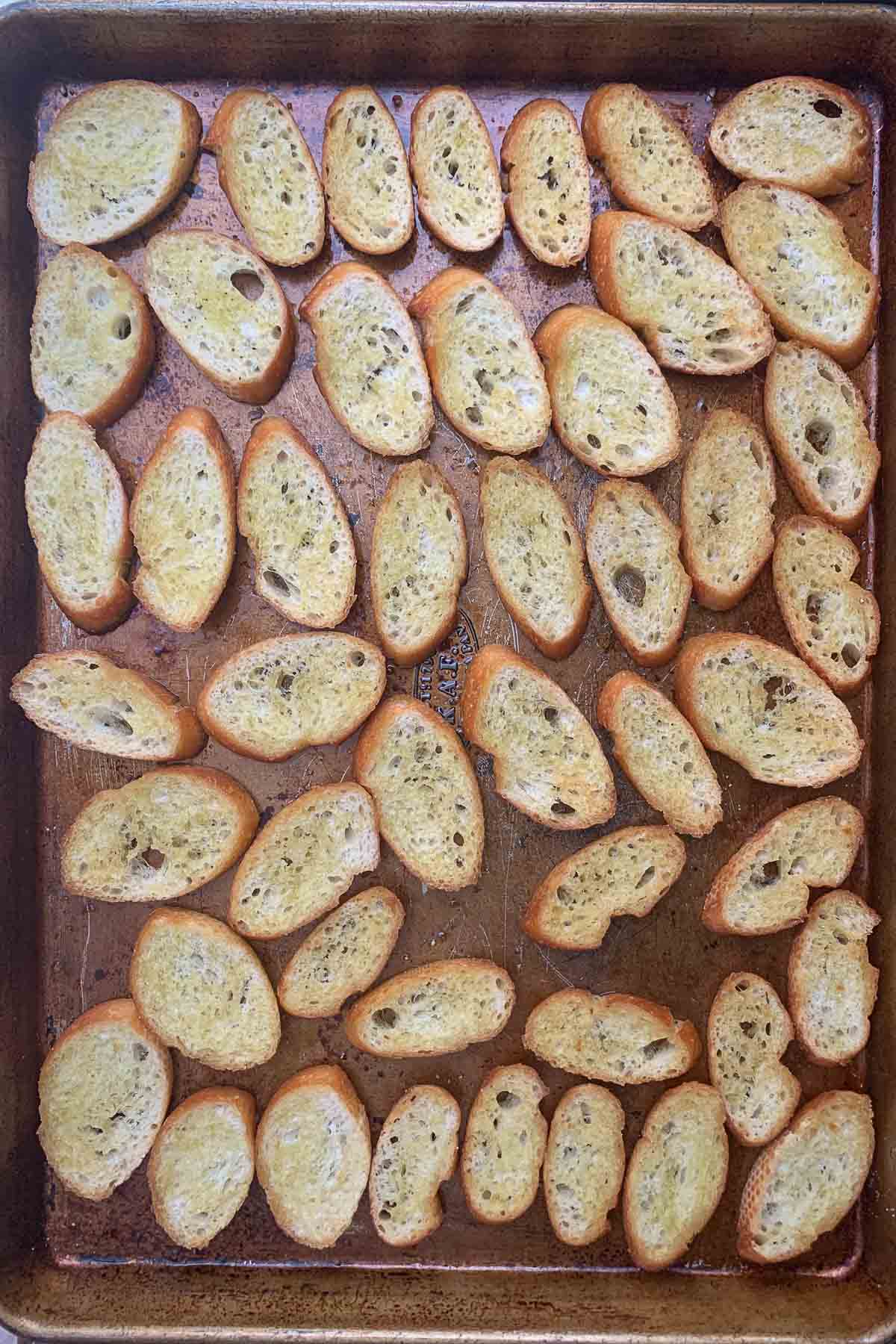 What to serve with crostini
Crostini toppings can be a simple slice of prosciutto or a more complex appetizer bite of layered ingredients like goat cheese with asparagus and steak.
Try these topping suggestions with your homemade crostini:
Roasted cherry tomatoes
Pate or rilletes
Cream cheese with jalapeño jelly
Marinated fresh mozzarella
Fig jam
Smoked salmon and red onion
As you can see, practically anything goes when it comes to topping these crostini!
Serve a variety with your homemade crostini for super easy appetizers.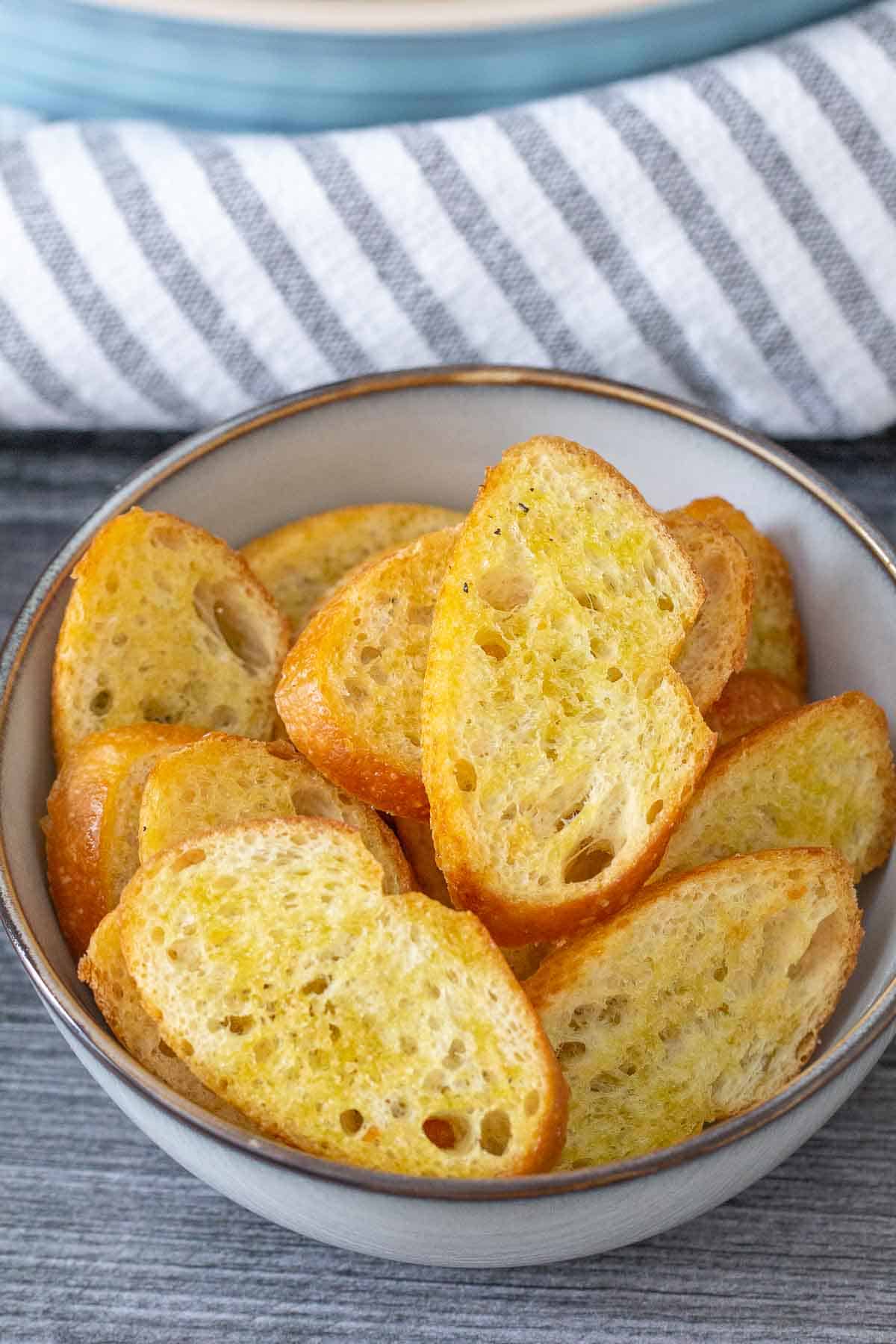 Storage tips
Crostini keeps well, so it's great to make a batch or two the day before a party and have it ready to go.
Let the crostini cool completely, then store it in an airtight container at room temperature. It will last up to a week when stored well.
Make these little Italian toasts the next time you have a party or happy hour gathering. Happy snacking!
Yield: 12 servings
How to Make Crostini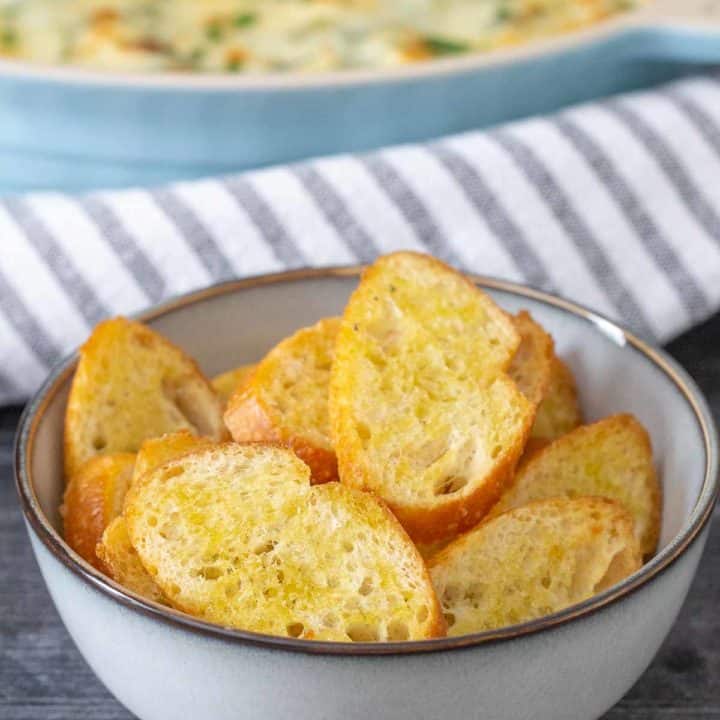 Learn how to make crostini for your next party! These little toasts are easy to make yourself and are perfect with a wide variety of toppings.
Ingredients
1 baguette
½ cup olive oil
Salt and pepper
Instructions
Preheat oven to 350°.
Slice baguette into rounds ¼ to ¾ inch thick and arrange on a rimmed baking sheet.
Brush olive oil over the bread, then flip and brush the other sides. Sprinkle evenly with salt and pepper.
Bake for 15-20 minutes, flipping halfway through. Crostini is done when it is crisp but not overly hard.
Nutrition Information:
Yield:
12
Amount Per Serving:
Calories:

153
Total Fat:

10g
Saturated Fat:

1g
Trans Fat:

0g
Unsaturated Fat:

8g
Cholesterol:

0mg
Sodium:

187mg
Carbohydrates:

14g
Fiber:

1g
Sugar:

1g
Protein:

3g
Nutritional information is an estimate for informational purposes only and not to be used for individual dietary needs.