Sweet and savory spiced pecans are the perfect snack! Make a batch for gift-giving or serve at your next tailgate party.
Nuts are a fantastic snack all on their own, but why not dress them up a bit?
I live in a town that makes their own glazed nuts and nut snack mixes, and my whole family loves them. It's hard to resist a little bowl of nuts!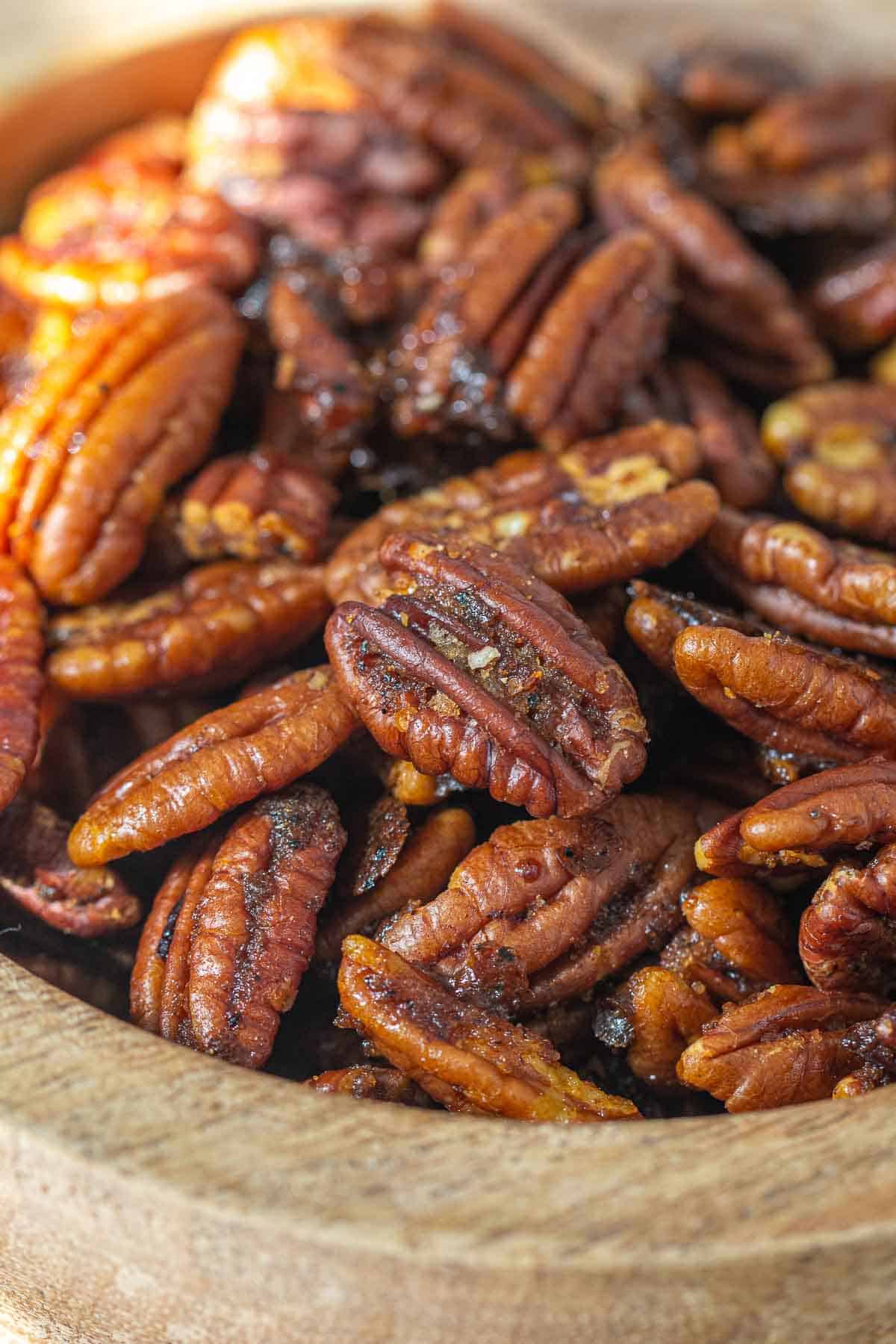 We like to make our own flavored nuts as well. Whether you want to make them savory like furikake roasted nuts, or coat them in chocolate for peanut clusters, these easy snacks are definite crowd pleasers.
There's so many options when it comes to flavored nuts, but one of my favorites is this spiced pecans recipe. With both sweet and spicy flavors, it gives you the best of both worlds!
Ingredients for spiced pecans
To make this recipe, you'll need a few ingredients you might already have on hand.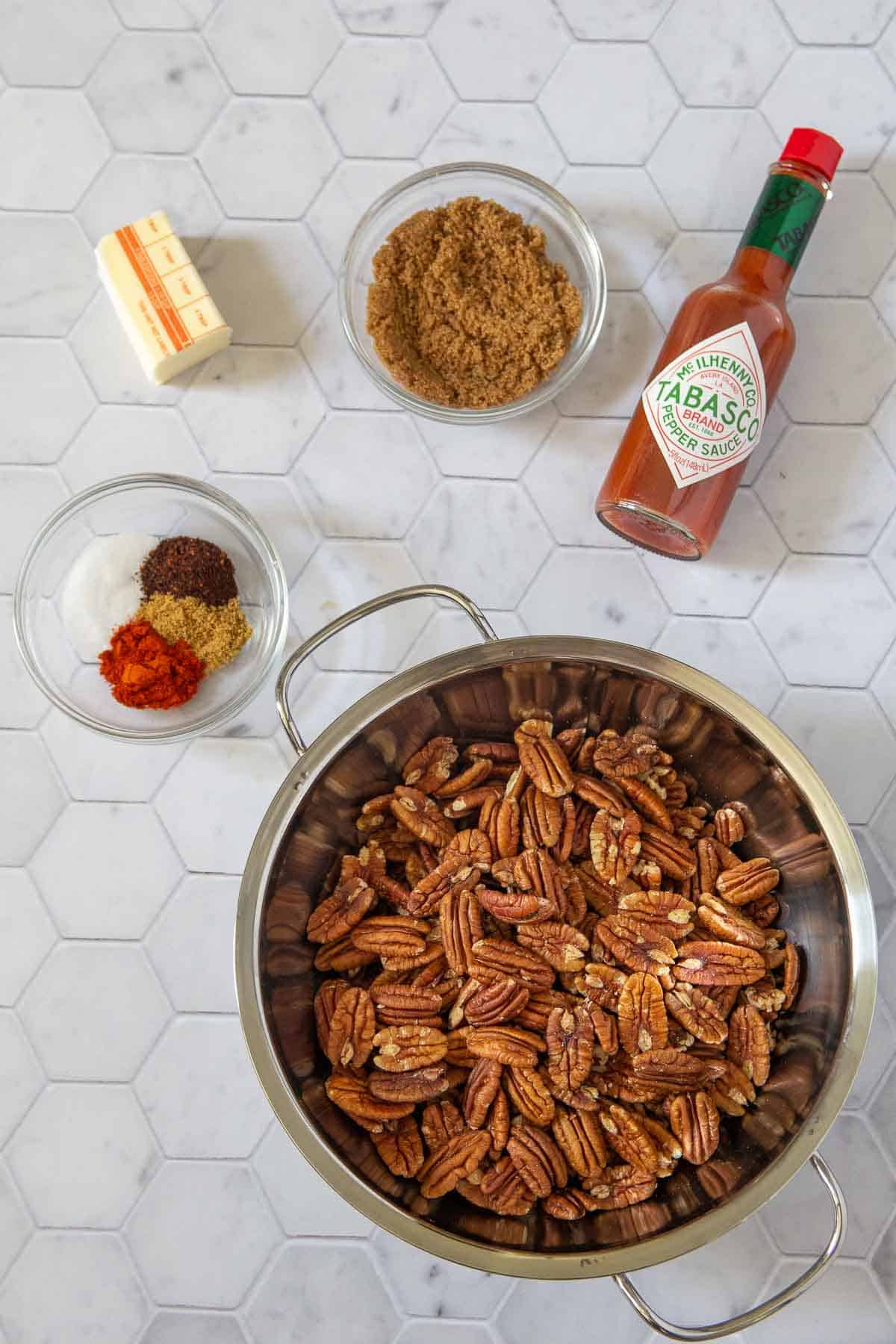 Pecans – Look for pecan halves in the baking aisle. They should be unsalted and free of other flavorings.
You can also use pecans fresh from the shell, if you're lucky enough to get them. When cracking the shell and breaking apart the halves, take care to not break up the pecans too much.
The pecans should be either halves or large pieces; chopped pecans will not work for this recipe.
Brown sugar – To add sweetness as well as help make the spices stick to the pecans, this recipe uses brown sugar.
Both light and dark brown sugar will work. Dark brown sugar has more molasses flavor. Choose whichever you prefer or have on hand.
Butter – We melt the butter and sugar together to create the coating for the pecans. It helps bring out the natural buttery flavor in the pecans, too.
Chile powder – Not to be confused with chili powder, this recipe uses ground chile pepper. I like ground ancho chile.
Salt – Nuts benefit from a boost of salt, and it will contrast the sweet sugar coating.
Cumin – Ground cumin adds depth and earthy flavor with just a touch of citrus. It's frequently paired with spicy foods but does not bring heat on its own.
Paprika – There are many varieties of paprika, but my favorite is sweet smoked paprika. The smoky flavor is perfect with pecans.
You can also use hot Hungarian paprika if you want added heat for the pecans.
Hot sauce – If you like heat, add some of your favorite hot sauce to the nuts. I use Tabasco or Cholula, but any hot sauce will do!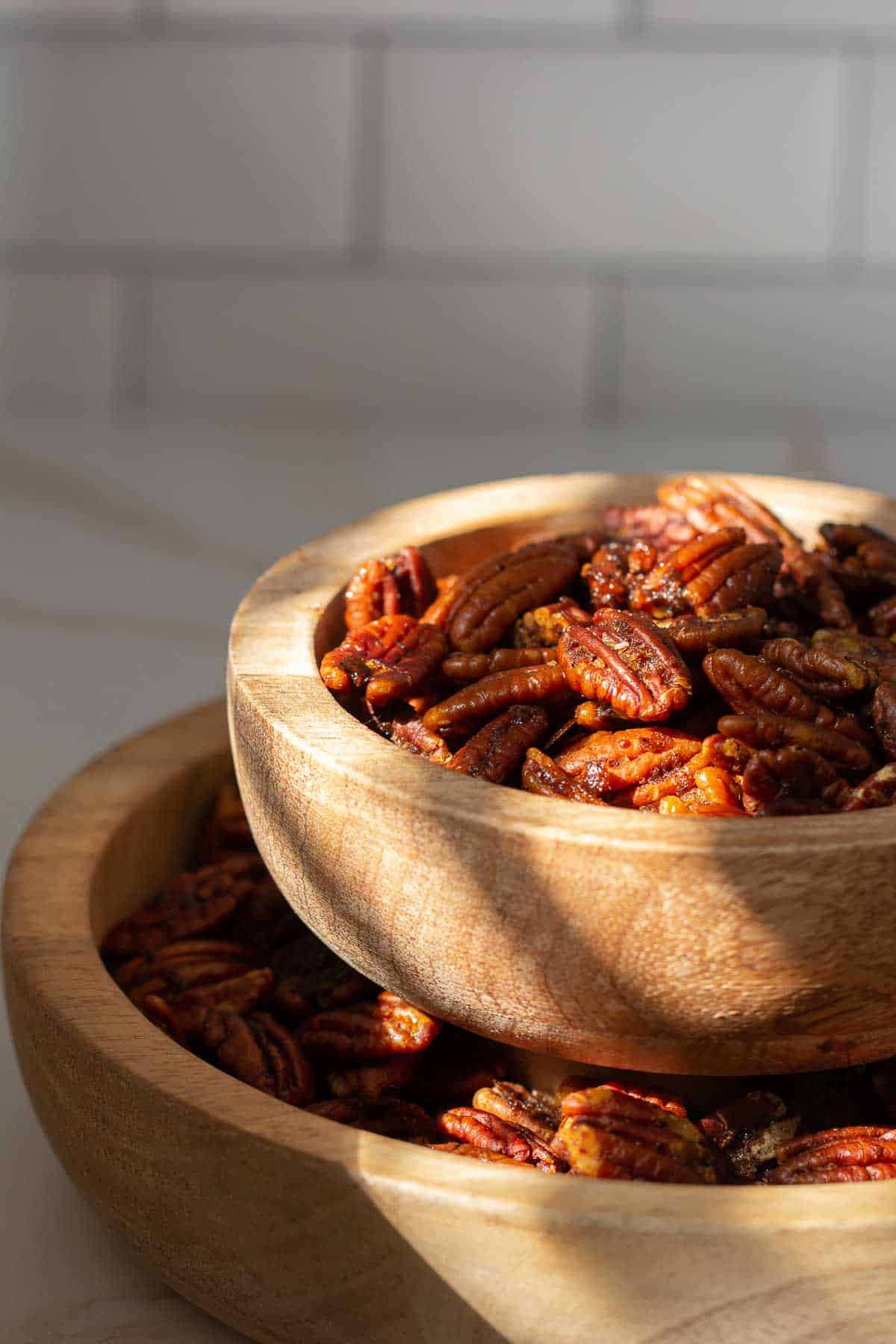 How to make sweet and spicy pecans
To make these spiced pecans, you'll need a rimmed baking sheet and a saute pan.
Preheat your oven to 350°F. Line the baking sheet with parchment paper or a reusable silicone liner. This is to prevent the nuts from sticking to your pan.
In a saute pan over medium high heat, melt together the butter and brown sugar, stirring to mix.
Once fully melted, add the pecans and stir to coat.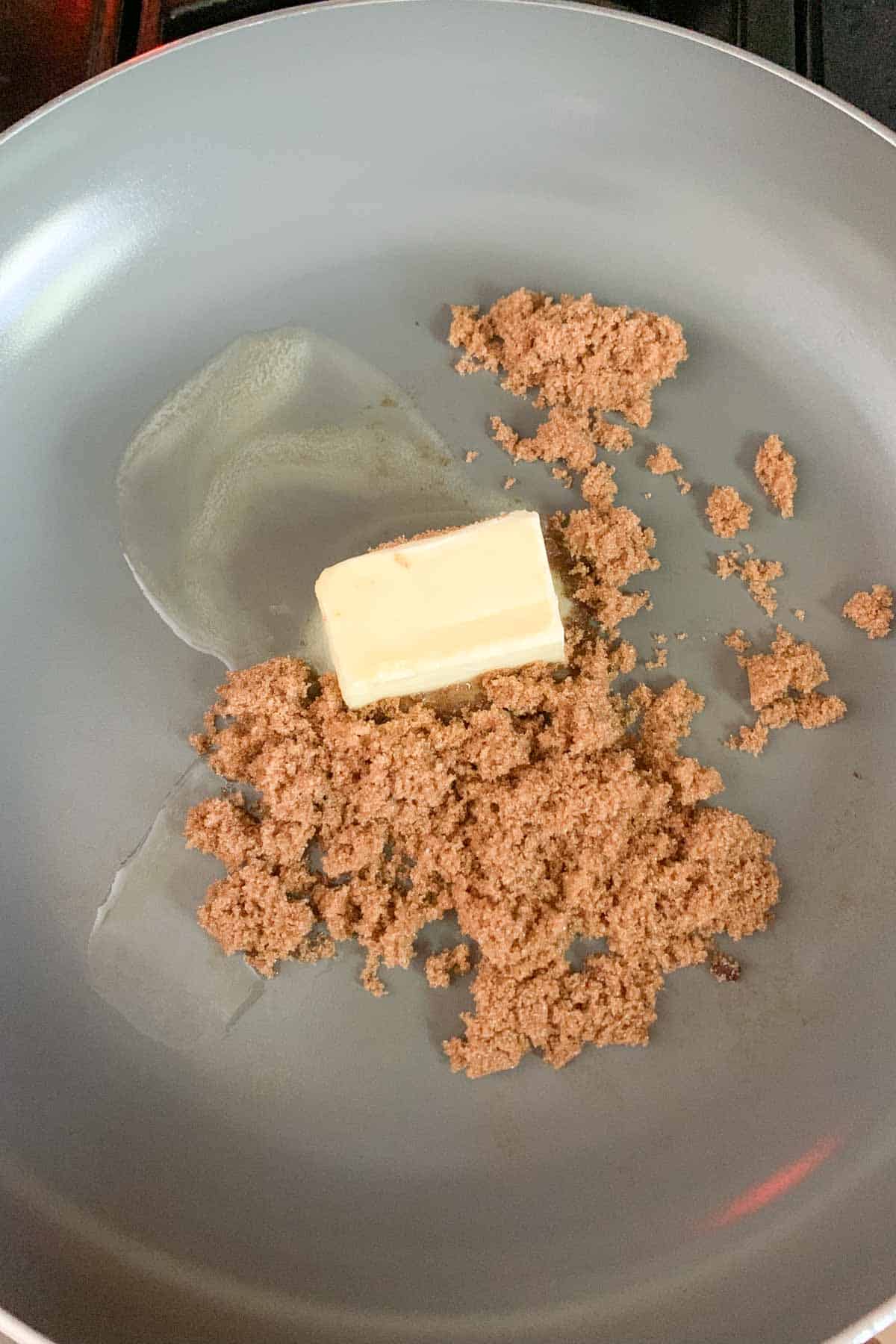 Mix together the spices and sprinkle over the pecans. Stir well so the spices are evenly distributed on the pecans. Stir in the hot sauce, if using.
Now, spread the pecans in a single layer on the prepared baking sheet.
Bake for about 20 minutes. Be sure to stir the nuts halfway through so they toast evenly.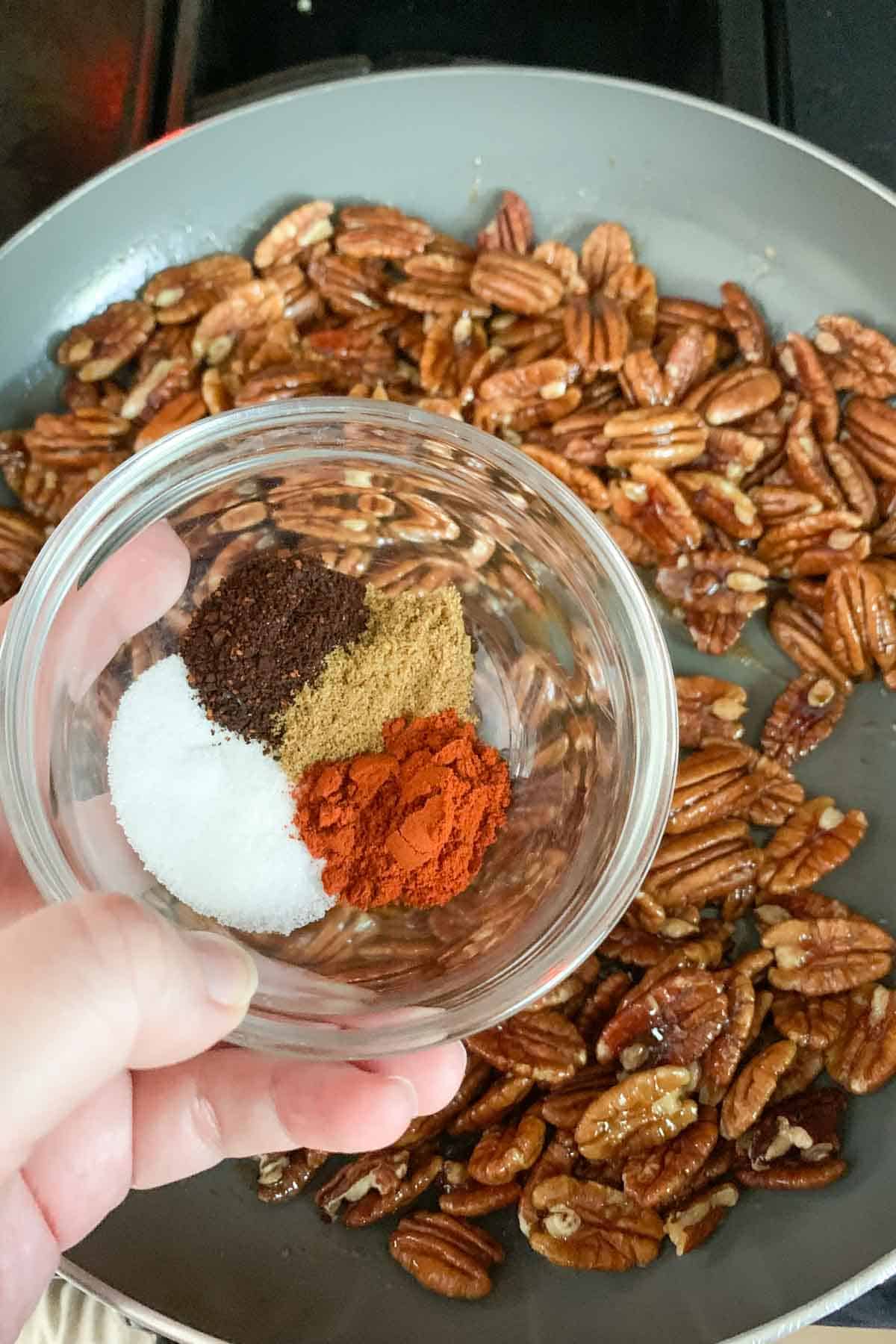 After 20 minutes, remove the pan from the oven and let cool.
When cool, the nuts should be dry, not sticky. If they are sticky, bake them a little bit longer.
Enjoy the nuts warm or let cool completely before serving and storing.
Recipe suggestions
Want to change up this recipe? You can easily make adjustments to suit your tastes.
Make the recipe vegan by swapping in vegan buttery sticks like Country Crock Plant-Based for the butter.
Use maple syrup in place of or in addition to the brown sugar.
Add a dash of cayenne pepper instead of the hot sauce.
Try it with a bit of orange zest or ground cinnamon.
Don't like pecans? Use whole almonds instead!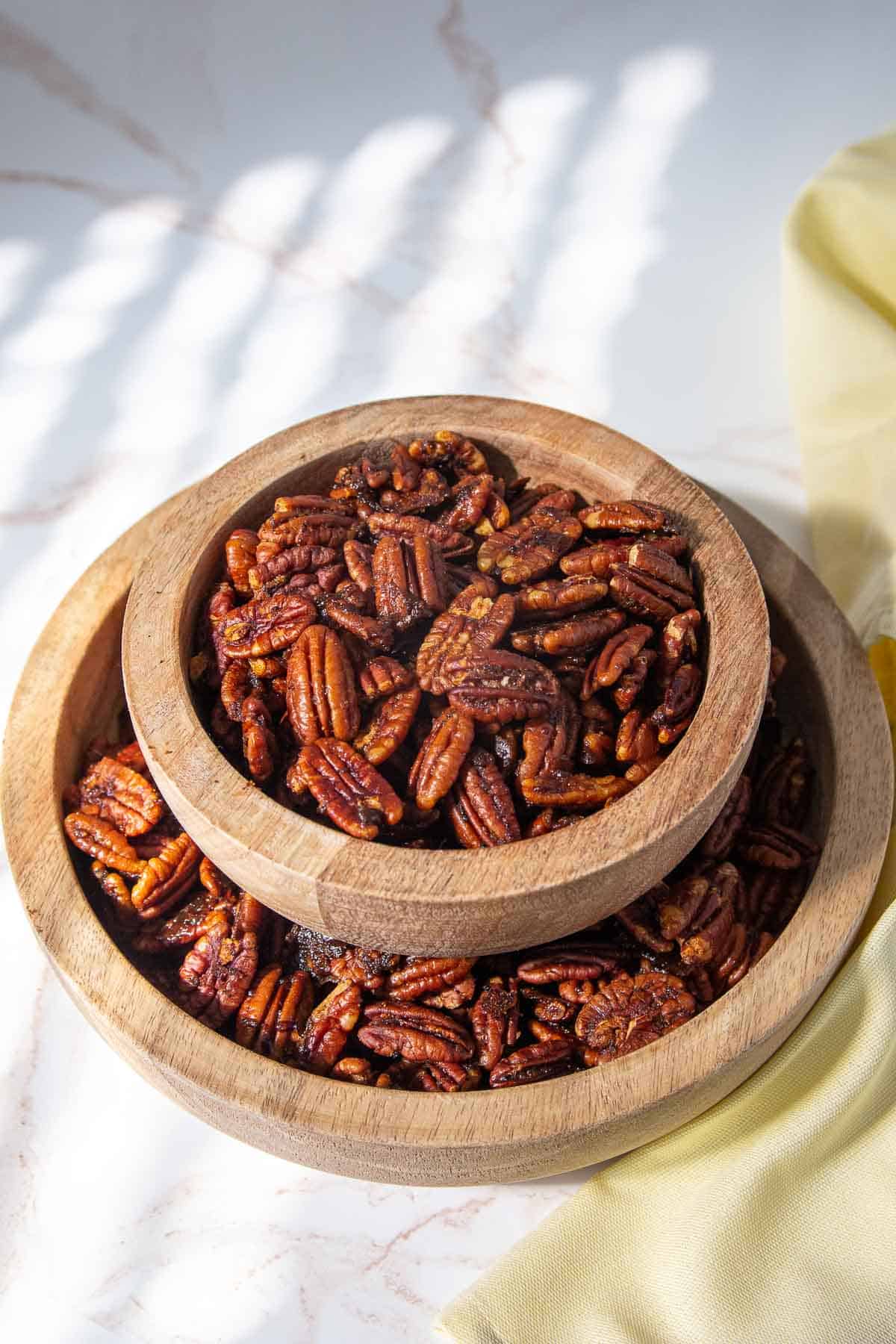 Storage tips
Spiced pecans will keep well in an airtight container at room temperature.
Glass jars or candy tins are perfect for storage. They're my choice for giving these spiced nuts as gifts, too.
Spiced pecans will stay fresh and delicious for up to 3 weeks. Make sure they are completely cooled and dry before storing to prevent them from sticking to each other.
If you need to store the nuts for longer, I recommend freezing them.
Simply place the cooled nuts in a freezer bag, remove excess air, and seal. Frozen nuts will keep for about 6 months.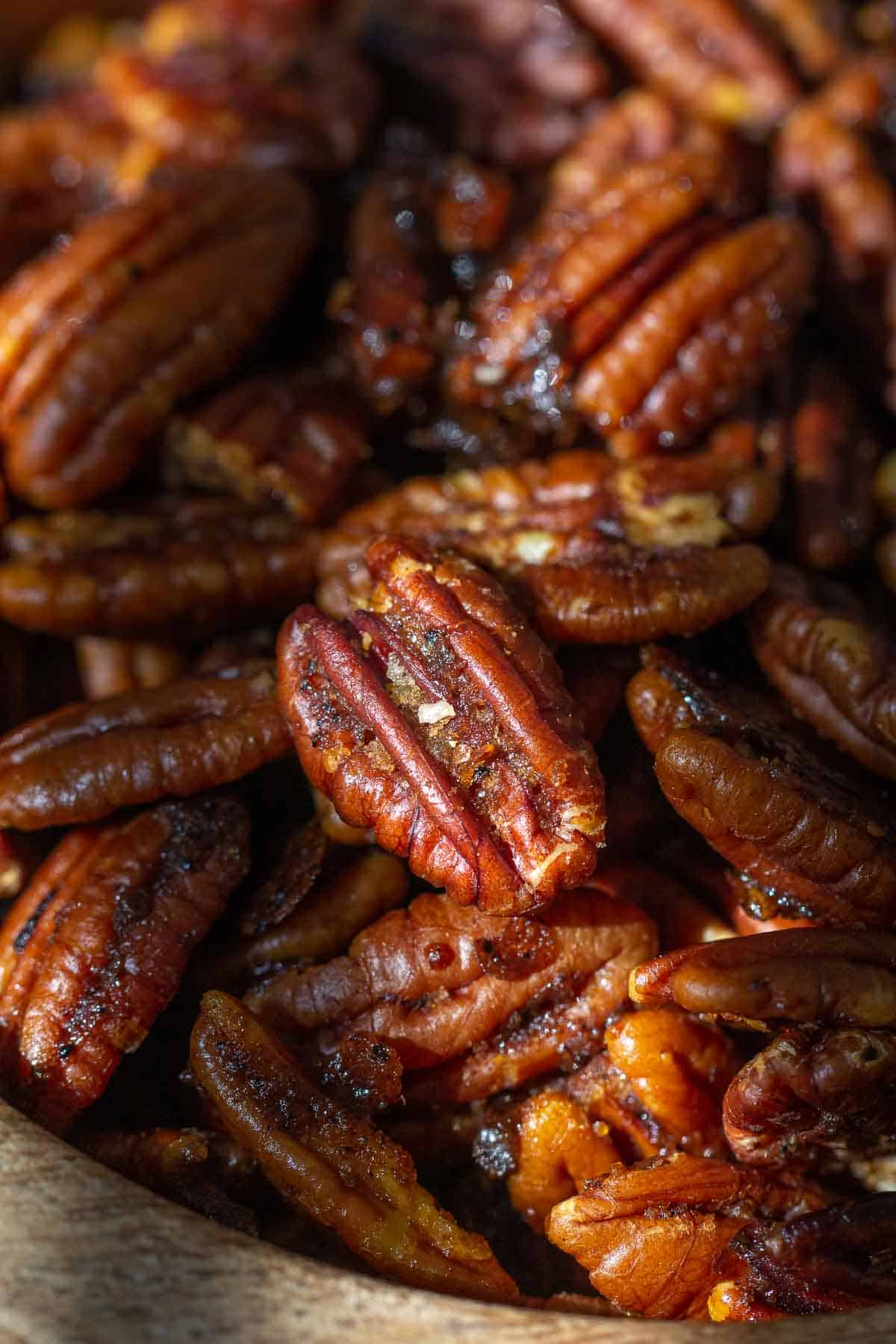 Serving suggestions
These spiced pecans are delicious for a snack all on their own, but they also can be served as part of a cheese board or tailgating spread.
Pair them with blue cheese and sliced pears on a cheese plate.
Add to your favorite salad along with cubed aged cheddar and dried cranberries.
Chop the roasted pecans and use as a topping for chicken or pork chops.
However you eat them, spiced pecans won't last long. Happy snacking!
Yield: 4 cups
Spiced Pecans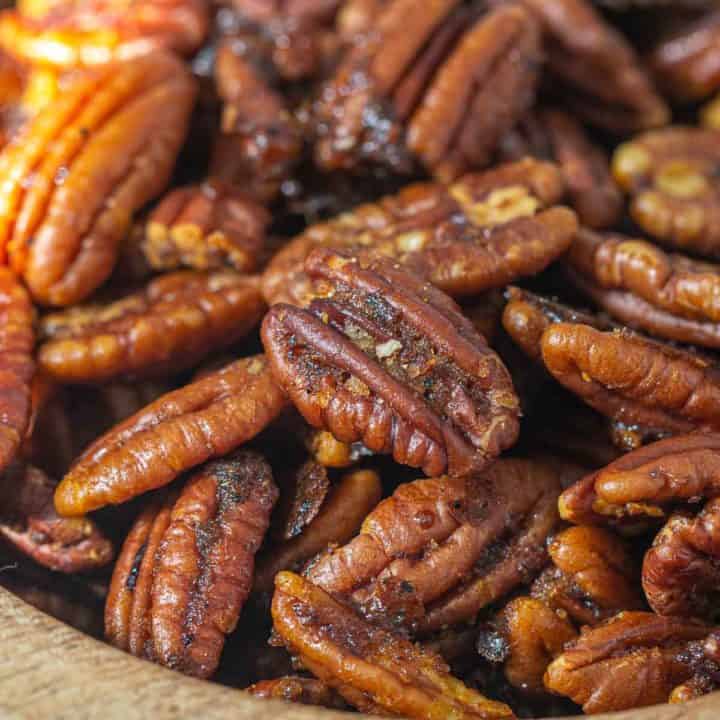 Sweet and savory spiced pecans are the perfect snack! Make a batch for gift-giving or serve at your next tailgate party.
Ingredients
4 tablespoons butter
¼ cup brown sugar
1 pound pecan halves (about 4 cups)
1 teaspoon fine sea salt
1 teaspoon ground chile powder
1 teaspoon paprika
½ teaspoon ground cumin
½ - 1 teaspoon hot sauce, optional
Instructions
Preheat oven to 350°F and line a baking sheet with parchment paper or silicone liner.
In a saute pan over medium-high heat, melt together butter and brown sugar, stirring to mix. Add pecans and stir well to coat.
Mix together spices and sprinkle over pecans. Stir well to distribute spices evenly, then stir in hot sauce, if using.
Spread pecans onto baking sheet in a single layer. Bake for 20 minutes, stirring halfway through.
Let cool completely before transferring to an airtight container.
Nutrition Information:
Yield:
16
Serving Size:
¼ cup
Amount Per Serving:
Calories:

233
Total Fat:

23g
Saturated Fat:

4g
Trans Fat:

0g
Unsaturated Fat:

19g
Cholesterol:

8mg
Sodium:

156mg
Carbohydrates:

7g
Fiber:

3g
Sugar:

4g
Protein:

3g
Nutritional information is an estimate for informational purposes only and not to be used for individual dietary needs.