White bean dip is a luscious, creamy dip that takes only minutes to prepare. Enjoy it with chips, vegetables, and more.
I'm always on the lookout for easy dips for parties.
Heck, I'm always on the lookout for easy dips for solo snacking!
I love beer cheese dip and chips with salsa, but sometimes I want something a little different. Zesty, creamy white bean dip is the perfect answer.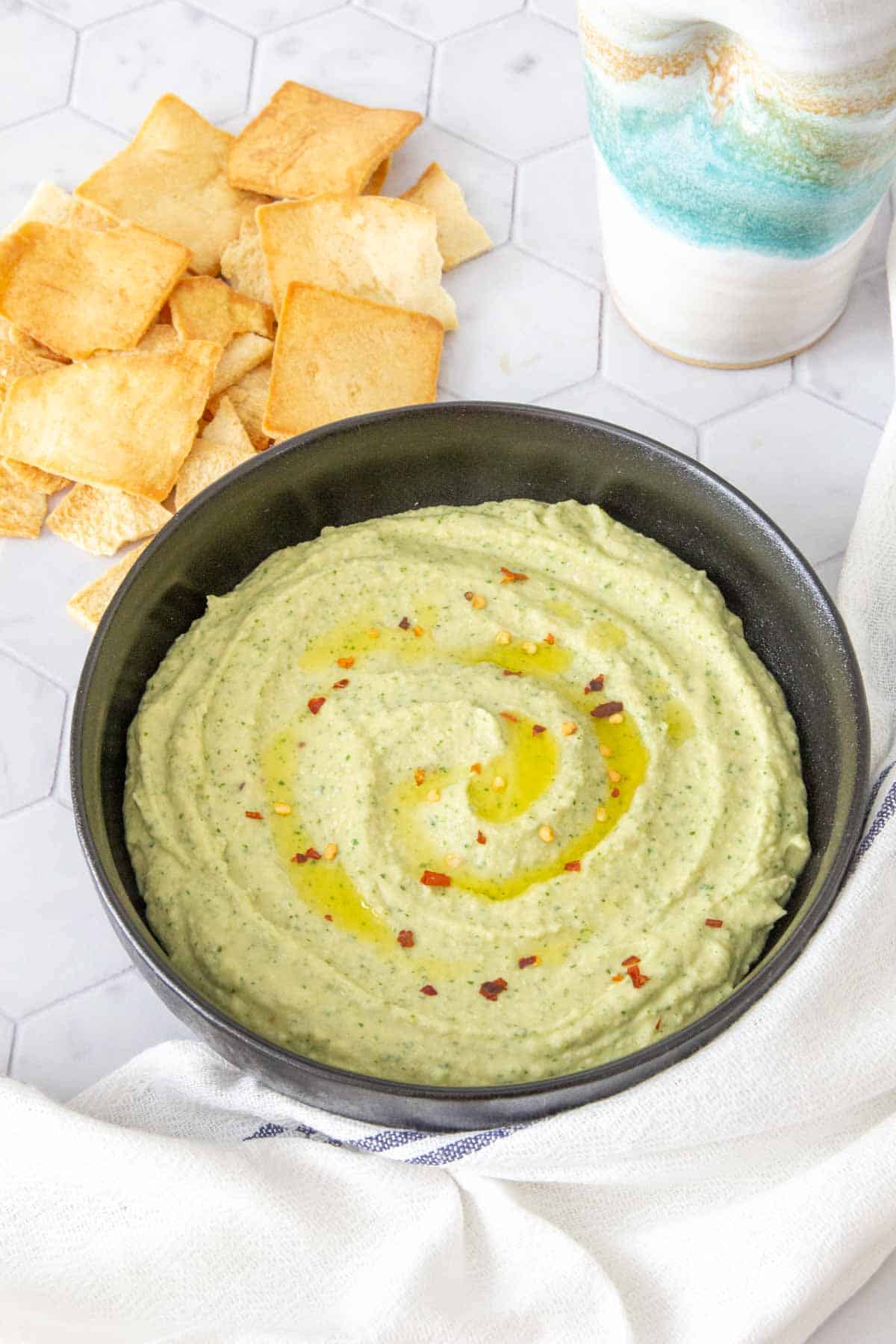 Made in just minutes, this white bean dip is a great option for entertaining, especially if you have any vegan friends in the crowd.
Similar to hummus, the main ingredient is beans, blended smooth with just a handful of ingredients. It's so great with pita chips, or used as a sandwich spread!
Ingredients for white bean dip
White beans – Look for cannellini beans (white kidney beans), great northern beans, or navy beans. Canned beans make this recipe a cinch, but you can also use beans cooked from dried.
Garlic – This recipe calls for two cloves of garlic, which is about 2 teaspoons of minced garlic. Garlic cloves can vary in size, so add garlic based on your tastes, or follow the teaspoon measurement.
Olive oil – Use your favorite olive oil. I like arbequina olive oil, which comes from Spanish olives.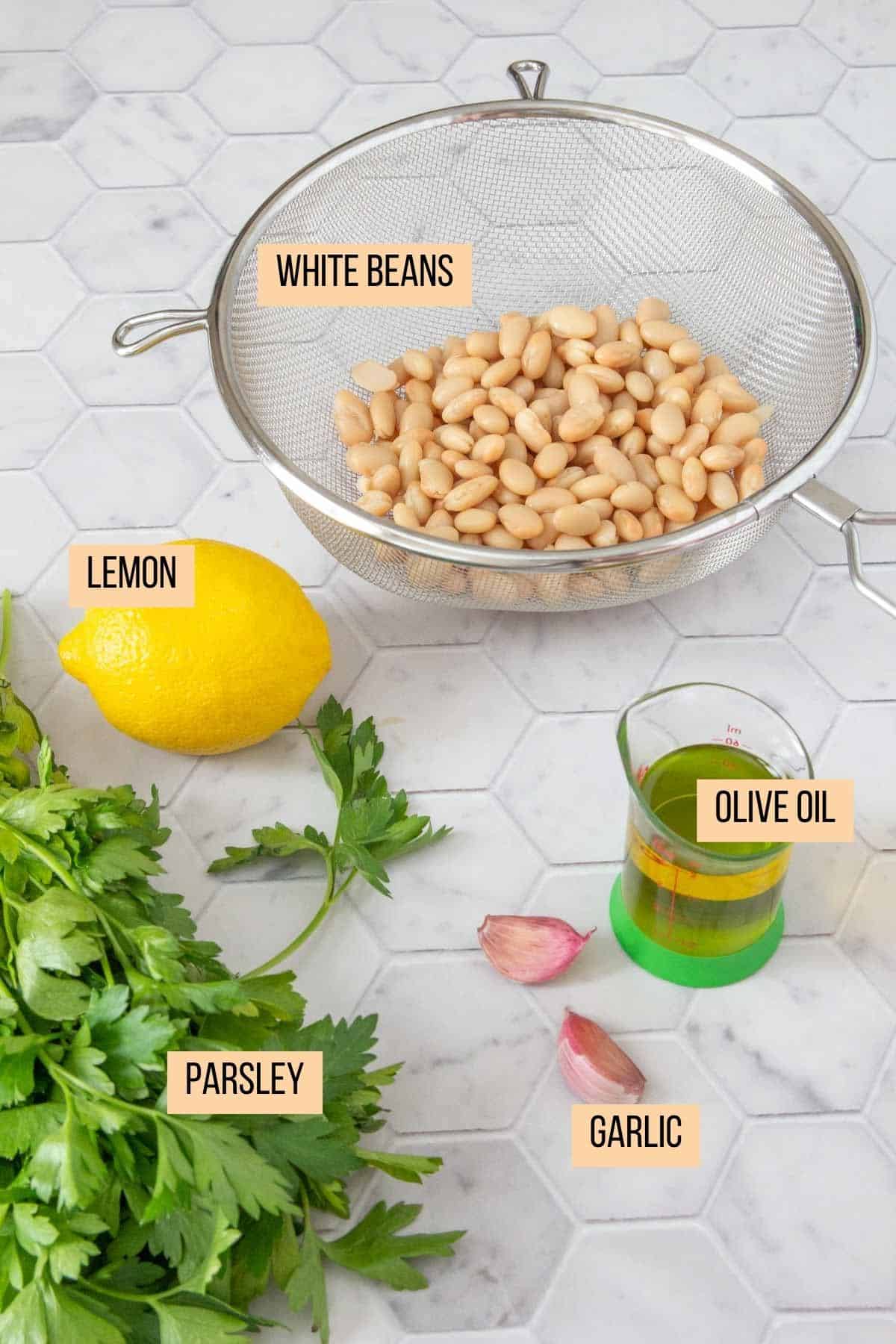 Lemon juice – For brightness, lemon juice is added. Fresh or bottled lemon juice can be used.
Parsley – To add light herbal flavor, I use parsley. Note that this does change up the color of your dip a bit, so if you want a pure white bean dip, you can leave it out, or simply add chopped parsley on top as garnish.
Salt and pepper – Add seasonings to taste after blending. Note that canned beans typically have some added salt, so keep that in mind when adding. I recommend tasting the dip before adding any seasoning.
Optionally, you can add crushed red chile flakes for heat.
How to make white bean dip
Grab a food processor or blender. A 3.5 cup mini food processor is the perfect size for making a batch of this dip.
Drain and rinse the white beans in a colander, shaking to remove as much excess water as possible.
Add the white beans, garlic, and parsley to the food processor bowl, cover, and pulse until well chopped.
While the processor is running, add the olive oil and lemon juice through the liquid feeder in a steady stream. Blend until the dip is a smooth, creamy texture.
Taste and add salt, pepper, and chile flakes as desired.
If you would like your dip to be thinner, add water 1 teaspoon at a time until desired consistency is achieved.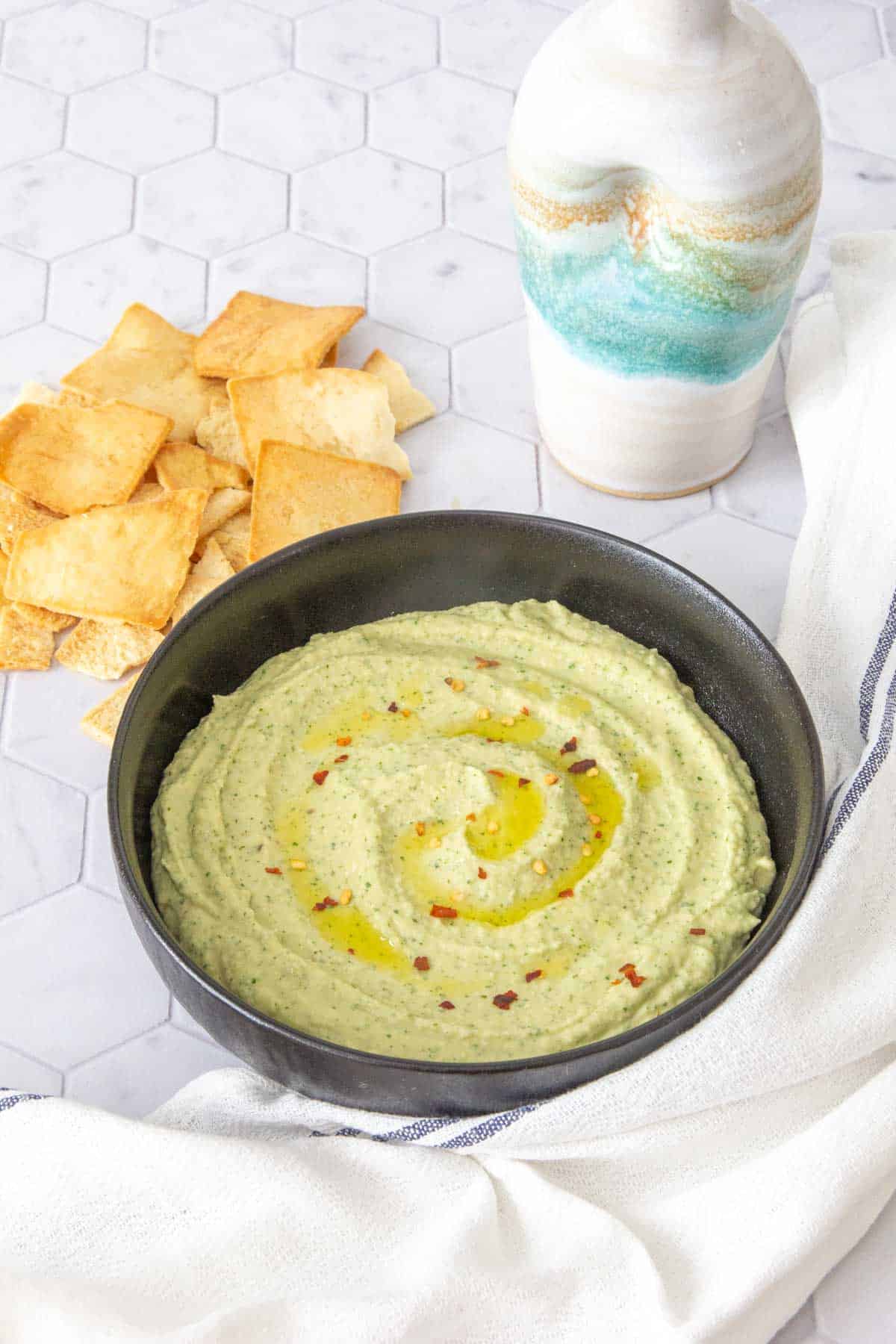 Serving suggestions
This easy white bean dip can be served immediately.
Scoop into a shallow serving bowl and drizzle with a small amount of olive oil. If desired, garnish with chopped fresh parsley and crushed red chile flakes.
Serve alongside fresh sliced vegetables such as bell peppers, carrots, or jicama.
Pita bread, pita chips, pretzels or bagel chips are also great options.
White bean dip is also excellent in place of hummus on a sandwich or served with falafel.
It's a great healthy dip option for any occasion.
Storage tips
Store the dip in an airtight container in the refrigerator for up to 3 days.
Note that dip can separate slightly in the refrigerator, especially if water is added. Simply stir the dip to reincorporate before serving.
Bean dip can be frozen. Scoop into an airtight container, making sure to leave room at the top for expansion. Make sure the lid is on tightly before placing into the freezer.
Thaw the dip overnight in the refrigerator. You can also warm the frozen dip in a saucepan, if you prefer. Stir well as it warms to ensure it is evenly heated.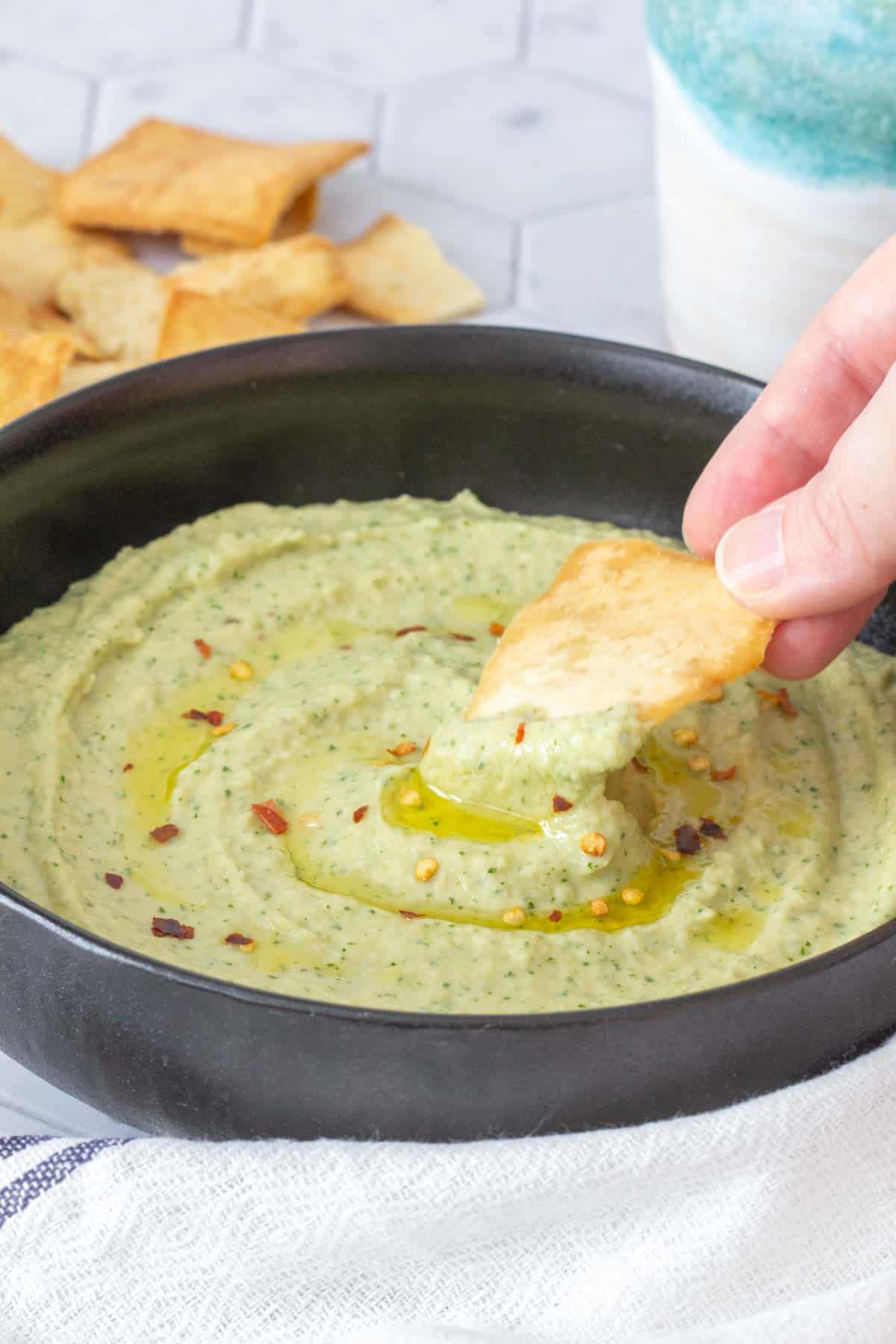 If you adore easy appetizers like I do, you have to give this white bean dip a try! Happy snacking!
Yield: Makes 1.5 cups
White Bean Dip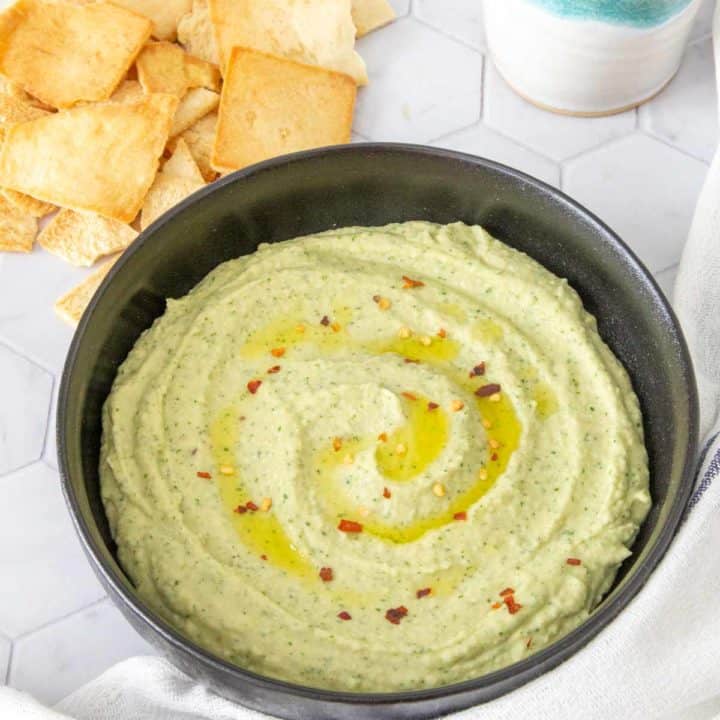 White bean dip is a luscious, creamy dip that takes only minutes to prepare. Enjoy it with chips, vegetables, and more.
Ingredients
1 15-ounce can cannellini beans, rinsed and well drained
¼ cup fresh parsley
2 cloves garlic
¼ cup olive oil
2 tablespoons lemon juice
Salt and pepper, to taste
Water, as needed
Crushed red chile flakes, optional
Instructions
In a food processor or blender, add beans, parsley, and garlic. Pulse until finely chopped.
While machine is running, pour in olive oil and lemon juice through the feeder tube. Blend until smooth.
Taste and add salt and pepper as desired. If dip is too thick, blend in water 1 teaspoon at a time until desired consistency is reached.
Serve immediately or store in the refrigerator, covered, until ready to serve.
Nutrition Information:
Yield:
8
Amount Per Serving:
Calories:

126
Total Fat:

7g
Saturated Fat:

1g
Trans Fat:

0g
Unsaturated Fat:

6g
Cholesterol:

0mg
Sodium:

222mg
Carbohydrates:

13g
Fiber:

3g
Sugar:

1g
Protein:

4g
Nutritional information is an estimate for informational purposes only and not to be used for individual dietary needs.