Fresh roasted tomato salsa is a staple condiment you need to keep on hand. It comes together quickly with just a few ingredients so you can make it any time.
I've been making my own salsas ever since we moved to Texas.
That's where I fell in love with things like tomatillo salsa, persimmon salsa, and hatch peach salsa.
Because it's such a snacking staple, I have to share my recipe for this easy restaurant style salsa.
We love salsa with tortilla chips and tacos, of course, but roasted tomato salsa is also great for making micheladas or stirring into soup.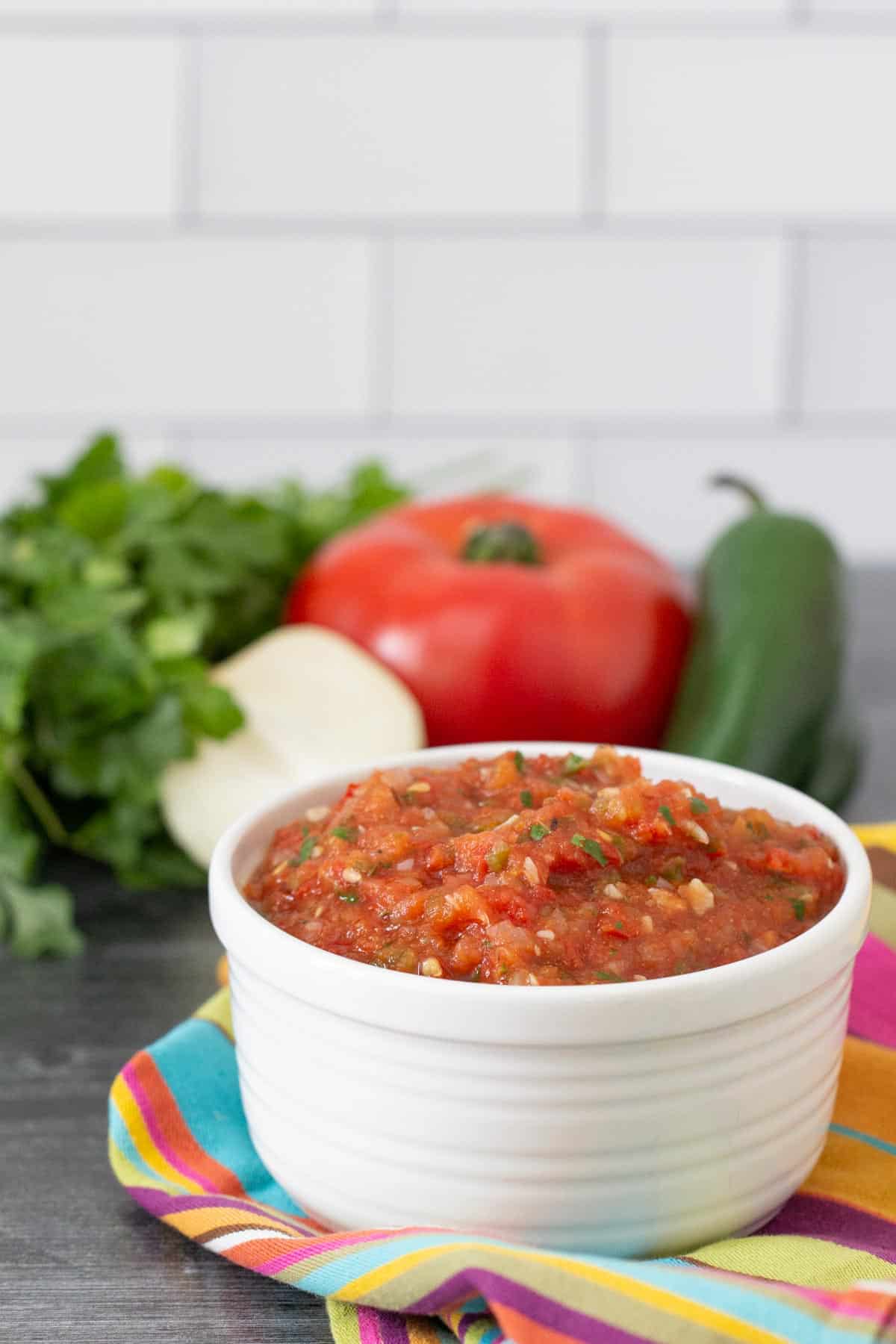 What are the best tomatoes for salsa?
For salsas and other homemade sauces, look for tomatoes that are meaty with less liquid content.
The most commonly used are paste tomato varieties, such as plum tomatoes, Roma, or San Marzano. These oblong tomatoes contain a lot of flesh with few seeds.
You can also use meatier heirloom tomatoes. Or, simply swap in whatever tomatoes you have on hand.
For any tomatoes you use, drain the excess juice and remove as many seeds as possible. This will keep your salsa from being too runny.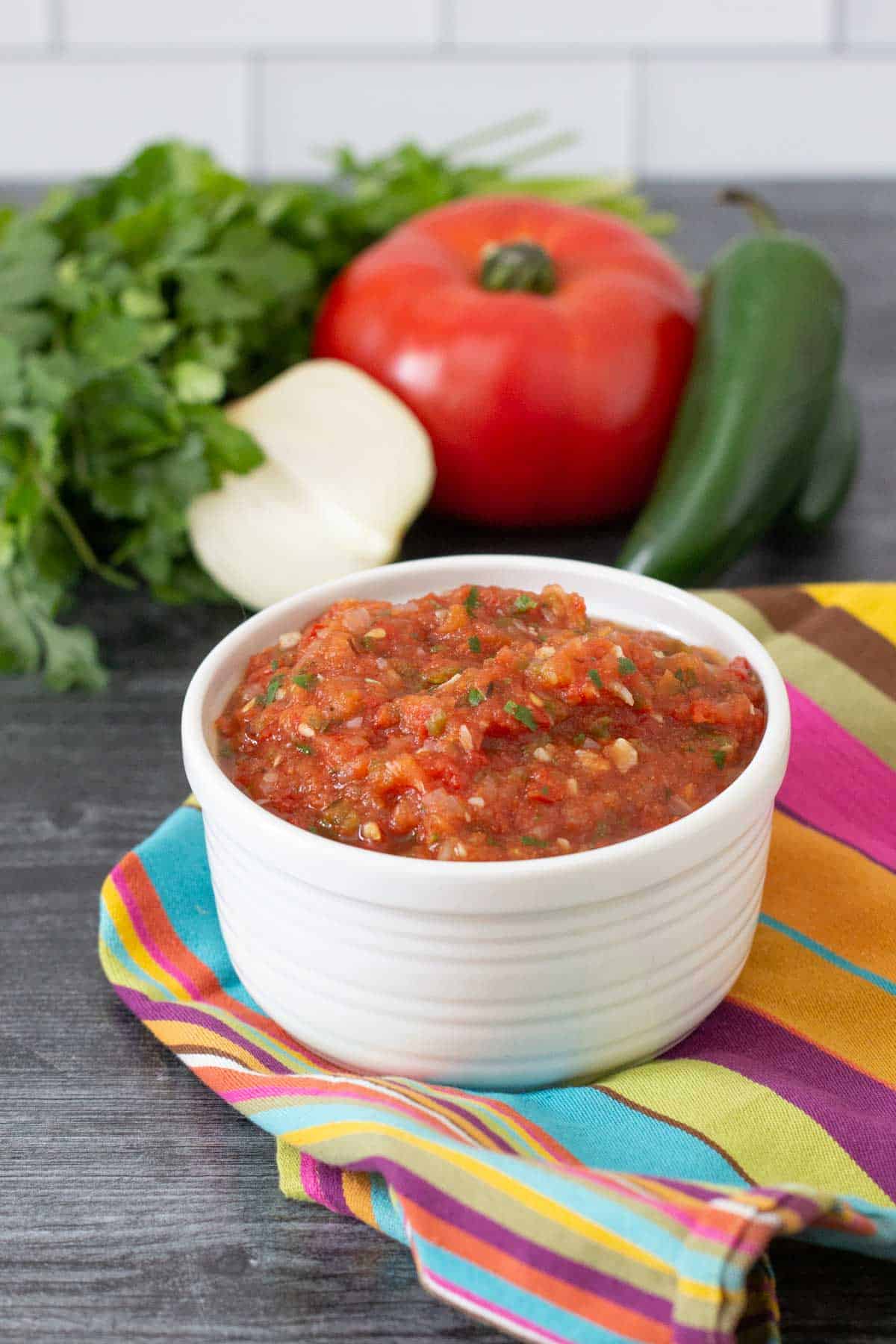 Ingredients
To make this roasted tomato salsa recipe, first gather your ingredients.
Tomatoes – The number of tomatoes needed will depend on their size and liquid content. I recommend buying at least half a pound extra of tomatoes, in case your tomatoes are watery. Look for tomatoes that are firm with just a little amount of give and have a vibrant color.
Jalapeño peppers – Jalapeños can vary a lot in size as well as heat. While they on the low end of the Scoville scale (the scale for measuring heat in peppers), jalapeños can sometimes surprise you with heat!
Use the amount of jalapeño that you prefer for this recipe. Removing the pepper seeds will make a milder salsa.
Remember: You can always add more, but you can't remove it!
Onion – I usually use white onions when I make salsa. However, yellow onions will also work, and red onion provides extra bite.
I don't recommend using sweet onions like Vidalia, as they are too sweet for salsa.
Garlic – Garlic cloves also vary in size, so if yours are smaller feel free to throw in an extra or two. Look for cloves that are plump and not soft or dried out.
If your garlic cloves are beginning to sprout, you can simply cut out the green bit.
Cilantro – Even if you don't love cilantro, it's a key ingredient for salsa! Add it for herbal vibrancy and a boost of color.
You can use both the leaves and stems of cilantro, so don't worry about picking the leaves off!
Lime juice – Lime juice adds brightness and acidity to salsa. If you don't have fresh limes on hand, bottled juice works just as well.
Cumin – Optional, but I like to add a bit of ground cumin to my salsa.
Salt – I salt my tomatoes before roasting, but also add salt after mixing the salsa. Keep in mind what you might be serving the salsa with. For example, if you've got extra-salty chips on the table, you might want to use less salt in the salsa.
You'll also need either a food processor or a blender.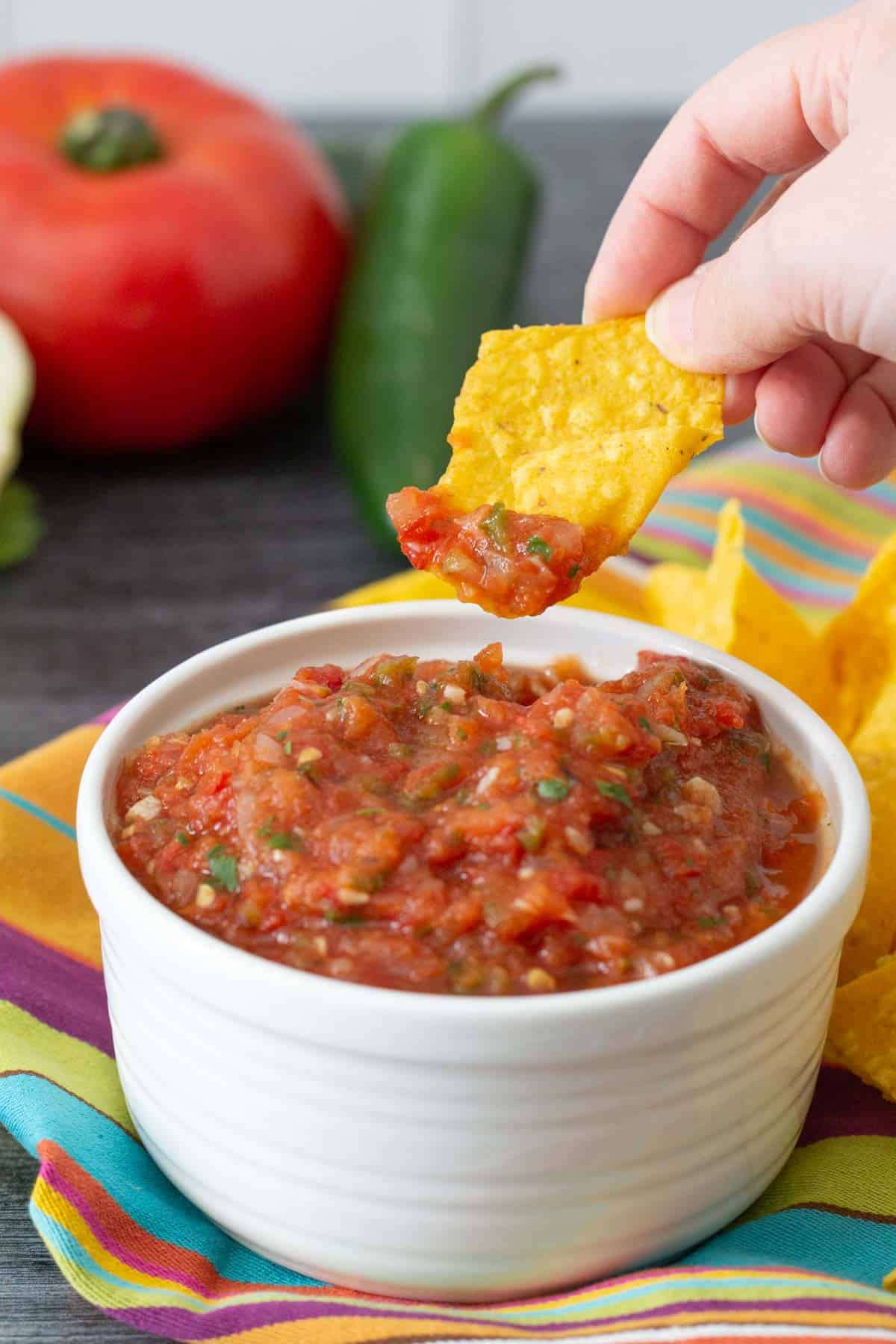 How to make salsa
To roast the ingredients, first preheat the oven and line a rimmed baking sheet or casserole dish with foil for easy cleanup.
Slice the tomatoes in half and place them cut-side up on the baking sheet. Sprinkle the cut sides with salt.
Place the peppers and onion on the baking sheet as well.
Wrap the garlic in a small piece of foil and add to the baking sheet. The packet will help prevent the garlic from burning. You can also easily remove the packet from the baking sheet before the other vegetables are done, if needed.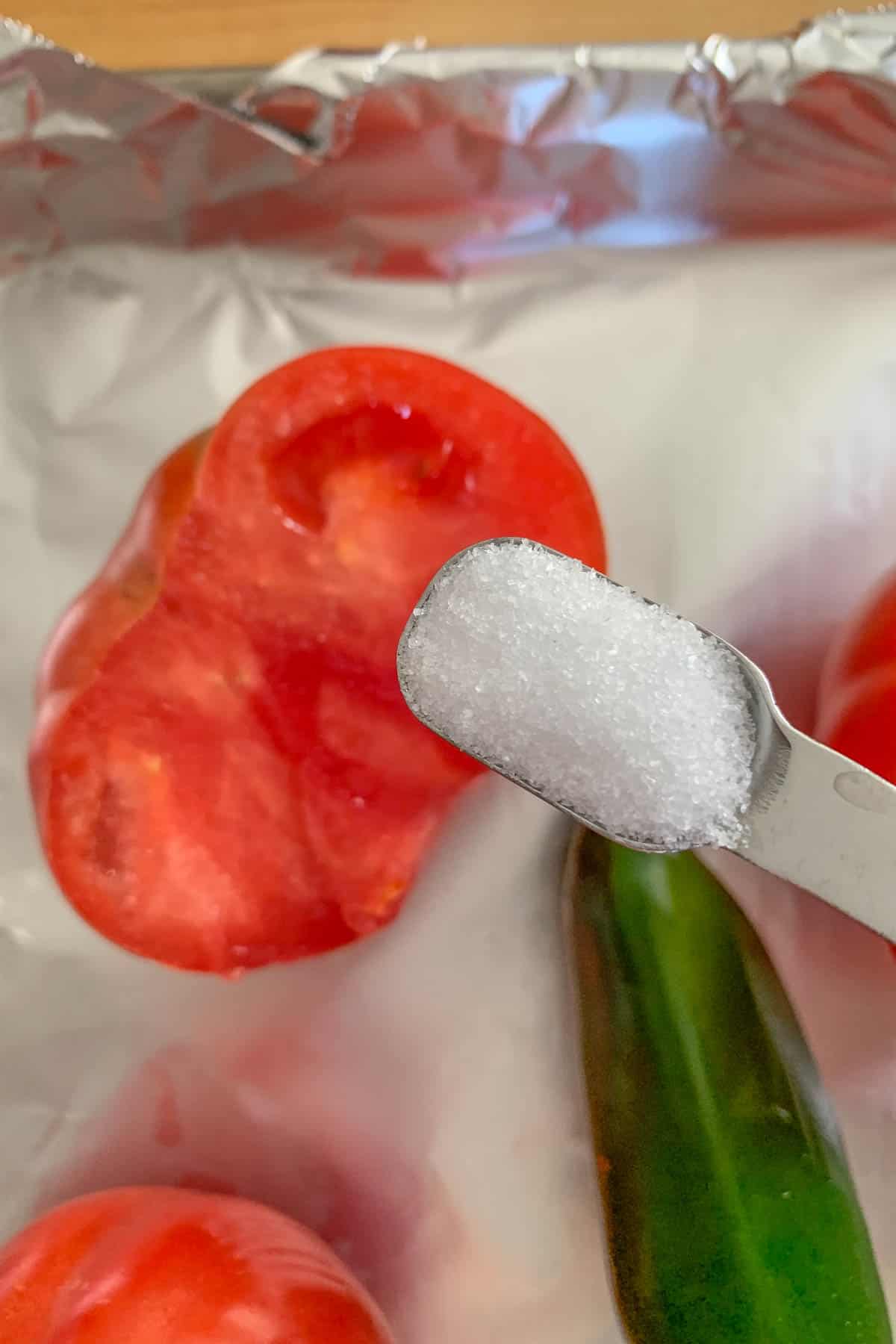 Place the pan in the oven and roast the vegetables, turning as needed, until skins are slightly charred and tomatoes are soft.
If any ingredients are done before others, simply remove them from the pan and set aside to cool while the rest roasts.
When everything is evenly roasted, remove from the oven and let cool slightly. Remove stems from jalapeños, halve, and cut out seeds if desired.
If you like, peel off the tomato skins. I leave them on for the added roasted flavor.
Carefully transfer roasted ingredients to the bowl of a food processor fitted with the standard blade, or a blender. Add cilantro.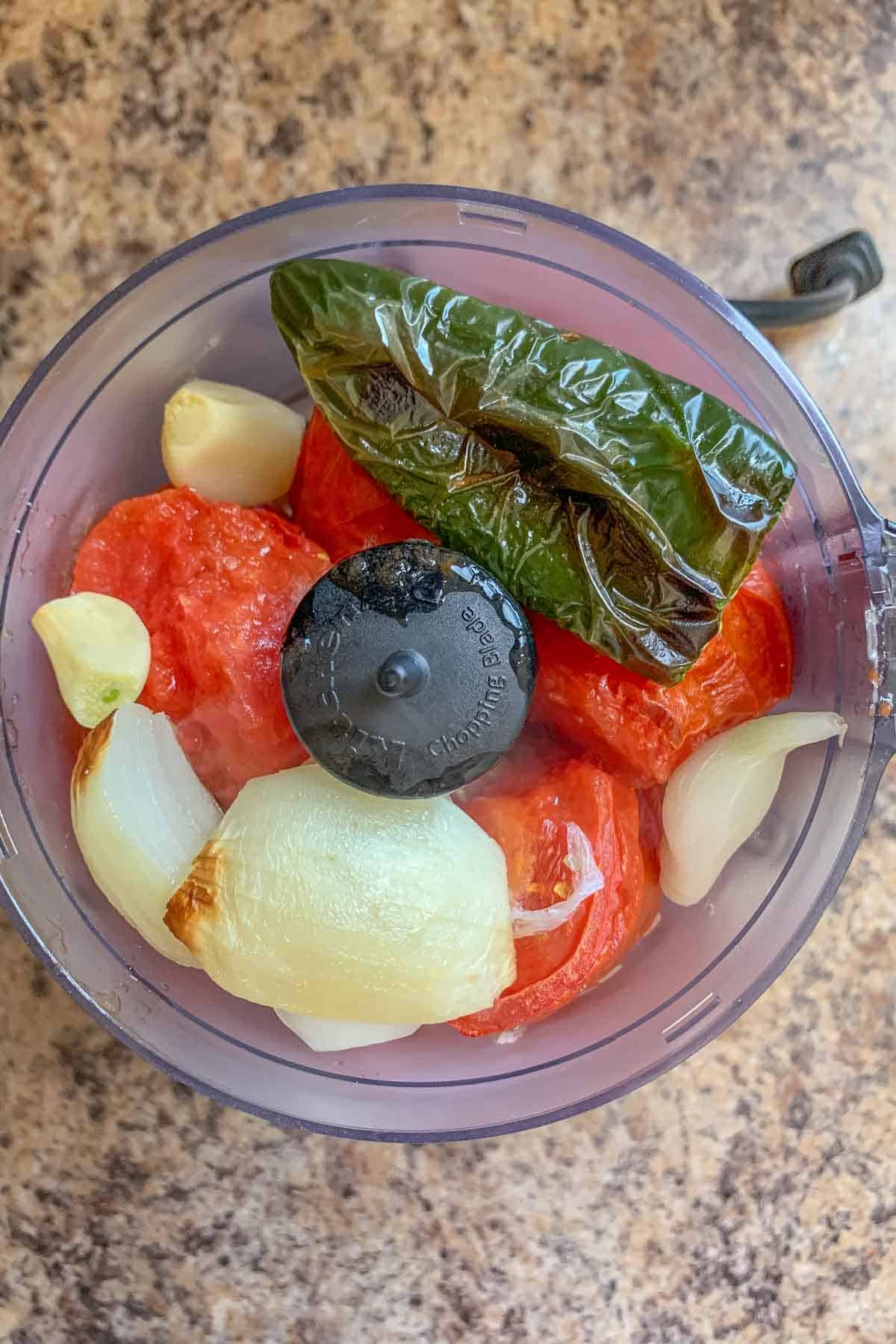 Pulse just until ingredients are chopped. Add cumin and salt and pulse until desired texture is reached.
Taste salsa and adjust seasoning depending on your preferences. I recommend stirring in the final seasonings to retain the salsa texture.
Serve this salsa while it is still warm from the oven — you'll love it! You can also store it in the refrigerator to let the flavors meld before serving.
Salsa variations
Everyone has their own version of salsa. No taqueria or household will make it quite the same way, even if the base ingredients are similar.
I encourage you to experiment and find your own preferred mixture. Whether that means more heat, a touch of lime juice, or herbs, salsa is made to be customized.
Here are a few options for adding to your salsa:
Swap jalapeños for serrano peppers, or a chipotle in adobo sauce for a spicy salsa.
Add lime zest for extra citrus flavor.
Add other vegetables such as bell peppers or even carrots.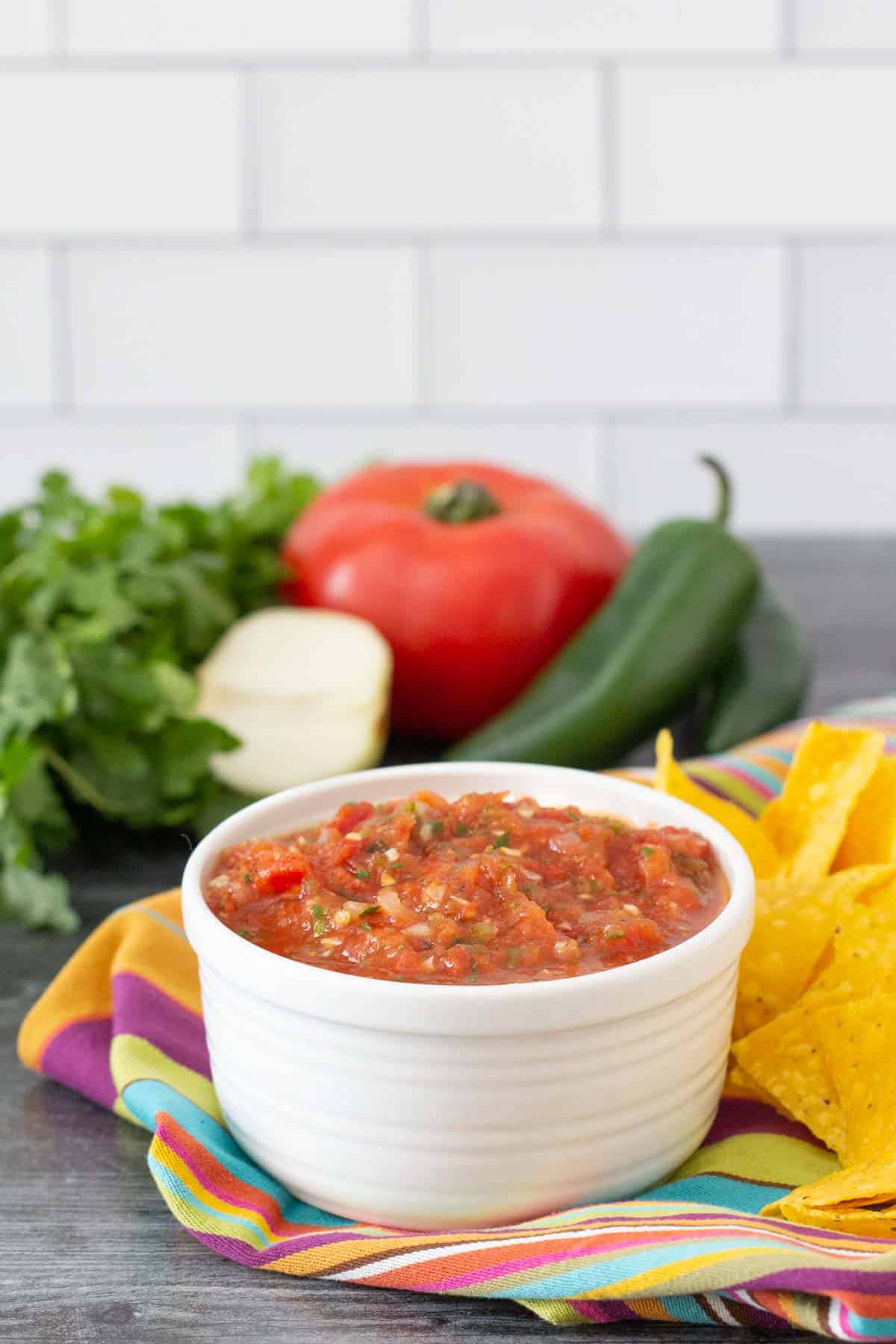 FAQ
Can I preserve this tomato salsa?
This salsa recipe is not suitable for home canning. If you are interested in canning and home preserving, I recommend picking up the Ball Book of Home Preserving to get started. It's important to follow best practices for home canning to prevent illness.
Can I use canned tomatoes in this recipe?
If you can't find good fresh tomatoes, canned will work. I recommend using fire-roasted diced tomatoes; drain well before adding.

One 14.5-ounce can diced tomatoes should be enough for this recipe.
How long does fresh salsa last?
This salsa will keep in the refrigerator in an airtight container for about 2 weeks.
Try my fruit salsa, too! Happy snacking!
Yield: About 2 cups
Roasted Tomato Salsa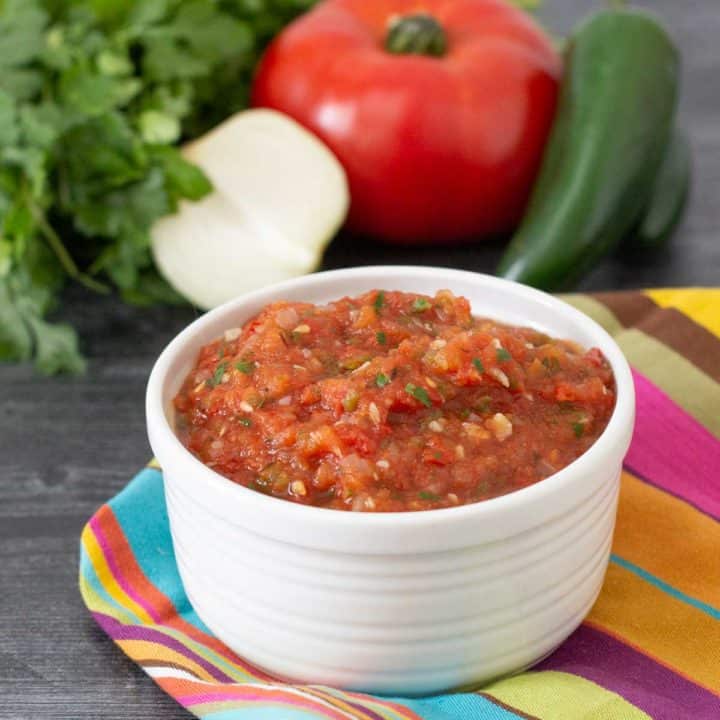 Fresh roasted tomato salsa is a staple condiment you need to keep on hand. It comes together quickly with just a few ingredients so you can make it any time.
Ingredients
1 pound tomatoes
1 teaspoon salt
1 large jalapeño
½ onion
2 cloves garlic
¼ cup packed cilantro
1 to 2 teaspoons lime juice
1 teaspoon cumin
Instructions
Preheat oven to broil and line a rimmed baking sheet with foil. Halve tomatoes and place skin-side down on baking sheet. Sprinkle cut sides with salt. Place jalapeño and onion on baking sheet. Wrap the garlic cloves in a small square of foil and add that to the baking sheet as well.
Place in the oven and roast for about 20 minutes, turning vegetables halfway. If the skins are not yet charred, keep cooking and turning until they are to your liking. If needed, remove garlic packet, onion, and/or jalapeño while the tomato continues to cook.
Once roasted, let cool until easily handled. Remove stem from jalapeño, and cut out seeds if desired. Add tomatoes, jalapeño, onion, and garlic to a food processor and pulse until uniformly chopped. Add cilantro, lime juice, and cumin and pulse until desired texture is reached. Taste and adjust seasoning if needed.
Serve warm or chill in the refrigerator to let flavors meld.
Nutrition Information:
Yield:
8
Serving Size:
¼ cup
Amount Per Serving:
Calories:

16
Total Fat:

0g
Saturated Fat:

0g
Trans Fat:

0g
Unsaturated Fat:

0g
Cholesterol:

0mg
Sodium:

268mg
Carbohydrates:

3g
Fiber:

1g
Sugar:

2g
Protein:

1g
Nutritional information is an estimate for informational purposes only and not to be used for individual dietary needs.