Homemade cheddar Chex mix is a delicious snack everyone loves! All you need is your favorite snack mix ingredients and cheese powder.
Did you know you can make your own cheddar Chex mix? 
This is great news for those of you out there like me, who can eat a whole bag of chex mix in one sitting!
Cheddar chex mix is just as easy to make as the original homemade chex mix recipe. All you need is some cheddar cheese powder.
I've been making macaroni and cheese using cheese powder I buy at my local spice shop. It's just as easy to use as the powder that comes in the mac and cheese box, but with more cheese flavor.
Cheese powder is perfect for making pasta, homemade cheese crackers, and this cheddar Chex mix!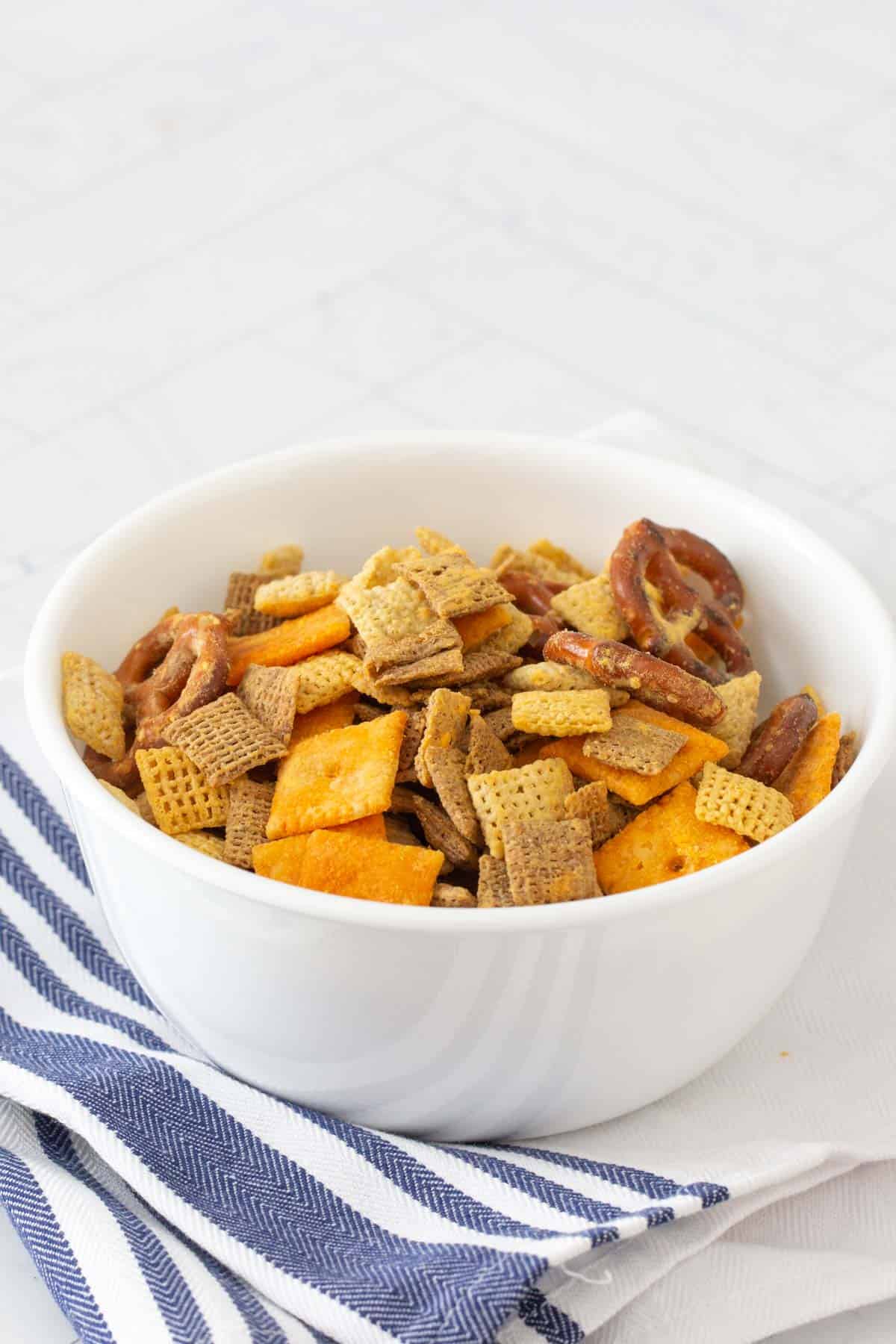 Where to buy cheese powder
Cheese powder is simply dried cheddar cheese with a few preservatives added. I buy regular and spicy varieties all the time at the spice shop nearby.
If you have a specialty spice store near you, check to see if they keep cheese powder in stock. They might be able to order it for you if they don't currently carry it.
You can also buy it online, from shops like King Arthur Baking, Nuts.com, or Amazon.
Cheese powder is sold in packets or jars. Keep in mind that it does expire after opening, so only buy the size you think you'll need.
For this recipe, you'll need ¼ cup.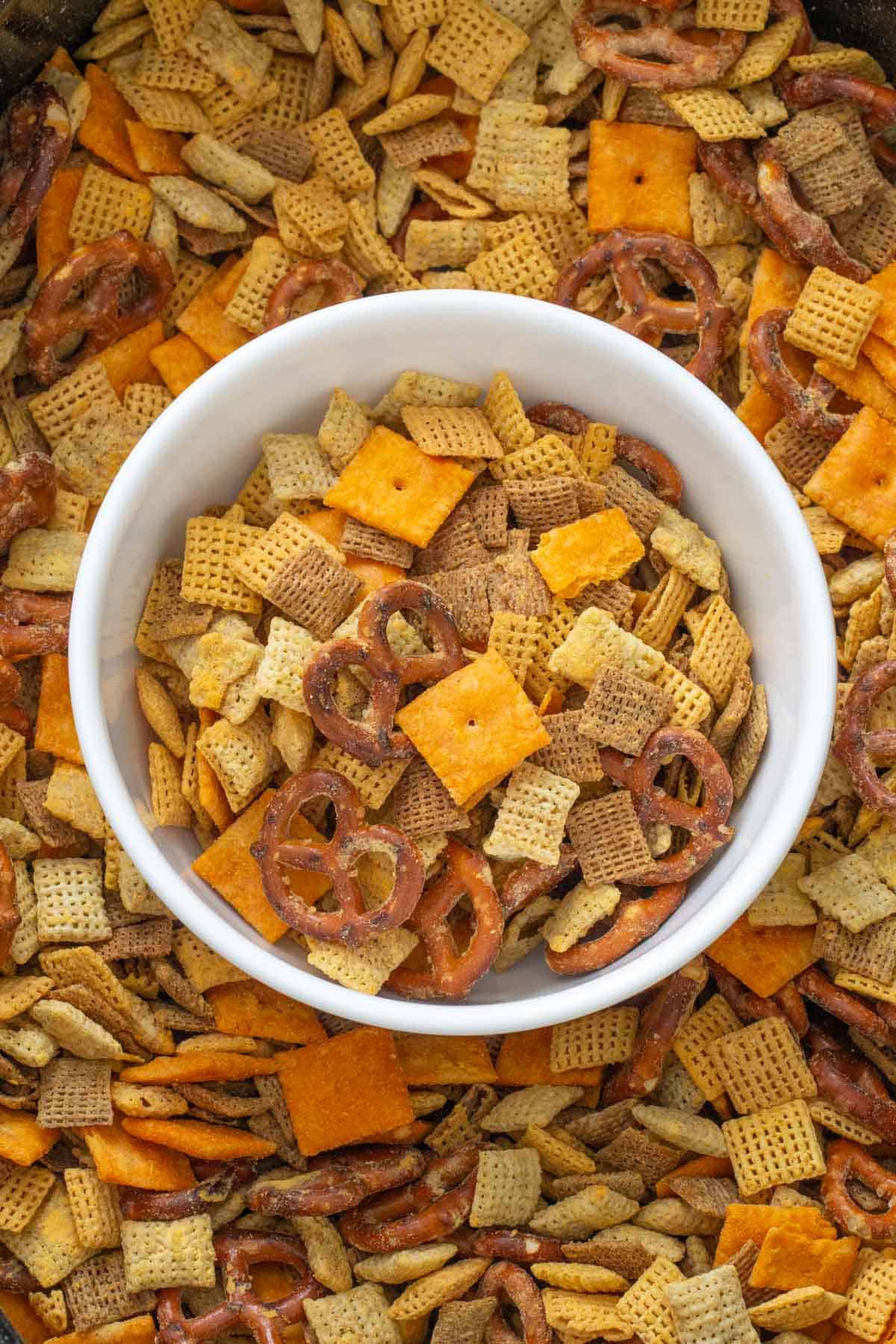 How else can I use cheese powder?
You'll likely have plenty of cheese powder left after making this Chex mix, so try it with other recipes! Go beyond making mac and cheese. 
Try it on cheddar cheese popcorn or french fries, or mix it into dough for pizza or rolls.
Sprinkle it onto eggs or stir it into breadcrumbs for making chicken tenders. Or, use it to make your own cheddar cheese crackers.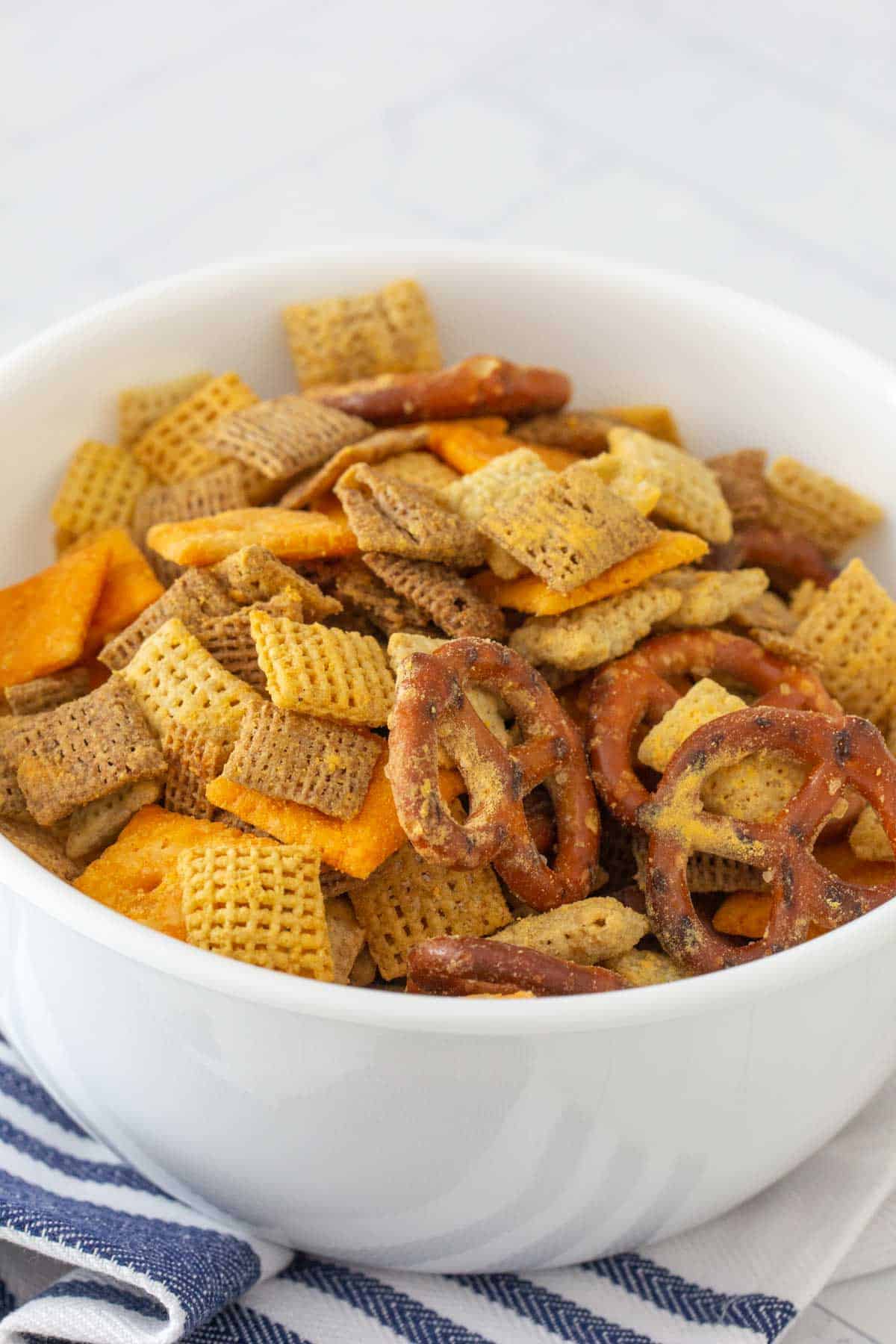 What can I add to Chex mix?
Chex mix is such a great snack because it is endlessly customizable. It's so easy to put together a batch with whatever you have in your pantry.
Cereals: Chex varieties, of course, but also try Cheerios, Crispix, Shredded Wheat, Corn Flakes, or even Kix
Nuts: Peanuts, cashews, and pistachios are great for snack mixes. I like lightly salted but you can try flavored roasted nuts as well.
Crunchy options: Cheddar crackers, pretzels, rye chips, bagel chips, Bugels, oyster crackers, sesame crackers, rice crackers, or mini breadsticks are all wonderful options.
Spices: Add ranch powder for a zesty kick, or a few dashes of hot sauce for a spicy cheddar option.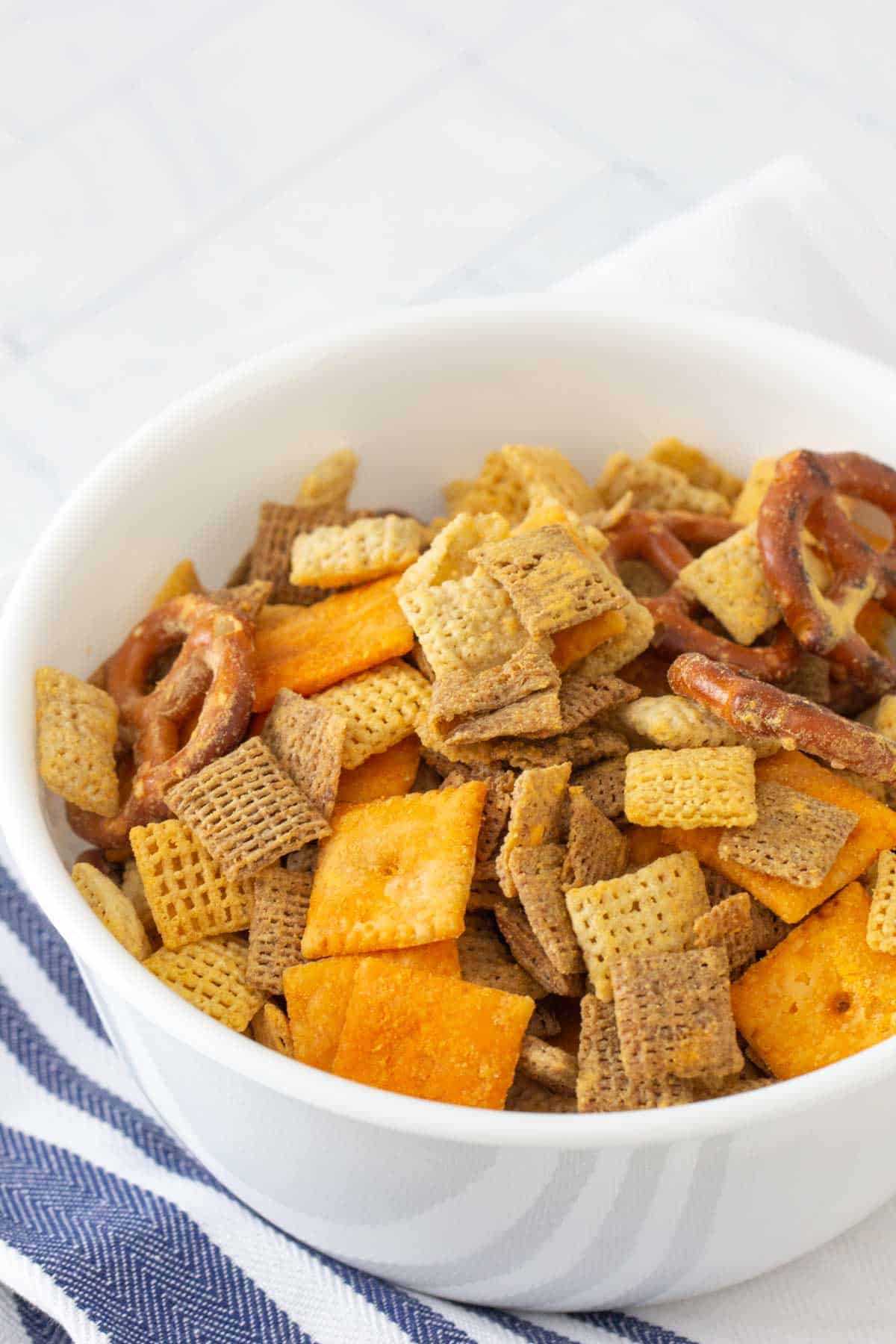 Other Chex mix flavors you'll love
Cheddar Chex mix is the perfect party mix snack. Happy snacking!
Yield: 16 servings
Cheddar Chex Mix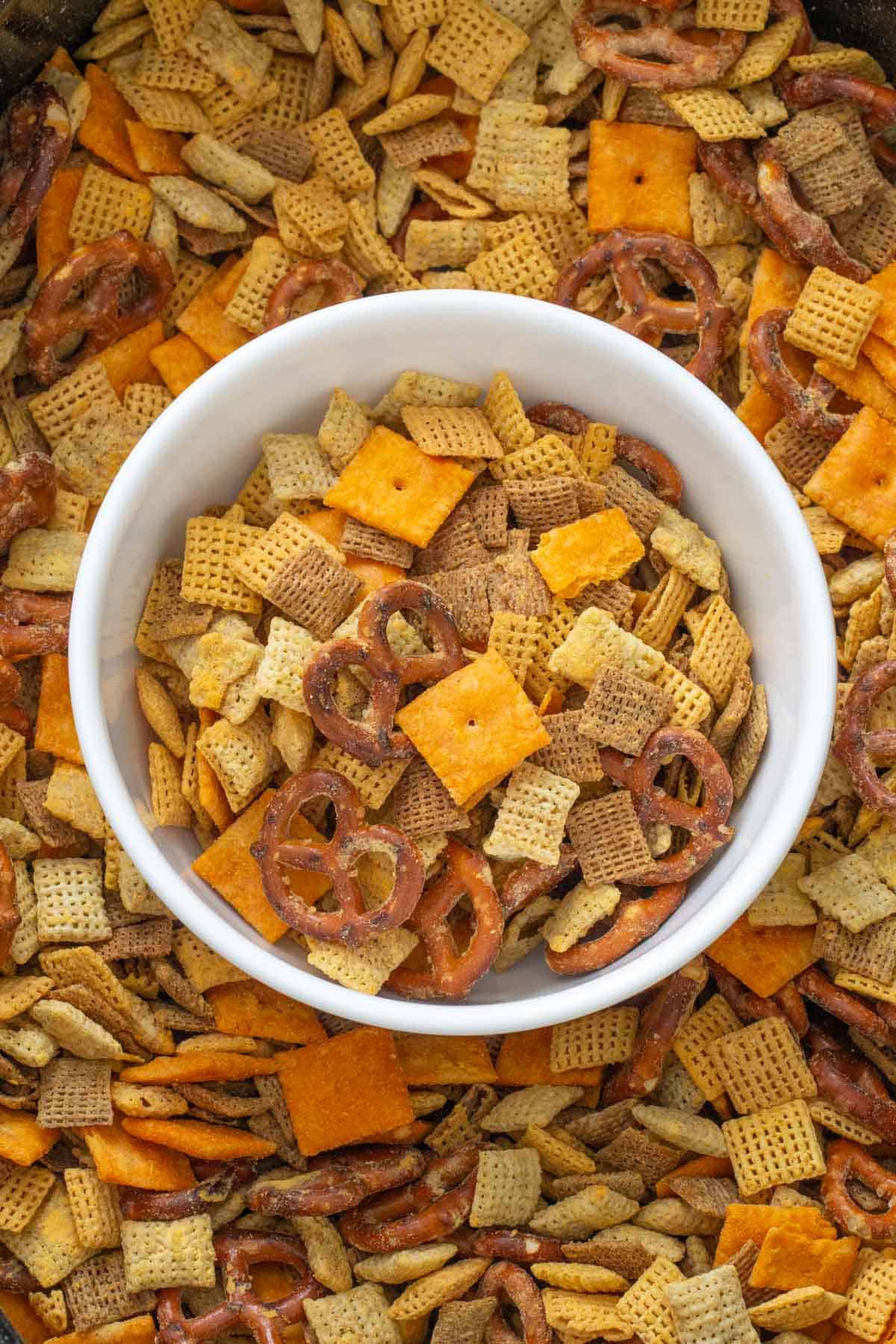 This cheddar Chex mix is easy to make and even easier to eat! Everyone will love it.
Total Time
1 hour
10 minutes
Ingredients
9 cups total Chex cereals, or other cereal like Cheerios
2 cups mini pretzels
2 cups cheddar cheese crackers
6 tablespoons butter
½ teaspoon onion powder
½ teaspoon seasoned salt
¼ cup cheddar cheese powder
Instructions
Preheat oven to 250°F. Combine cereals, pretzels, and cheese crackers in a large roasting pan.
Melt butter and stir in onion powder and seasoned salt. Pour over cereal mixture and stir well to coat. Add half the cheese powder, stir to coat, then add the remaining cheese powder and stir again.
Bake for 1 hour, stirring every 15 minutes. Let cool completely, then transfer to an airtight container for storage.
Nutrition Information:
Yield:
16
Serving Size:
about ¾ cup
Amount Per Serving:
Calories:

210
Total Fat:

8g
Saturated Fat:

4g
Trans Fat:

0g
Unsaturated Fat:

3g
Cholesterol:

14mg
Sodium:

399mg
Carbohydrates:

32g
Fiber:

3g
Sugar:

5g
Protein:

5g
Nutritional information is an estimate for informational purposes only and not to be used for individual dietary needs.