Ranch oyster crackers are an essential Midwest snack. No holiday party tray is complete without a big bowl of this tangy, crunchy snack.
I can't remember the first time I ever had ranch oyster crackers, but it's one of those flavors that sticks in your memory and pops up at completely random times.
Fortunately, it's super easy to throw together a batch of these addictive crackers, so I never have to worry when a craving hits.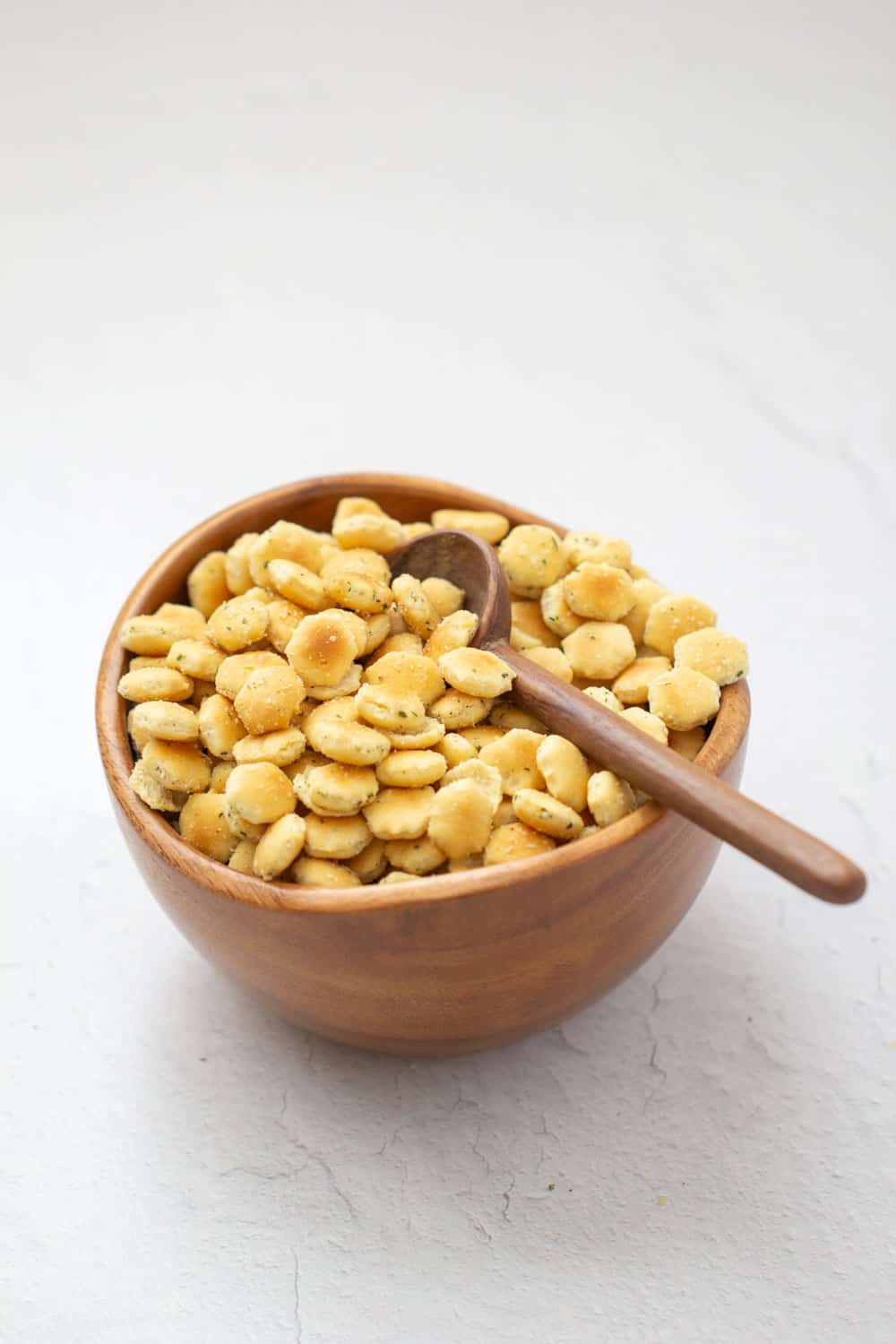 With ranch seasoning and a little extra dried dill, ranch oyster crackers have a tangy kick I can't get enough of. One taste and you'll see what I mean!
What are oyster crackers?
Despite their name, oyster crackers don't taste like oysters. In fact, their hexagonal shape barely looks like an oyster, but the name has stuck around since the mid 1800s.
Oyster crackers have been served on top of creamy seafood-based soups ever since, but in the Midwest where we don't get much seafood, we've turned them into a savory snack.
You can usually find oyster crackers in the soup aisle alongside Saltine crackers, but if they aren't there head over to the cracker aisle, where they'll likely be on a bottom or top shelf.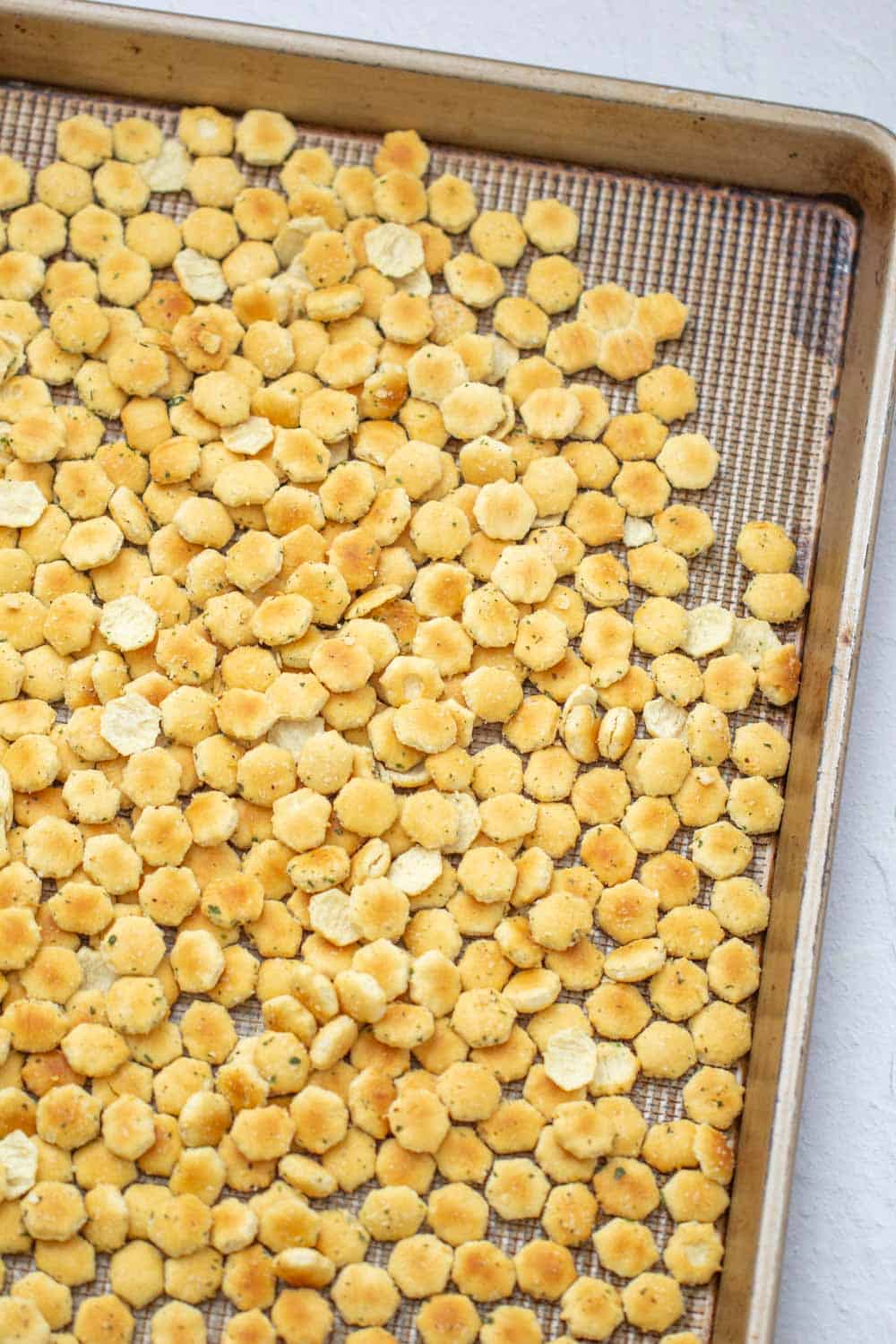 Do I have to bake ranch oyster crackers?
Some folks don't bother baking their oyster crackers and simply coat them with the oil and seasoning mix.
This is fine, but I find that baking helps the flavor soak in. Because the oven is set to a low temperature, you don't need to worry about the crackers burning in the process.
Plus, they taste great while warm!
If you don't want to turn on the oven, though, you can microwave ranch oyster crackers.
Pour them into a microwave-safe bowl and microwave on high for 4 minutes, stirring every 60 seconds or so.
How to store ranch oyster crackers
Ranch oyster crackers will keep in an airtight container stored at room temperature for up to 1 week.
Be sure to let them cool and dry completely before storing to prevent any sogginess in storage.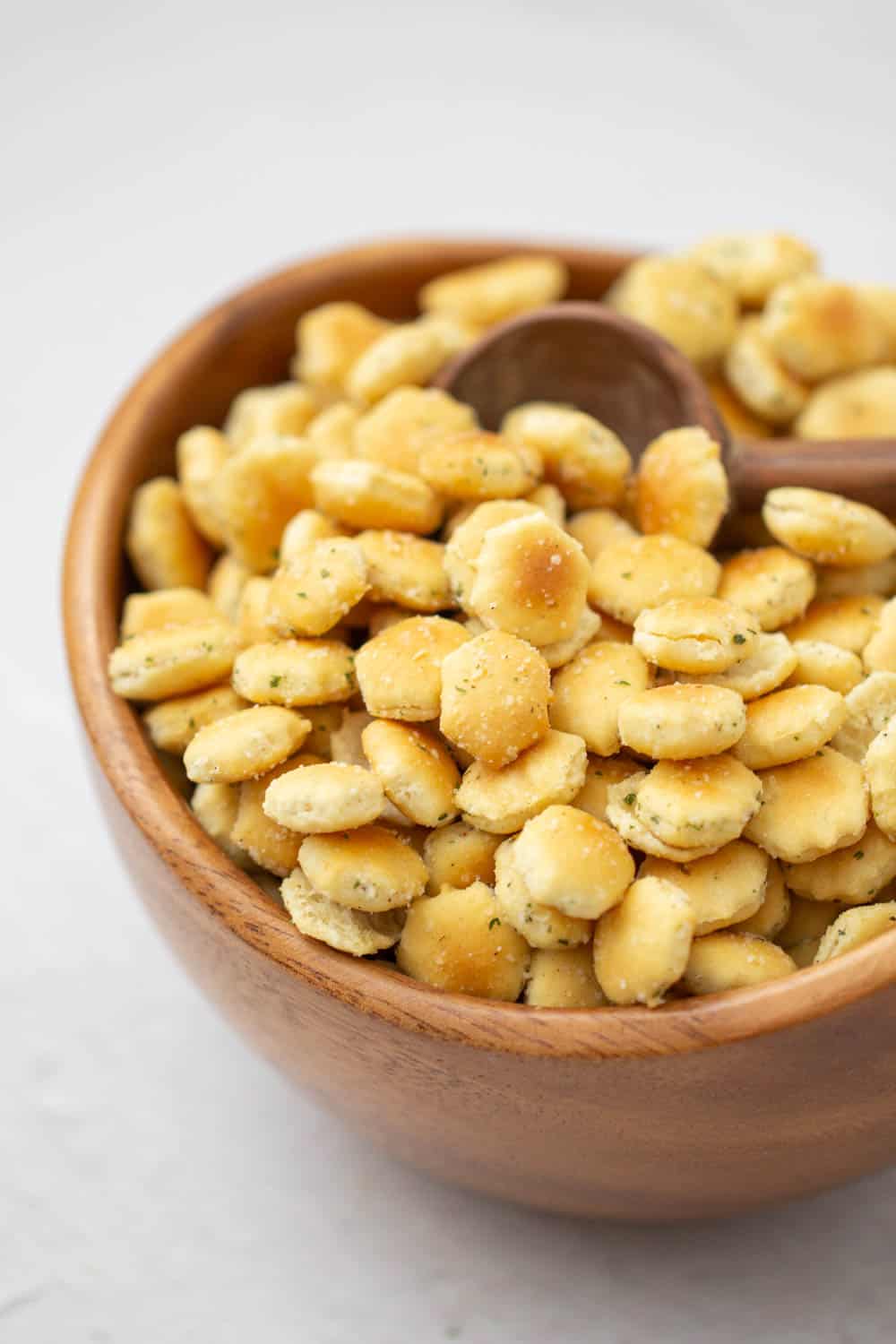 Tips for making with kids
This easy snack can be whipped up in minutes with your kids.
Let them take care of the measuring and stirring. You can use a large bowl for this, or make things even easier with a sealable plastic bag.
If using a bag, make sure it is completely closed before mixing, or you might get a mess on your hands (and kitchen)!
Have an adult or teen pop the baking sheet into the oven.
Ranch oyster crackers are great as part of your holiday entertaining spread, enjoying during an at-home happy hour, or eating in place of popcorn during a movie. Happy snacking!
Yield: 8 servings
Ranch Oyster Crackers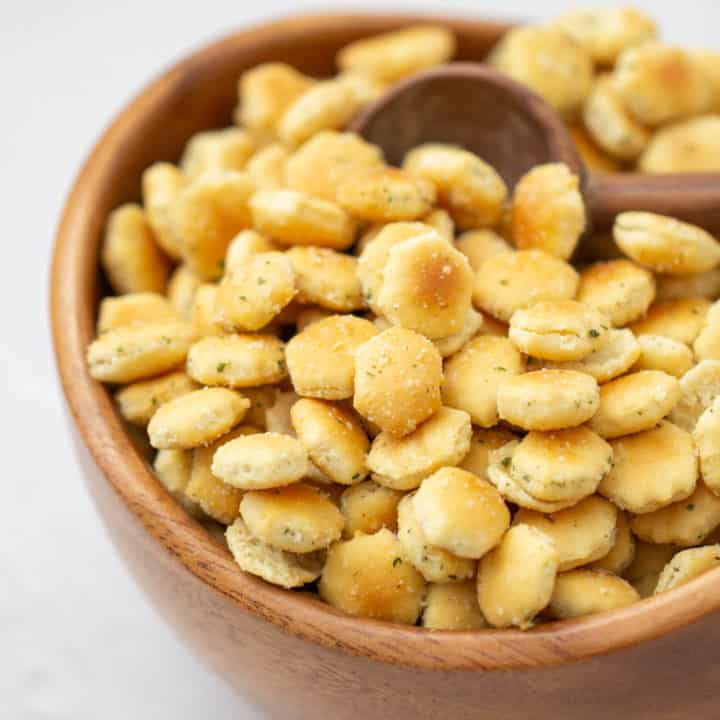 Ranch oyster crackers are an essential Midwest snack. No holiday party tray is complete without a big bowl of this tangy, crunchy snack.
Ingredients
1 (9-ounce) package oyster crackers
3 tablespoons vegetable oil
2 tablespoons ranch seasoning
¼ teaspoon dried dill
Instructions
Preheat oven to 250°F.
Pour oyster crackers into a large bowl.
In a small bowl, whisk together oil, ranch seasoning, and dried dill. Pour over oyster crackers and stir until crackers are completely coated.
Pour crackers onto a rimmed baking sheet and bake 15-20 minutes, stirring halfway through.
Let cool completely before transferring to an airtight container.
Nutrition Information:
Yield:
8
Amount Per Serving:
Calories:

60
Total Fat:

5g
Saturated Fat:

0g
Trans Fat:

0g
Unsaturated Fat:

5g
Cholesterol:

0mg
Sodium:

226mg
Carbohydrates:

3g
Fiber:

0g
Sugar:

0g
Protein:

1g
Nutritional information is an estimate for informational purposes only and not to be used for individual dietary needs.