Fruit salsa made with mango and watermelon is an excellent topper for chips, tacos, and more. Red onion and jalapeño add bite to the sweet flavor.
Salsa is something I never get tired of. How could I, when there are so many different flavor combinations to try?
Fruit salsa is something I gravitate toward in the summertime, when the cool fresh flavors help temper the heat of the day.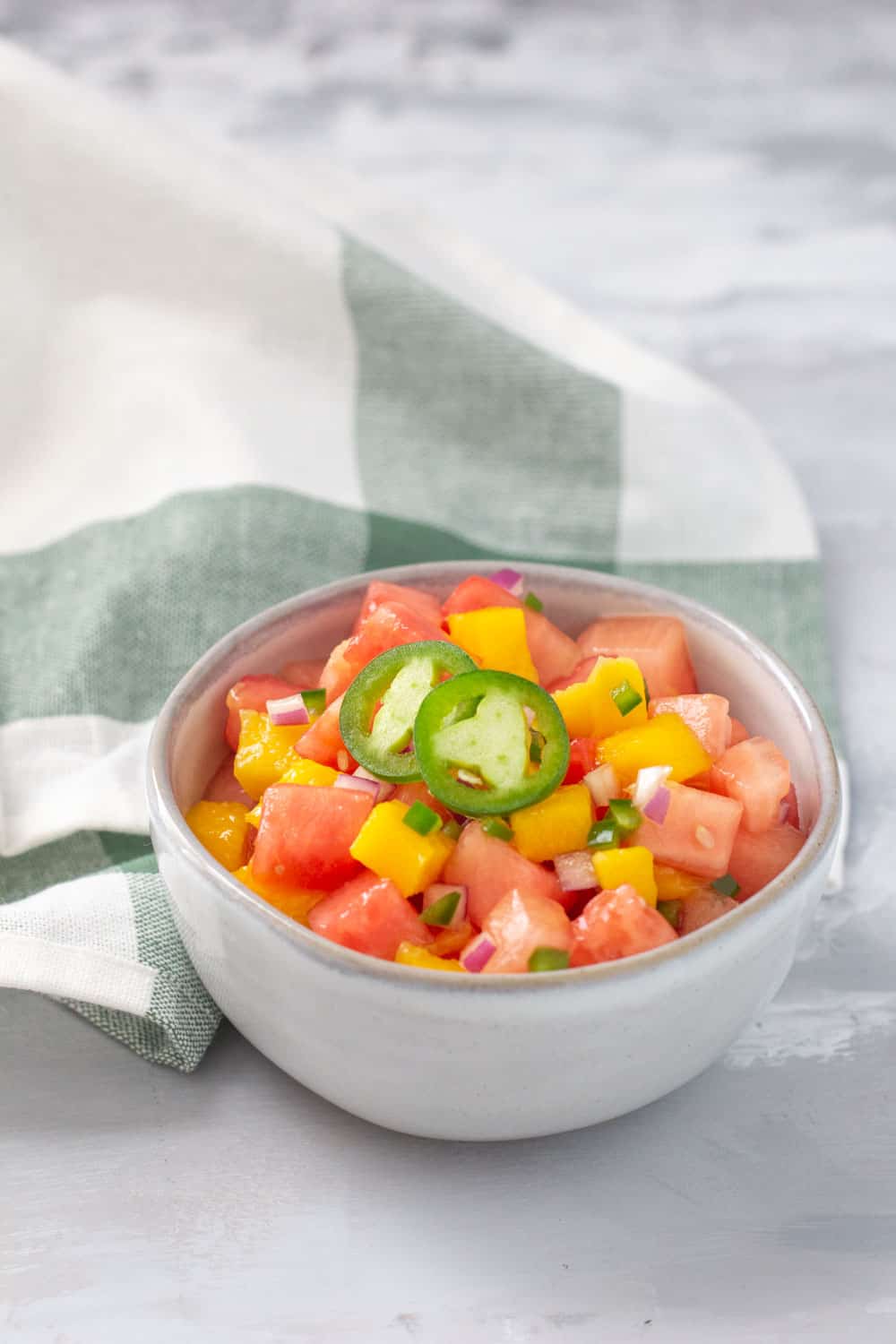 One of my favorite versions is this watermelon mango salsa. It's sweet and refreshing, and has spice and bite from red onions and jalapeños.
How to cut a mango
Mangoes are finicky fruits with huge pits, which make them somewhat difficult to deal with. However, there are multiple ways to cut them to get the most fruit possible.
My favorite way to cut a mango involves using a drinking glass. Yes, a glass!
First, set the mango on its edge, then slice off both "cheeks." You'll have a middle slice left over about half an inch to an inch thick, depending on your mango.
Using a paring knife, cut a grid into each cheek, but not slicing all the way through. Then, using a straight-sided drinking glass, scrape the mango down the side so that the fruit falls into the glass.
You can also slice the mango after scraping it out of the skin, but I find it is easier to slice first. (And it makes your hands less sticky!)
Use a paring knife to cut away as much fruit as possible from the center slice — or simply peel and eat around the pit for a snack.
Additions and substitutions for fruit salsa
Don't like mango? No problem! It's easy to swap ingredients in fruit salsa.
Strawberries and watermelon are a great combination. Be sure to taste your berries before you add them. If they are extra sweet or sour, you'll need to adjust seasonings to your taste.
Or, combine strawberries with kiwi for a sweet-tart combo.
Peaches are great for salsa as well. Use a combination of superripe peaches and peaches that are somewhat firm for a combination of textures in the salsa.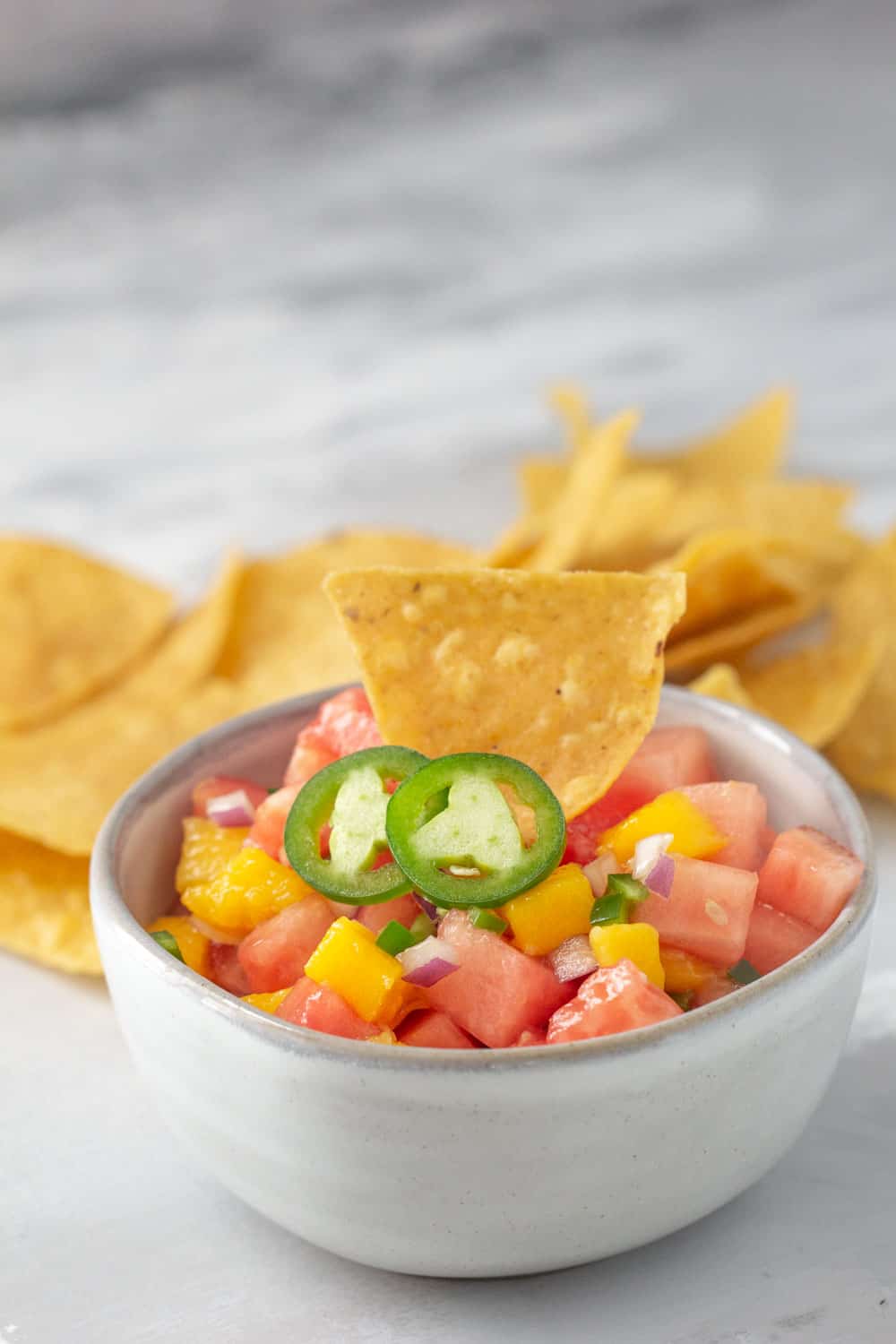 Can I use frozen fruit for fruit salsa?
In a pinch, frozen and thawed fruits will work for salsa.
Look for fruits that will keep their shape best once thawed, such as pineapple, peaches, or dragonfruit.
Frozen raspberries or strawberries tend to lose shape and texture once thawed, but cherries (another stone fruit) works well.
What to eat with fruit salsa?
Fruit salsa is great as a snack enjoyed with salted tortilla chips, of course.
You can also use it to top grilled fish tacos, chicken, or pork.
If you love fruit on salads, try a scoop on your next green salad! You might not even need any dressing with this fruity combo.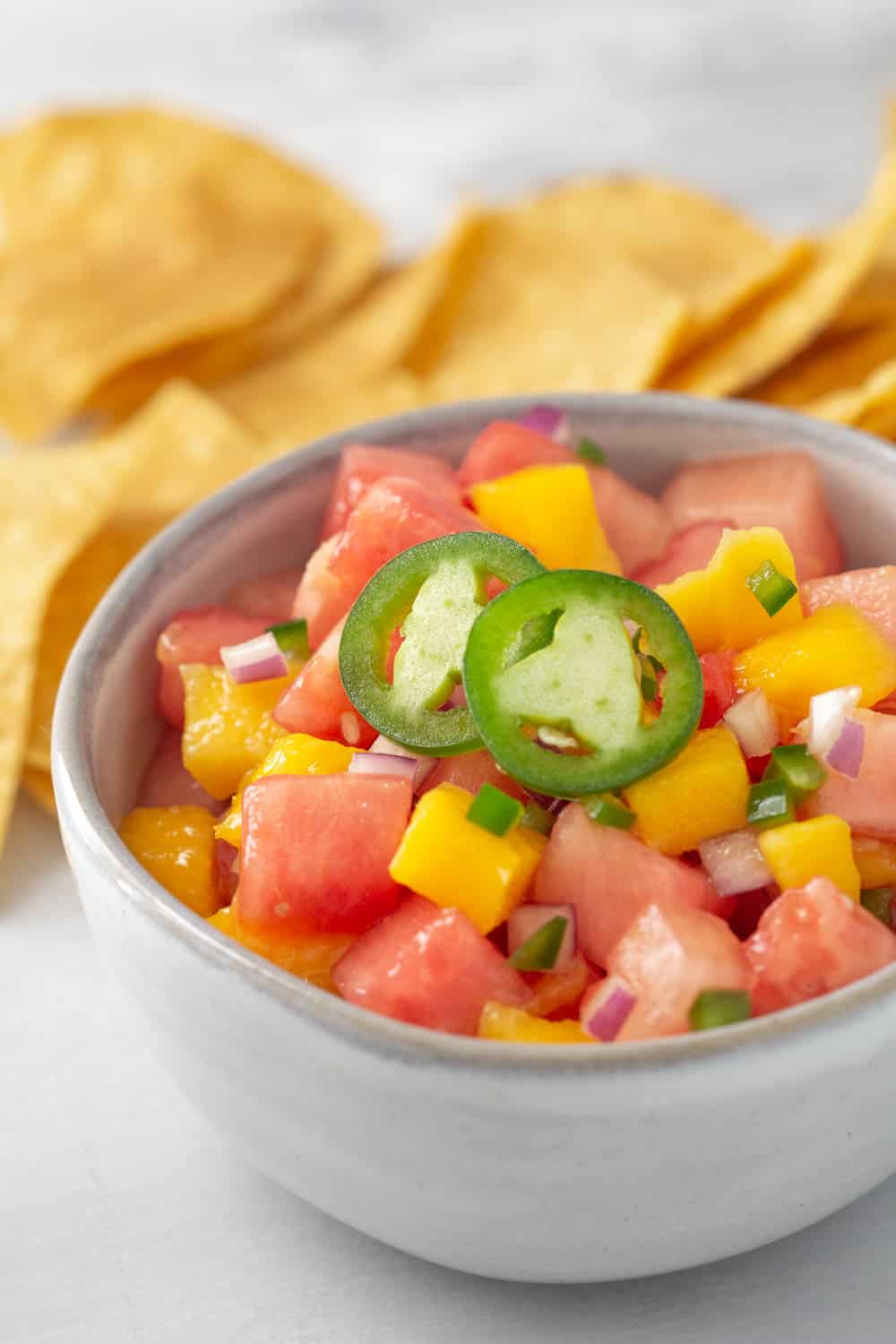 Tips for making with kids
While adults or teens should be the ones to handle the slicing and dicing, smaller children can participate during the mixing process.
Be sure to remind kids about the importance of washing hands while preparing food — especially after cutting jalapeños!
Kids can also help with the mango cup trick, and of course, taste testing.
You'll likely have extra watermelon after making this recipe, so be sure to slice a few pieces for the kids to grab for themselves as you nosh on this salsa.
Happy snacking!
Yield: 4 cups
Fruit Salsa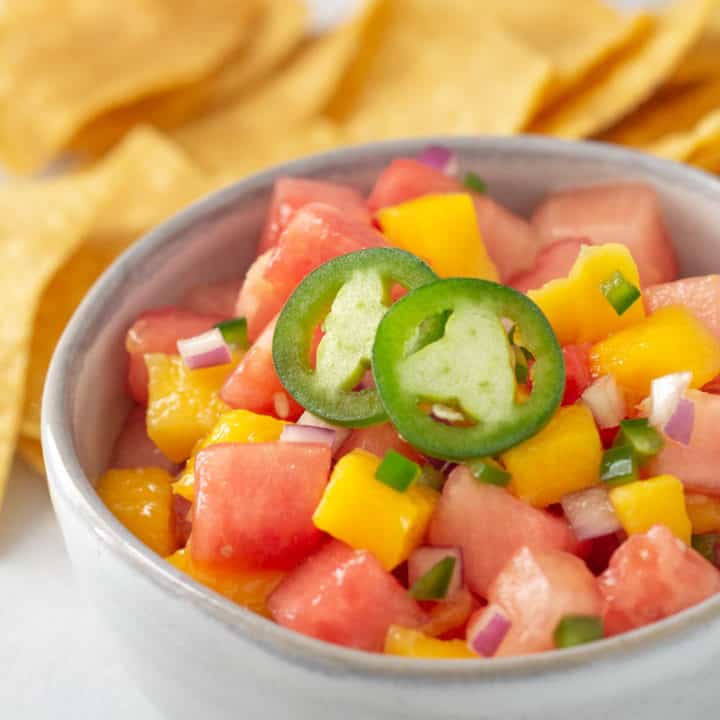 Fruit salsa made with mango and watermelon is an excellent topper for chips, tacos, and more. Red onion and jalapeño add bite to the sweet flavor.
Ingredients
3 cups diced watermelon (½-inch chunks)
1 cup diced mango
4 cup diced red onion
1 jalapeño, seeded and diced
¼ teaspoon salt, plus more to taste
Instructions
In a large bowl, combine all ingredients. Add more salt to taste.
Nutrition Information:
Yield:
8
Serving Size:
½ cup
Amount Per Serving:
Calories:

80
Total Fat:

0g
Saturated Fat:

0g
Trans Fat:

0g
Unsaturated Fat:

0g
Cholesterol:

0mg
Sodium:

70mg
Carbohydrates:

19g
Fiber:

2g
Sugar:

12g
Protein:

2g
Nutritional information is an estimate for informational purposes only and not to be used for individual dietary needs.