You don't need special tools to make delicious popcorn on the stove! This family-favorite snack is ready in minutes to be topped with your favorite flavors.
My youngest son goes crazy for popcorn. Whether we're heading to the movies or grabbing an afternoon snack, he loves popcorn in all varieties.
While microwave popcorn might be the go-to sometimes, I love making big batches of popcorn on the stove.
I learned how to make popcorn on the stove when I was a kid, and this easy method doesn't require any special tools.
That's right — no fancy popcorn pan or stirring mechanism needed. Any heavy bottomed, non-enameled pan will do!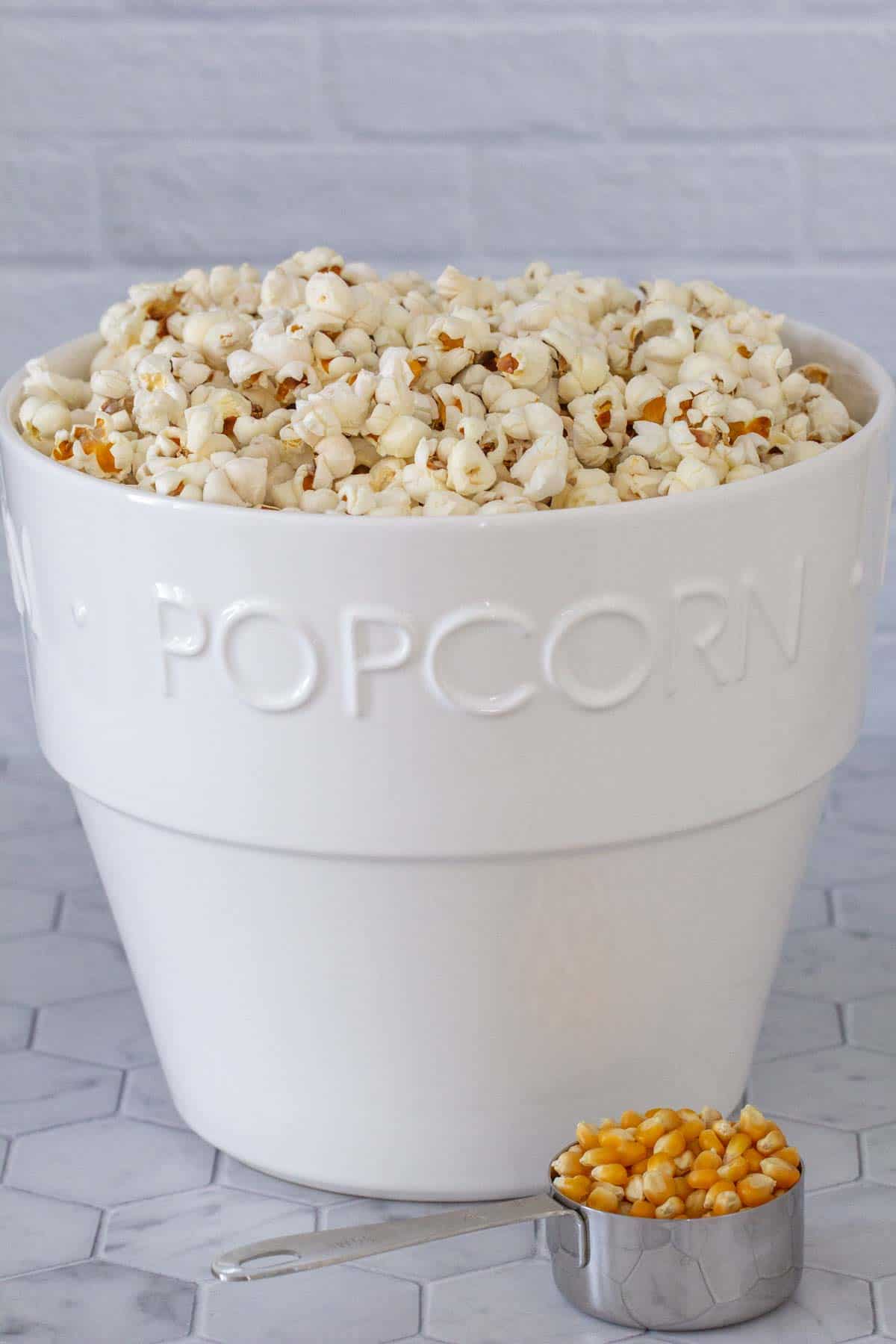 What are the best popcorn kernels for stovetop popcorn?
You'll most likely have yellow popcorn kernels on hand. This is the most common and least expensive variety of popcorn, and possibly the only kind available at your local stores. Yellow popcorn has a slightly nutty flavor.
White popcorn kernels have a neutral flavor, which makes them perfect for adding flavorings to, like in pesto popcorn.
Red and blue popcorn kernels pop a little bit smaller and have a more pronounced flavor. While the kernel is vibrant, the popcorn will be white.
When buying popcorn at the store, don't worry too much about brand names. I've found they all pop about equally well.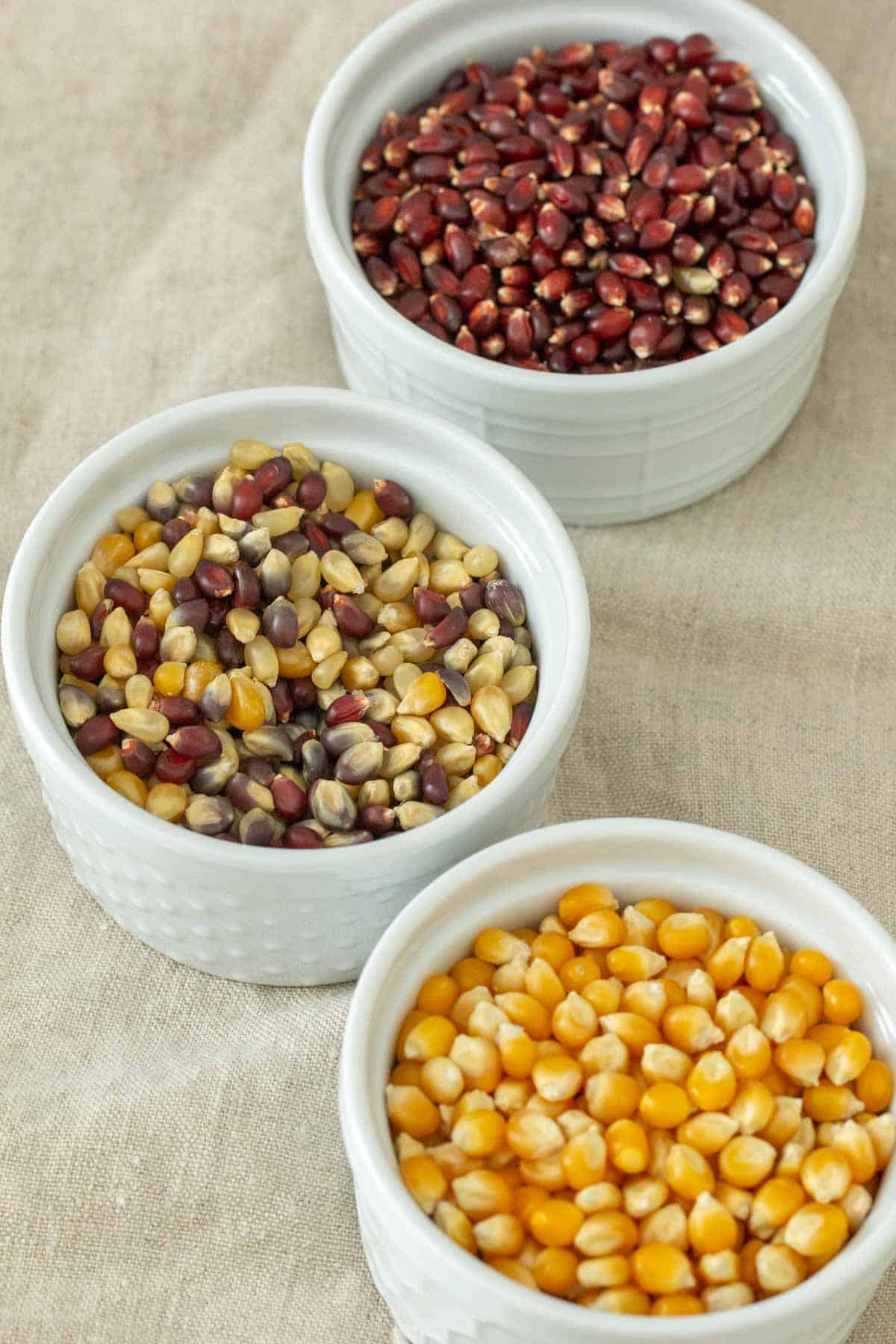 How to make stovetop popcorn
Place a large, heavy bottomed pot with a fitted lid on a burner set to medium heat. Set the lid aside.
Pour in your chosen oil. You can use olive oil, grapeseed oil, vegetable oil, ghee, or even butter. Swirl the pan to coat the bottom evenly.
Add three popcorn kernels to the pan, turning to coat on all sides. These kernels are your temperature gauge. Place the lid on the pot.
Shake the pan every so often to ensure the kernels are heating evenly.
Once the three kernels pop, the oil is ready!
Pour in the rest of the popcorn kernels. Shake the pan well to coat the kernels with oil. You can also use a spatula and stir well, if you prefer.
Place the lid back on the pot. Gently shake the pan occasionally for even heating.
The popcorn will start to pop slowly, then faster, then slow again — just like microwave popcorn.
When the popping has slowed to just 1 pop every few seconds, turn off the heat and remove from the burner.
Wait a few moments before lifting the lid, just in case there is an errant kernel popping, then pour popcorn into a large bowl.
Season popcorn to taste and enjoy!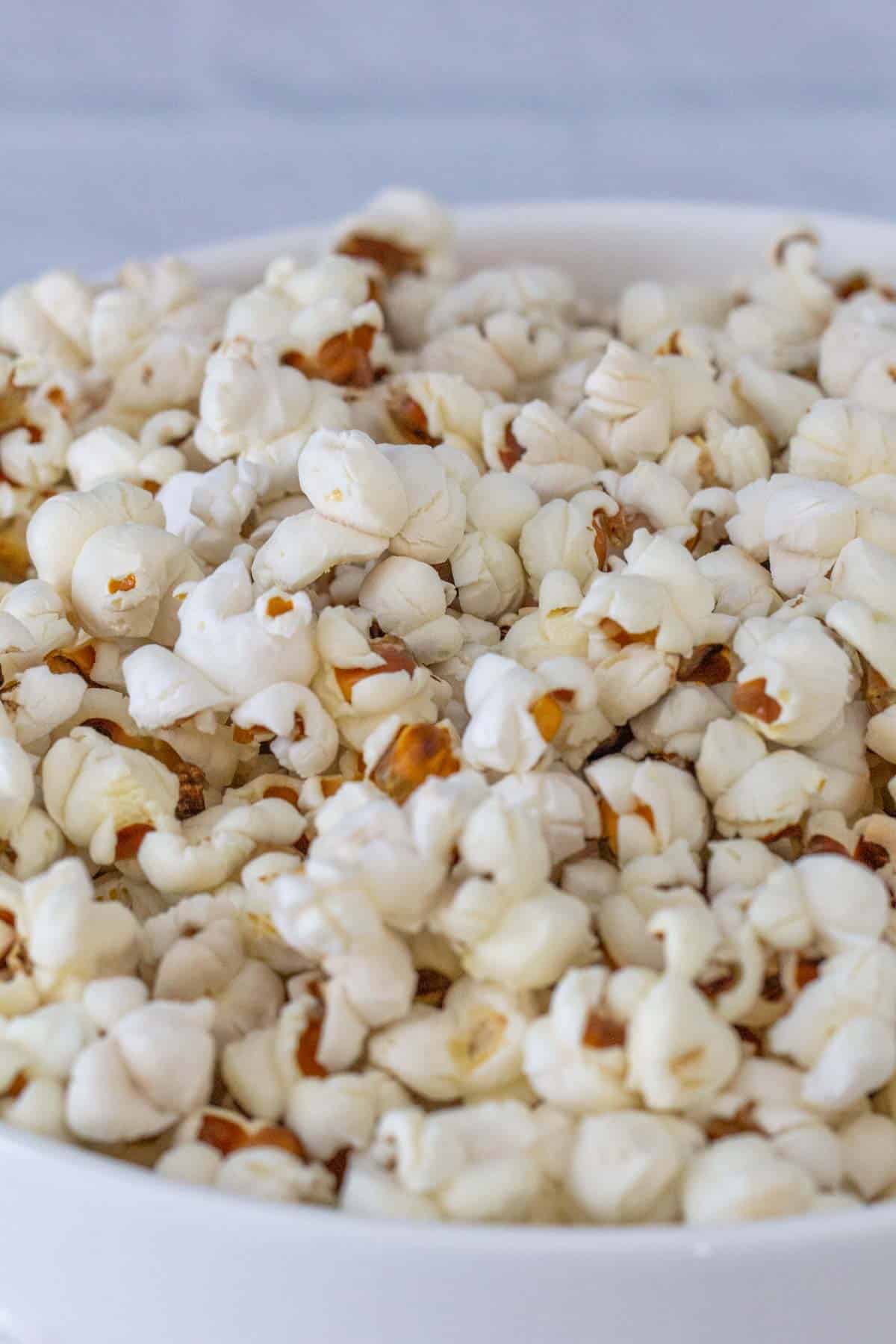 Seasoning options
I love popcorn with just salt (sometimes even without melted butter!) but there are so many different ways to enjoy popcorn.
Try pesto popcorn, puppy chow popcorn, or sweet and savory party mix featuring popcorn.
Or, add your favorites, such as:
Parmesan and thyme
Garlic salt
Everything bagel seasoning
Truffle salt
Crushed red chile flakes
Chile powder and lime
Nutritional yeast
You can also use this popcorn to make caramel corn or popcorn balls. 
Why won't my popcorn pop?
If you're noticing a lot of "dud" popcorn kernels or kernels that are smaller and more dense, chances are your popcorn is too dry.
Popcorn dries out as it ages, so whether you bought your popcorn from a farm or the grocery aisle, eventually your popcorn will be too old to pop up light and fluffy.
You can rehydrate your popcorn by adding 1 teaspoon of water to a jar filled with kernels. Shake it to disperse and let it sit, covered, for about a day.
Then, try to pop again!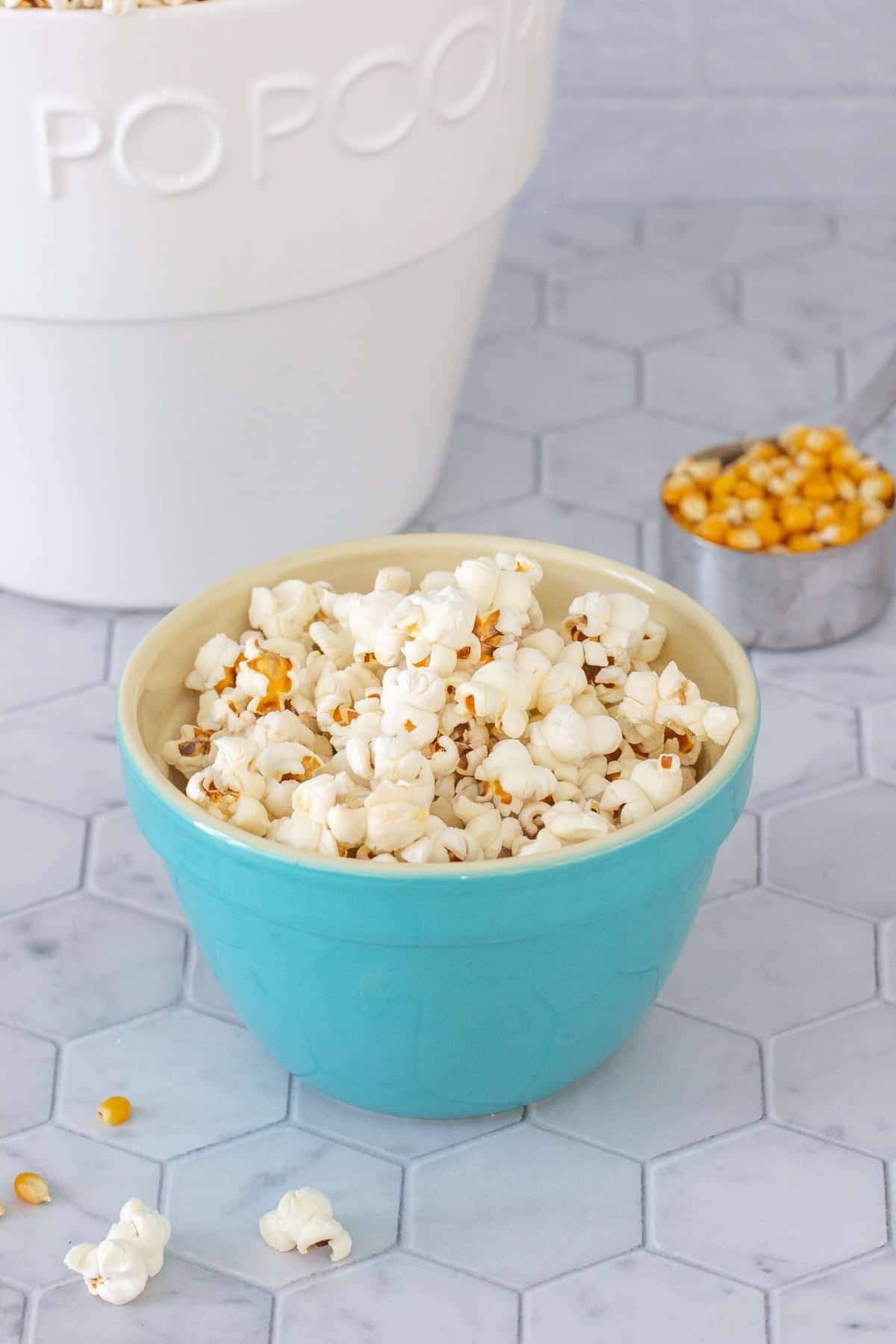 Can you freeze popcorn?
Surprisingly, popcorn is an excellent snack to freeze for later.
Let the popcorn cool completely. You can speed this up by spreading it onto a baking sheet.
Transfer the popcorn into an airtight, freezer-safe container. I like using individual bags for personal serving sizes.
Popped popcorn will keep in the freezer for about 2 weeks.
When you get a craving, simply remove the popcorn from the freezer and enjoy.
Grab a big serving bowl and pop up this stovetop popcorn for movie night!
Yield: About 10 cups
Stovetop Popcorn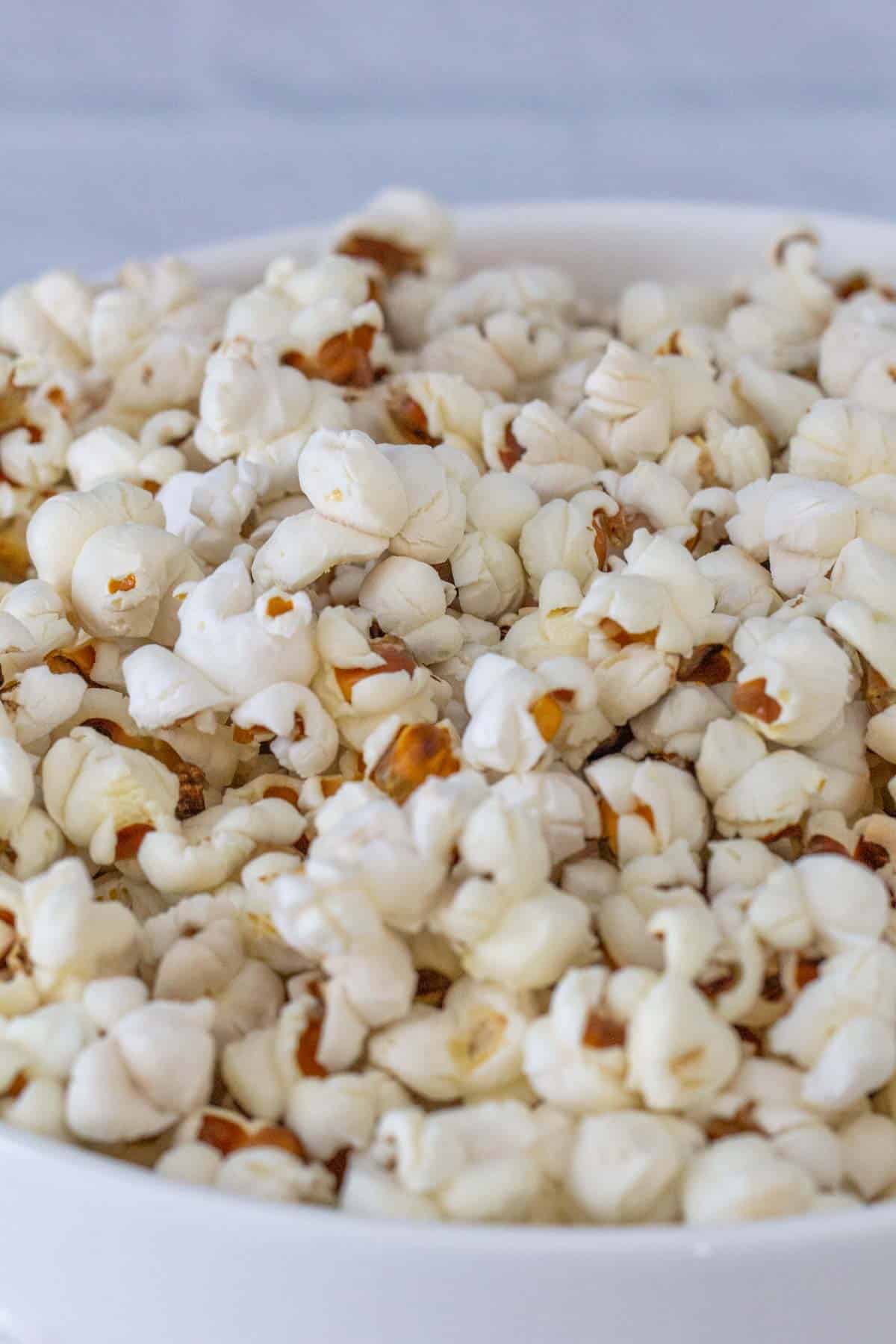 You don't need special tools to make delicious popcorn on the stove! This family-favorite snack is ready in minutes to be topped with your favorite flavors.
Ingredients
2 tablespoons vegetable oil, or olive oil
⅓ cup popcorn kernels
Instructions
Heat oil in a deep saucepan over medium, and add three popcorn kernels. When the kernels pop, the oil is ready.
Pour in the rest of the kernels and shake pan to evenly coat kernels in oil. Continue shaking every few seconds to help the kernels pop. Once the popping slows to 1-2 every 10 seconds, pour popcorn into a large bowl and season to taste.
Nutrition Information:
Yield:
5
Serving Size:
2 cups popped
Amount Per Serving:
Calories:

75
Total Fat:

8g
Saturated Fat:

1g
Trans Fat:

0g
Unsaturated Fat:

7g
Cholesterol:

0mg
Sodium:

4mg
Carbohydrates:

0g
Fiber:

0g
Sugar:

0g
Protein:

0g
Nutritional information is an estimate for informational purposes only and not to be used for individual dietary needs.