Easy homemade trail mix is a staple snack, whether you're hiking in the woods or settling in for game night! Classic and customizable, it only takes minutes to mix up.
One of the favorite snacks around here is trail mix. It doesn't matter if it is sweet, savory, or spicy, we all gravitate toward the jar in our pantry.
Classic GORP trail mix is a frequent snack, and with good reason.
The combination of salty nuts, chewy dried fruit, and chocolate just can't be beat.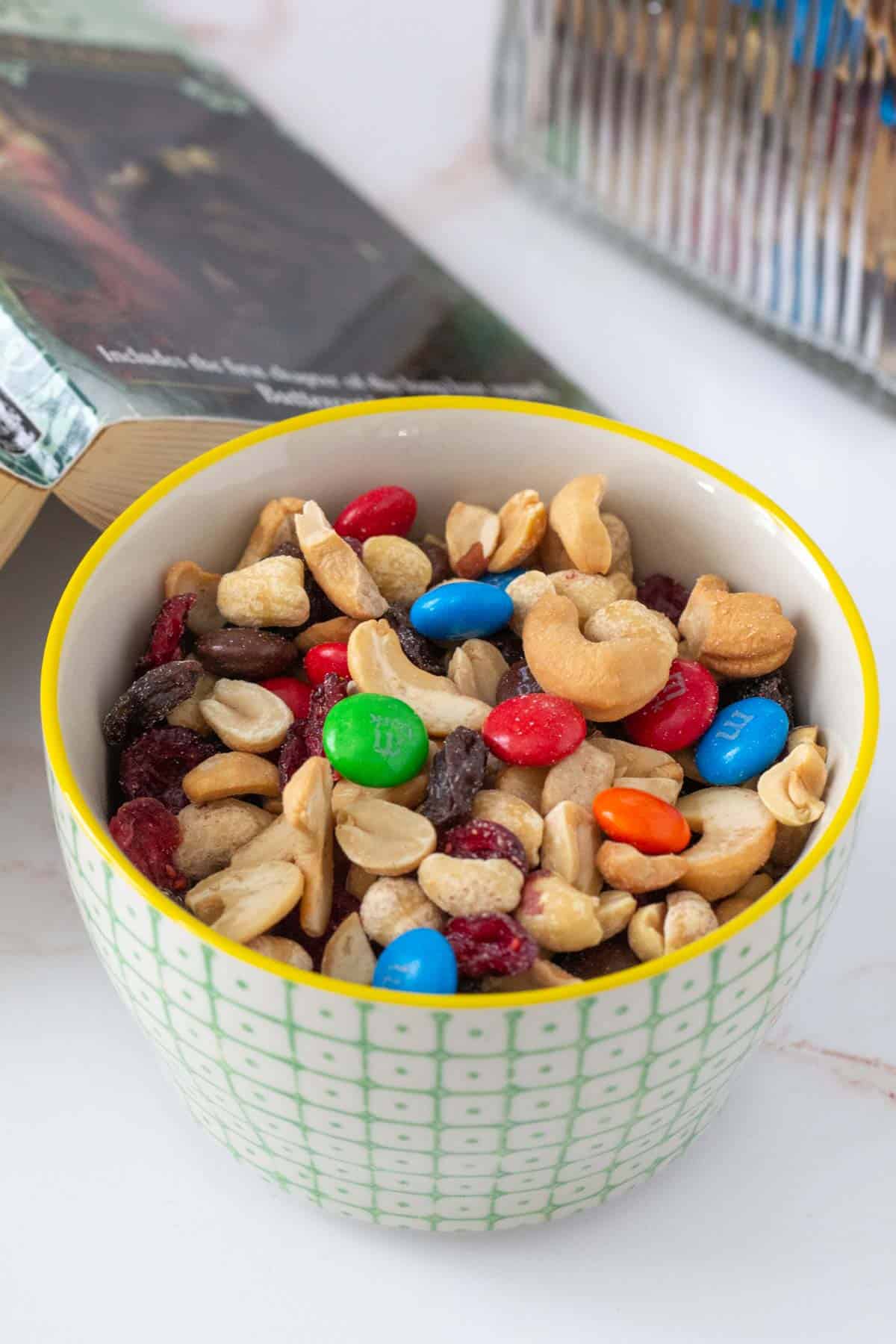 GORP meaning
I've been making this homemade trail mix ever since I was a scout, but if you didn't spend your summers around a campfire, you might not be familiar.
GORP is an acronym for "good ol' raisins and peanuts." While these are the two main ingredients in homemade trail mix, the addition of other ingredients has made gorp what we know it as today.
You might also have heard of it referred to as "scroggin," which is an Australian/New Zealand term for trail mix!
No matter what you call it, trail mix is an easy and delicious snack for the whole family.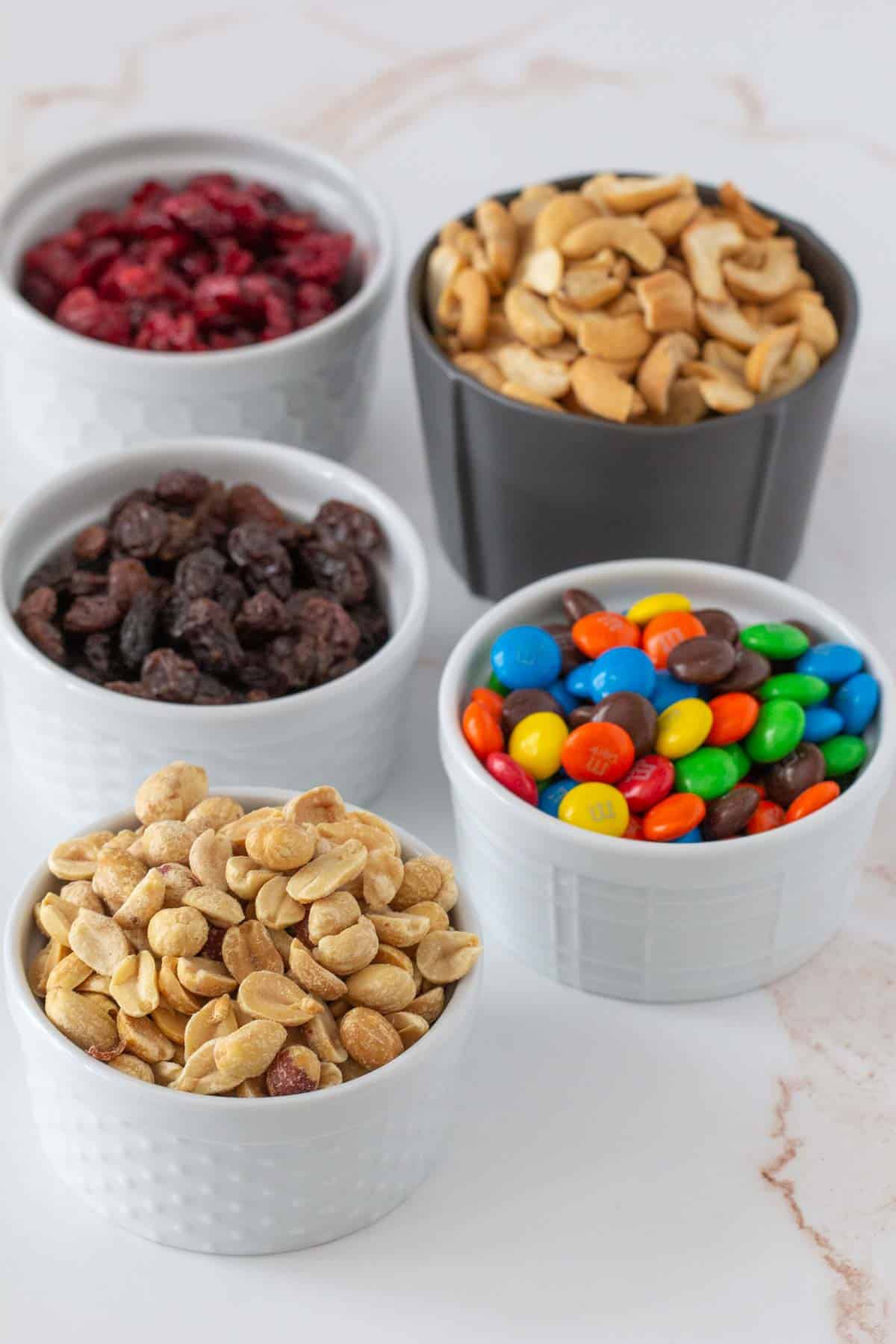 How to make trail mix
Classic trail mix is the perfect snack to make at home, as it only takes minutes!
This is a great recipe for making with little kids. Because there is no cooking involved, they can do every step themselves. It's a great way for them to learn about measuring in recipes!
Gather ingredients:
Peanuts
Cashews
Raisins
Dried Cranberries
M&Ms
Pour everything into a bowl and stir together to mix. You want the salt from the nuts to transfer to the candy and dried fruit for that perfect sweet-salty combo.
You can also put everything into a ziptop plastic bag, seal, and shake it up! Just be careful to remove excess air first, or you might have a trail mix explosion in your kitchen.
Trail mix can be enjoyed immediately, so don't stop yourself from grabbing a handful!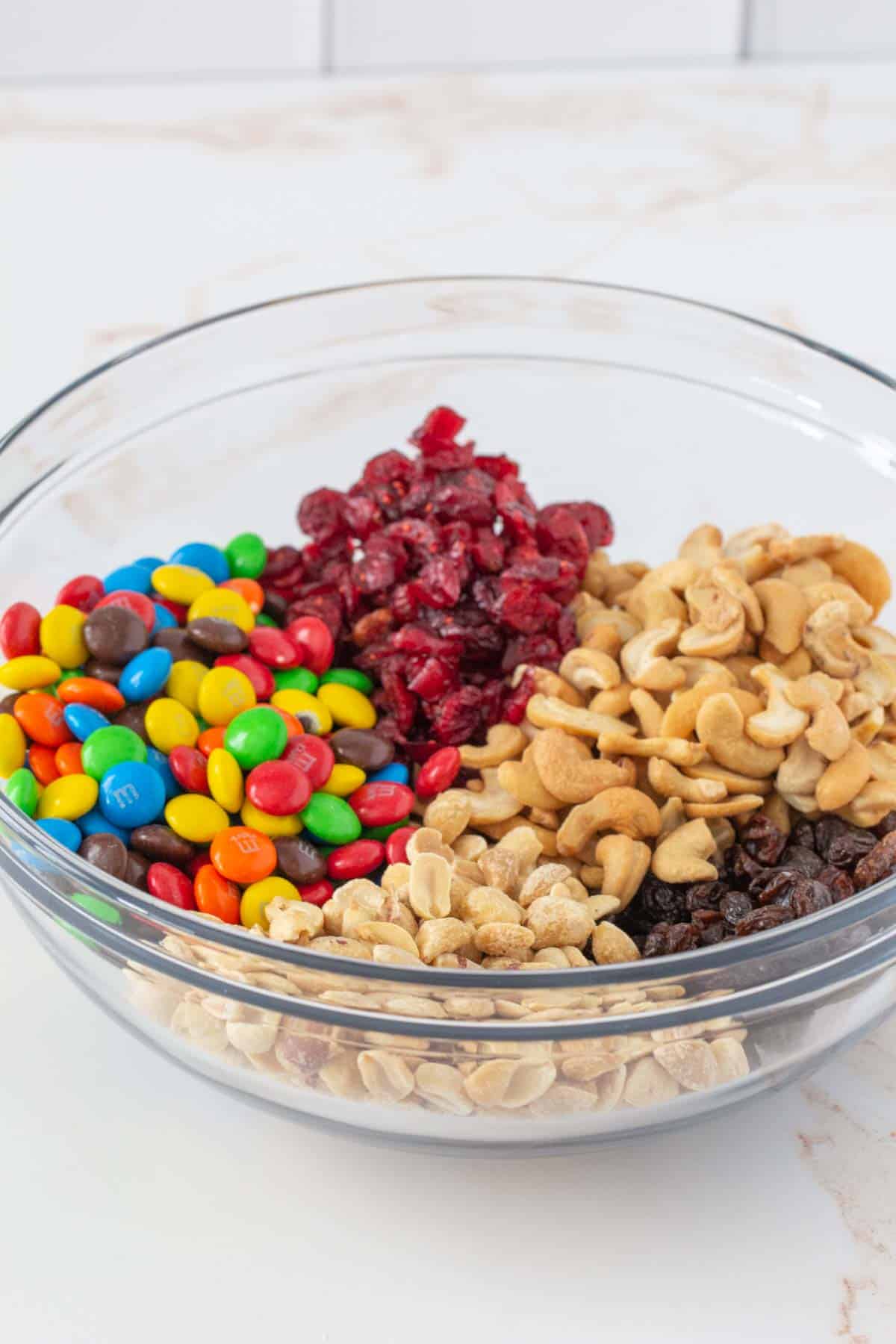 Additions and Substitutions
One of the best things about trail mix is that you can add nearly anything you like! Keep it healthy with nuts, dried fruits, and seeds, or add your favorite candy pieces.
Nuts: pecans, walnuts, pistachios, almonds, peanuts, cashews
Fruit: banana chips, dried apricots, dried cherries, coconut flakes, dried pineapple, freeze dried raspberries
Candy: chocolate chips, carob chips, peanut butter chips, M&M variations like peanut or dark chocolate, Reese's Pieces
Other: sunflower seeds, pumpkin seeds, chopped beef jerky, peanut butter pretzels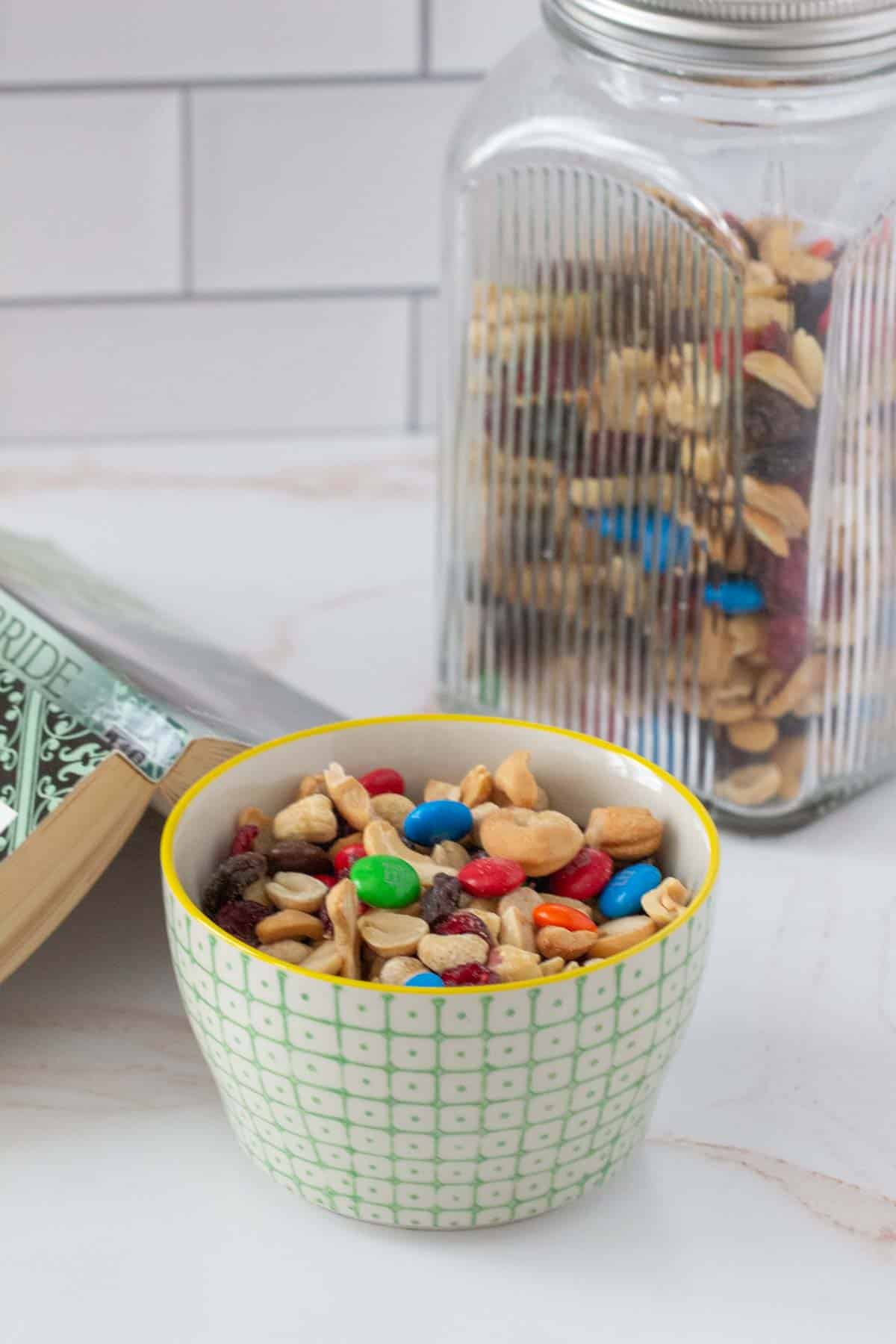 Storage Tips
We store our trail mix in glass jars with screw-on lids. It stays fresh for a long time, and makes it easy to pour out servings.
You can store homemade trail mix in any airtight container for about 1 month.
If you want to store it longer, freeze it!
I actually love to eat this trail mix right out of the freezer, especially during warmer months. Freezing also helps keep the nuts as fresh as possible.
Keep it in an airtight container and simply remove as much as you need for a quick snack.
Pack up homemade trail mix in individual bags alongside ranch Chex mix for the best hiking snacks ever!
Yield: 4 cups
Homemade Trail Mix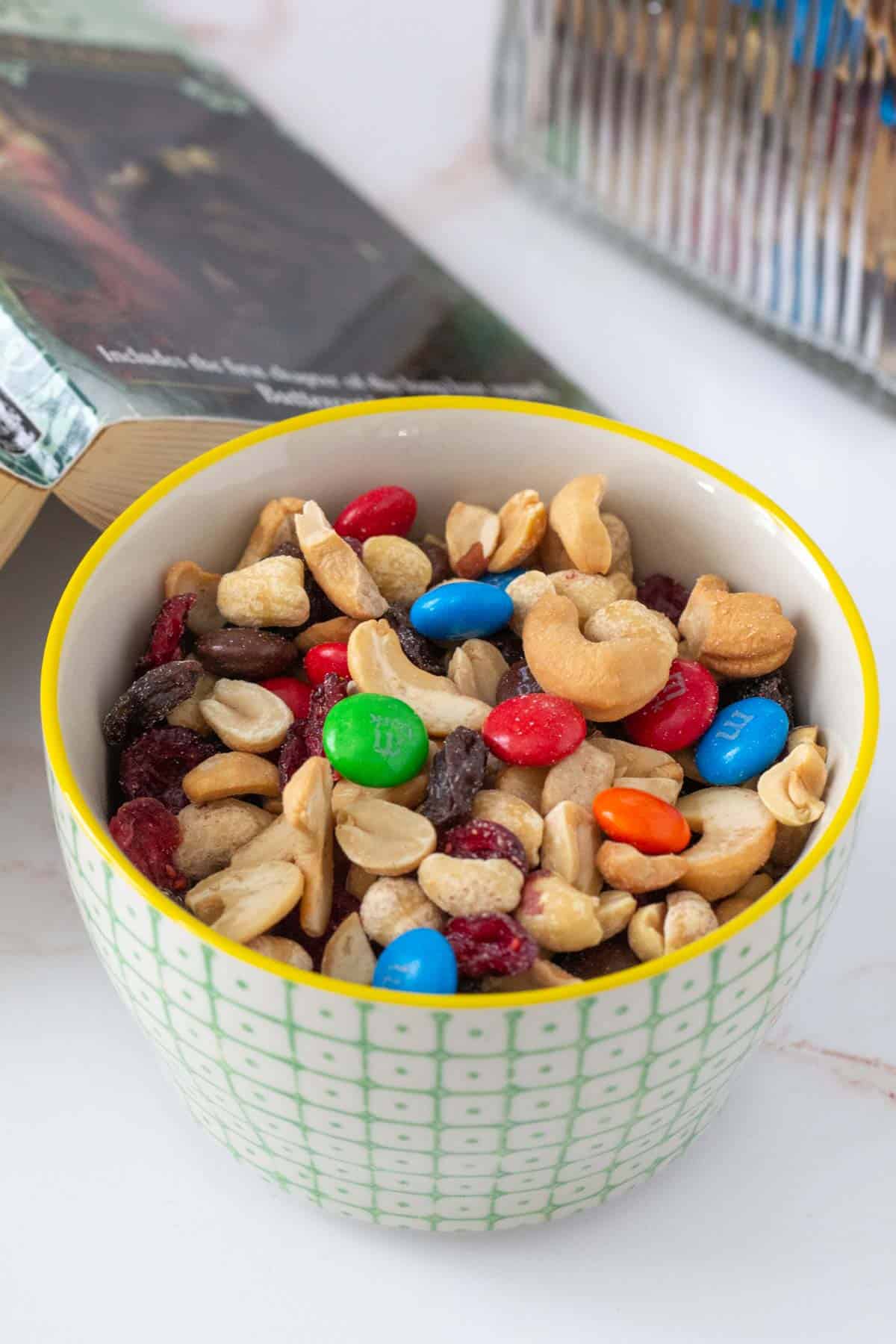 Easy homemade trail mix is a staple snack, whether you're hiking in the woods or settling in for game night! Classic and customizable, it only takes minutes to mix up.
Ingredients
1 cup salted peanuts
1 cup raisins
1 cup M&M chocolate candies
½ cup cashew pieces
½ cup dried cranberries
Instructions
In a large bowl, combine all ingredients. Store in an airtight container.
Nutrition Information:
Yield:
16
Serving Size:
¼ cup
Amount Per Serving:
Calories:

189
Total Fat:

9g
Saturated Fat:

3g
Trans Fat:

0g
Unsaturated Fat:

6g
Cholesterol:

2mg
Sodium:

74mg
Carbohydrates:

25g
Fiber:

2g
Sugar:

19g
Protein:

4g
Nutritional information is an estimate for informational purposes only and not to be used for individual dietary needs.