Crispy baked chickpeas are a crunchy, satisfying snack. They're easy to customize with your favorite seasonings.
Have you ever had baked chickpeas?
I love crispy, crunchy snacks, and these little bites really fit the bill.
Baked chickpeas are easy to make at home and are so much cheaper than the store-bought varieties.
Plus, you can change up the flavors however you like!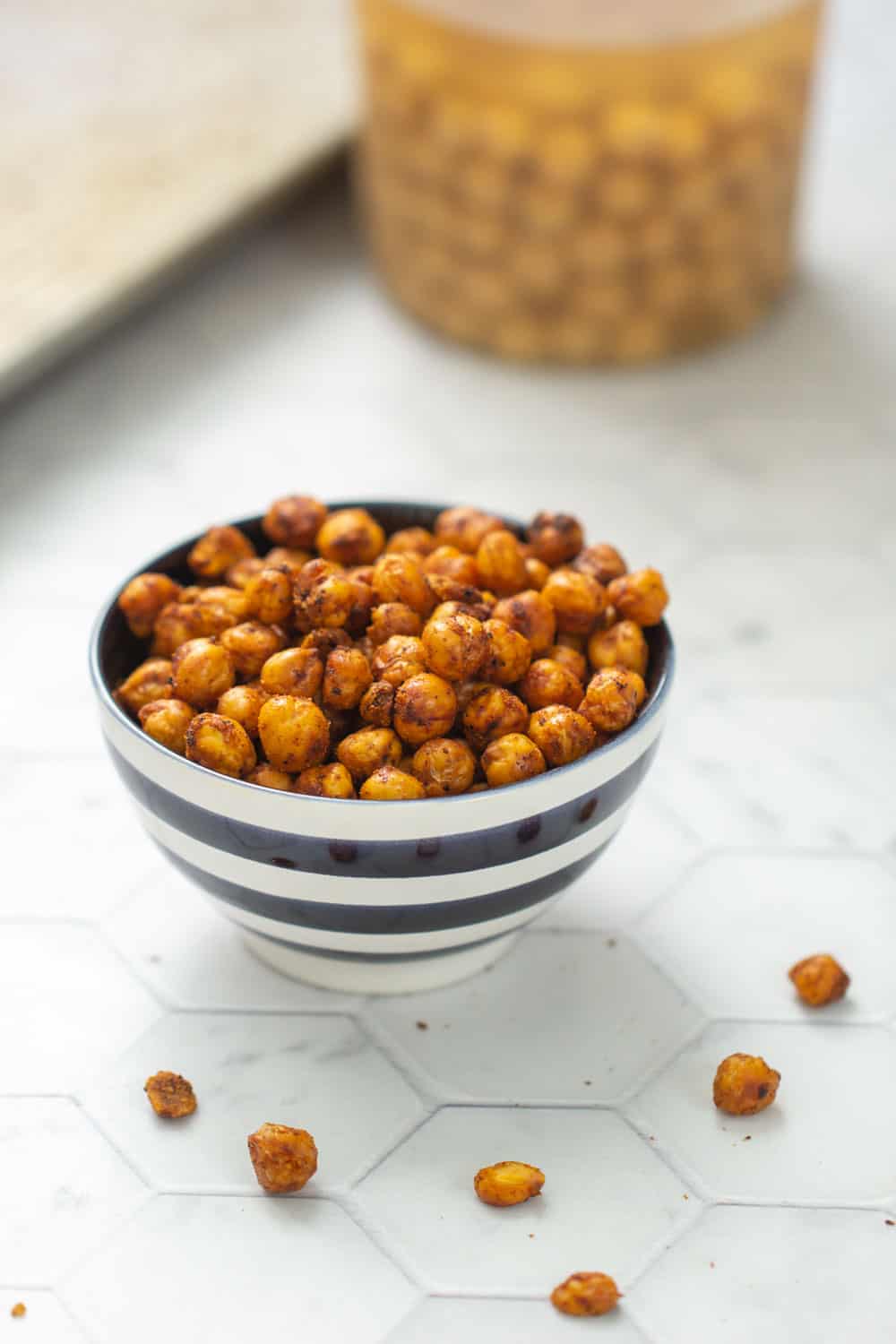 How to prepare chickpeas for baking
For this recipe, you'll need to use chickpeas that are already cooked.
You can use canned chickpeas, or cook from dried yourself.
I like to make a big batch of chickpeas in my Instant Pot to use for a variety of recipes, or lots of crispy baked chickpeas!
Chickpeas will take approximately 45 minutes in the Instant Pot on high pressure. Be sure to cover them with at least two inches of water!
Rinse your chickpeas thoroughly and drain in a colander. Pour the chickpeas onto a clean kitchen towel and pat to dry.
At this point you can either prepare the recipe or remove the skins from the chickpeas. Removing the skins helps the chickpea itself get crispy!
To remove the skins, cover the chickpeas with the other half of the kitchen towel and rub back and forth.
This will loosen the skins so you can easily peel them off. This method is also great if you're making creamy hummus!
Place the peeled chickpeas in a bowl as you go and discard the skins.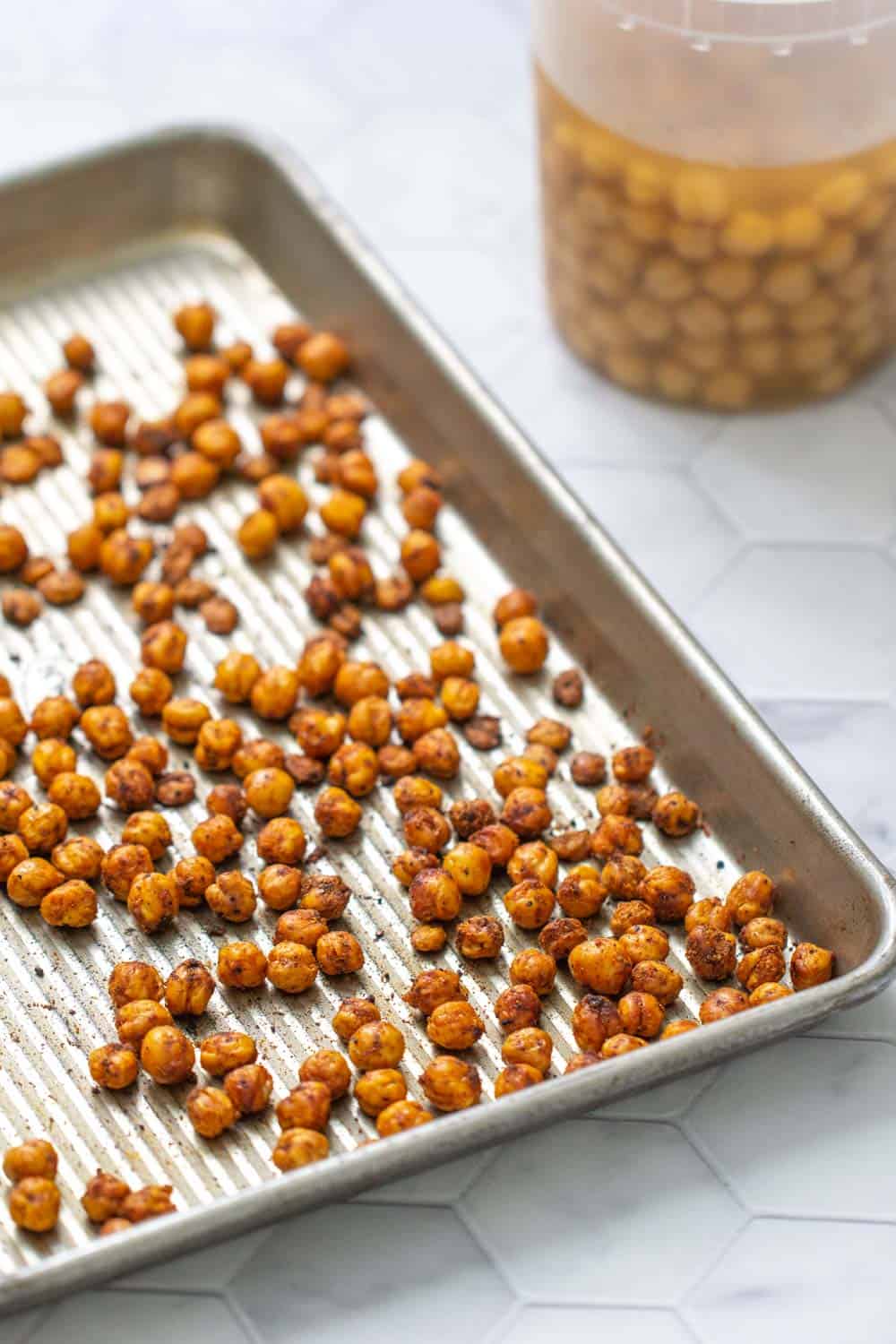 Why are my chickpeas not crunchy?
In order for your baked chickpeas to be crunchy, they need to be as dry as possible.
You can dry them in the oven before adding the oil and spices. Simply spread onto a baking sheet and pop into the oven for a few minutes, then proceed with the recipe.
Once the bake time is complete, you can turn off the oven and leave the chickpeas inside until it cools down. Be sure to turn the oven OFF!
Taste the chickpeas once they are cool enough to handle; they will crisp more as they cool.
You can return them to the oven if they aren't getting as crisp as you like, but check often to make sure they don't burn.
Note that peeled chickpeas will crisp faster than unpeeled.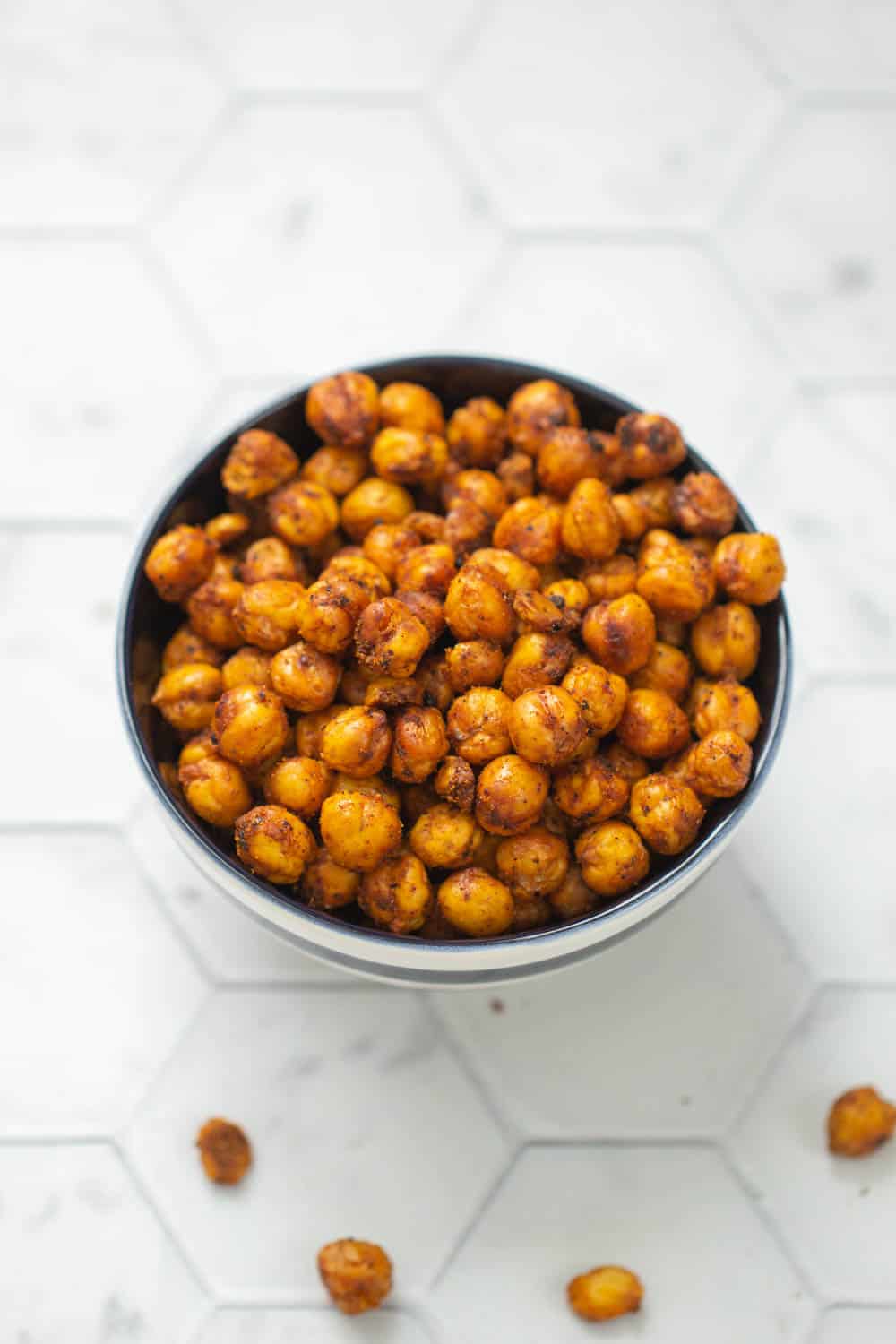 When do I add spices to baked chickpeas?
I like to add spices to the chickpeas before baking because the oil helps them stick.
However, this can make the bake time longer, so if you prefer, toss the warm chickpeas in spices immediately after removing from the oven.
Looking for other flavor profiles? Try these BBQ roasted chickpeas.
How long do roasted chickpeas last?
Roasted chickpeas are best immediately after making, as they can lose their crispness over time.
Store any leftovers at room temperature in an unsealed container, but be sure to eat within 3 days.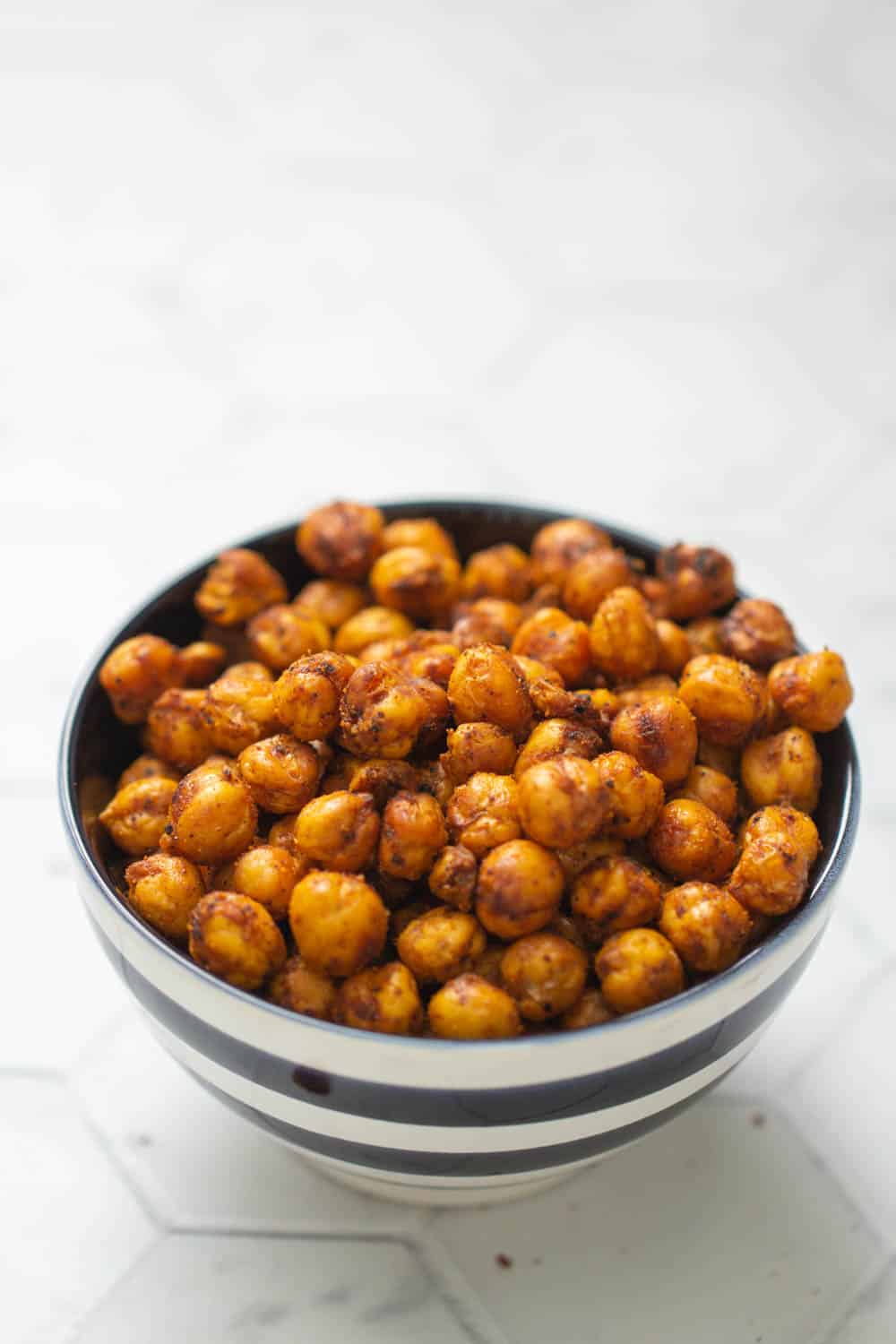 Happy snacking!
Yield: 4 servings
Crispy Baked Chickpeas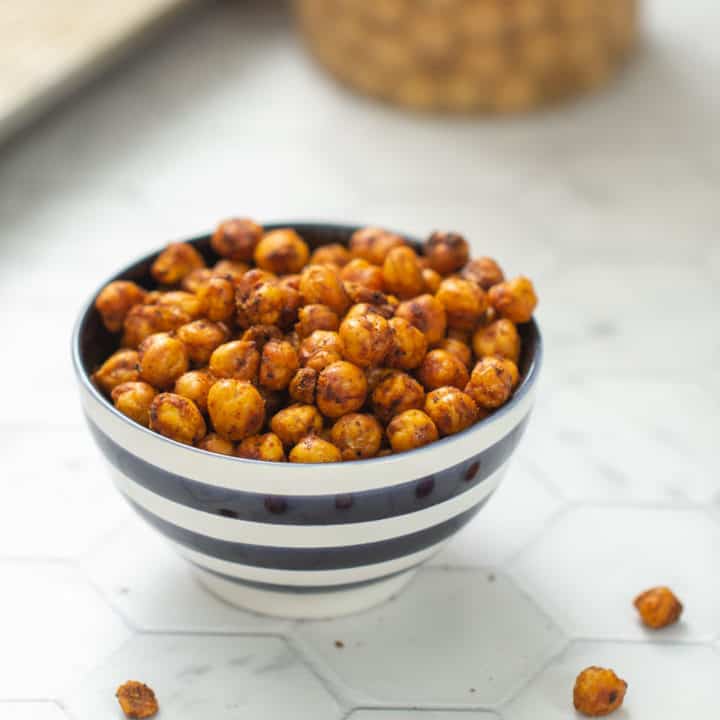 Crispy baked chickpeas are a crunchy, satisfying snack. They're easy to customize with your favorite seasonings.
Ingredients
1 ½ cups cooked chickpeas (equal to 1 15-ounce can), drained
1 tablespoon olive oil
1 teaspoon salt
½ teaspoon paprika
½ teaspoon cumin
½ teaspoon chile powder
Instructions
Preheat oven to 375°F.
Dry chickpeas as much as possible by dumping onto a clean kitchen towel, bringing up the other side over the top, and gentle rubbing. This will also loosen the skins, if you choose to remove them.
Pour chickpeas into a bowl. Drizzle over olive oil and stir to coat.
In a small bowl combine salt, paprika, cumin, and chile powder. Scatter over the chickpeas and stir to coat.
Pour chickpeas onto a rimmed baking sheet, making sure they are only in one layer.
Bake for 45 minutes to 1 hour, or until crisp and dry, shaking the pan halfway through. The chickpeas will crisp more as they cool on the pan.
Nutrition Information:
Yield:
4
Amount Per Serving:
Calories:

133
Total Fat:

5g
Saturated Fat:

1g
Trans Fat:

0g
Unsaturated Fat:

4g
Cholesterol:

0mg
Sodium:

534mg
Carbohydrates:

17g
Fiber:

5g
Sugar:

3g
Protein:

6g
Nutritional information is an estimate for informational purposes only and not to be used for individual dietary needs.