Tomato bruschetta is an essential summertime snack. It pairs perfectly with a chilled wine or cocktail for a patio happy hour.
Bruschetta is absolutely one of the easiest snacks you'll ever come across, and yet we don't make it nearly enough here.
What's not to love about toppings on tiny toasts?
Summer is the ideal time to embrace this cocktail hour snack, since tomatoes are at their best and the basil is flourishing. Sure, bruschetta can be topped all kinds of ways, but why not stick with the classic?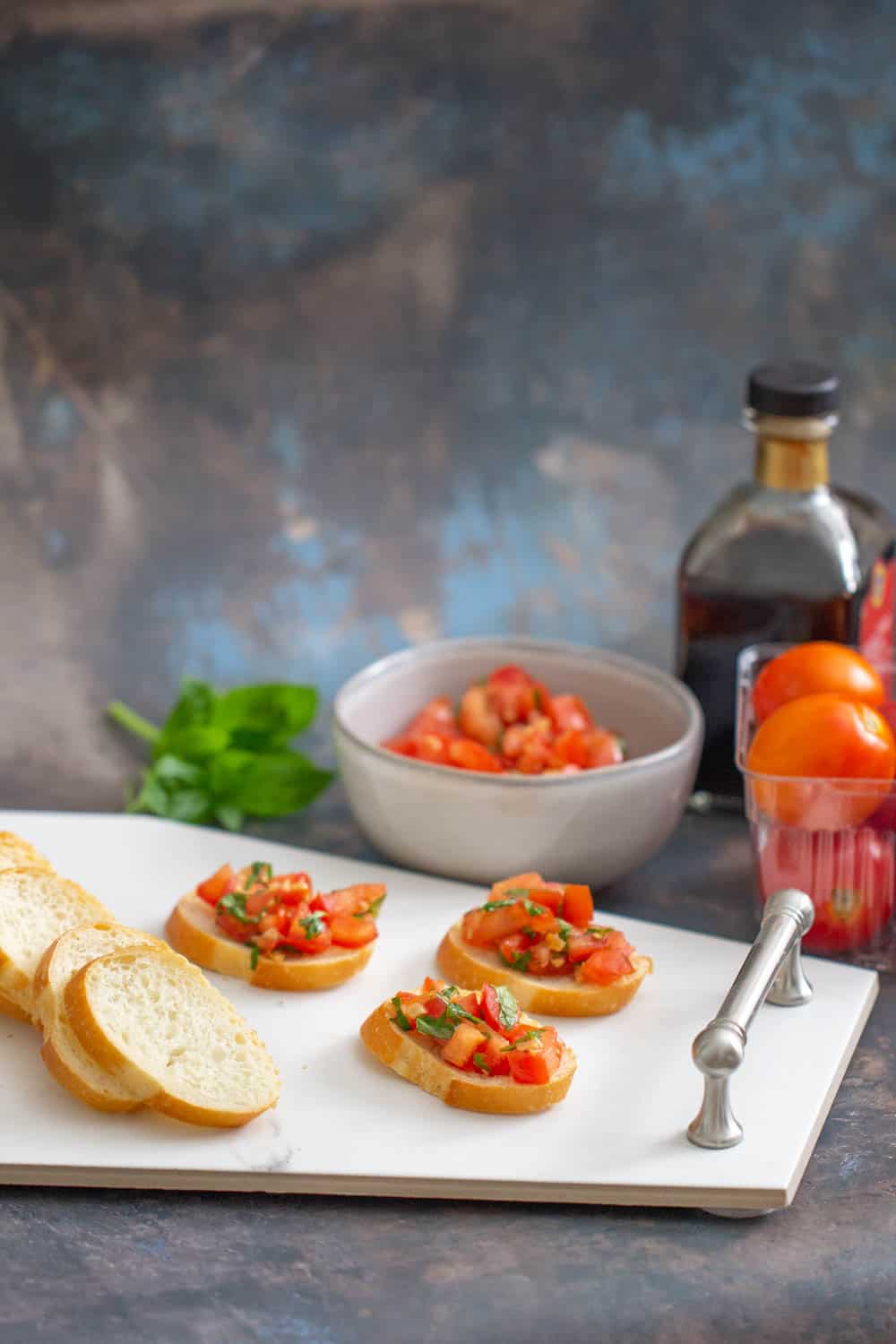 What is bruschetta?
Bruschetta is slices of grilled or toasted bread, brushed with olive oil and often rubbed with garlic. In Italian it literally means "toast with toppings"!
From there anything goes in terms of toppings, but tomato and basil are the go-to ingredients in many people's minds when it comes to bruschetta.
Bruschetta can be made with any bread. Baguettes are often used because they slice into uniform pieces and toast up wonderfully.
You can also use a country-style Italian loaf. The main thing is to ensure it's toasted to keep the bread from getting soggy from the toppings. Toasting also makes a lovely texture contrast to the toppings.
You can buy pre-toasted slices of baguette at many stores, in a pinch. Just stay away from using your standard sandwich bread!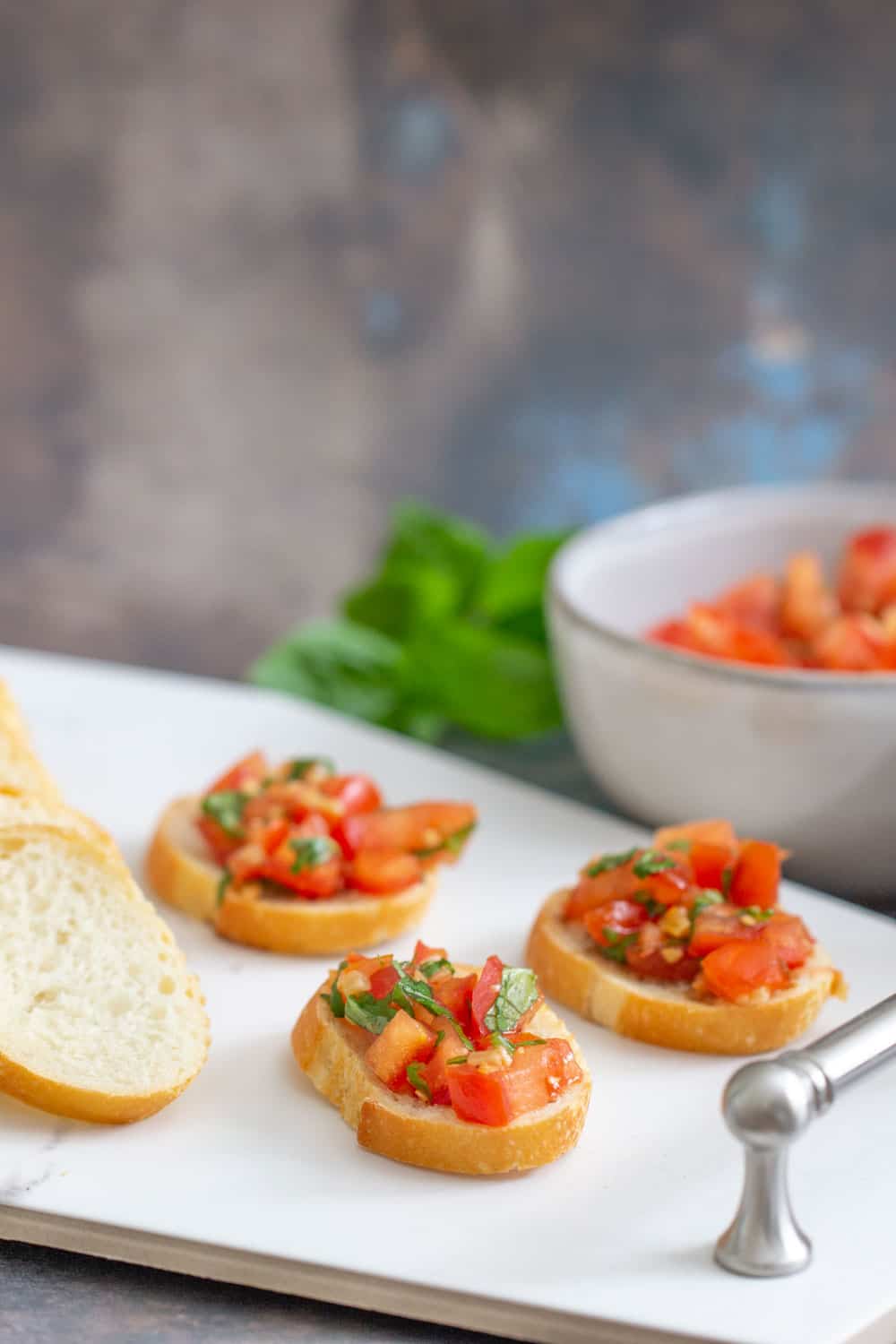 How to prepare tomato bruschetta
One of the reasons tomato bruschetta is a go-to around here is because it's so simple to make.
You only need a few ingredients: olive oil, garlic, tomato, basil, balsamic vinegar, and salt and pepper.
Chop up your garlic, tomato, and basil, then combine with salt and pepper and a drizzle of balsamic.
If you don't like the sharpness of raw garlic, saute it quickly in a pan with a little olive oil. Make sure to stir it often so it doesn't burn!
Once you've combined ingredients, let it rest before adding to your bruschetta. This will help the flavors meld to help create the perfect bite.
When you're ready to serve, I like to set out a bowl of the tomato mixture alongside the prepared toasts, so guests can make their own.
Or, add a few spoonfuls to individual ramekins and add toasts to serve as an individual appetizer.
What can I add to tomato bruschetta?
I like to let the flavors of the tomato and basil shine in this dish, but you can add other ingredients if you like.
Be sure to use fresh basil leaves for this dish. If you're not growing it at home, it is easily found in the grocery store produce aisle.
Shredded parmesan can be mixed in, or top each bruschetta with a shaving of fresh parmesan or other hard Italian cheese such as asiago.
If you like nuts, roasted pine nuts are a logical addition. You could also use sunflower seeds to make it nut-free.
For those who like a bit of heat, add a sprinkling of crushed red pepper flakes.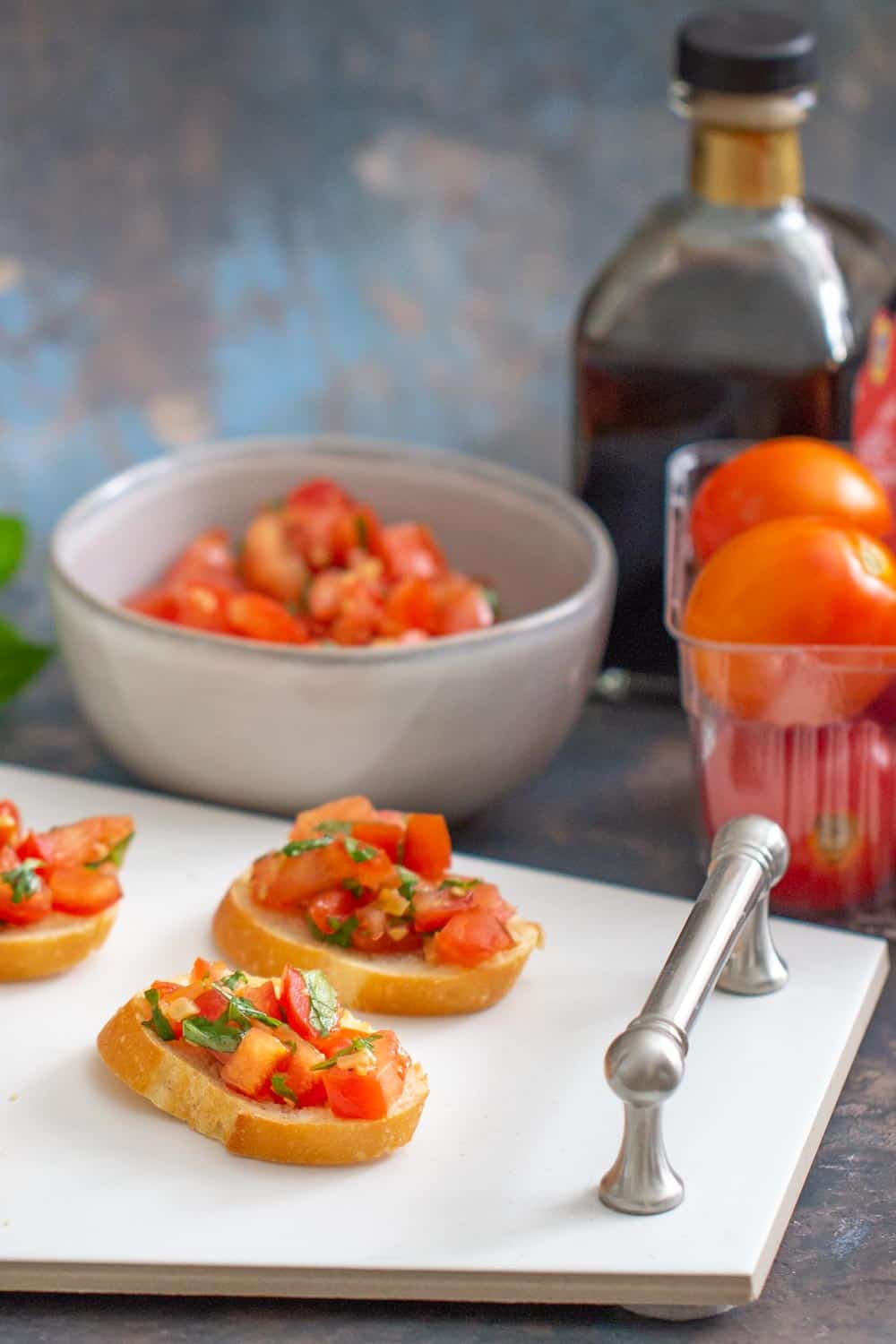 Can I freeze bruschetta?
Bruschetta is best when fresh, but it can be stored for another time.
Store the topping and toasts separately. The topping should be stored in an airtight container in the refrigerator and used within 24-48 hours.
Store the toasts in a zip-top bag to help them stay crisp.
If freezing, make sure to leave some room in the topping container to allow for expansion.
Keep in mind that once thawed the tomatoes will be soft and not retain their fresh texture, but it will still be delicious! Try it with topping rather than toasts.
Let thaw overnight in the refrigerator. Frozen topping will keep for about 3 months.
Tomato bruschetta is one of the best parts of summer. Happy snacking!
Yield: Serves 6-8
Tomato Bruschetta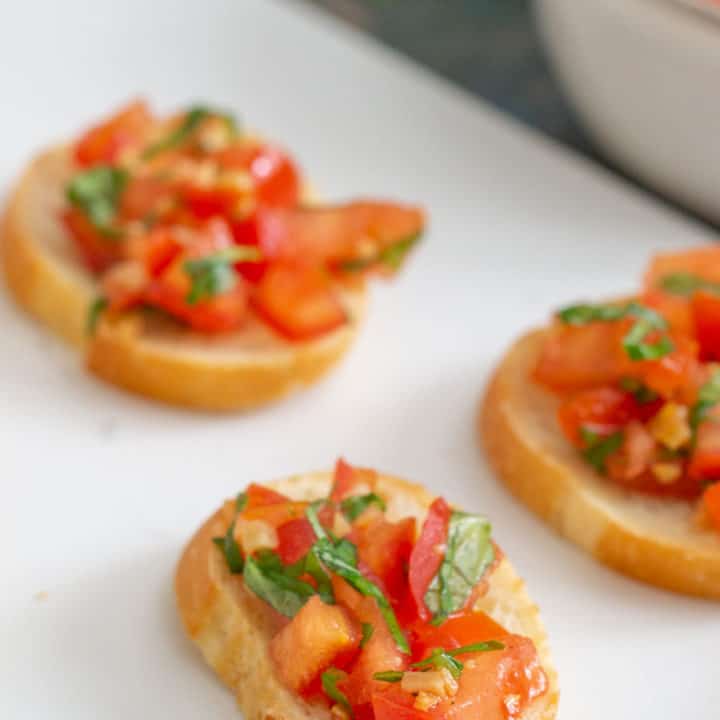 Tomato bruschetta is an essential summertime snack. It pairs perfectly with a chilled wine or cocktail for a patio happy hour.
Ingredients
2 tablespoons olive oil, divided
2 cloves garlic, finely chopped
2 cups chopped tomatoes
1-2 tablespoons balsamic vinegar
2 tablespoons finely chopped fresh basil
1 teaspoon salt
Ground black pepper to taste
1 baguette
Instructions
Preheat broiler to high.
If sautéing garlic, heat 1 tablespoon olive oil in a small sauté pan over medium-high. Add garlic and cook until golden, stirring often to prevent burning.
In a bowl, combine garlic, tomatoes, balsamic, basil, salt, and pepper. Set aside.
Slice baguette into ¼-inch rounds and arrange in a single layer on a sheet pan. Brush with olive oil and broil for 1 minute. Flip baguette slices, brush with oil, and broil another minute, or until crisp.
Taste tomato mixture and adjust seasoning if needed, then serve with toasts.
Nutrition Information:
Yield:
6
Amount Per Serving:
Calories:

204
Total Fat:

6g
Saturated Fat:

1g
Trans Fat:

0g
Unsaturated Fat:

4g
Cholesterol:

0mg
Sodium:

682mg
Carbohydrates:

32g
Fiber:

2g
Sugar:

5g
Protein:

6g
Nutritional information is an estimate for informational purposes only and not to be used for individual dietary needs.