Crunchy and sweet, candied pecans are a wonderfully delicious snack. Flavored with cinnamon, they're easy to make and great for gifting.
Ready to eat out of hand and completely portable, nuts are a favorite snack around here.
While sometimes we go for simple salted nuts, I love making flavored nuts and mixes like spiced pecans or furikake roasted nuts.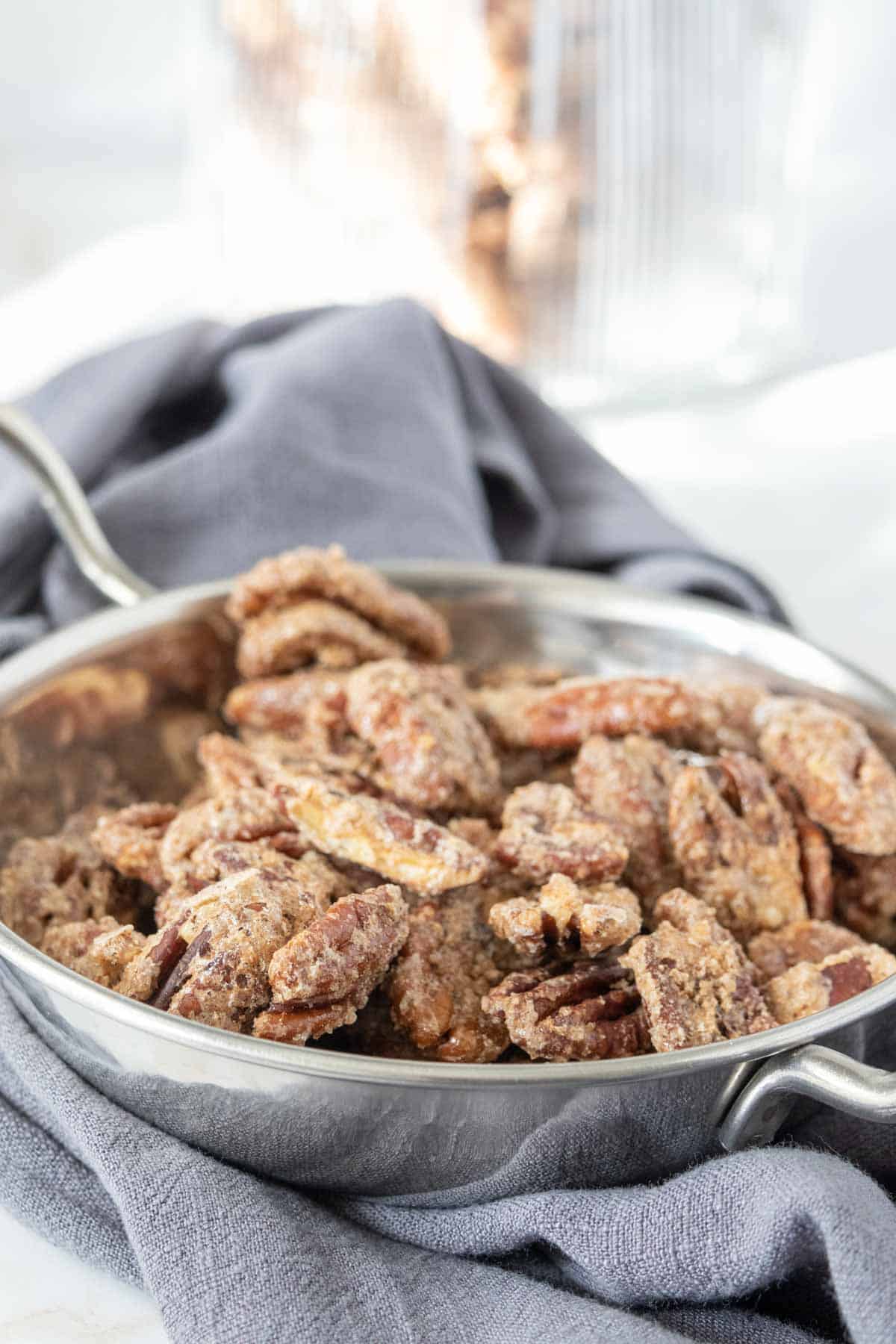 Candied pecans are another one we love, especially when the holidays hit. There's just something about the aroma of cinnamon and roasting nuts that brings back Christmas memories.
Of course, candied pecans can be enjoyed any time of year. And because they are so easy to make, you can whip them up quickly to serve at any occasion.
Ingredients for candied pecans
Candied pecans need just a few ingredients.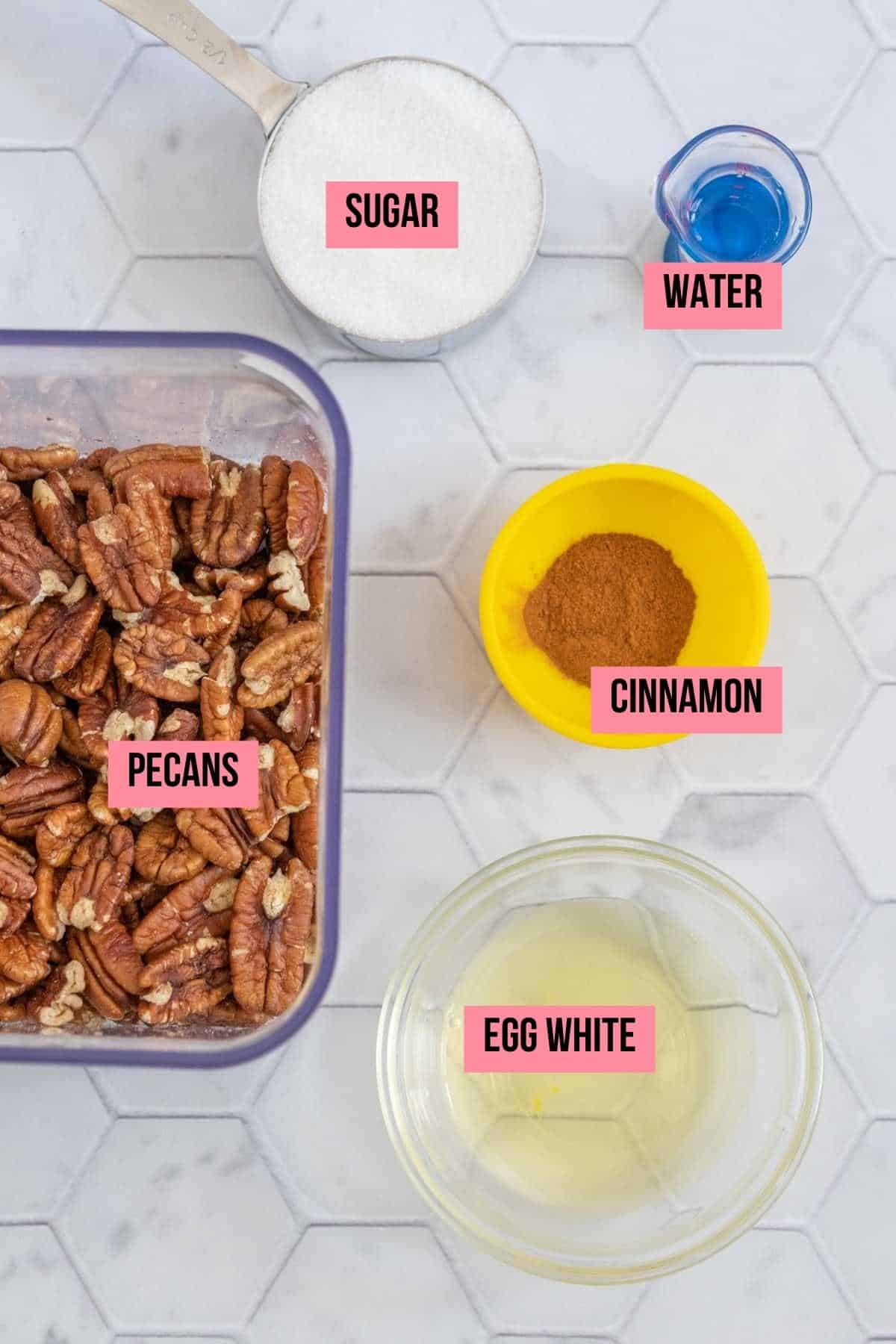 Pecans – Use pecan halves for this recipe, not pieces.
If you are cracking your own pecans, be careful to crack them along the shell's natural break line, which will help keep the pecan halves intact.
Egg white – Egg white is used as a binder so the flavoring sticks to the pecans. It also helps create a crunchy texture to the coating.
For a substitute, use 2 tablespoons of aquafaba.
Water – A small amount of water is added to thin out the egg white.
Granulated sugar – White sugar makes the perfect coating on these pecans.
If you want a more earthy flavor, you can use some or all brown sugar.
Cinnamon – Use your favorite cinnamon, which we mix with the sugar before coating the pecans.
You can also use nutmeg, ginger, cardamom, pumpkin pie spice, or your favorite spice blend.
Salt – A pinch of salt lifts up all the flavors.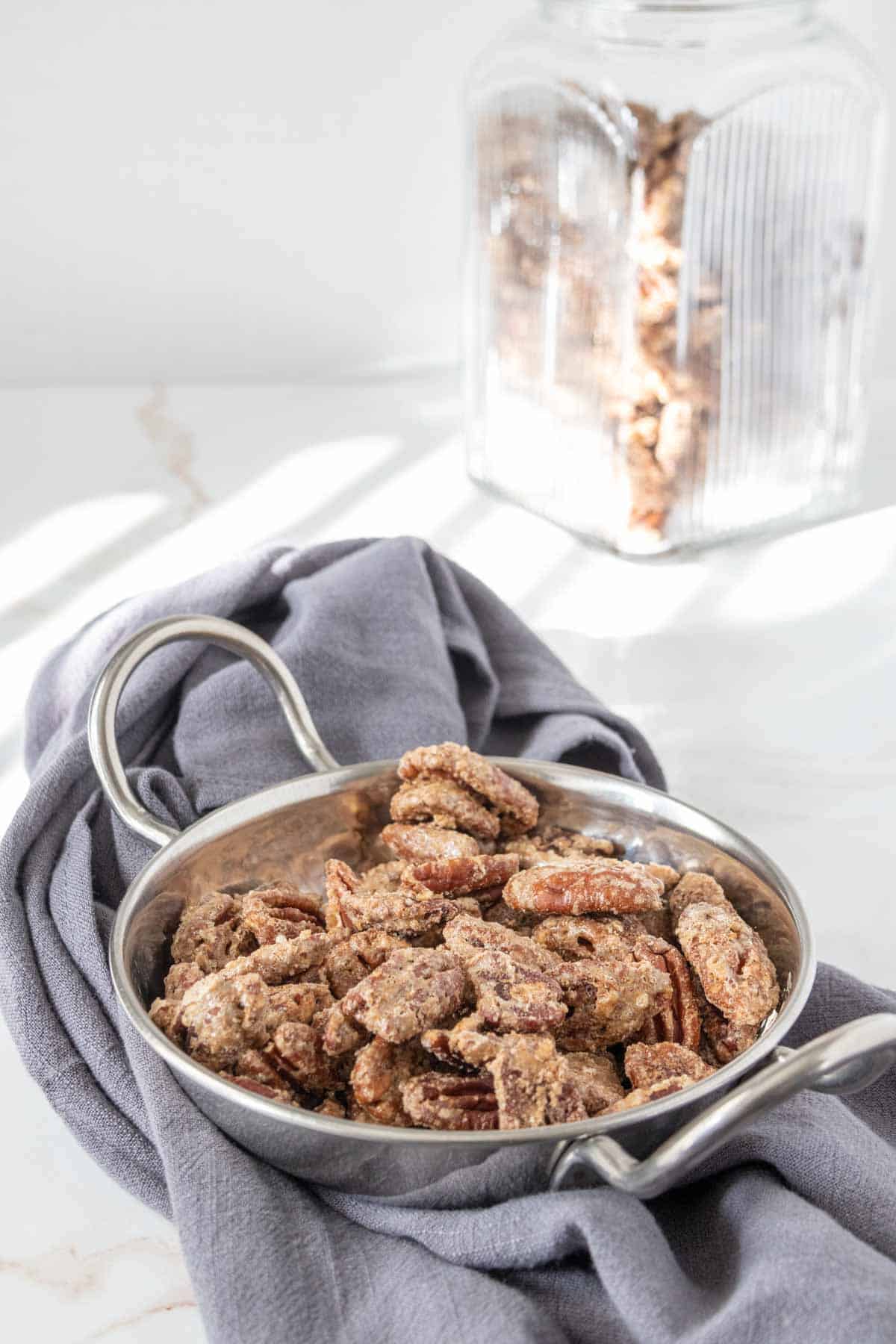 How to make candied pecans in the oven
First, preheat your oven to 250°F.
Candied pecans are cooked low and slow to let the sugar coating harden without burning on the nuts.
If you like, line a rimmed baking sheet with parchment paper or a silicone baking mat. This makes it easier for cleanup, but you can make the candied pecans without lining the pan.
In a large bowl, whisk together the egg white and water until frothy.
You don't need to be mixing to peaks here, we're just getting the mixture nice and foamy.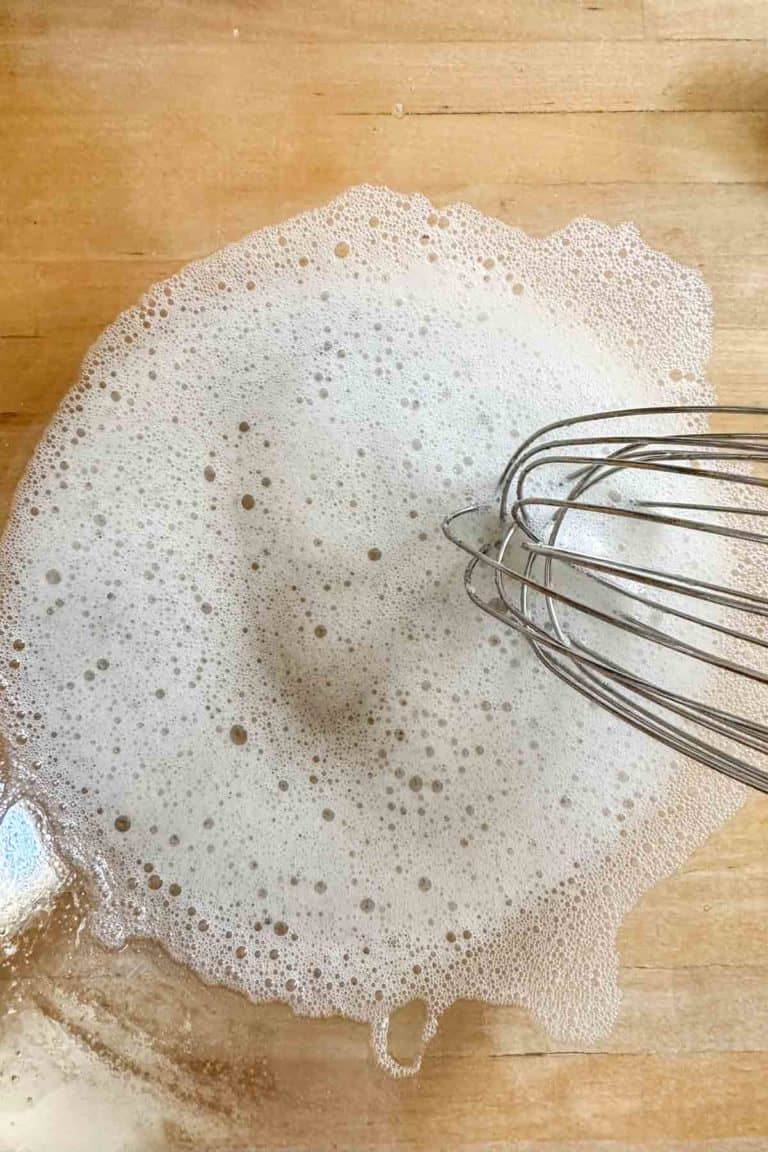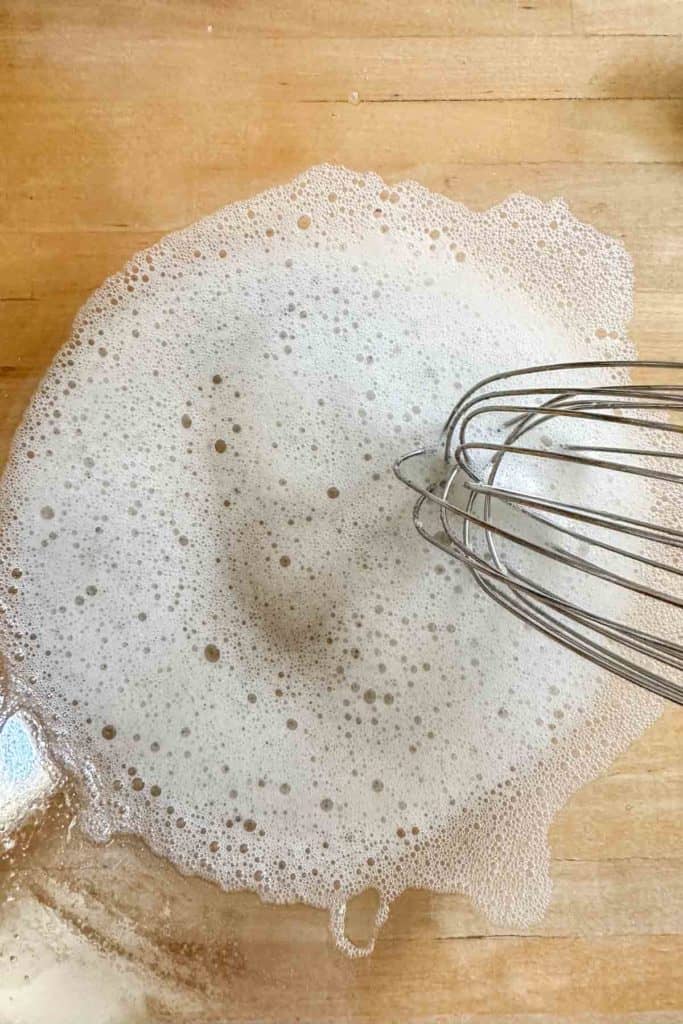 Pour in the pecans. Use a rubber spatula to fold the egg whites over the pecans and coat the nuts.
In a small bowl, stir together the sugar, cinnamon, and salt until uniformly mixed.
Sprinkle the sugar mixture over the coated pecans and stir well. You want to make sure there is sugar on every pecan!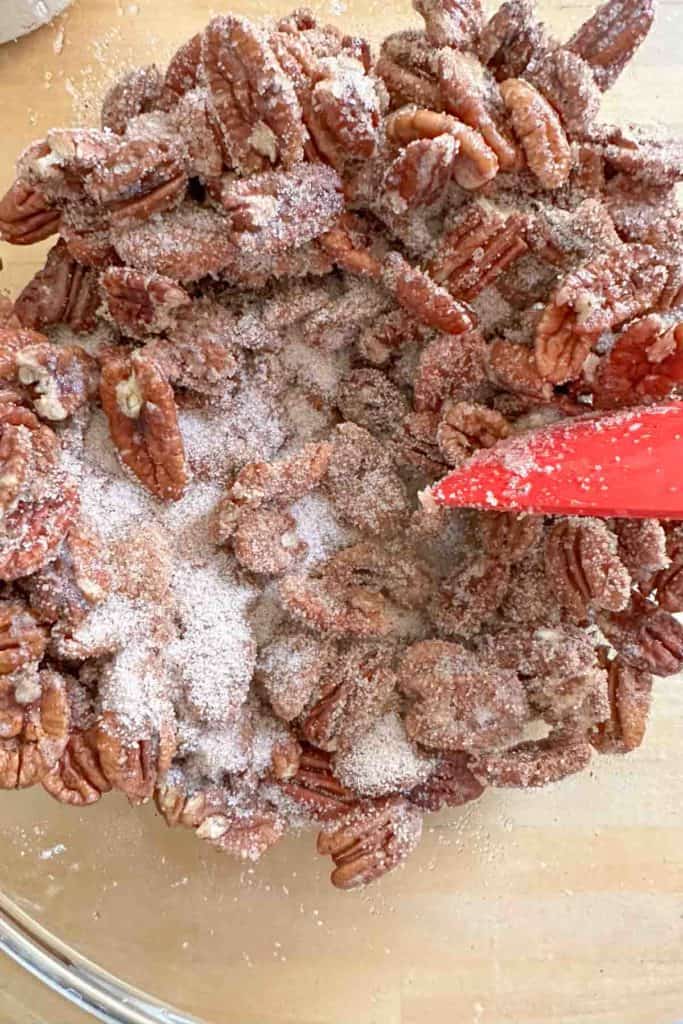 Scoop the pecans out onto the baking sheet, scraping the bowl to get all the sugary liquid onto the nuts.
Spread the pecans into a single layer.
Place in the oven and bake for 15 minutes. Remove, stir the pecans, and place back in the oven for another 15 minutes.
Repeat for 1 hour, stirring every 15 minutes, until the coating on the pecans is dry to the touch and the aroma is fragrant.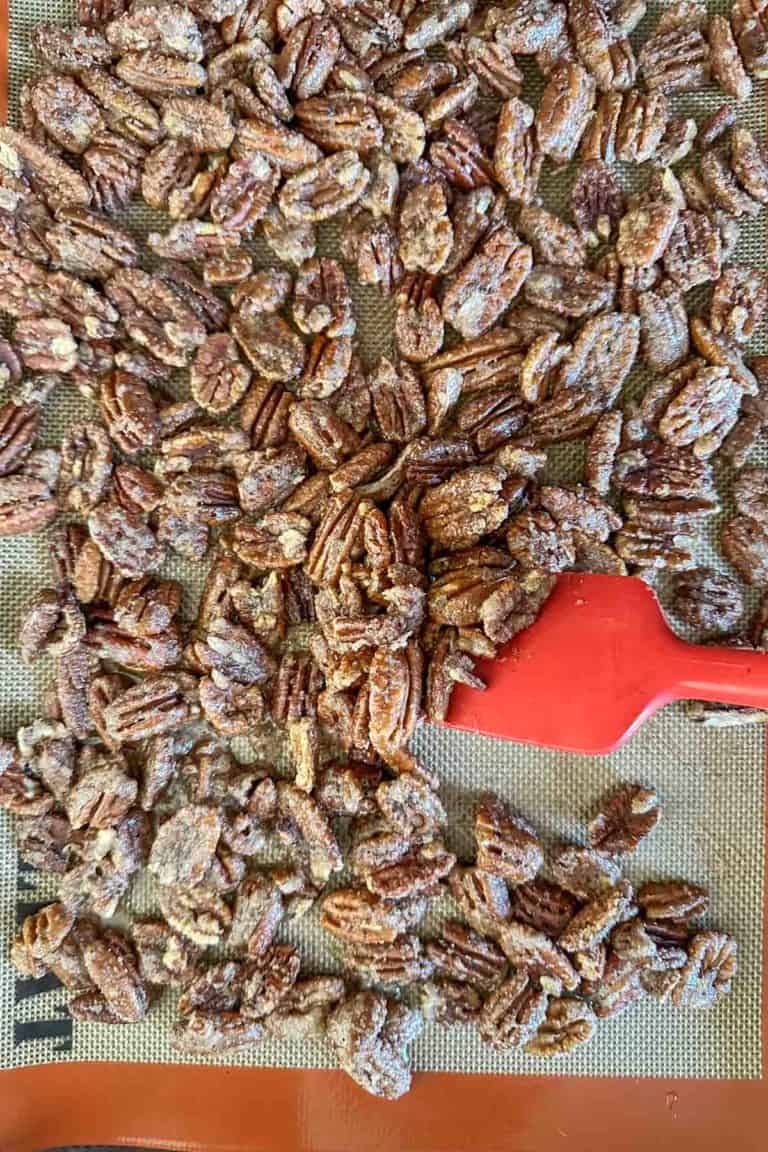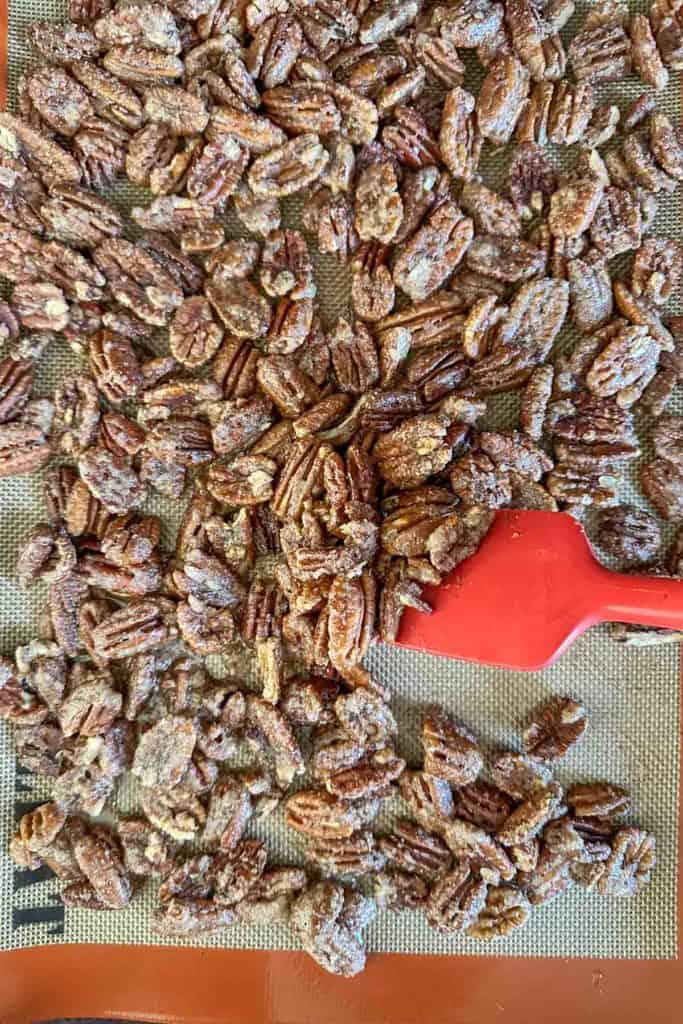 Let cool completely to crisp up the coating, then enjoy or store.
Recipe suggestions
Try these other options:
Use this candy coating to make candied almonds or walnuts.
Add a bit of heat with ground cayenne pepper mixed with the cinnamon.
Try with pumpkin pie spice for seasonal flavor.
Add a small amount of cocoa powder for chocolate candied pecans.
Add freshly grated orange zest.
Mix in a bit of vanilla extract with the egg whites.
Toss with powdered sugar (or powdered sugar and cocoa powder) after baking.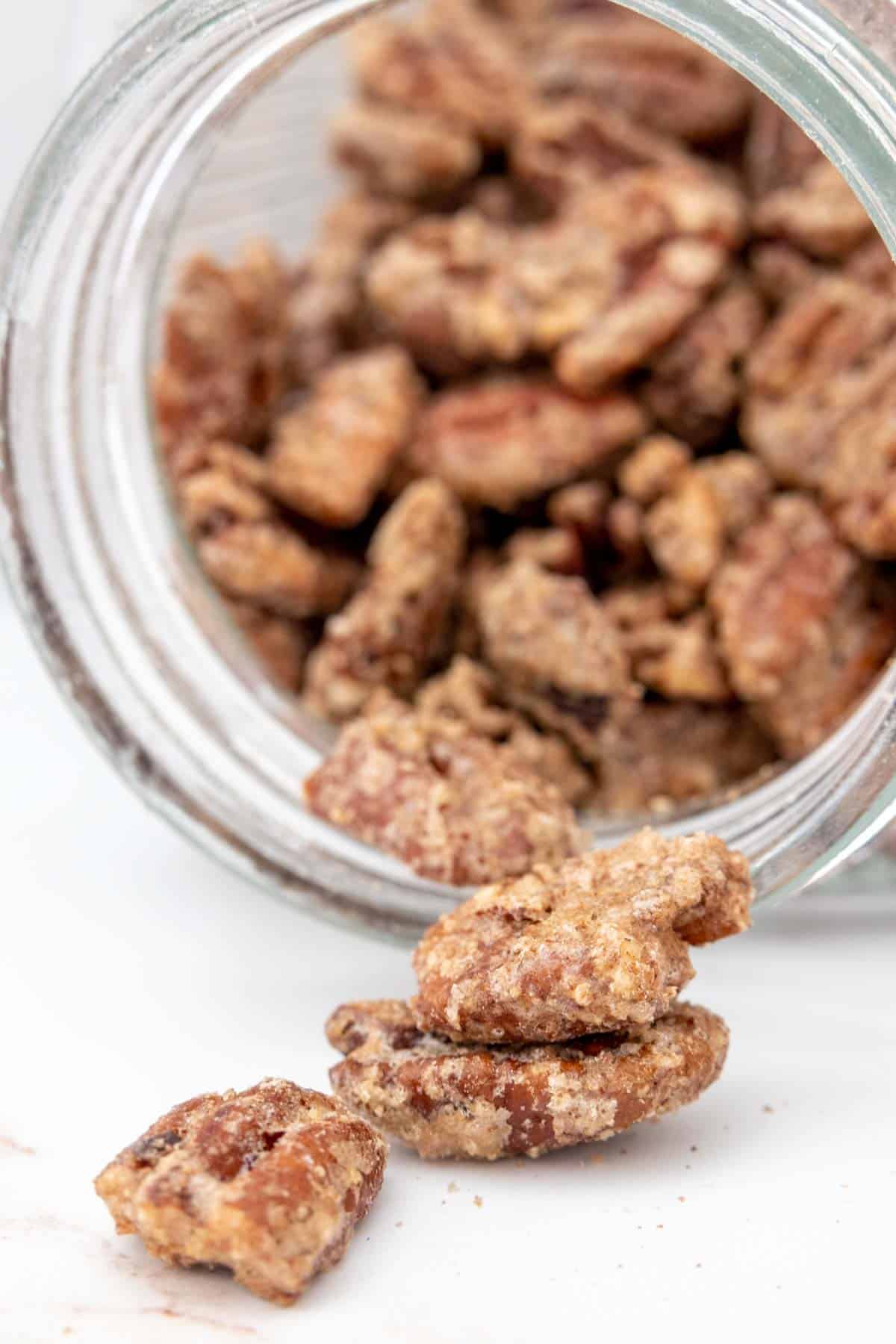 Storage tips
To keep candied pecans fresh, store in an airtight container.
Candied pecans will keep at room temperature for about 2 weeks.
For longer storage, freeze them! Nuts freeze well, and the candied coating will not get sticky in the freezer.
To freeze candied pecans, let them cool completely. Transfer to freezer bags or airtight containers.
Label the bags with the contents and date, and freeze for up to 3 months.
Thaw at room temperature.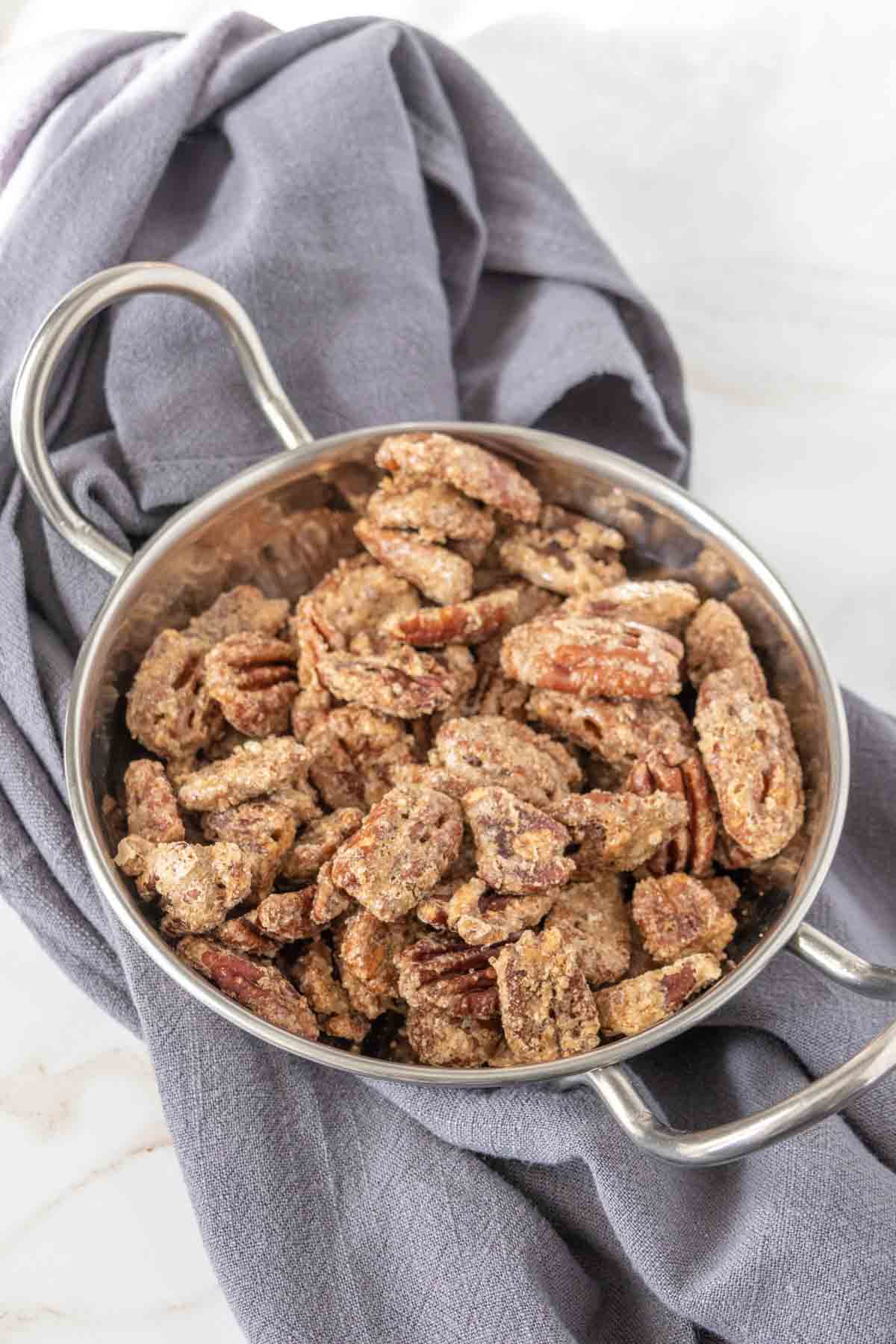 Serve up these candied pecans at your next party and watch them disappear!
Yield: 4 cups
Candied Pecans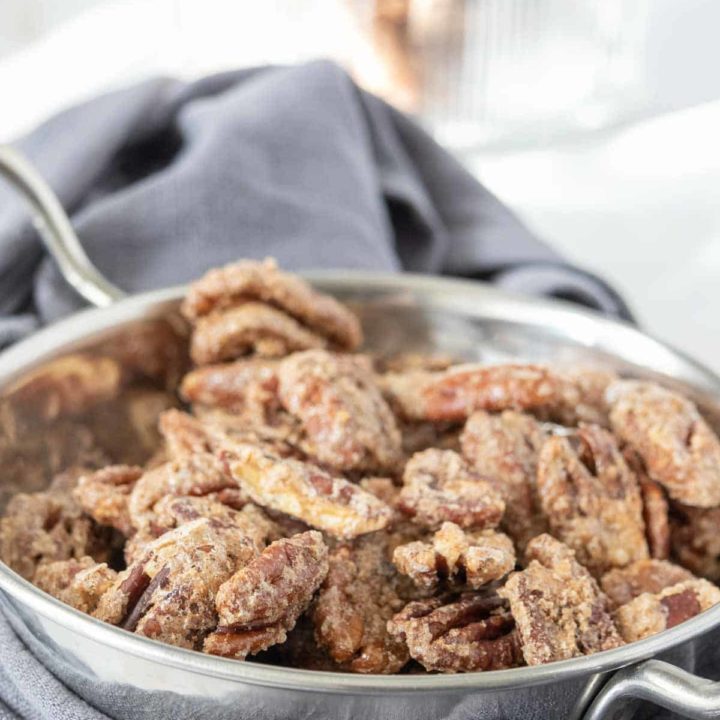 Flavored with cinnamon, candied pecans are easy to make and great for gifting.
Total Time
1 hour
5 minutes
Ingredients
1 egg white
1 tablespoon water
4 cups pecans (about 1 pound)
½ cup granulated sugar
1 teaspoon ground cinnamon
Pinch fine sea salt
Instructions
Preheat oven to 250°F. Line a rimmed baking sheet with parchment paper or reusable baking liner.
In a large bowl, whisk together egg white and water until frothy. Add pecans and fold to coat with the egg white mixture.
In a small bowl, mix together the sugar, cinnamon, and salt. Sprinkle over the pecans and stir to coat evenly.
Spread pecans onto baking sheet in a single layer. Bake for 1 hour, stirring every 15 minutes, until coating is dry.
Let pecans cool completely, then store in an airtight container.
Nutrition Information:
Yield:
16
Serving Size:
¼ cup
Amount Per Serving:
Calories:

205
Total Fat:

19g
Saturated Fat:

2g
Trans Fat:

0g
Unsaturated Fat:

16g
Cholesterol:

0mg
Sodium:

12mg
Carbohydrates:

10g
Fiber:

3g
Sugar:

7g
Protein:

3g
Nutritional information is an estimate for informational purposes only and not to be used for individual dietary needs.