Quick and easy peanut clusters are perfect for holiday candy tins. Everyone loves these nutty chocolate covered peanuts!
Homemade snacks make some of the best gifts during the holidays.
Whether you go for sweets like puppy chow or dark chocolate fudge, or savory items like ranch Chex mix, I love giving (and getting) edible gifts.
These homemade peanut clusters are a great option. Sweet, crunchy, and just lightly salty, they come together quickly and make plenty for all your family and friends.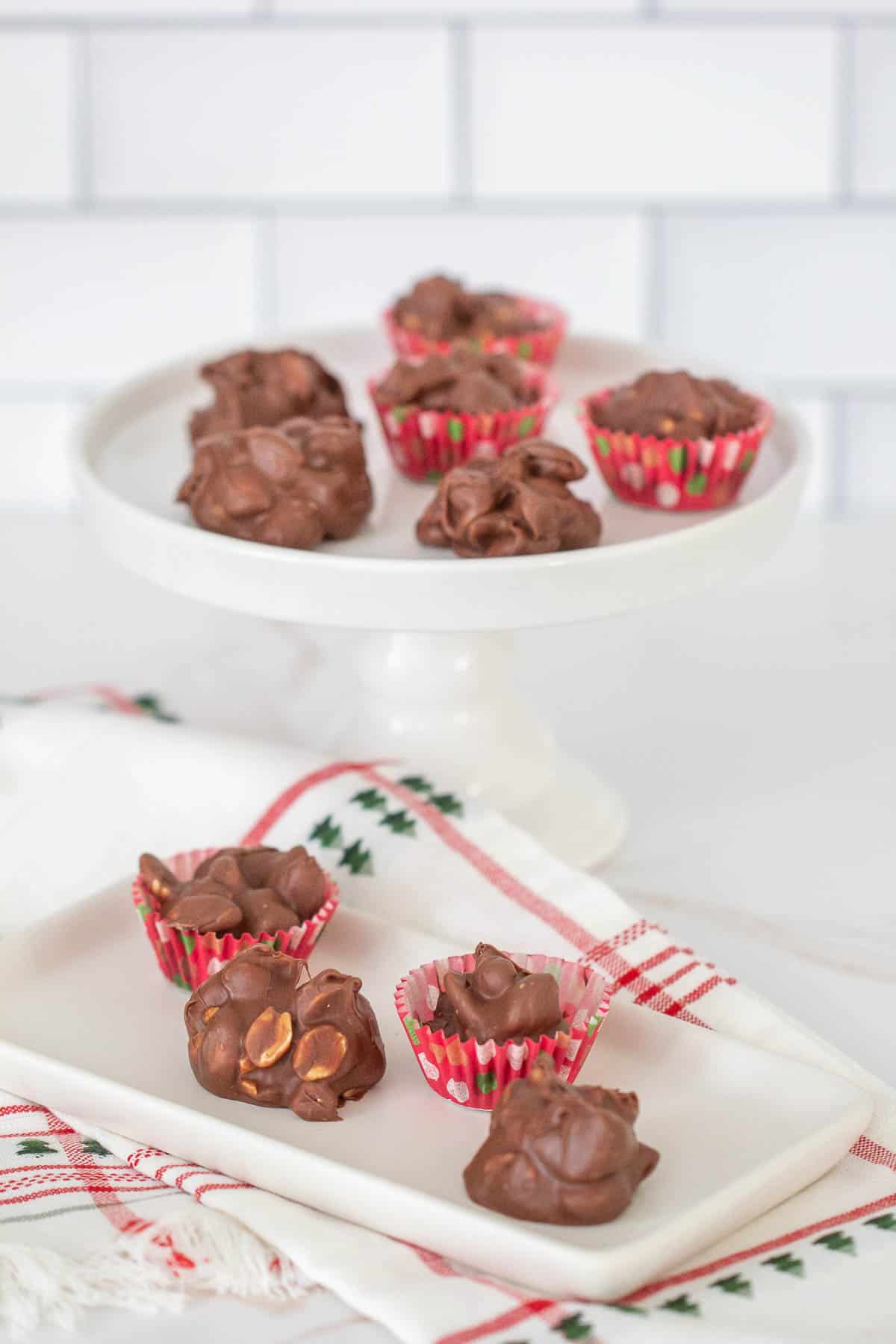 Ingredients for peanut clusters
One thing I love about this recipe is how few ingredients you need!
Peanuts – Grab roasted, shelled peanuts. Choose your peanuts based on what level of salty-sweet you like.
I use lightly salted peanuts for most recipes, and they're perfect here! You can always go for full salt if you prefer.
Semi-sweet chocolate chips – You'll need a full bag of chocolate chips for this recipe. I use semi-sweet because it gives all the chocolate flavor without being too sweet when combined with the almond bark.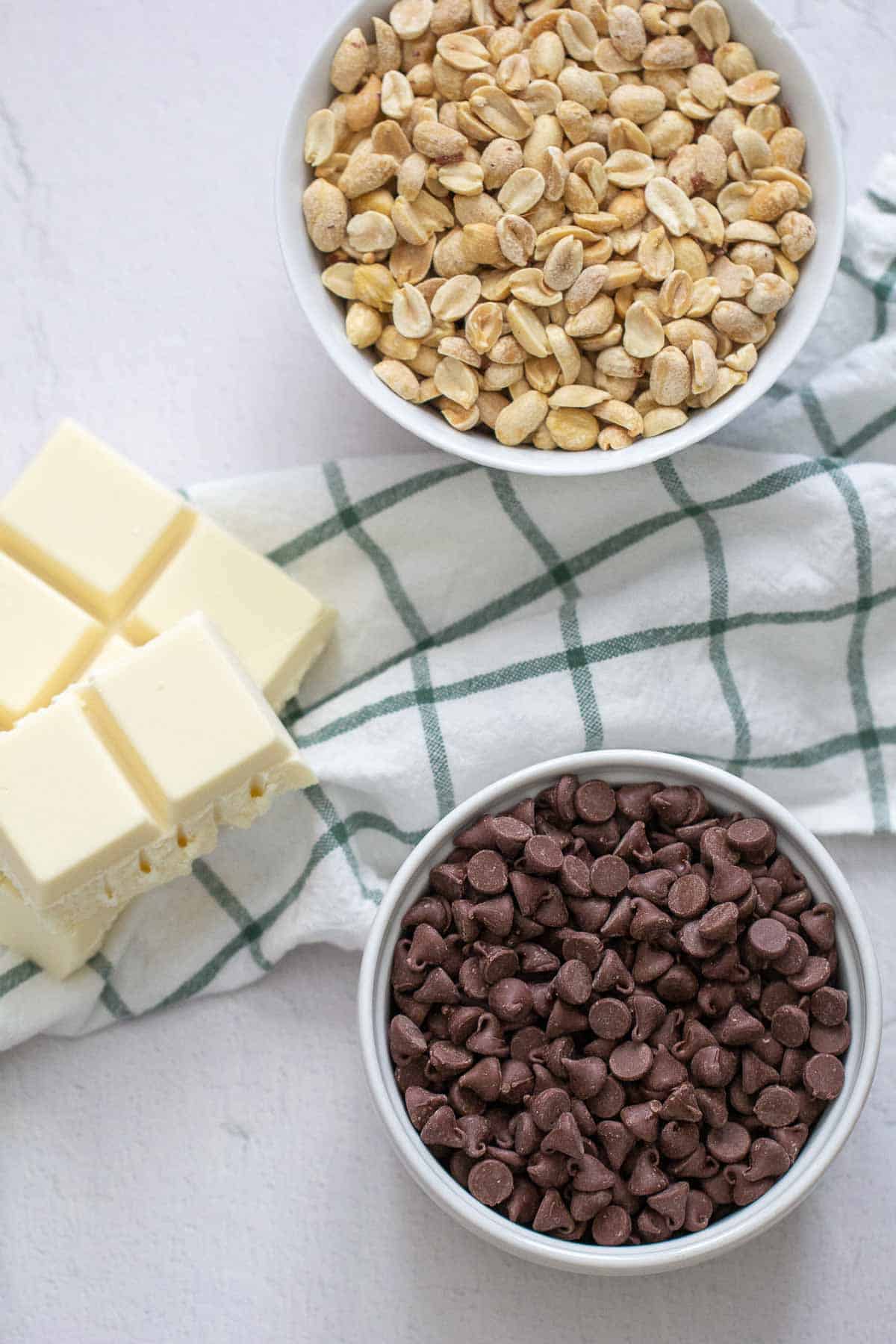 White almond bark – Almond bark is also known as vanilla flavored candy coating. It does not have almonds in it, but is often used for making almond bark candy.
Almond bark melts smoothly and hardens well, which makes it ideal for candies like these!
You can find the almond bark or candy coating near the other baking chips at the grocery store. Craft stores also sell similar candy coatings, if you cannot find almond bark.
How to make chocolate peanut clusters
Honestly, peanut clusters couldn't be easier to make yourself.
First, break the almond bark into smaller pieces, cutting carefully on a cutting board if needed.
In a microwave safe bowl, combine the almond bark and chocolate chips.
Place the bowl in the microwave and heat for 1 minute. Stir well, then heat again in 30 second increments, stirring after each time, until shiny and nearly melted.
Stir until completely melted. The mixture should be smooth.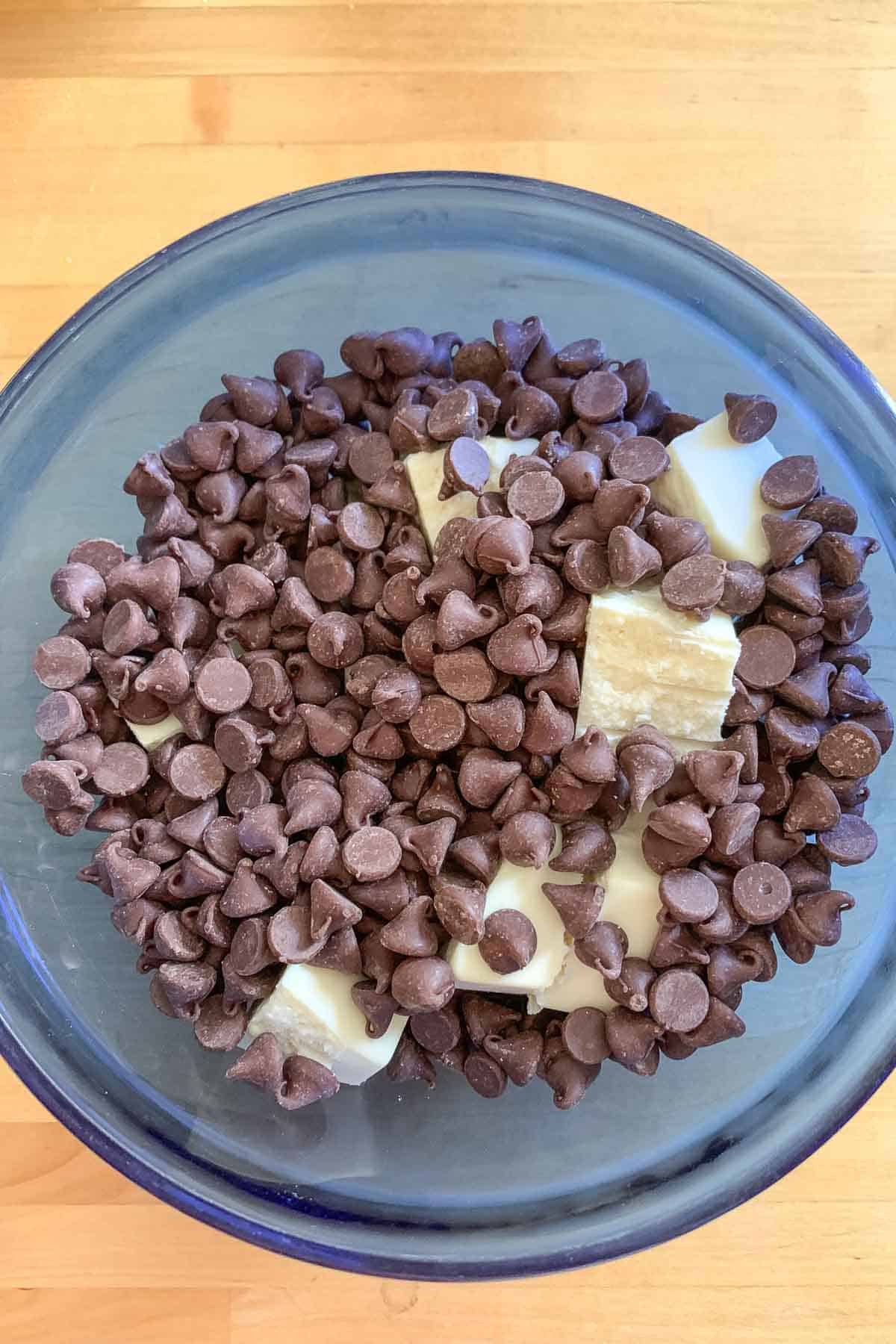 Add the peanuts to a large bowl and pour the chocolate mixture over them. Stir, using a silicone spatula, making sure to completely coat the peanuts.
Lay a piece of wax paper or silicone liner on 2 baking sheets, or fill a mini muffin pan with paper cups.
Scoop 1 tablespoon of the peanut mixture onto the prepared baking sheet or into the cups. You can make them larger if you like, but they get harder to eat the bigger they are!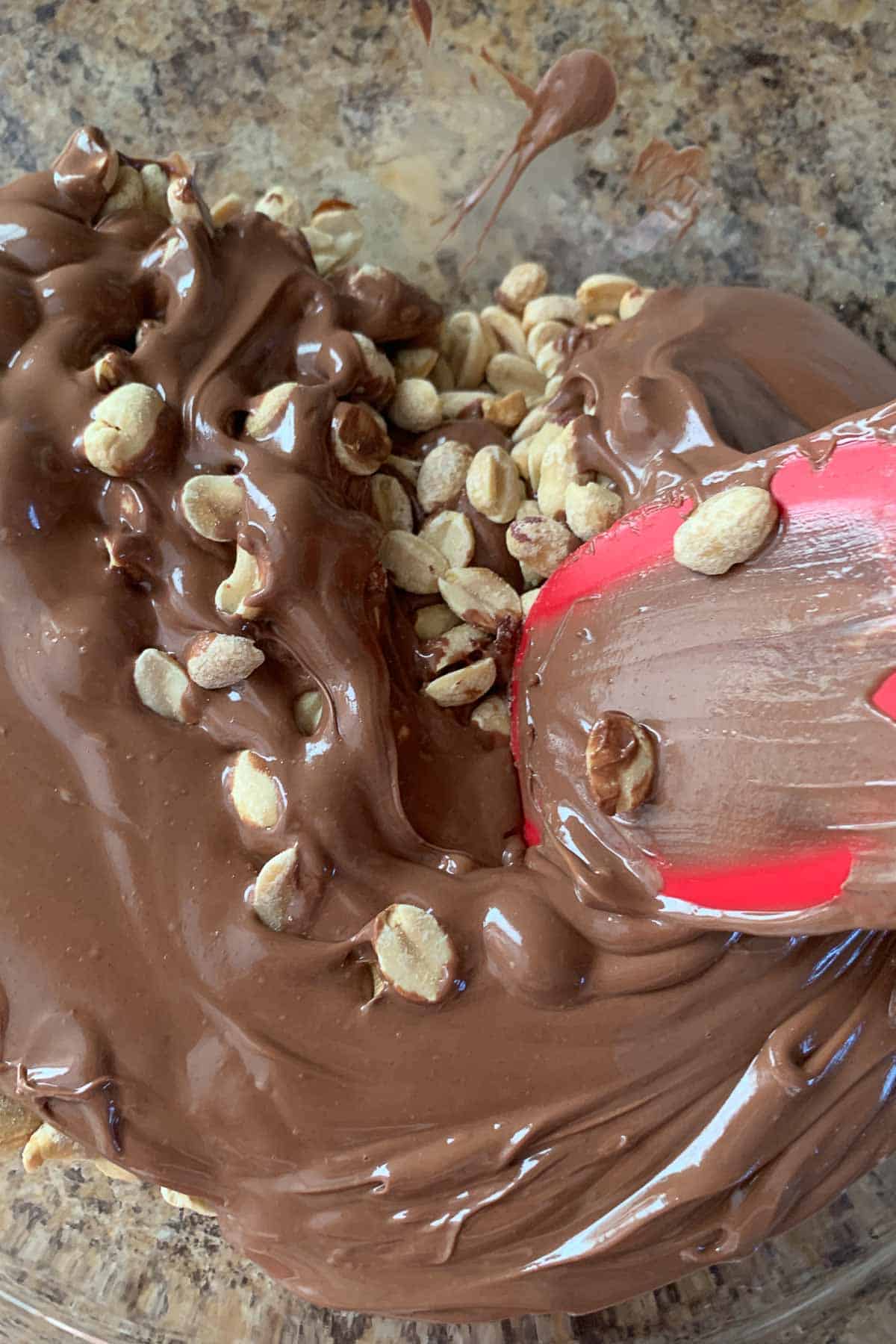 Repeat until all the peanuts have been scooped. You might have a bit of leftover chocolate coating.
Let the clusters cool until the chocolate has completely set, 1-2 hours. The chocolate will look smooth and matte instead of glossy once set.
You can speed up this process by placing the clusters in the refrigerator.
Once set , transfer to airtight containers.
Serve at room temperature or chilled.
How to make crockpot chocolate peanut clusters
If you want a more hands-off approach for making peanut clusters, you can do it in the slow cooker!
Combine all of the ingredients in the slow cooker and set on low for 1 hour. Stir halfway through, then again at the end, and proceed with forming the clusters.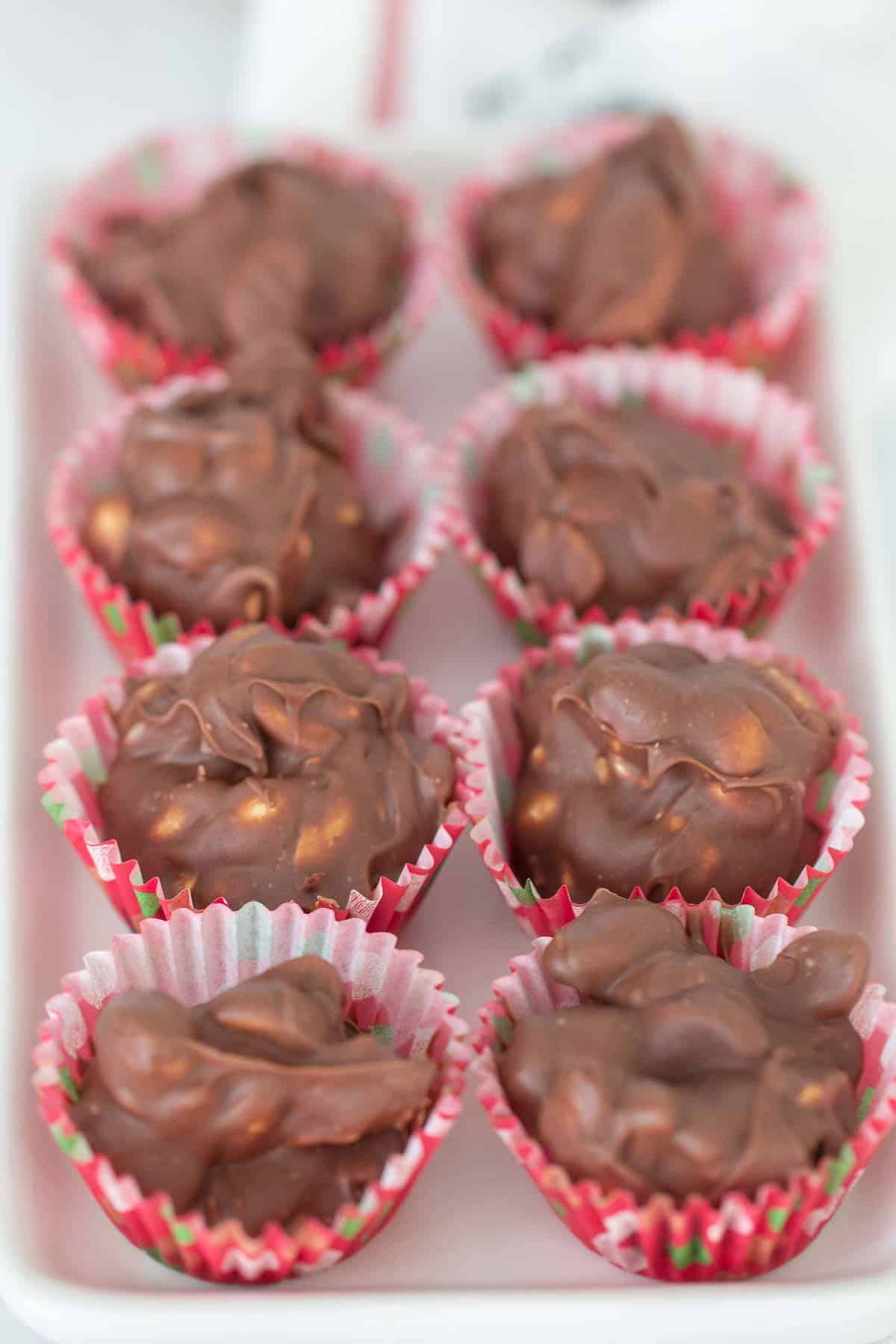 Recipe suggestions
You can change up this recipe using other chocolates or nuts.
Use whole cashews, pecan halves, or even macadamia nuts.
Switch up the semisweet chocolate chips with dark chocolate chips, white chocolate chips, or milk chocolate chips.
You could even use peanut butter chips for double the peanut flavor!
Top the clusters with a sprinkling of salt, festive sprinkles, or shredded coconut.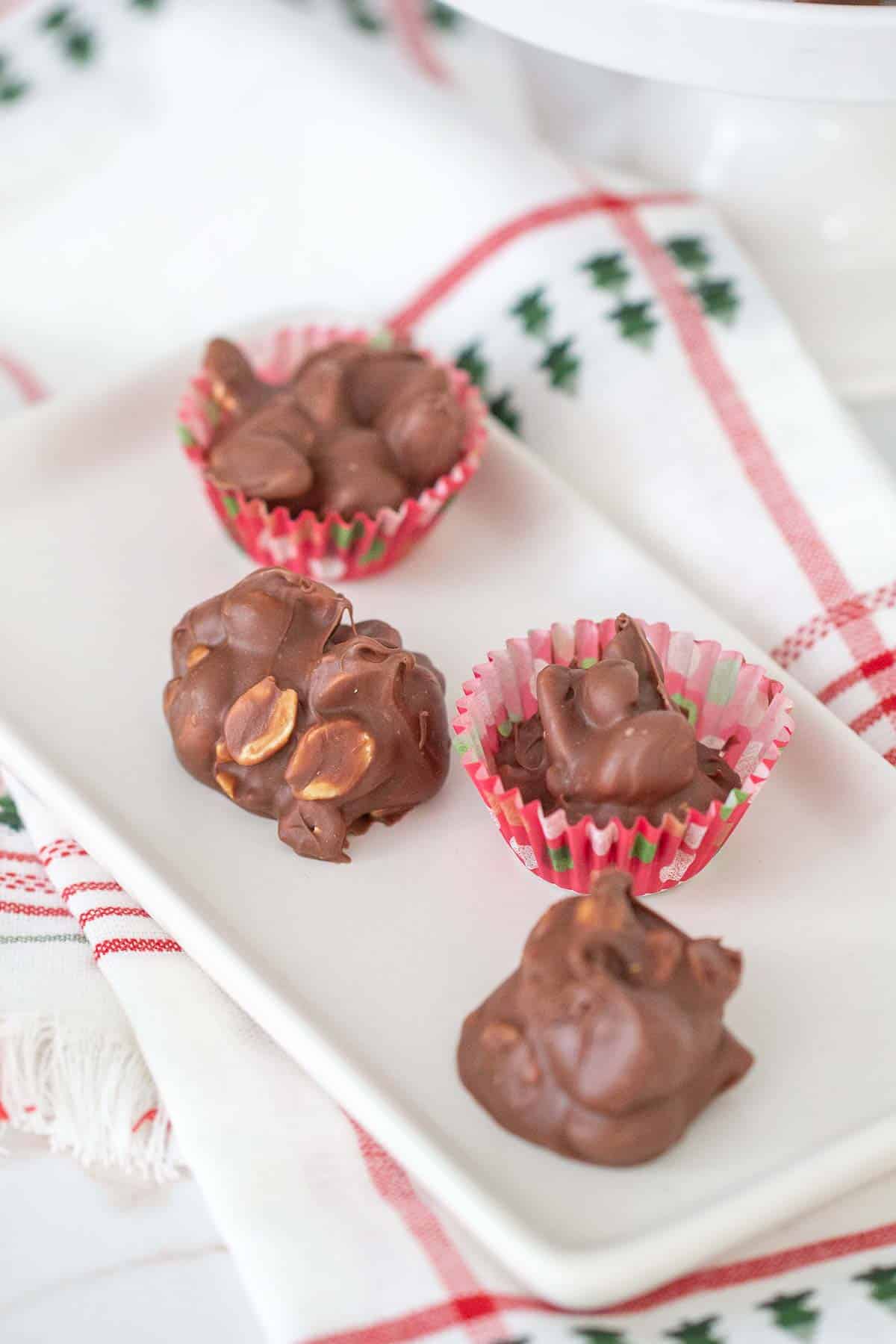 Storage tips
Peanut clusters keep best in the refrigerator to prevent the chocolate from melting, especially if you live in a warmer climate.
Store the clusters in an airtight container. If you need to stack the layers, place a piece of waxed paper between the layers to prevent any sticking.
Peanut clusters will last in the refrigerator for about 2 weeks.
Can I freeze peanut clusters?
For longer storage, freezing is a great option when it comes to chocolate peanut clusters.
Once the clusters have set, place them in a freezer-safe bag or container. Remove as much air as possible to prevent condensation or freezer burn.
Store in the freezer for up to 6 months.
To thaw, remove as many clusters as you'd like and place them in the refrigerator overnight.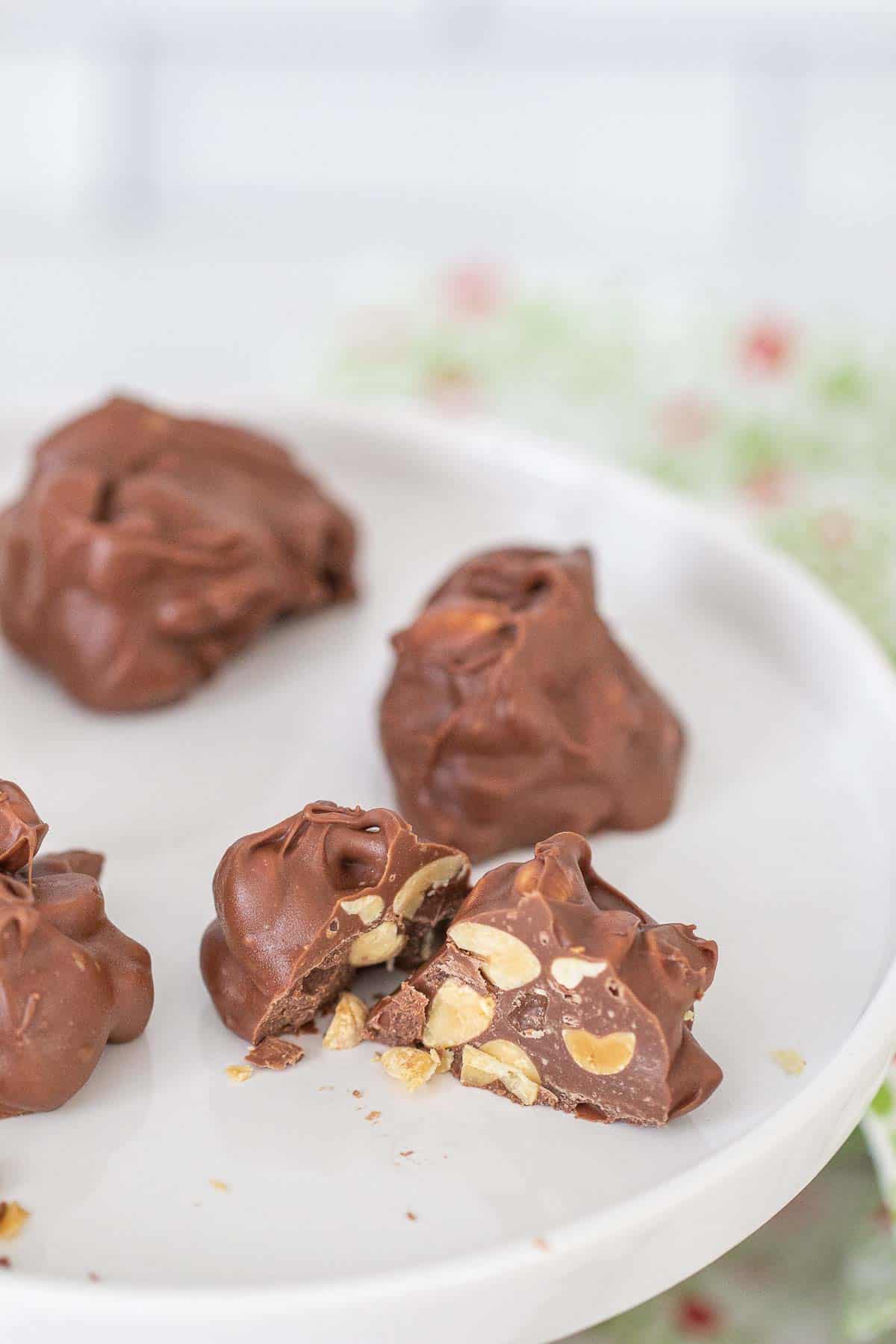 Peanut clusters are a hit for Christmas, New Year's, or any time you want a sweet bite. Happy snacking!
Yield: 48
Peanut Clusters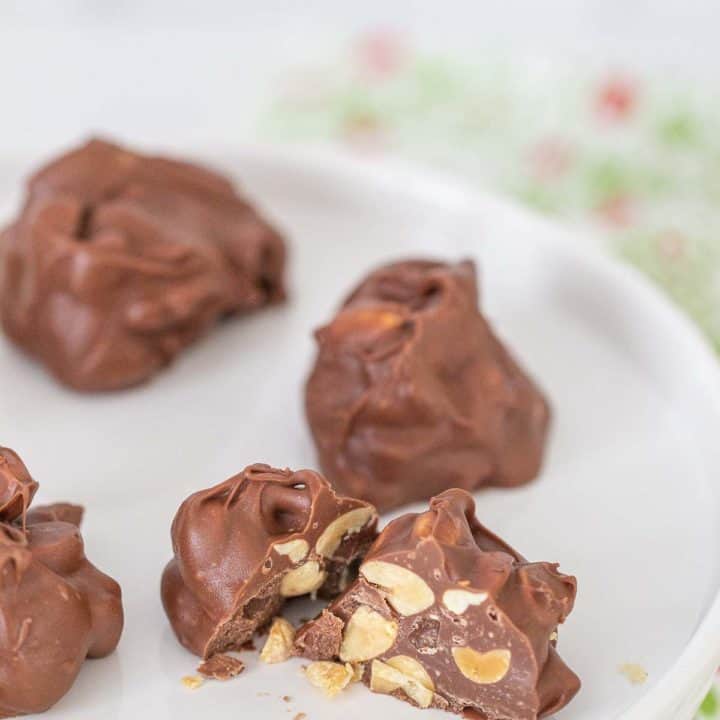 Quick and easy peanut clusters are perfect for holiday candy tins. Everyone loves these nutty chocolate covered peanuts!
Ingredients
1 pound white almond bark
12 ounces semi-sweet chocolate chips
1 pound lightly salted peanuts (about 2.5 cups)
Instructions
Break almond bark into pieces and combine in a microwave-safe bowl with chocolate chips. Place in microwave and heat 1 minute. Stir, then heat in 30 second increments, stirring after each, until glossy and almost melted. Stir to melt completely.
Combine peanuts and melted chocolate and stir well to coat.
Line 2 baking sheets with waxed paper or parchment, or line mini muffin pans with papers. Scoop peanuts into mounds on baking sheets.
Let cool until chocolate is completely set, 1-2 hours. You can speed this up by placing the trays in the fridge.
Once set and solid, transfer to an airtight container.
Nutrition Information:
Yield:
48
Serving Size:
1
Amount Per Serving:
Calories:

146
Total Fat:

12g
Saturated Fat:

2g
Trans Fat:

0g
Unsaturated Fat:

9g
Cholesterol:

0mg
Sodium:

87mg
Carbohydrates:

9g
Fiber:

2g
Sugar:

5g
Protein:

5g
Nutritional information is an estimate for informational purposes only and not to be used for individual dietary needs.