Puppy chow is a favorite childhood snack that everyone loves. This no-bake treat is easy to make with kids, and the chocolate peanut butter combo is irresistible!
I've been making puppy chow for as long as I can remember.
This is a classic treat in the Midwest and over the years since I've been a kid it has become popular all over the country.
You can now buy it premade at the grocery store, but trust me when I say that homemade is better!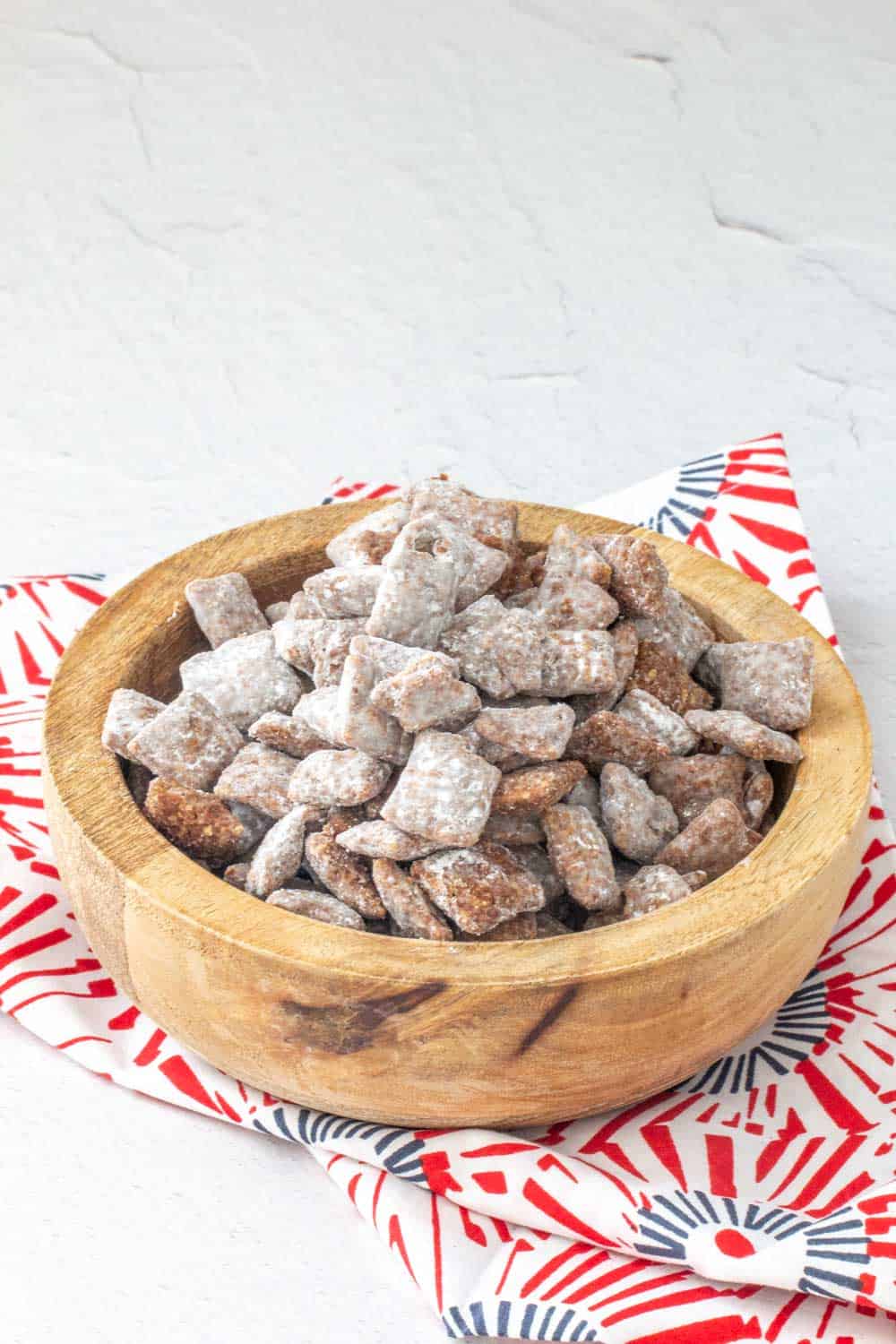 It's unclear where puppy chow originated, but it goes under multiple names like muddy buddies, reindeer chow, and monkey munch.
No matter the name, it's clear that the combination of peanut butter and chocolate is a favorite!
Customizing puppy chow
To make puppy chow you need chocolate, nut butter, and powdered sugar, but you can mix up the flavors any way you like!
Any variety of chocolate chips will work, from dark chocolate to white chocolate. You can even use espresso chips, cinnamon chips, or peanut butter chips for a double dose of peanut butter.
For the peanut butter you can swap in your favorite nut butter or choose a flavored variety. Almond butter and cashew butter are both excellent options.
Be sure to choose a creamy variety, as a chunky nut butter will not coat the cereal as well.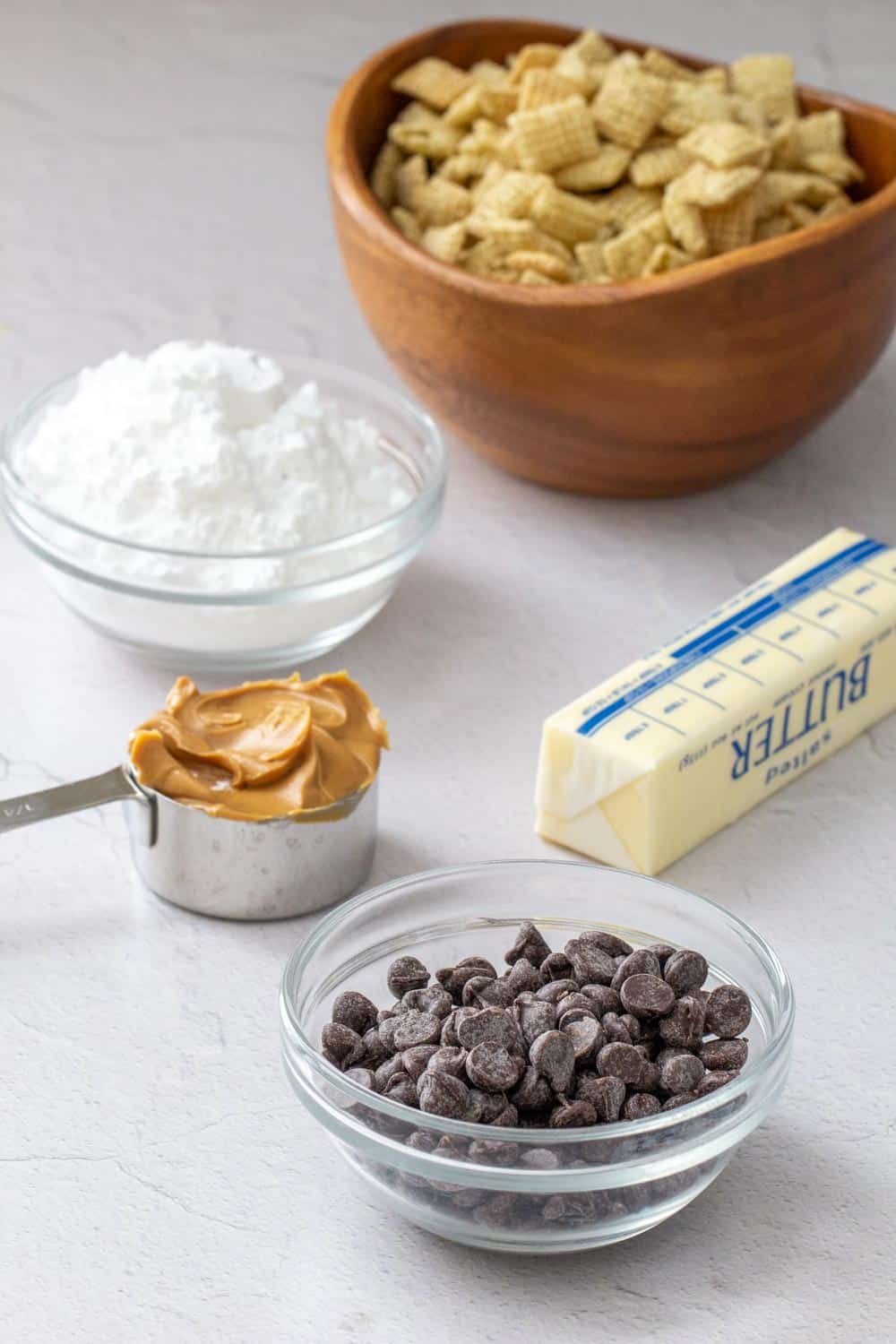 If you're avoiding nuts, you can try using a nut butter alternative, though note that they are not always as smooth and creamy as nut butters. Be sure to test out a small amount of your nut butter alternative before committing to a big batch of puppy chow.
I add a little cinnamon to my puppy chow. You can skip it or choose your own favorite spices just for a little added touch.
Can you freeze puppy chow?
Puppy chow will keep in an airtight container stored at room temperature for about one week.
However, you can also freeze it!
Simply divide the puppy chow into freezer-safe bags or storage containers and place in the freezer.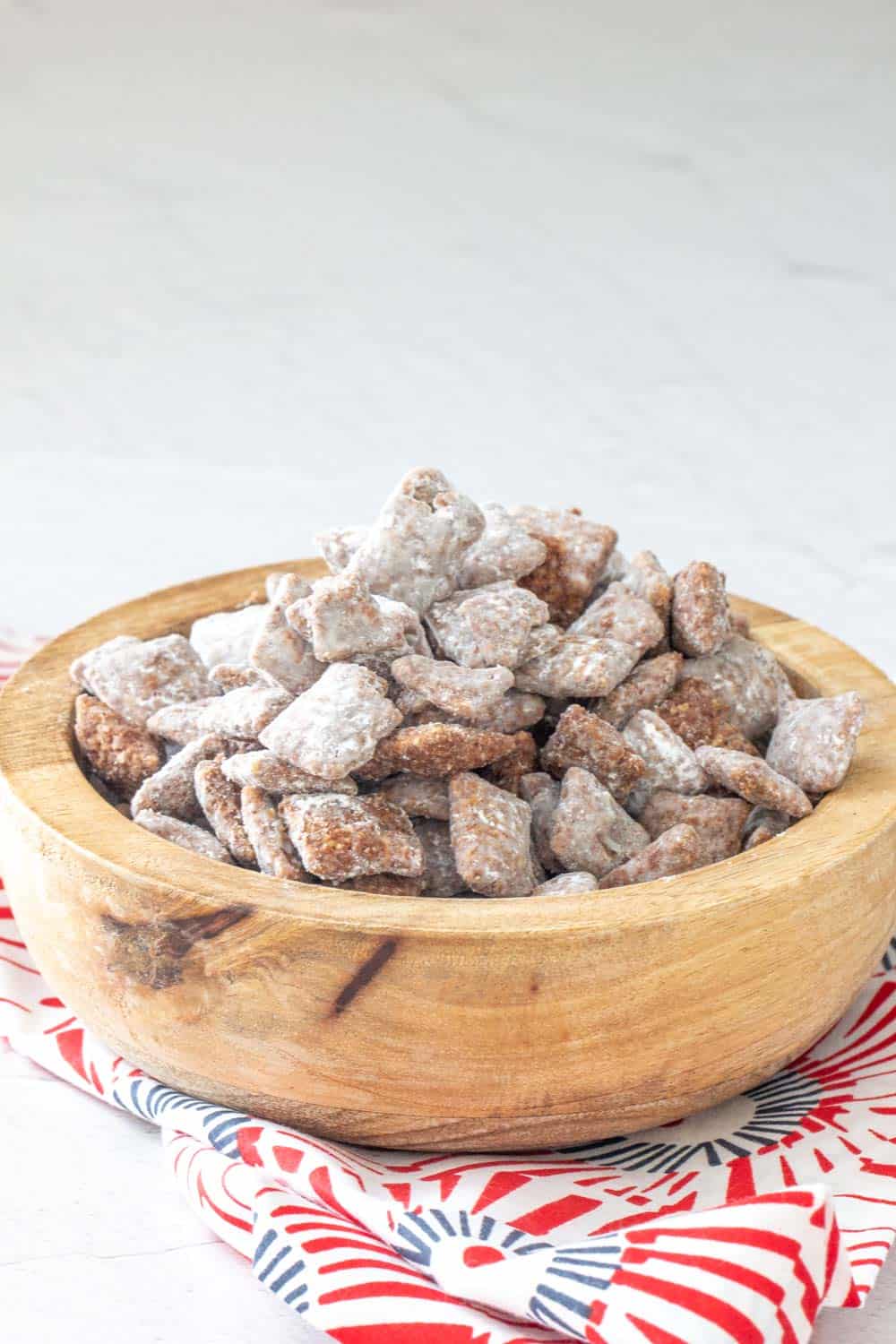 Frozen puppy chow will last for about two months.
It tastes great cold and you don't need to worry about thawing it before enjoying.
Tips for making with kids
Puppy chow is a great recipe to make with kids. I have fond memories of grabbing the paper bag and shaking as hard as I could to get all of those pieces coated.
While an adult or older child should take care of warming the chocolate and peanut butter, anyone can help with the mixing.
Let kids do the measuring. Don't worry if they get too much powdered sugar; any excess will stay at the bottom of the bag and you can discard it.
When you're ready to mix, make sure the bag is completely closed. You do not want a powdered sugar explosion in your kitchen!
Once the cereal is completely coated, pour the puppy chow into a big bowl and dig in.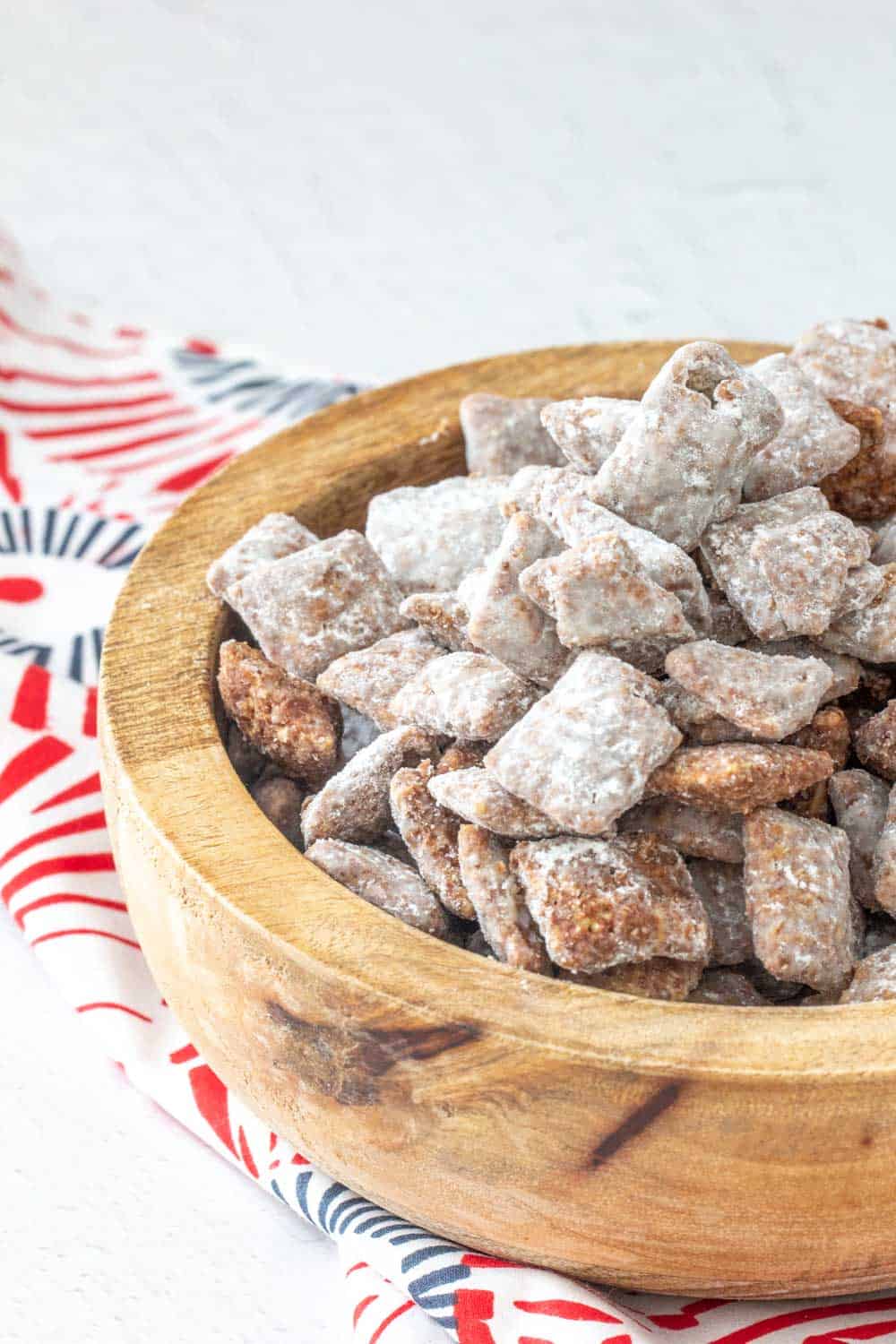 And no, even though this is called puppy chow, it is NOT for dogs! Human snackers only for this delicious treat. Happy snacking!
Yield: 12 servings
Puppy Chow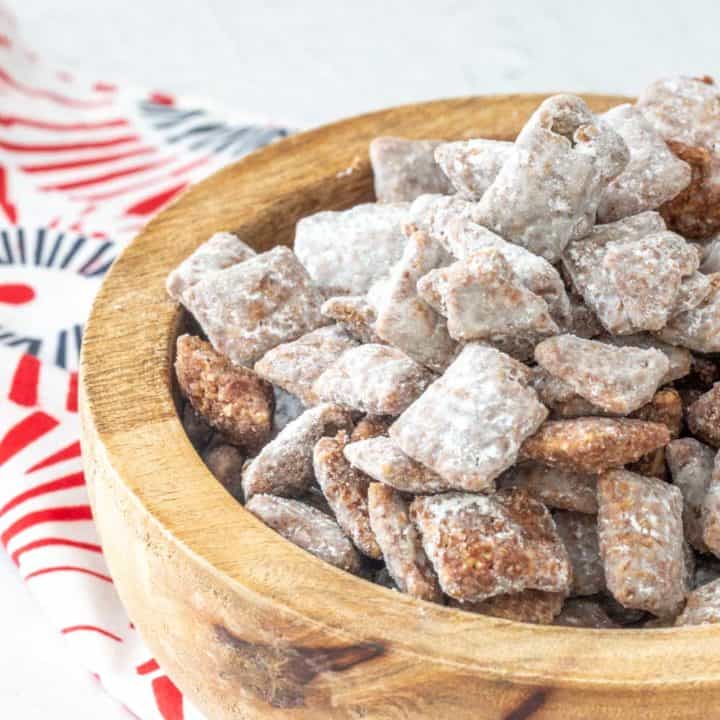 Ingredients
9 cups Rice Chex
1 cup semisweet chocolate chips
½ cup creamy peanut butter
¼ cup (½ stick) unsalted butter
1 teaspoon vanilla
1 teaspoon ground cinnamon
1 ½ to 2 cups powdered sugar
Instructions
Pour cereal into a large mixing bowl.
In a small microwave-safe bowl (or in a saucepan over low heat) combine chocolate chips, peanut butter, and butter. Microwave in 30-second increments, stirring after each, until completely melted and smooth. Stir in vanilla and cinnamon until smooth.
Pour mixture over cereal and stir to coat completely. Scoop the coated cereal into a large clean paper or plastic bag. Pour the powdered sugar over the top, seal bag, and shake to coat cereal.
Store in an airtight container for up to 1 week.
Nutrition Information:
Yield:
18
Serving Size:
½ cup
Amount Per Serving:
Calories:

213
Total Fat:

7g
Saturated Fat:

3g
Trans Fat:

0g
Unsaturated Fat:

4g
Cholesterol:

0mg
Sodium:

146mg
Carbohydrates:

38g
Fiber:

1g
Sugar:

25g
Protein:

3g
Nutritional information is an estimate for informational purposes only and not to be used for individual dietary needs.